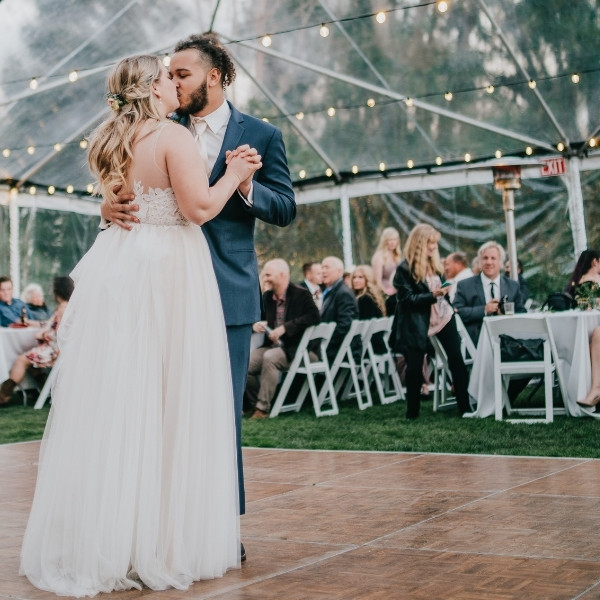 Is a Backyard Wedding Cheap? Home turf wedding! Getting married? Looking for wedding ideas while planning your wedding in your own backyard? What does backyard wedding planning really entail? Your backyard as your wedding venue for your wedding reception? In search of small backyard wedding ideas on a budget?
In this guide, we shared the steps on how to plan a backyard wedding. While it has been one of our most popular guides, there still is a big question about the costs involved.
How much are you really saving when you plan to do a backyard wedding? Or are you even saving anything at all? Is a backyard wedding really cheap, or at least affordable/budget-friendly?
Do you think your backyard will be able to handle your guest list?
We love an at-home backyard wedding! Great for intimate and micro weddings! However, just like with anything, it does come with its own set of challenges.
In addition, it actually might have a lot more restrictions attached to it than you would have initially assumed.
We're sharing parts and aspects of your backyard wedding that you might want to rethink.
This might also include adjusting the formula you use when you "calculate" the cost. Instead of just looking at the cost itself, add your time and effort as well.
Is a Backyard Wedding Cheap?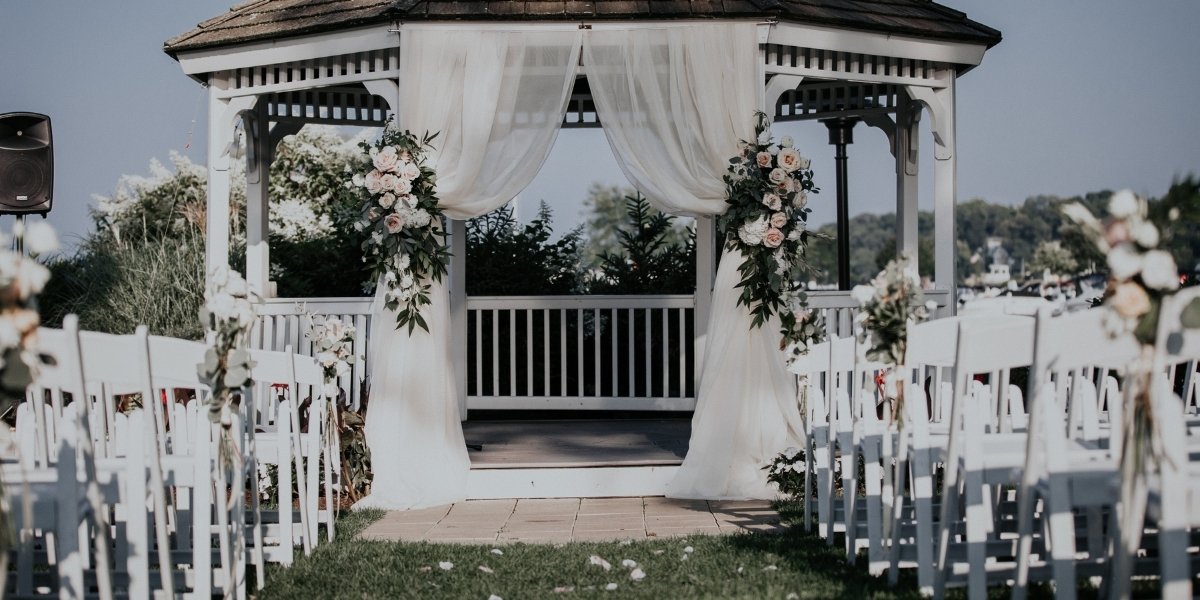 1. Space & Event Management Cost
Is your backyard "event ready"? Meaning, have you considered these points that are essential to holding an event, specifically a wedding in your backyard:
Flooring. Depending on the vibe you are going for, it might be helpful to have flooring to ensure guests can walk easily. There are rental floorings that usually come along with tent rentals, which speaking of, tenting should also be considered. More about tents discussed later on.
Prep Areas. Besides the space for the main event, you also need to allot a section for your

vendors

to set up, such as a food prep area.
Decor. If you are

DIY

-ing some decor, you will also need space to assemble your floral design.
Permits. Are you in an area where you can hold a wedding? Meaning, if you play music, will you not create a noise disturbance to your neighbors? When serving alcohol, you will also need a special permit for that.
Tent. Of course, a staple for any outdoor event is a tent. Is your backyard spacious enough to hold and support a tent? Also, if you are looking to set up a dance floor, will there be enough stable space?
Furniture and other rentals. You will still essentially have to rent tables, linens, chairs, cutlery, china, flatware, and glassware. These rentals will easily add up.
Weather needs. Consider the weather as well. If you are doing a summer wedding, you might want to have some fans or cooling systems in place to keep your guests comfortable. The same goes if your wedding is in the fall/spring where you would want to provide some heating systems as well.
Pest Control. This can come in different forms, whether bug repellants or putting up citronella candles around the tables/area that also double as decor!
Garbage. You will need to be prepared to have a lot of garbage. Dedicate space or classy and elegant disposal bins, especially if you are using

disposable utensils and plates

. Or you can also hire help to get you organized with this.
Post wedding cleaning. There might be a need to hire professional cleaners to ensure your space is clean after the gathering!
Whether you are planning to do your wedding ceremony and cocktail hour as well as your wedding reception in your backyard, or even just one of them all these things will add up easily in cost alone. And that is just the cost. You will also still need to source, coordinate and manage these vendors, which will also easily take up your time.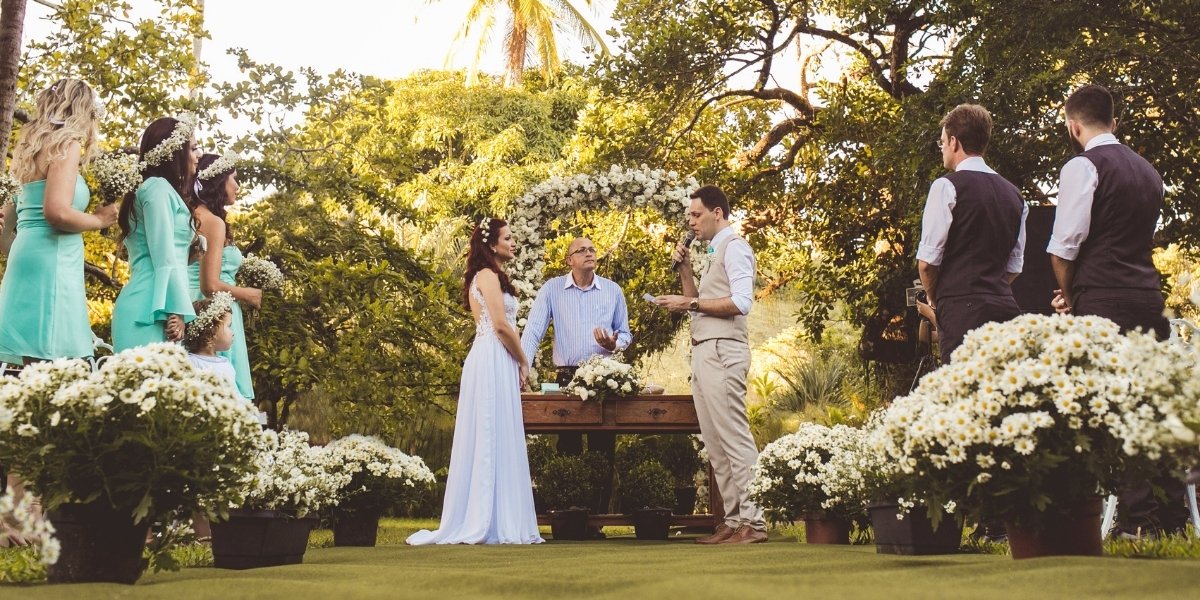 2. Power & Lighting
As you need more power supply for your event (lights, sound system, etc.), you may need to rent a generator to carry the extra electricity load you will need.
SIDE NOTE: If you are doing a fall/spring wedding in your backyard, you will need outdoor heaters, and you will definitely need specific power requirements for that!
Lights and sounds are a must! Lighting at night is definitely something you need! You can also strategically have string lights hanging, which will double as decor! Your wedding photographer will love this! Perfect photography setting!
Electricians + Generators have to be consulted. As necessary, consult your local electrician when planning to plugin.
Ensure to have all the vendors who will plug in accounted for, such as hiring a small piece band that might need speakers or looking for outdoor lighting that might need more power than usual.
The same goes if you have caterers who are setting up their prep area. They might need extra lighting and gas to be able to execute their cooking and food prep.
3. Where to park?
It's fantastic if you live somewhere with plenty of parking for all of your guests. However, you will very certainly have to account for regulating this process. Or other car-pooling options that you can suggest.
Ask your local parking authority about options and areas where your guests can park. You can also hire valet services to help you out.
4. Washroom Wars
This might seem like a straightforward solution and is usually addressed as renting portable restrooms.
Which is somewhat true. The cost of this rental will add up because you will need to add the maintenance of it – tissues, hand soaps, etc.
Hiring a restroom attendant might also be needed to ensure sanitary standards are met and help with crowd control.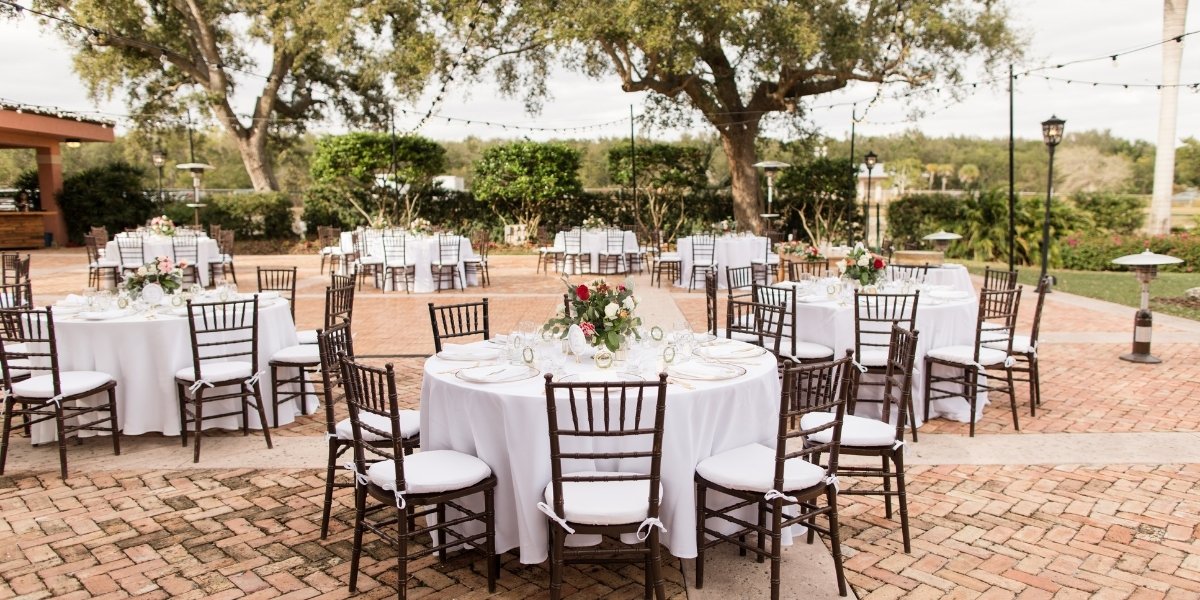 TO THINK ABOUT:
The costs involved in planning a backyard wedding WILL easily add up. Even if you are planning your backyard wedding, still ask around and check out venues, so you have an idea of the price comparison – and decide from there.
Logistics/timeline is also another big thing to consider when planning a backyard wedding. This challenge might force your hand to hire a day-of wedding coordinator, if not a full wedding planner.
Most, if not all, of the above-listed things to consider, like space, flooring, lighting, washrooms, parking, tables, chairs, cutlery, chinaware, lighting, power, prep areas, etc. readily available at an event venue.
Venues like restaurants and golf clubs with an outdoor area can accommodate your wedding – and can make it feel like a backyard wedding without all the logistics and extensive planning required.
So when asking "Is a Backyard Wedding Cheap?" the straight answer is definitely NO. Costs, effort, and time will add up easily, and it will add up to be a lot less cost-effective than it is commonly assumed to be.
But of course, as always, the decision is up to you. Only you can decide what's best for you. We are here to support you in whatever your decision will be!
There you are! Our insight into the question: Is a Backyard Wedding Cheap?