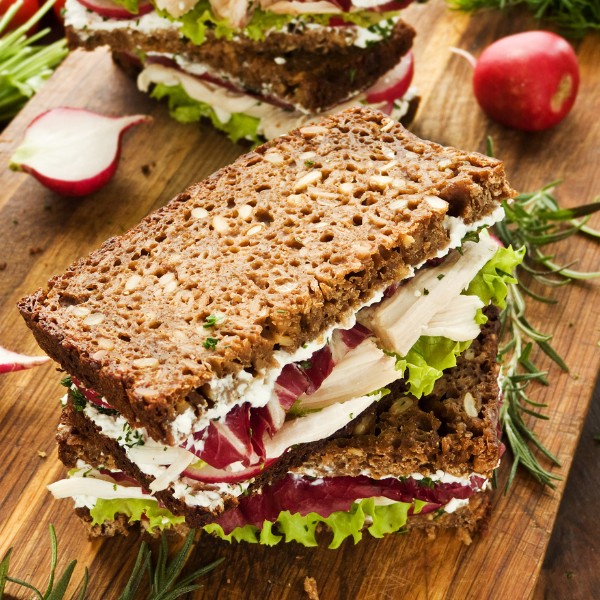 DIY Wedding Sandwich Station? Are you thinking of creating or putting together a cocktail sandwich station, either an appetizer or probably a meal, for your backyard, intimate or micro wedding, or any upcoming celebration event? We got you! We're putting together an easy delicious sandwich recipe meal perfect for budget-friendly entertaining!
Are you afraid it might be tacky? Nope. It won't be as long as you put it together creatively. As the case always, when you elevate the presentation, it is no longer just a station, it then becomes an EXPERIENCE.
Here's a quick guide to take the presentation up a notch and impress your guests!
This site contains affiliate links. For more info, please see our full disclosure. This post has Amazon links and as an Amazon Associate, Wedding Planning Resources earn from qualifying purchases.
DIY Wedding Sandwich Station. Let's get started!
Let's go over these ideas in detail!
1. The sandwiches have to be mini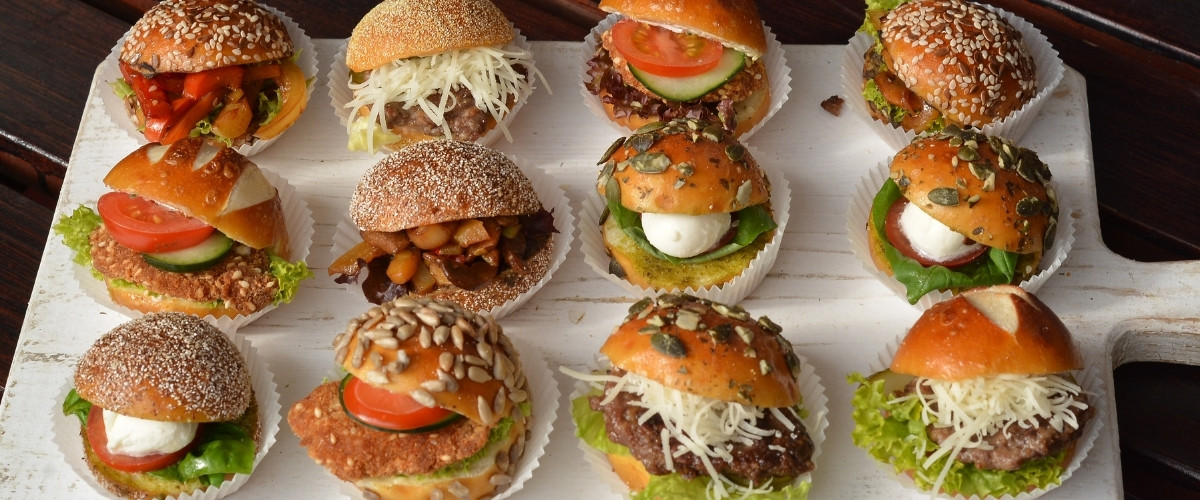 Repeat it, please. They have to be mini sandwiches! We don't want to serve the huge and thick for your sandwich cocktail station – or even a buffet-style set-up!
If you don't have time to make the sandwiches yourself (because *obviously* you're too busy preparing for a wedding), a quick solution is to order them!
You can place an order from Subway Catering or any of your local delis. Request for (panini) pressed 6-inch sandwiches cut into 4 or 6 slices with no dressing.
Then put them in cupcake liners for an easier grab! Also, presentation is everything!
If you choose a sandwich (deli, pulled pork, etc.), the easiest and best way to elevate it is to have the crust removed! Yes! Instant high-end look! (think afternoon tea effect!)
BUT HOW ABOUT THE DRESSING? We would typically suggest serving the dressing in separate condiment bottles or serving containers. Make it extra fun for your guests!
2. Level up the presentation (this will elevate your DIY wedding sandwich station)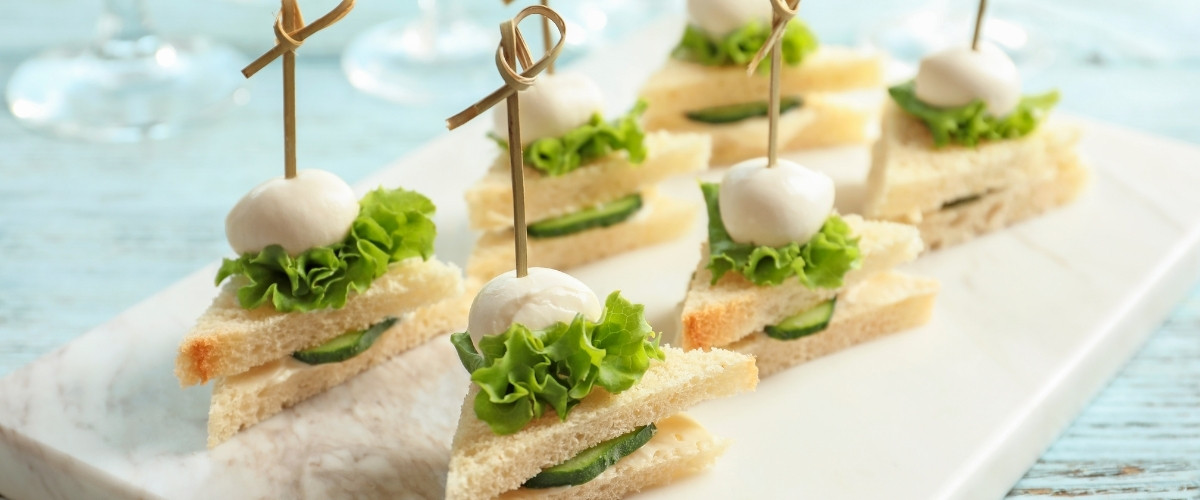 Prepare the sandwiches, wrap the slices in beautiful parchment paper bags (make sure they are food safe/grade!) and secure them with a twine/ribbon (or you can skip this step altogether). To elevate, put the wrapped sandwiches on a tiered serving stand—lovely!
A tasteful clear plastic tray (see suggested products below) will do the trick! To elevate, you have to add garnishes like shredded pickles, cherry tomatoes, etc. Ensure to put a toothpick through so the sandwich won't collapse.
If your guests grab a mini plate (of sandwich!) and go, they are essentially lowering the contact and keeping it hygienic the whole time!
Especially when you're serving a variety of sandwiches, you can add a simple printed-out label, so your guests know what type they are getting. This will avoid touching and questions.
Making a lot of things visible to your guests by using labels will help them decide faster and avoid unnecessary lineups.
Another great option is to have the sandwiches served on a cute-styled plate!
You can hire a server for 4 hours (or however long you need!) to help you execute this part! There are staffing companies that let you hire a server for your event!
3. Here are some creative plating ideas!
Okay, so maybe these are not actual wedding sandwich stations anymore, but plating these babies can also pass as a full meal depending on the type of sandwich meat you choose. So you can actually have a mini cocktail sandwich station and then use the plated ideas as your "main."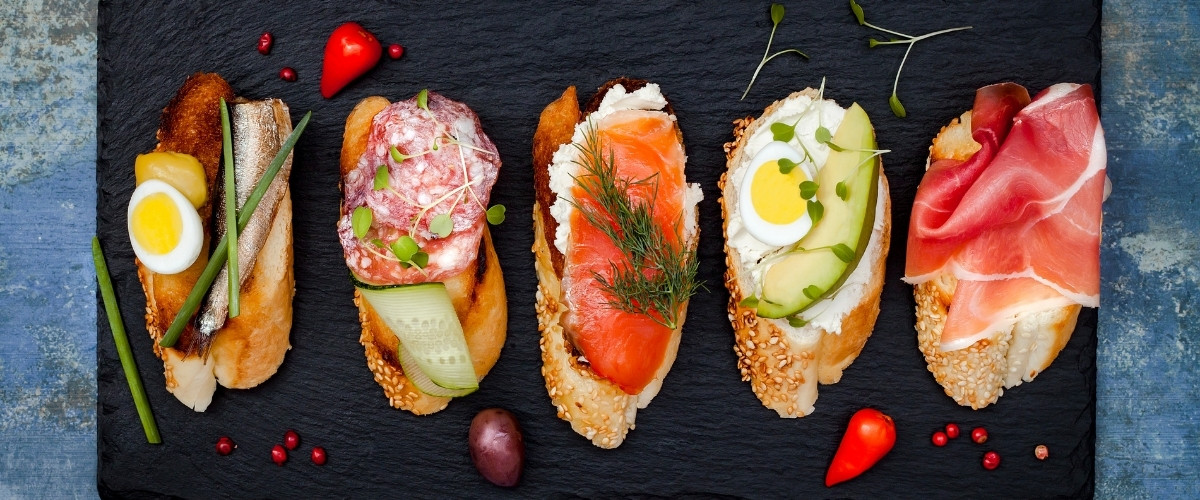 Open face sandwich is a great way to elevate your serving! Add decorations and some detail with vibrant colors to easily make it look like a 5-star Michelin meal!
You can also purchase tubs of potato, macaroni, or coleslaw salad from Costco and add it as a side to your sandwich! Use mini dessert cups with a spoon and just place them on the side of the plate!
PRO TIP: As always, putting these salads in a classy serving bowl will help elevate your guests' experience.
PRO TIP: Have mini cups and spoons available just in case your guests would want seconds!
4. Want to take it to another level?
If you feel extra bold, try a black and gold flatware and plate set (see suggested products below) to make the sandwich stand out. There are tons of plastic utensils and plate options that are tasteful but also disposable.
Even if you choose to use plastic utensils and plates, you must be consistent with the styling. If you set the table nicely, it will still elevate it. Don't think that you will stack them randomly or put utensils in a plastic cup because you are using plastic.
But if you can, there are recyclable party plates that you can also use that are a little more environmentally friendly!
PLEASE DON'T DO IT! Elevate it; treat it as if you are using the finest china!
If you want to continue your food station theme, here are more ideas; food, dessert, and drinks.

Worried about who's going to help you set up or serve? If you opt out of hiring a wedding planner or coordinator but need a server, set-up help, and/or bartender, there are staffing companies where you can hire help directly and not worry about other things needed to be executed on the day of the event.
This is perfect for a backyard (DIY micro and intimate!) wedding or event! Pair this cocktail sandwich station with an easy sangria bar, and you will be set!
Remember that you might want to consider having coverage, like wedding/event insurance, to give you extra peace of mind if you are serving alcohol.
There are so many ways how you can elevate your sandwich bar station! Always treat your set-up as first-class regardless of what you are serving and how budget-friendly it is!
Presentation and styling are everything! Cocktail Sandwich Station: DIY guide: Enjoy lovelies!
** This post has Amazon links and as an Amazon Associate, Wedding Planning Resources earn from qualifying purchases.