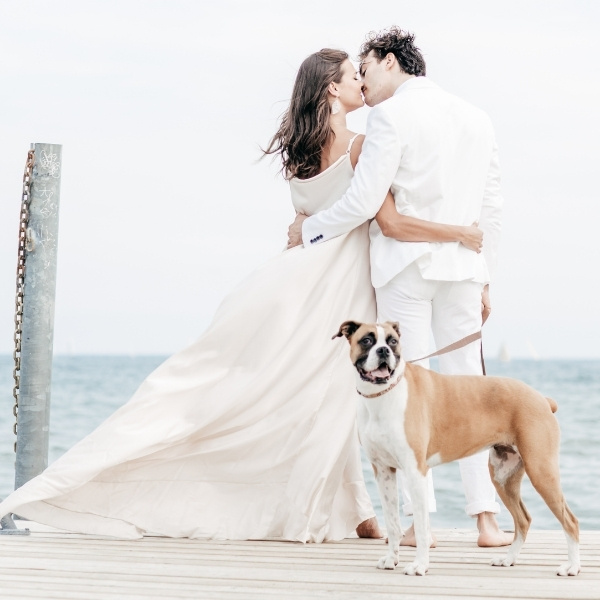 Dog Ring Bearer: How to Train & Prep! Love fur baby! Why not include your beloved dog as part of your wedding? Dogs make the best ring bearers! Maybe you are already considering this or wondering what to do with your dog on your wedding day – we say why not let them walk down the aisle? In this guide, we're sharing tips on how to prep and train your dog and include them as part of your wedding processional!
This site contains affiliate links. For more info, please see our full disclosure.
Dog Ring Bearer: How to Train & Prep
This is for the fur parents out there planning to include their beloved dog at their wedding. Because why not? Your fur baby makes for the best ring bearer! Here are a few of the tips you should consider:
Consider your pet's personality
First of all, you need to consider your pet's personality and how they react in different situations.
As most of us will agree, as much as we love our dogs, they tend to act differently when they are excited, anxious, and other times when they're calm.
Even if we really want them t walk down the aisle, we might have to consider the possibility that some dogs might not be suited to walk down the aisle.
Some dogs are a bit nervous by nature and therefore can't give the appearance that they are fully ready to be a ring bearer on your wedding day.
If your dog tends to be nervous and anxious around people, remember that when they walk down the aisle, all eyes will be on them, and that might make them feel extra uncomfortable. If they are anxious, there is a possibility that they might throw a fit – and that will most likely disrupt the wedding ceremony.
How about taking them along to your engagement party or other parties/gatherings before the wedding? Try taking your dog and making an appearance.
See how your dog is around the crowd. We are assuming that this crowd will be the same crowd that will most likely be at your wedding as well. If your dog seems to be comfortable, there might be a great chance that your fur baby can walk down the aisle!
A mini introduction will help your fur love get acquainted with your wedding guests and large crowds.
Develop a Routine
You can come up with a routine that your pet follows every day.
We can only assume that you and your fur baby already have a schedule going that you follow through every day.
Why not slowly incorporate a "walking down the aisle" practice into the routine by adding the "ring bag/box" and having your fur baby walk towards you or your partner? This can be a 10-15 daily thing so that your lovely dog can get used to it!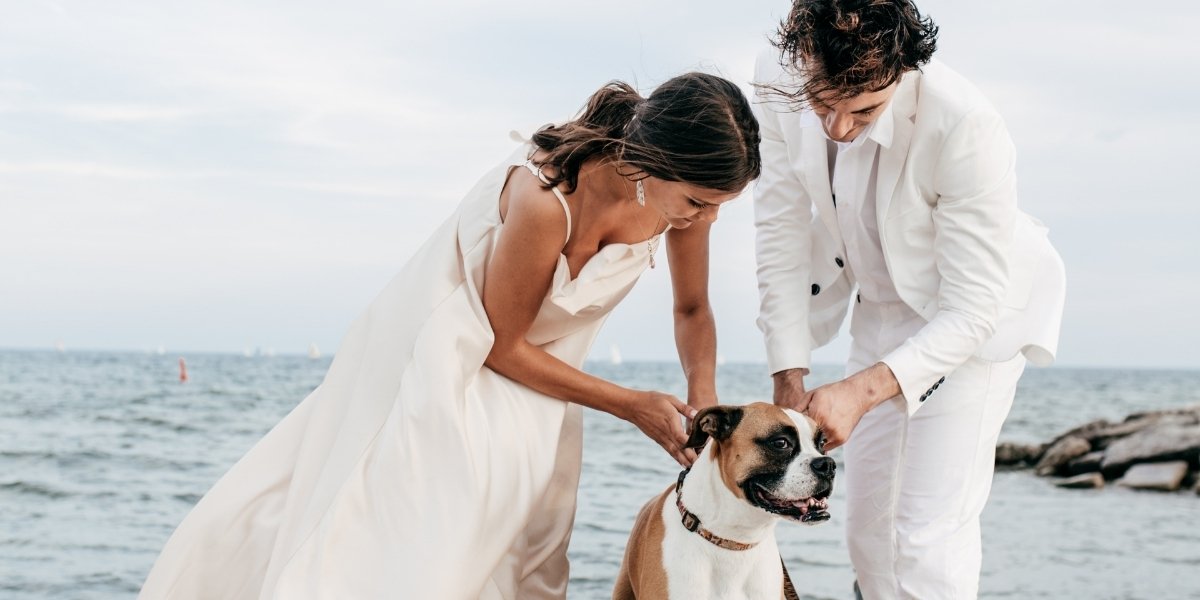 Confirm if your pet is allowed inside the wedding hall or venue
You must confirm the rules and regulations of the place where you will hold your wedding. Discuss this with your venue coordinator. For the most part, if you let them know that your pet will only be there during the ceremony, they might be open to it.
But then again, every venue is different. Always run your plans by the wedding venue coordinator to ensure there are no conflicts or confusion. Like how long can they stay? Do they need a leash? etc.
Plan Your Pet's Outfit
One of the most important (and super fun!) things you should plan before the wedding is your pet outfit.
Some dogs may be too small to wear a ring bearer outfit. You can consider dressing your dog in a vest or a bandana. To add an extra level of cuteness, why not let your dog wear a bowtie or a bling necklace?
Understand that your pet must feel comfortable on the big day through the outfit you have chosen for them. It is essential if the outfit you choose is easy to put on and take off.
Why not let your dog decide the outfit? Get a few options and see what the most comfortable choice is- you can return the rest that was not picked. Also, try it on and wear it on "certain days." Especially when you do your "walking down the aisle" practice walk.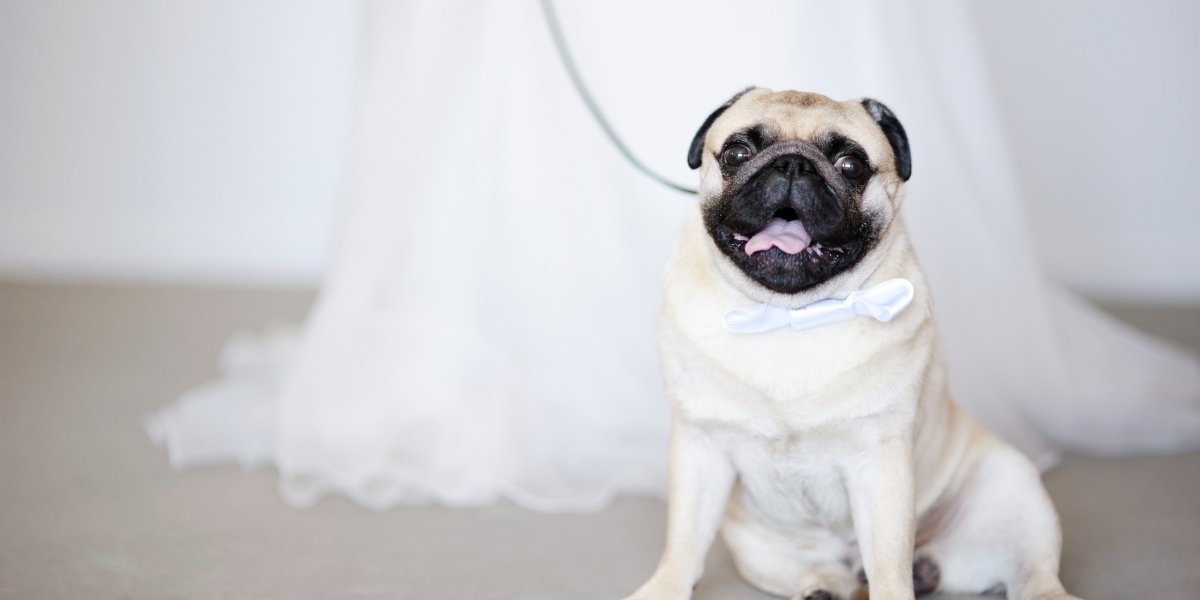 Hire a Pet Sitter (so helpful when having a dog ring bearer)
Another way to make your pet ready for the big day is to hire a pet sitter. Sure, your bridal party will be more than happy to help you with your dog – since they are most likely familiar with each other already, but it will still help to have a professional sitter on-site to solely manage your dog.
Pet sitters are there to help you when your lovely dog ring bearer needs attention. They can also guide you on how to take care of these pets so that they are not feeling any stress or anxiety.
You may also ask them how they can keep your pets busy, as some dogs have a habit of running all over the place during their resting time.
This will help give you peace of mind as the pet sitter ensures that your pet will not get injured or be unmanaged on the big day.
Consider speaking to a pet sitter well in advance before your wedding. It allows you to set a plan and get your pet and the sitter acquainted.
Fur Baby Love
Consider hiring or working with a professional pet trainer if you are committed to having your dog walk the ceremony. Depending on your dog, it might require some serious training, especially if your dog isn't all that comfortable in front of a crowd as the center of attention.
They will be a wedding day celebrity when they walk down that aisle.
That requires a lot of preparation and also training. Professional training and support will help you, your partner, your sitter, and of course, your dog understand and prepare for your specific roles and responsibilities on your big day!
There you are lovelies! Dog Ring Bearer: How to Train & Prep!