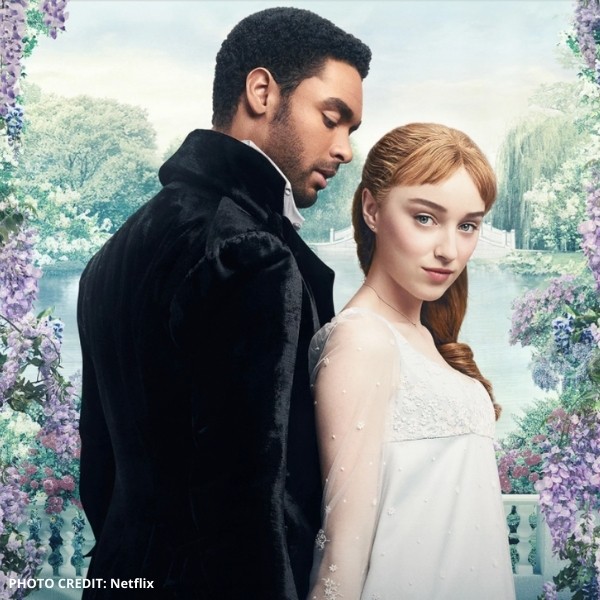 Bridgerton Inspired Wedding Style. Greetings, your grace! Planning a Bridgerton themed party? Bridegrton inspired flowers? In love with Netflix's Bridgerton? Looking for Bridgerton inspired wedding decor?
Planning a micro or intimate wedding? Or perhaps even a virtual wedding?
Also, are you obsessed with Bridgerton?
Well, why not pull off a BRIDGERTON INSPIRED WEDDING?
Because, you know, YOU CAN! We'll help you out! We've rounded up the easiest and quickest ways you can "pull off" a mini Bridgerton Inspired Wedding (even at home!).
This site contains affiliate links. For more info, please see our full disclosure. This post has Amazon links and as an Amazon Associate, Wedding Planning Resources earn from qualifying purchases.
Bridgerton Inspired Wedding Style
1. The Fashion
We're taking this fashion inspiration with a much more modern take to it, that you can re-wear and still look cool in the "present!"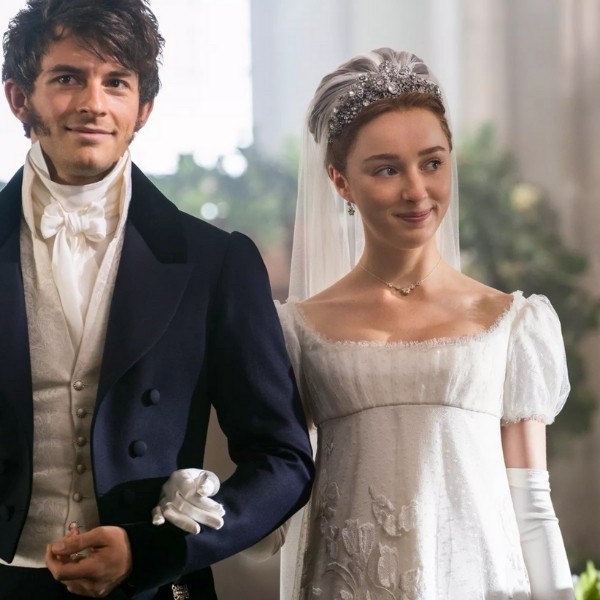 We found these similar products, perfect for that modern "

Daphne Bridgerton

" in you!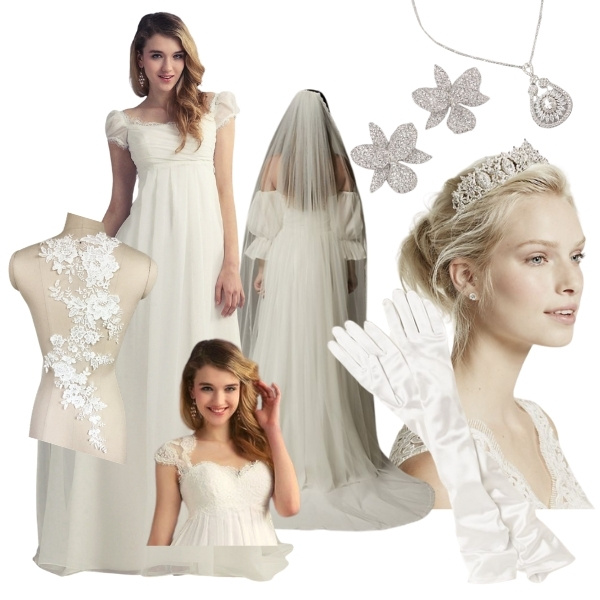 Chiffon Wedding Dress or choose a Chiffon & Lace Wedding Dress to achieve that puffy shoulder and empire/sheath style vibe!
You can even have custom appliques sewn into the dress if you are looking for more detail. Your local seamstress should be able to help you with this. Or of course, you can DIY it if you are up for it.
Add a cathedral lace and a pair of satin gloves. Finish off with a Regal Tiara / Headpiece, classic necklace, and pave orchid earrings.
Now let's talk about "

The Duke

".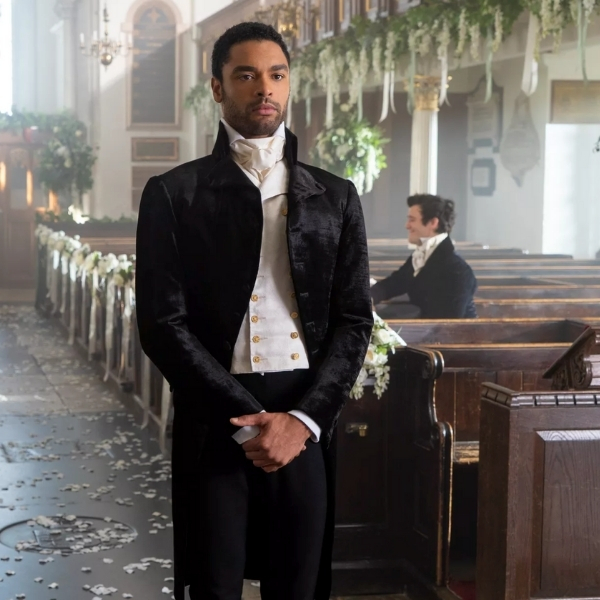 We had to be extra creative in putting this one together with items that you can actually re-use in daily life (unless of course, you choose to rent a costume!).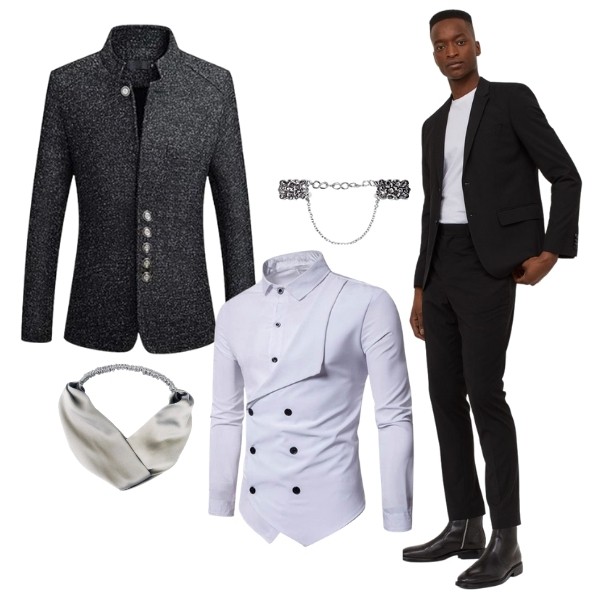 We love this Long Sleeve Button Up (double-breasted effect) Slim Fit Dress Shirt.
Add a silk tie around your neck and tuck it under the collar to give you the same neck detail as "The Duke."
You can wear a classic black suit pants. You can also wear your favorite pair if you already have one.
Finish off with this Slim Fit Collar Jacket and add Cinch Clips on the back so it will remain "open" to achieve that similar effect.
2. The Set-Up & Decor
The decor and the set-up tend to be pretty "low-key" compared to other "royal weddings". If you are going for an intimate or a micro wedding, then this is definitely doable with some tips and tricks we are about to share!
Decor and set-up at the ceremony are mainly hanging wisteria and mini bundles of white flowers with greenery.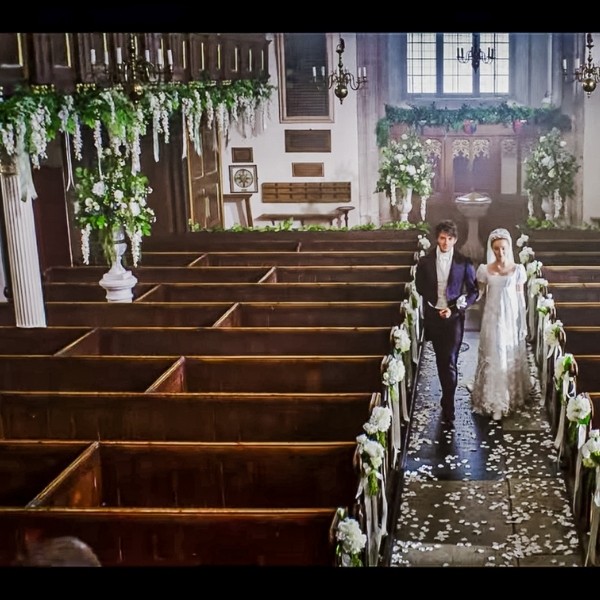 The reception is mainly composed of white flowers, greenery, and candles (candelabra).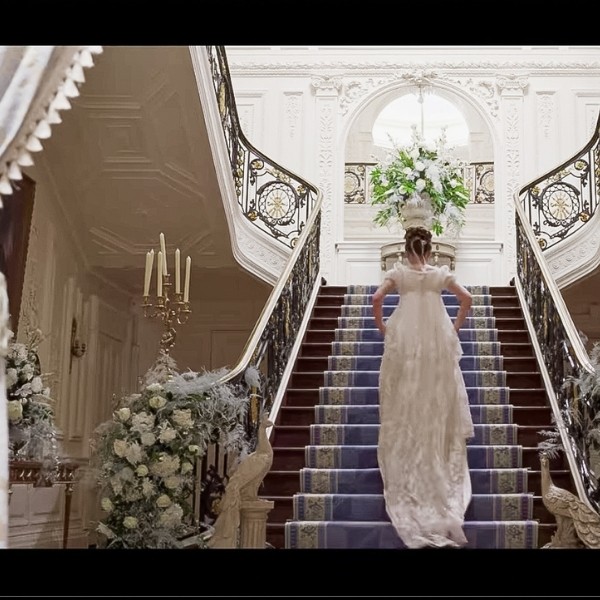 By picking similar items (does not have to be "exactly" the same!), you can get the same "Bridgeton Vibe" but a little bit more modern.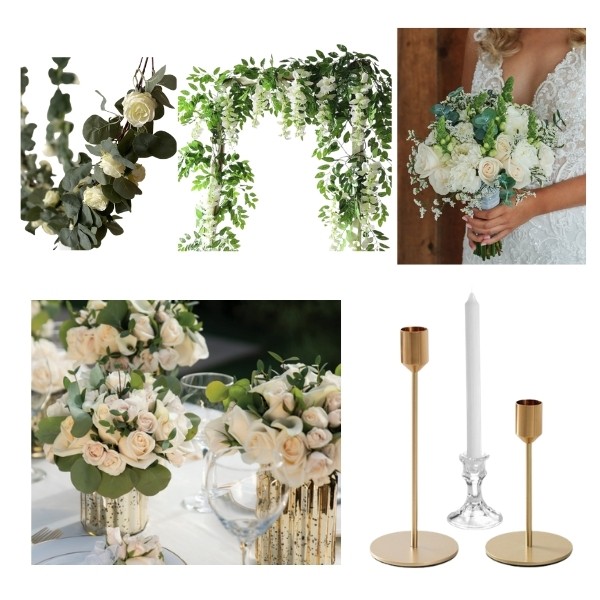 Hanging Eucalyptus and roses which are great for pews and staircases!
Hanging Wisteria, great for window panes and higher/taller areas! Also great for welcome areas!
Classic Bouquet from The Bouqs, especially if you'd still want to walk down the aisle with a mini bouquet – even if Daphne didn't!
Classic White Roses and Greenery centerpieces from The Bouqs. These are prearranged and ready for set-up! Super easy peasy!
Gold Candle Holders and White Tapered Candles. What is a "royal" wedding without gold candle holders and tapered candles?

If you feel very detailed, you can add hints of Plumosa and spray paint it with light blue to match this gorgeous decor detail from Bridgerton Wedding.
3. The Food
In terms of the food, there are different options depending on where you are holding your wedding/event!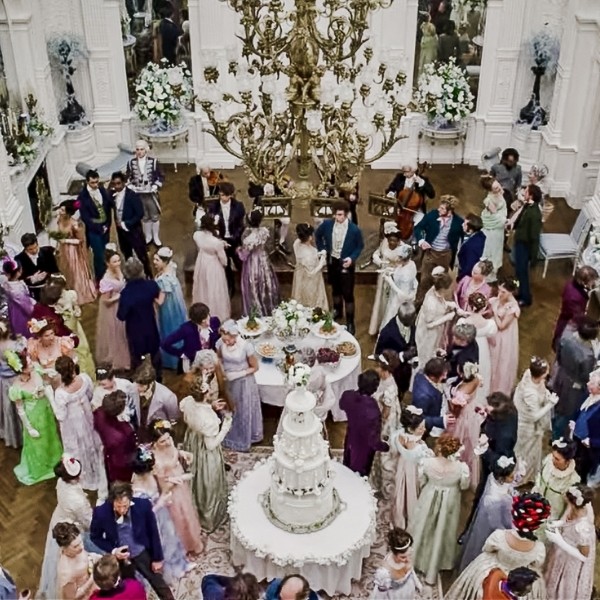 You can of course have your event catered if that is something that you are going for! If you'd like a more intimate and micro wedding style with a more "lounge" / "mingle" / cocktail – and not a "sit down" vibe, here are some ideas that can help you with that!
Having stations will work best!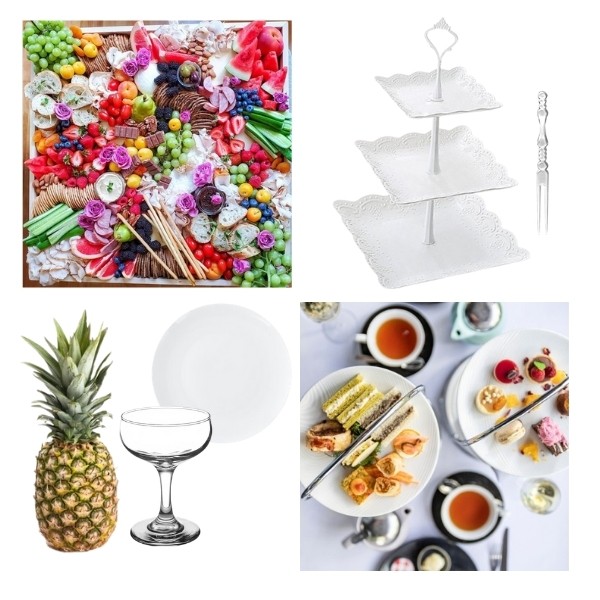 Gorgeous Grazing Table like this from Olive & Fig. You can have them laid out like this, or you can also set them up in a 3-tier serving tray.
Another option is a great afternoon tea spread (this one from T-Buds) – complete with sandwiches, biscuits, and desserts!
Fruits were abundant on the set of the wedding. Pineapples are one of them. Great to eat, but also will serve as great decor!
Champagne glasses are a must! You can also make a champagne tower (this is an event staple on Bridgerton!)
Have dessert/appetizer plates ready and appetizer forks since there is not a full meal served. But you will still need plates and cutlery to help your guests eat their food.
4. The Cake
What is a "royal" wedding without a grand cake?
If you are doing a more intimate or micro wedding, you might not want to have a 5-tier cake. But you can still pull off a cupcake tower!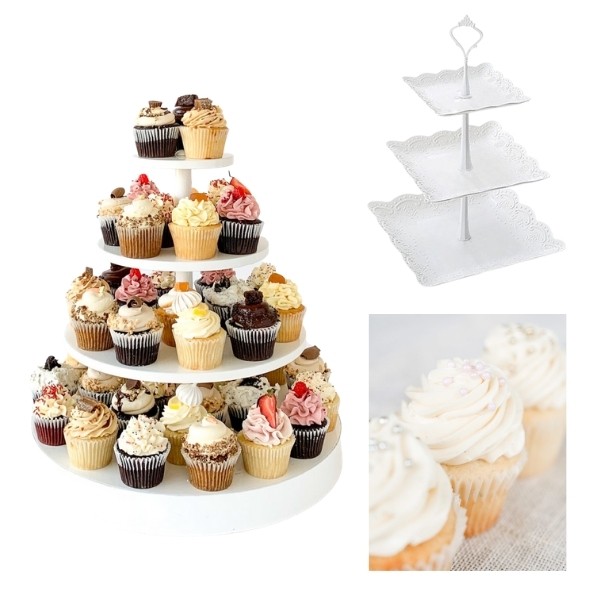 You can get something similar to this cupcake tower from Bobette & Belle. Also, if you want to DIY it, you can get a 3-tiered serving stand and purchase these cupcakes, and set them up yourself.
There you are lovelies!

Bridgerton

Inspired Wedding Style!
You can incorporate your own colors and style as well! These are great options that you can play around with!
CREDIT: Movie Scenes and Movie Photos via Bridgerton Series on Netflix.
**This post has Amazon links and as an Amazon Associate, Wedding Planning Resources earn from qualifying purchases.