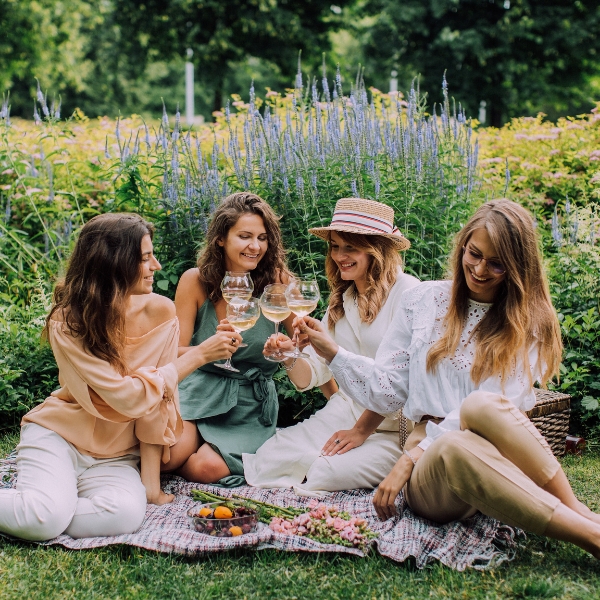 Cheap Menu Ideas: DIY Bridal Shower. Cheap DIY menu ideas for a memorable bridal shower. Budget-friendly menu ideas for your DIY bridal shower. Cheap and tasty menu ideas. Budget-friendly bridal shower. Affordable, impressive, and delicious.
This site contains affiliate links. For more info, please see our full disclosure.
QUICK TIPS: Brunch bliss, Tea party vibes, Grazing table, DIY pasta bar, and Dessert table.
When it comes to planning a bridal shower, one of the most exciting aspects is undoubtedly the menu (and the fun games!)
Whether you're hosting a cozy gathering or a lavish affair, selecting the perfect culinary delights can elevate the celebration and leave a lasting impression on your guests.
To help you create a memorable bridal shower experience, we've compiled a list of delicious menu ideas that are sure to delight your guests and make the bride-to-be feel extra special.
Cheap Menu Ideas DIY Bridal Shower
1. BRUNCH BLISS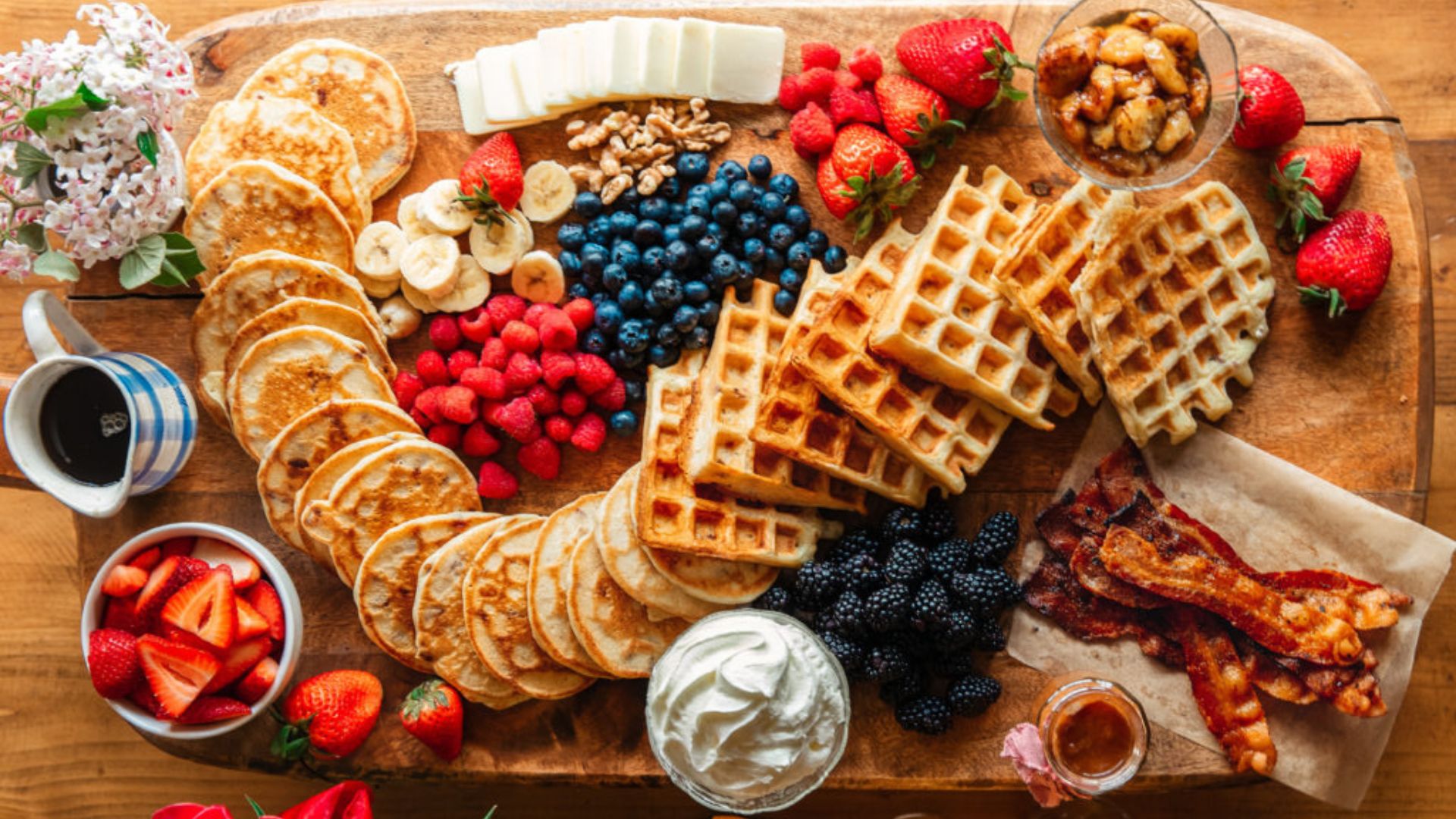 Brunch-themed bridal showers have become the go-to vibe and for good reason.
Offering a mix of breakfast and lunch options, this menu choice provides a wide array of delectable treats.
Consider serving classic favorites like fluffy pancakes, croissants, crispy bacon, eggs Benedict, fresh fruit platters, and assorted pastries.
Yogurt parfaits are also super easy and cheap to put together! Paper (or recyclable plastic!) cups can be filled halfway through with yogurt and then topped with fruits like blueberries. Lastly, add granola for some crunch!
QUICK TIP: Pancakes, you can totally buy the frozen one if you are really pressured for time. Bacon, you can make it ahead of time. Instead of eggs benedict, maybe you can make omelets instead (easier to put together and cook!)
Fruit platters and assorted pastries are easily bought in-store!
Elevate the experience by placing them on wooden cutting boards or even the fun printed serving platters to match your bridal shower theme!
Don't forget to offer a variety of beverages, including mimosas / sangria, freshly squeezed juices, and a selection of hot beverages.
You can rent out carafes or also bring your own coffee maker (those ones that use pods!) and have your guests help themselves with their coffee of choice!
Tiered serving platters or wooden chopping boards are great options to elevate serving!

2. TEA PARTY VIBES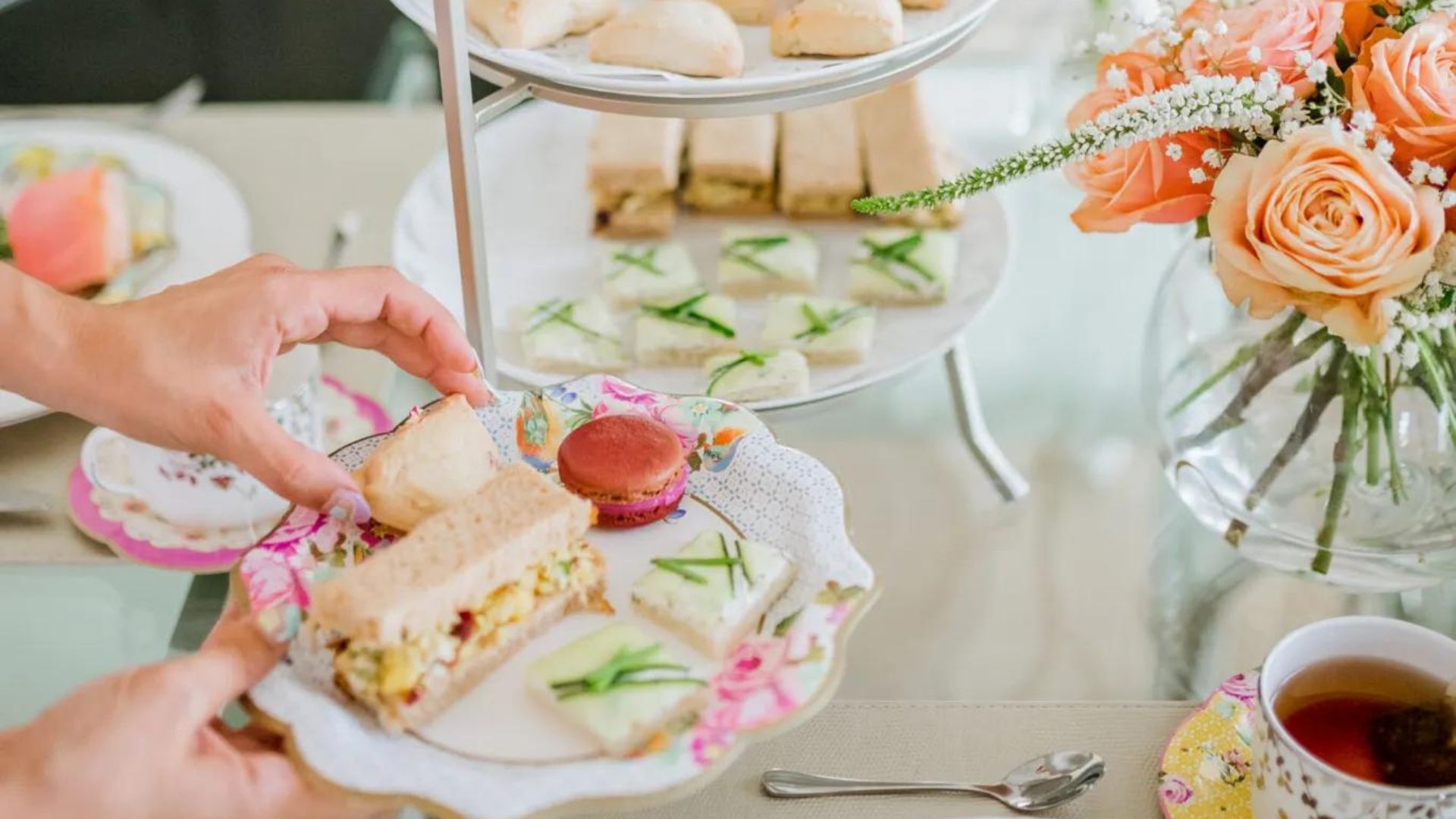 Let's not be only focused on the "usual" tea party vibes. We can totally modernize this and elevate it!
This does not have to be s super fancy one unless that's your vibe.
Serve a selection of fine teas, both hot and iced, accompanied by delicate finger sandwiches with fillings such as cucumber and cream cheese, smoked salmon, or chicken salad.
QUICK TIP: You can pre-order sandwich platters and then serve them on a classy and elegant 3 tiered serving platter. You can cut the sandwiches into four squares to make them look more sophisticated.
Enhance the experience with scones, clotted cream, and an assortment of sweet treats like petit fours, macarons, and mini pastries.
Again, similar to the quick tip we shared with the sandwiches, scones, and mini pastries can be easily bought in-store.
How you can elevate these in-store bought products is by placing them on a serving platter, like a 3-tiered one.
3. GRAZING TABLE (this is one of our readers' fave Cheap Menu Ideas DIY Bridal Shower)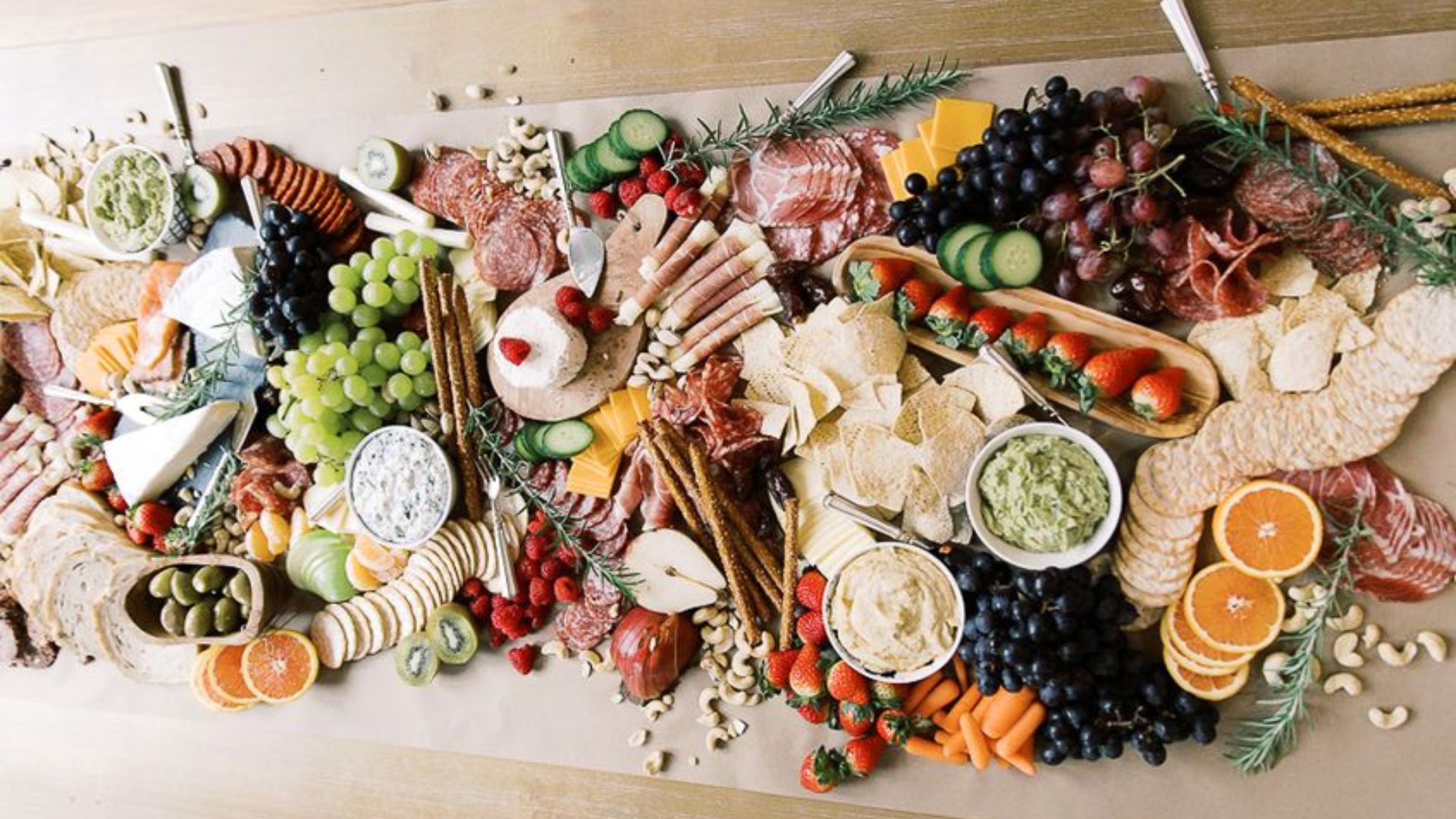 This might not be the cheapest option if you purchase it. But, if you want to DIY this, you can definitely save a lot of money.
Fill the table with an array of artisanal cheeses, cured meats, fresh fruits, olives, nuts, and a variety of bread and crackers.
QUICK TIP: How you'll save money here is to purchase these cheeses and cured meats in bulk. The same goes for bread and crackers.
Providing more bread and other jams on the table will help ensure your guests are not going to be left hungry.
Add a touch of elegance with beautiful spreads like flavored hummus, savory dips, and marinated vegetables.
This grazing concept allows guests to mingle and sample a wide range of delectable bites throughout the event.
4. DIY PASTA BAR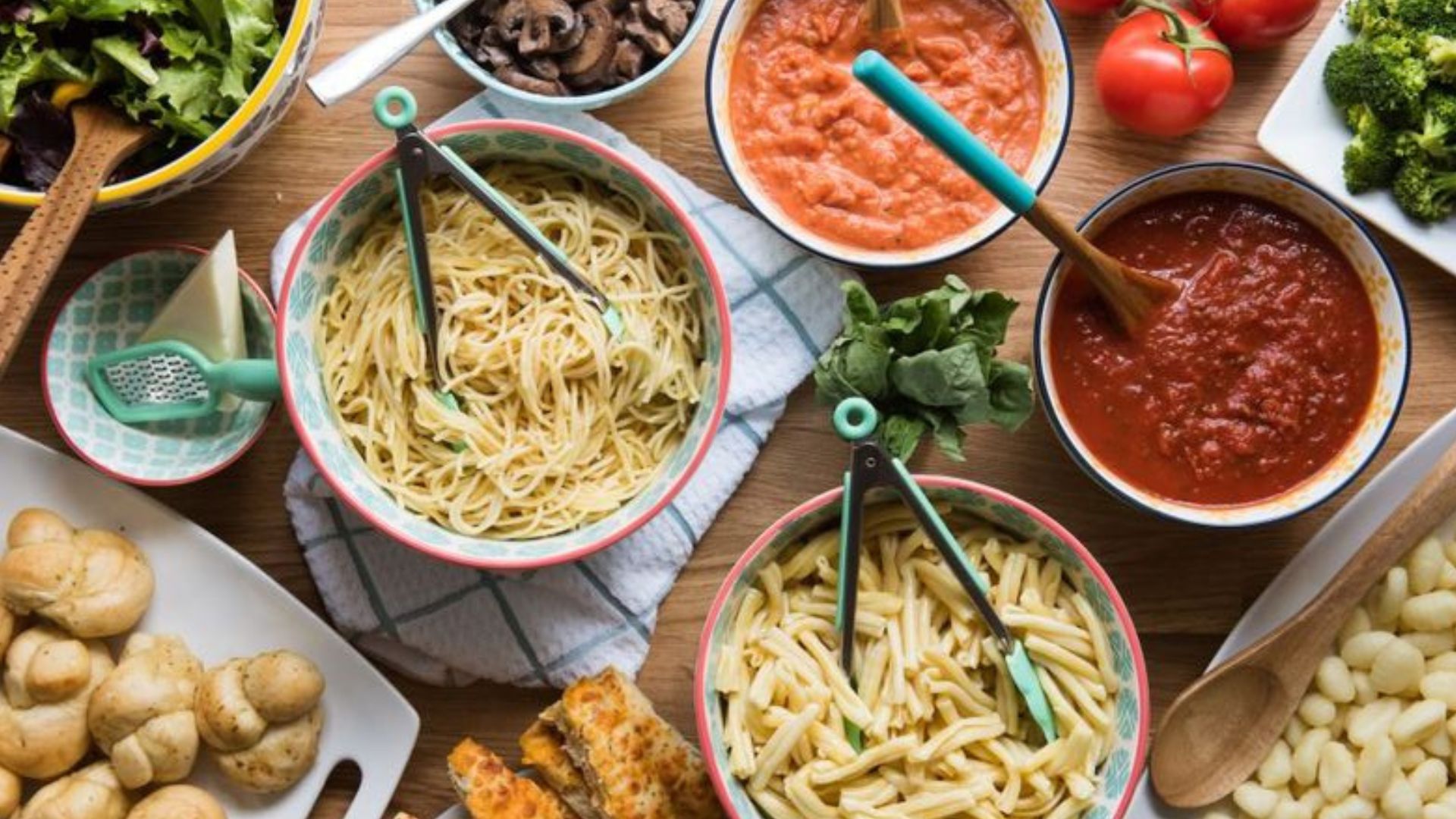 Pasta is always a crowd-pleaser, and a DIY pasta bar allows guests to customize their dishes to their liking.
Offer a choice of pasta types, such as penne, spaghetti, or bowtie, along with a variety of sauces like marinara, Alfredo, or pesto.
QUICK TIP: You will most likely need chafing dishes or even food warmers to ensure the sauces are hot through the eating time.
Provide an assortment of toppings like grilled chicken, sautéed vegetables, Parmesan cheese, and fresh herbs.
QUICK TIP: You can purchase rotisserie chickens and shred them to be used as pasta toppings!
Serve garlic bread or breadsticks on the side for a complete meal. Bread will always help ensure your guests feel full throughout the event.

5. DESSERT BUFFET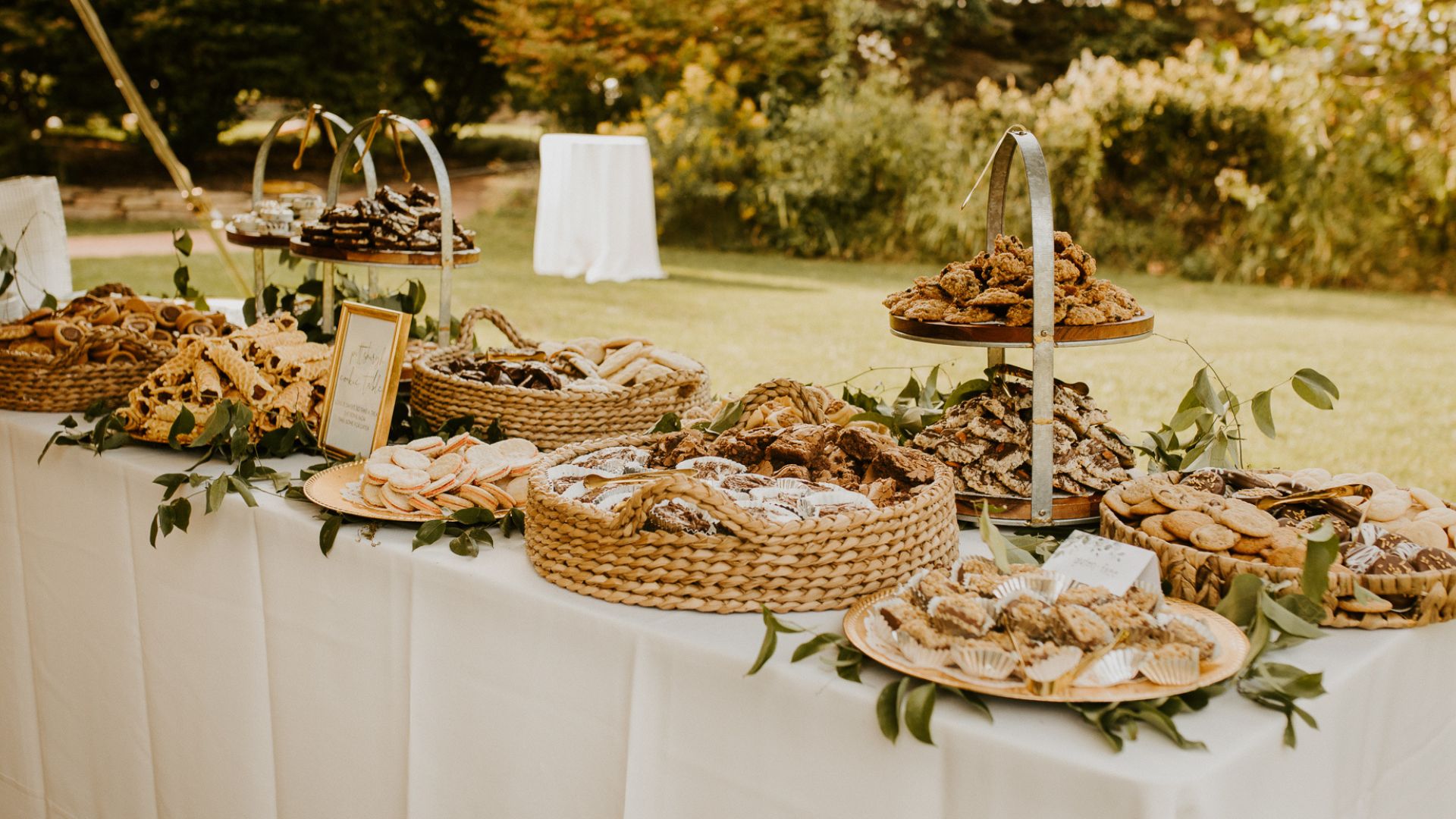 We had to include this because what is a bridal shower without desserts?
Create a tempting dessert buffet with a variety of sweet treats for guests to enjoy.
Include bite-sized desserts such as mini cupcakes, macarons, cookies, brownie bites, and fruit skewers.
Add some flair with a chocolate fondue station where guests can dip fruits, marshmallows, and pretzels.
A dessert buffet provides a delightful ending to the bridal shower.
〰️ Remember to consider the bride's favorite foods and any dietary restrictions when choosing your DIY bridal shower menu.
With these menu ideas, you can create a memorable and delicious spread that will impress your guests and celebrate the bride-to-be in style.
There you are lovelies! Cheap Menu Ideas DIY Bridal Shower!