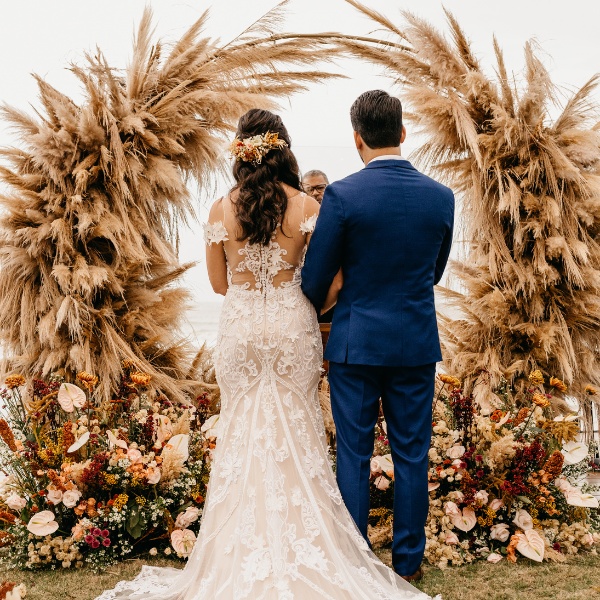 Ideas For A Small Wedding: Top 20 For Your Intimate Big Day. Ideas to turn your intimate wedding into a grand celebration. Unique ideas for a memorable and inspiring small wedding.
〰️ QUICK TIPS: Destination elopement, backyard or garden wedding, vineyard/winery wedding, beach wedding, rooftop romance, historic venues, brunch wedding, private boat wedding, forest/glamping retreat, farmhouse chic, food truck fiesta, romantic B&B wedding, fun city hall wedding, and brewery celebration.
Planning a small wedding has become increasingly a popular choice when it comes to creating an intimate and meaningful celebration.
With a smaller guest list, you have the opportunity to focus on the details that truly matter to you and your partner.
The beauty of a small wedding lies in its ability to prioritize intimacy, personalization, and the cherished moments shared with your closest friends and family. So, let's explore these ideas and get inspired to plan a small wedding that will leave a lasting impression on everyone involved.
From unique venues and personalized themes to creative reception ideas and intimate ceremonies, we will delve into the possibilities that can turn your dream wedding into a reality.
Whether you prefer a rustic farmhouse chic style or a romantic elopement on a secluded beach, we have curated a list of 15 ideas to help you create a memorable and meaningful celebration that reflects your love story.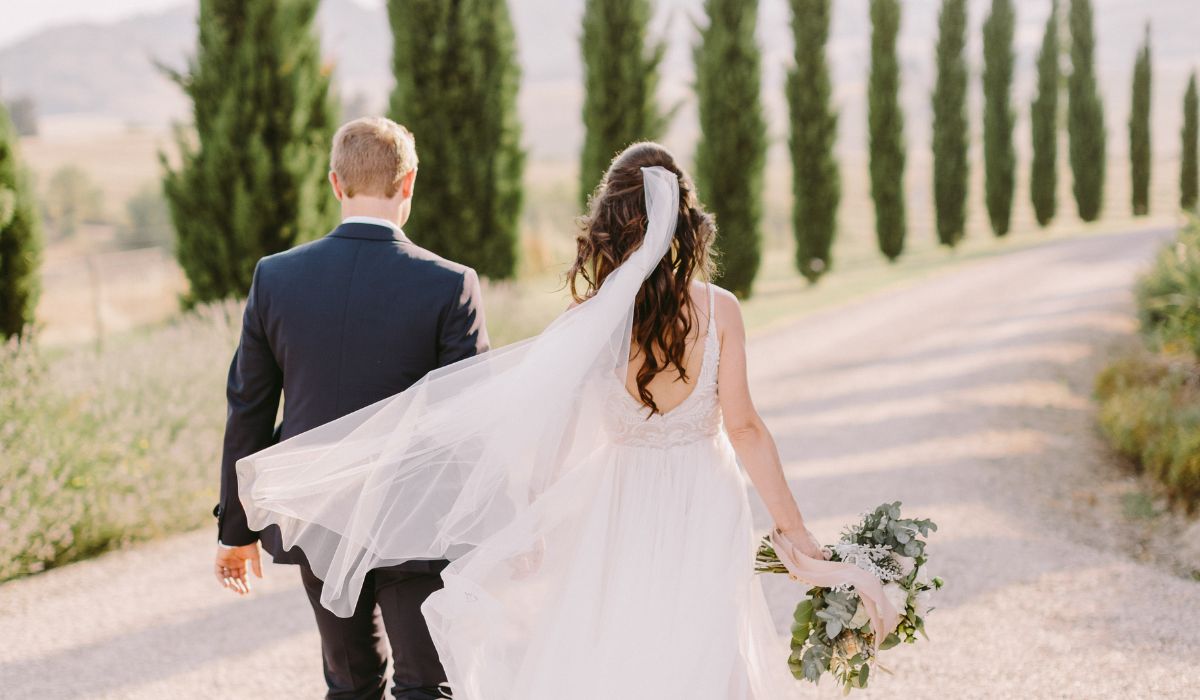 Ideas For A Small Wedding: Top 20 For Your Intimate Big Day
Destination Elopement
Consider eloping to a picturesque location that holds special meaning for both of you. Whether it's a breathtaking mountaintop or a serene beach, an intimate destination elopement allows you to exchange vows in a private and stunning setting.
SIDE NOTE: You will obviously not be able to take everyone with you. Or some of the selected few that you have invited might not be able to make it – and this is something that comes with destination weddings.
Backyard Bliss or Garden Picnic (one of the most popular ideas for a small wedding)
Transform your backyard into a romantic oasis. Set up a beautifully decorated altar, hang fairy lights, and arrange comfortable seating for your close friends and family. Embrace the charm of an intimate celebration at home.
SIDE NOTE: If you have not read our article "Is a backyard wedding cheap?", you might want to have a look at it before committing to a backyard wedding. It's best to check your options, as well as resources when attempting a backyard intimate wedding.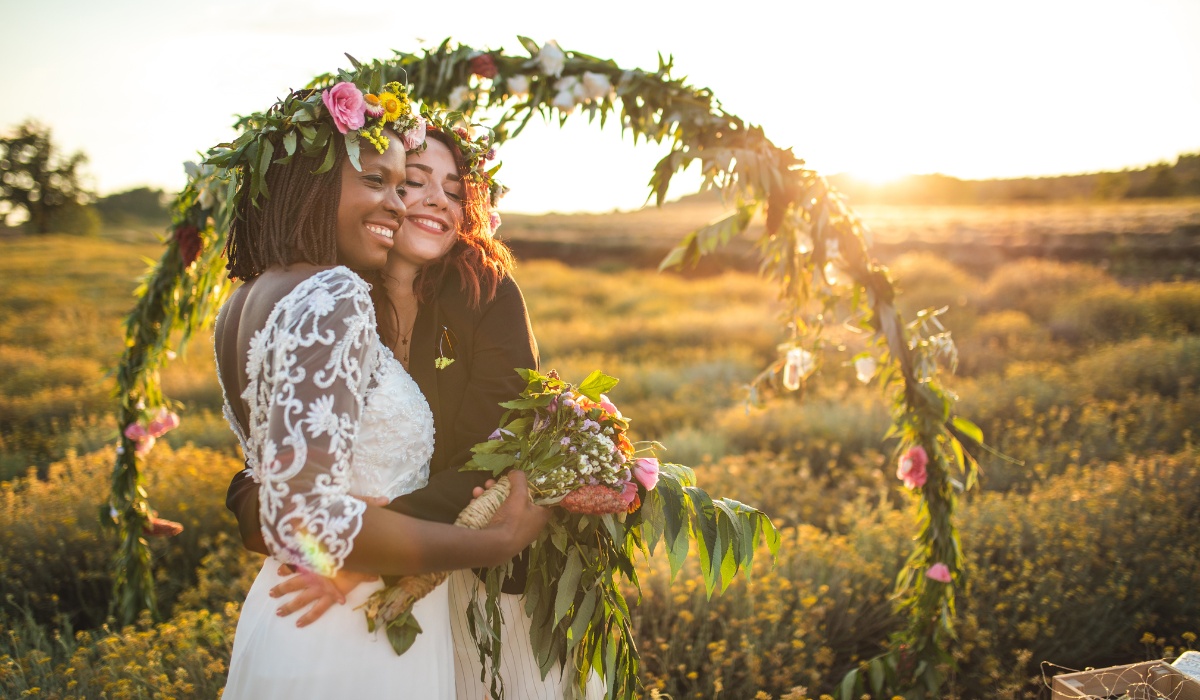 Micro Vineyard/Winery Wedding (still one of the best ideas for a small wedding!)
Whoever said that micro weddings are no longer a thing? Oh, lemme tell you, they're here to stay!
If you and your partner are wine enthusiasts, seek out a local vineyard that offers small wedding packages. Enjoy the scenic beauty of the vineyard while sipping on delicious wines, and celebrate your love in a cozy and rustic atmosphere.
Arrange a wine and cheese tasting reception for your guests. Pair different wines with a variety of cheeses and create a sophisticated yet intimate atmosphere for your celebration.
SIDE NOTE: Vineyard weddings are usually set out in the country or in a rural area. Consider the travel and accommodation options to maximize experiences.
Secluded Beach Ceremony
Escape to a secluded beach and say your vows with the gentle sound of waves in the background. This intimate setting allows you to focus on the beauty of your love and the natural surroundings.
SIDE NOTE: Similar to the vineyard wedding, this can essentially be an out-of-town wedding. Check out accommodations and other options. Booking a full package from a resort will help you with costs and logistics.
Rooftop Romance
Rent a rooftop space in a city venue and have a chic and urban wedding celebration. Enjoy breathtaking city views, create a cozy ambiance, and dance the night away under the stars.
SIDE NOTE: Restaurants or hotels that have party or event rooms that are situated on a rooftop, or even on the top floors are also great options.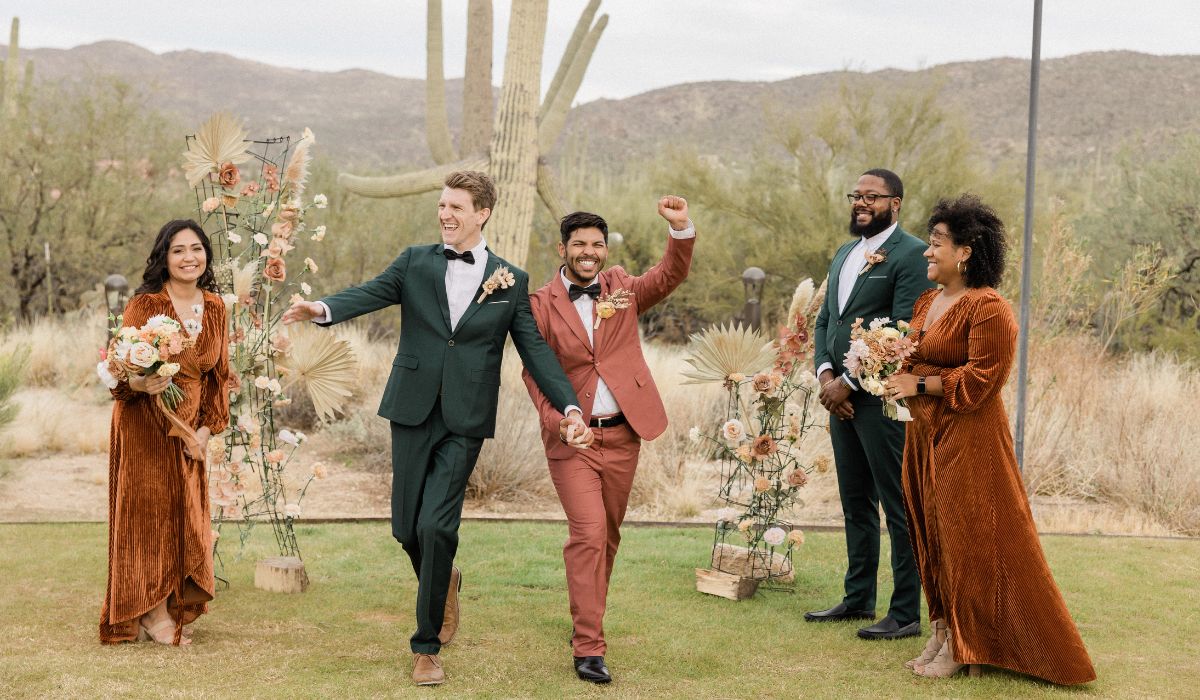 Garden Party
Host an elegant garden party at a local botanical garden or a picturesque outdoor venue. Take advantage of the natural beauty of the surroundings, and incorporate floral arrangements, lanterns, and garden-inspired decor.
SIDE NOTE: Golf courses are also a great option for this! They usually have event rooms that you can rent and most likely even accommodations. This can help you save a lot of money!
Historic Venue Charm
Opt for a small wedding in a historic venue, such as a charming courthouse, a restored barn, or a quaint inn. These venues offer character and a sense of nostalgia, creating an intimate atmosphere for your special day.
SIDE NOTE: Historic venues tend to have a lot of restrictions to preserve the location. This might mean that there are specific decorations that are allowed. Party time might also vary – meaning, you might need to wrap up earlier than usual.
Brunch Wedding (this is one of our readers' fave ideas for a small wedding!)
Consider a morning wedding followed by a delightful brunch reception. Serve delicious breakfast foods, mimosas, and pastries. A brunch wedding allows for a relaxed and joyful celebration with your closest friends and family.
SIDE NOTE: Choose locations or even restaurants that have black-out blinds or curtains so you can set the mood to "party" after the brunch. Read about how to elevate your brunch wedding here.
Private Yacht Affair
Set sail on a private yacht for an exclusive wedding experience. Enjoy the luxury of the open water, breathtaking views, and a celebration tailored to your desires. It's an intimate and romantic way to tie the knot.
SIDE NOTE: Lots of companies offer great packages for boat weddings. Doesn't necessarily have to be a huge yacht. A classic boat that you can rent out and book for a wedding is a great option.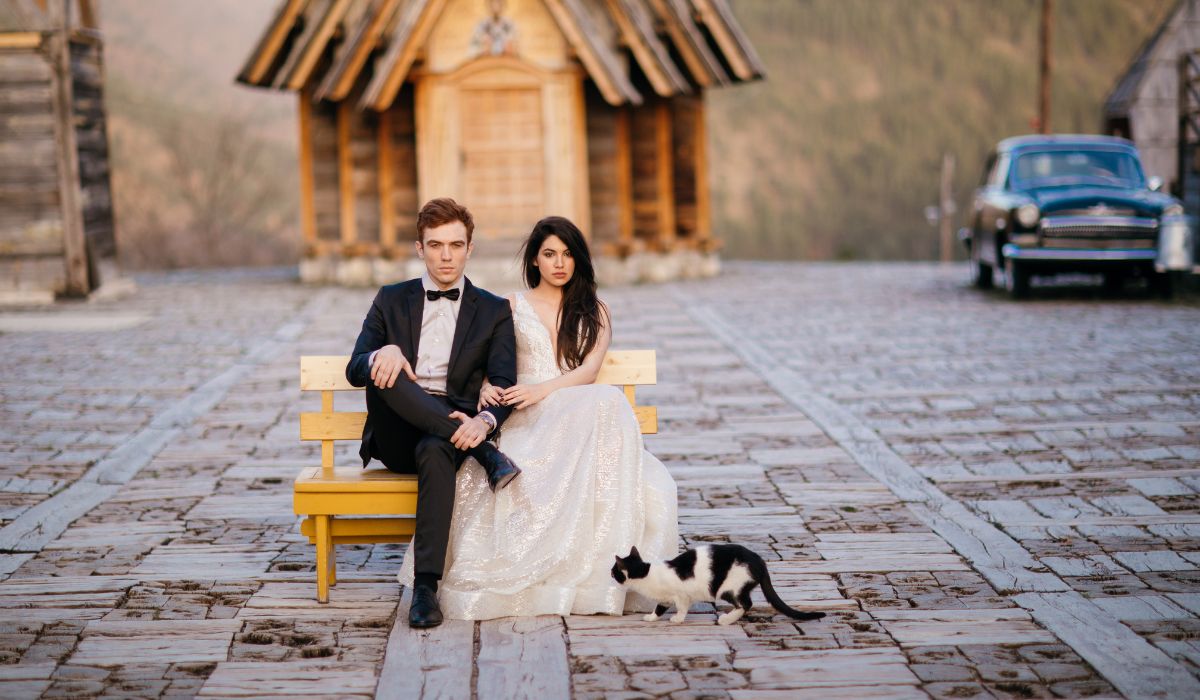 Romantic Forest Retreat
Escape to a secluded forest cabin or lodge for a whimsical and intimate wedding. Surround yourself with nature's beauty, create a cozy setting, and let the magic of the forest be the backdrop for your special day.
Whether it's hiking to a scenic spot or exchanging vows on a mountaintop, let nature be the backdrop for your unique celebration.
SIDE NOTE: This can also be a winter getaway up in the alps or where snow is abundant. Winter wonderland vibes without breaking the bank!
Rustic Farmhouse Chic
Choose a charming farmhouse as the setting for your small wedding. With its rustic charm and cozy ambiance, a farmhouse provides a warm and intimate atmosphere for your celebration.
SIDE NOTE: When choosing a farm, always opt for the ones that have great washrooms. Also, the ones where there is an indoor and outdoor option. Because the last thing you want is when you are sweating like crazy you got nowhere indoors with air conditioning to go!
Food Truck Fiesta (this is one of the most fun ideas for a small wedding)
Organize a food truck reception with a variety of cuisines to cater to different tastes. Let your guests indulge in delicious street food while celebrating your love and creating a festive atmosphere.
SIDE NOTE: Rent out spaces that have an open parking space so the food trucks have space to park and your guests to walk around and mingle. Industrial open spaces where food trucks can actually park inside the venue are great options.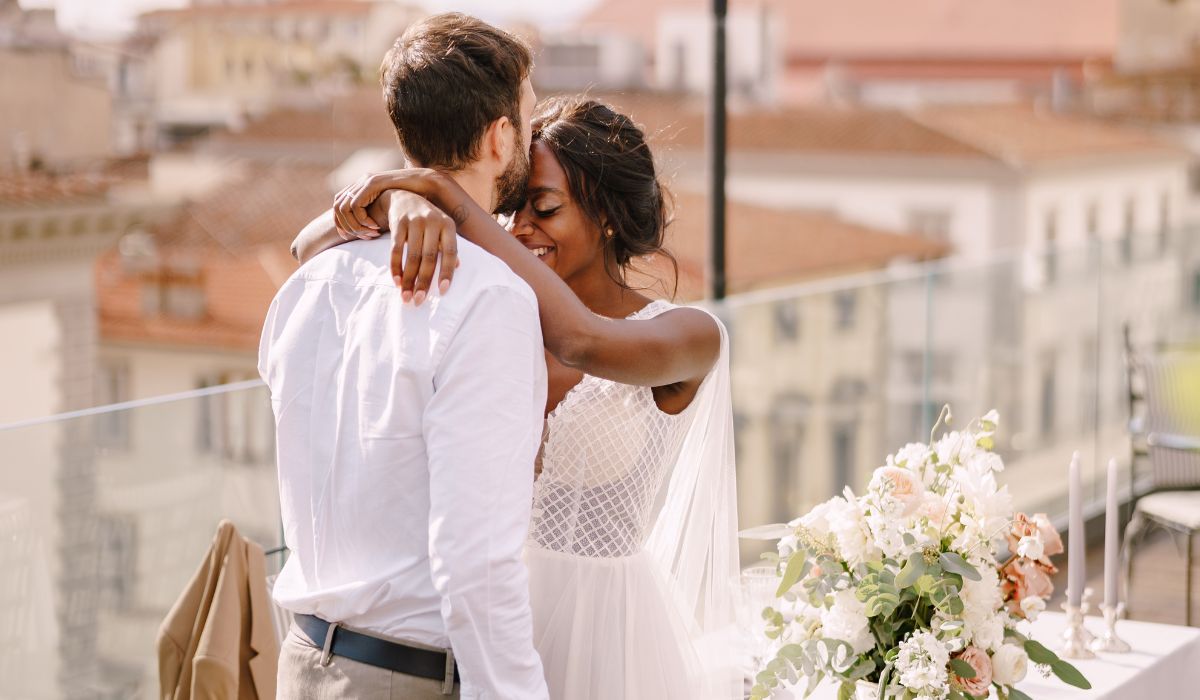 Romantic B&B Wedding
Choose a romantic bed and breakfast, or book a cottage for an intimate and cozy wedding. Enjoy a personalized experience, beautiful accommodations, and a charming atmosphere that is perfect for a small gathering.
SIDE NOTE: When booking your B&B, ensure to communicate your wedding plans to the landlord. Most likely, there are permits that need to be secured before you are able to hold a wedding, regardless of how small it is.
Historic City Hall Wedding
Consider having a simple yet elegant ceremony at your local city hall. City halls often have beautiful architecture and provide a sense of history and significance to your union.
SIDE NOTE: You can then book a restaurant party room or event room where you can hold your "reception". Some restaurants actually have in-house DJs or bands that will serve as your entertainment for the night.
Brewery Celebration
If you and your partner are beer enthusiasts, consider having your wedding at a local brewery. Arrange a private tour, beer tasting, and a fun-filled reception where guests can enjoy a variety of craft brews.
SIDE NOTE: You can rent out a brewery and have a space for a catered dinner, or you can also add on food trucks to help with the food. Find a space where you can also party (loud music and dancing) after!
〰️ Remember, the most important aspect of a small wedding is to focus on what truly matters to you as a couple.
Embrace the intimacy, personalization, and meaningful connections that a smaller celebration allows. Choose ideas that resonate with your budget and vision to create a wedding day filled with love, joy, and cherished memories.
There you are lovelies! Ideas For A Small Wedding: Top 20 For Your Intimate Big Day!