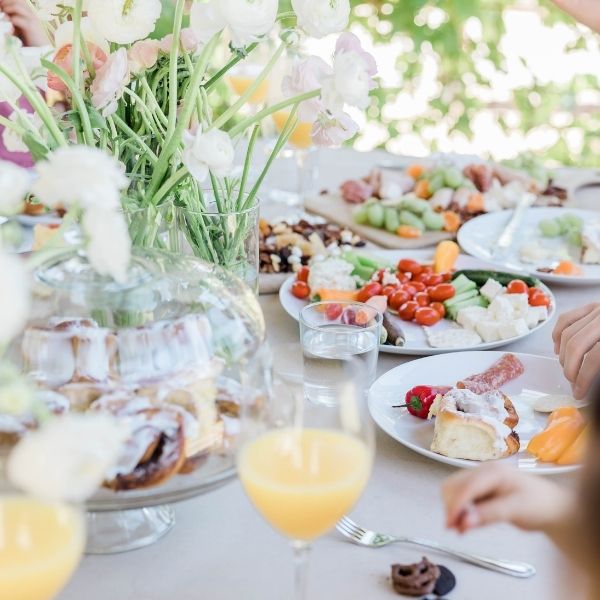 Brunch Wedding Guide: Reasons to consider. A comprehensive guide to a brunch wedding! Beyond tradition, embracing daytime weddings. Is a brunch wedding worth it? Is a brunch wedding worth considering? Crafting your brunch wedding experience!
This site contains affiliate links. For more info, please see our full disclosure.
Picture this – a gentle morning breeze rustling through lush gardens, the soft rays of the sun illuminating the joyous faces of your loved ones, and the delightful aroma of a delectable brunch menu filling the air.
With the rising popularity of these daytime affairs, it's no wonder that couples are embracing the idea of saying "I do" under the warm midday sun.
But why would you want to consider a brunch wedding? Aside from the obvious savings, there are other reasons that you might not have noticed.
They tend to be less complicated and also manageable in most ways! With many creative ways, you can make your brunch wedding feel like a "real fun party" (which we all want!)
It's good to note that brunch weddings have an early start. Meaning all your prep (including hair and make-up) will start early. We're talking around 4 or 5 am!
Let's say your ceremony is scheduled at 10-10:30 am, then your brunch/lunch reception starts at 11 or 11:30 am. This means that for a 4-5 hour reception, you will be done at 4 or 5 pm, which is still a great day!
You will be surprised by how much you can save and the opportunities to be creative when you opt for a brunch wedding! And we are here to share with you some of the reasons why a brunch wedding might be the best match for you!
Brunch Wedding Guide: Reasons To Consider
1. Chill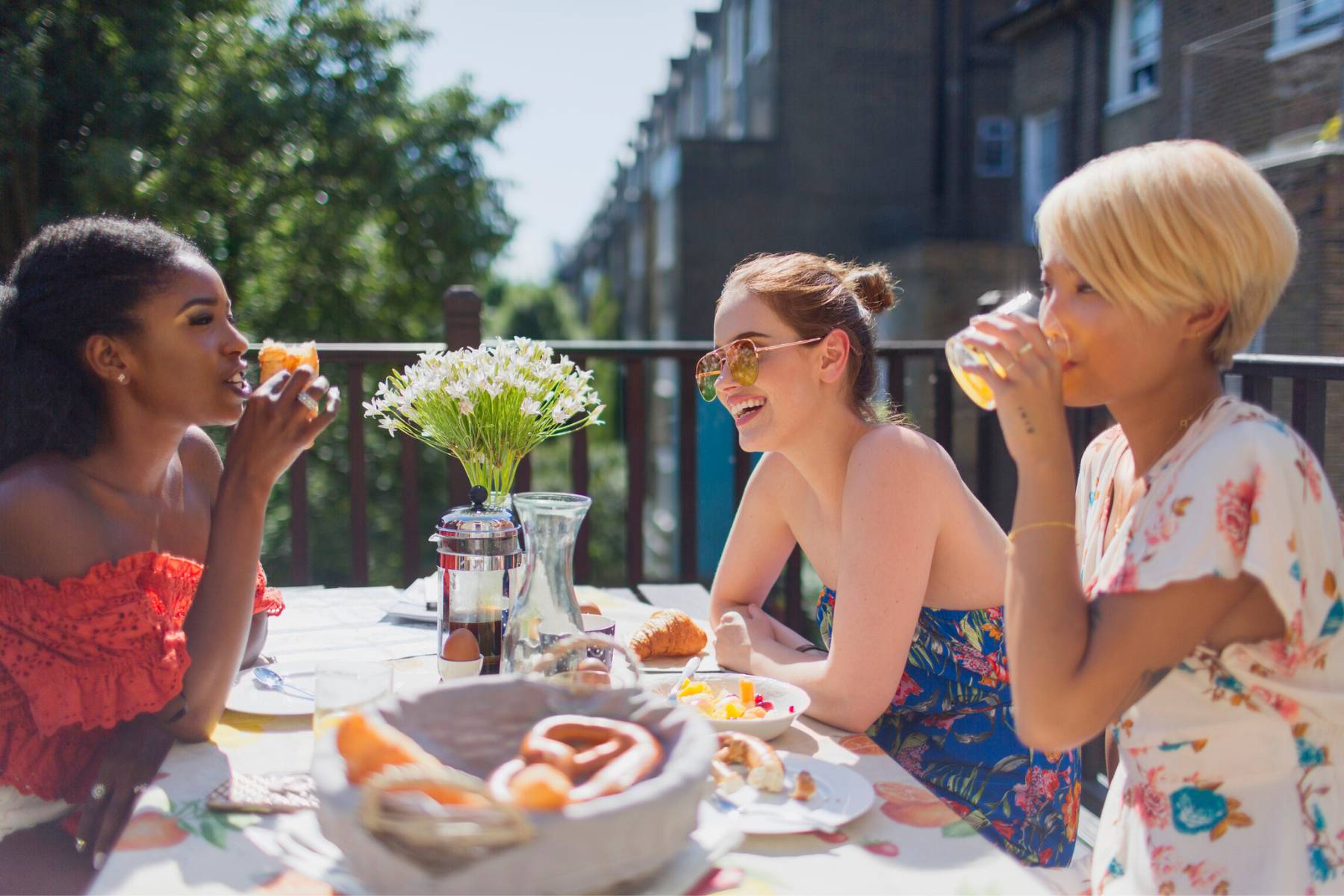 One of the reasons to consider a brunch wedding is because it's just more chill! As much as it is a wedding, you have a little more of a "chill vibe with brunch." You can still dress up and dress down. Of course, this is all up to you and your venue of choice.
Brunch weddings have a more laid-back appeal where your guests dress up but are not necessarily a black-tie event.
2. Lots of saving options – brunch wedding guide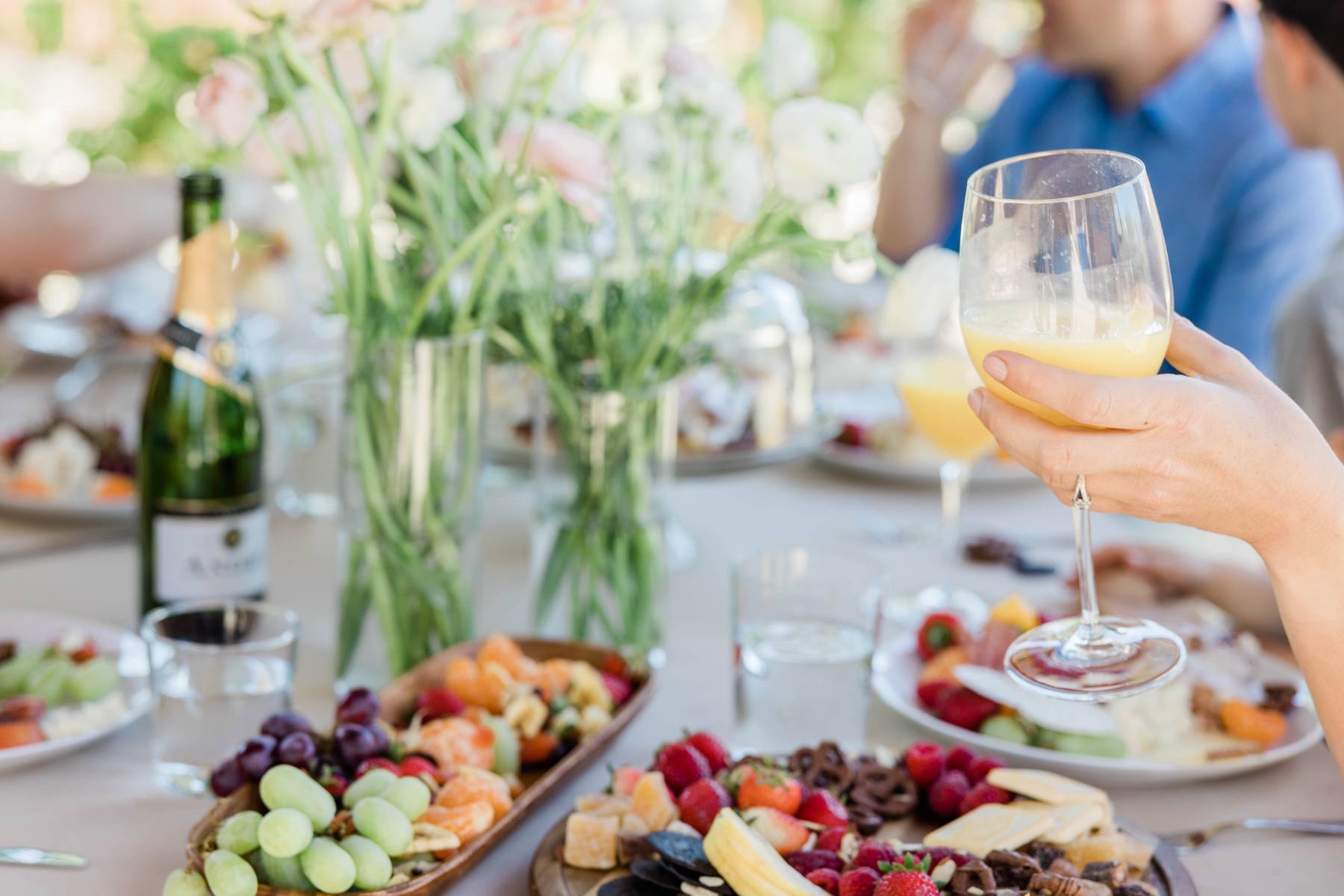 Let's talk about other options, like maybe a mimosa or sangria bar instead of a full bar. That is just right; there are a lot of savings. Of course, you can also serve wine and beer, but it is still a much more affordable option than a full open bar.
Easy appetizers like mini burgers and fries can be served! These are super affordable menu options!
You can also opt for one heavy-course meal with pancakes, eggs, and sandwiches without feeling guilty that your guests aren't fed enough.
You can also plug in your own playlist to back up your wedding timeline if you want to save extra.
Another saving is the rental fee since you will most likely only have a 4-5 hour-long reception.
Most likely from 11 am-4 pm. Assuming your ceremony is 930 am -1030am off-site.
3. Venue Flexibility (this is one of our fave reasons to consider a brunch wedding!)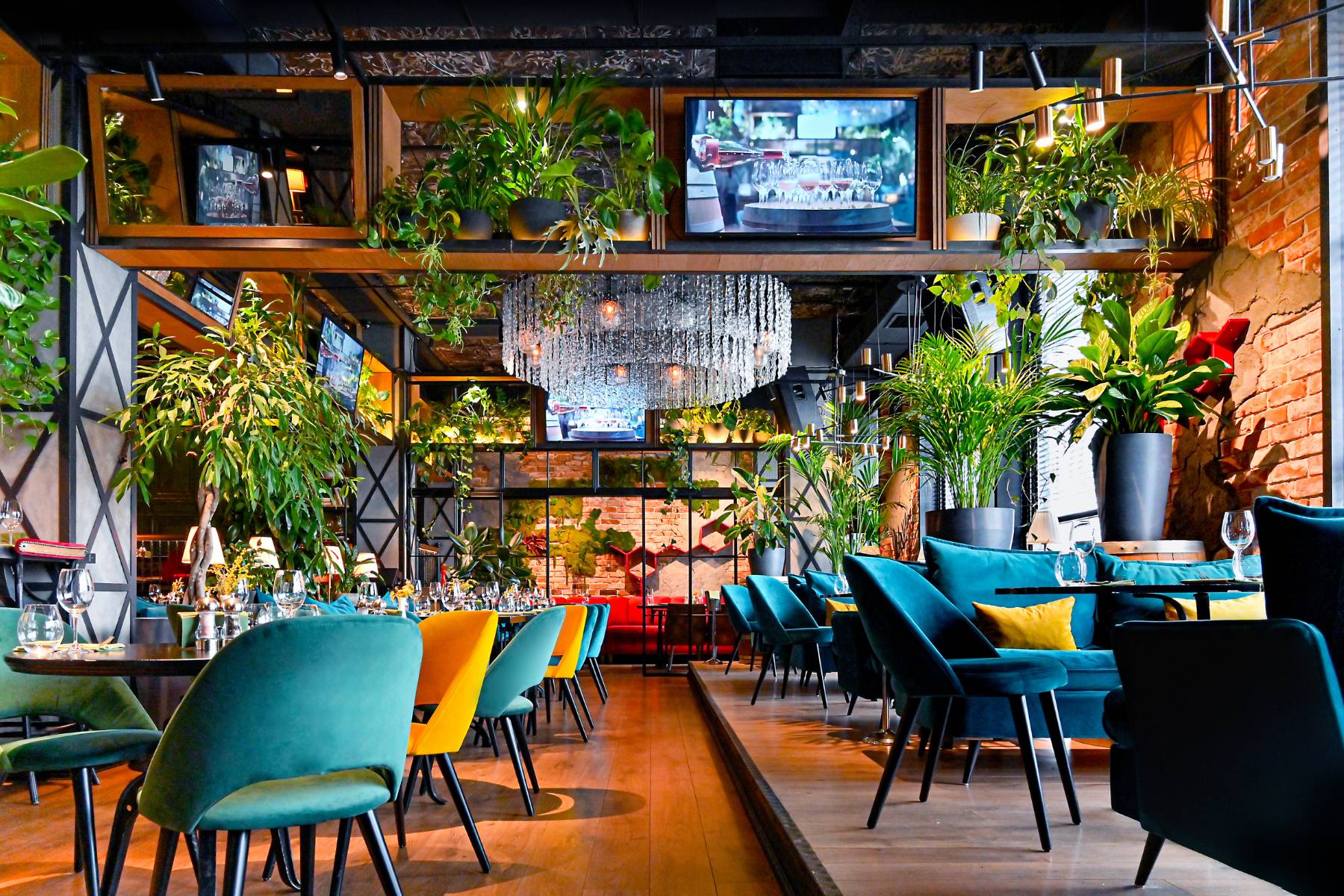 One of the reasons to consider a brunch wedding is venue flexibility. You will be surprised at how flexible and unique venues can be to accommodate you with your brunch wedding!
A few great options for brunch weddings are: buying out a restaurant, golf course, hotel function rooms, and studios.
These venues want their day to be filled, and even if they have an event at night, they are most likely to be able to accommodate you during the day.
** BUYING OUT A RESTAURANT:
Most restaurants are open to getting your wedding served, which is really a great business for them. This works best for restaurants that only serve dinner.
You can work with the restaurant event coordinator, and they will be able to work out a great price on group menu pricing for you!
Another thing about restaurants is that they usually already have a music system that you can easily plugin. For a small fee, you can plug into it since you already bought out the venue for your wedding.
Some restaurants also have an "enclosed" and/or "private" event area which is good because you can easily turn it into a party by plugging in party lights (projectors), and you will instantly get the party vibe going!
In-house bands are also common for restaurants, so if they have in-house bands/performers, it will make it easier for you to have them perform at your wedding!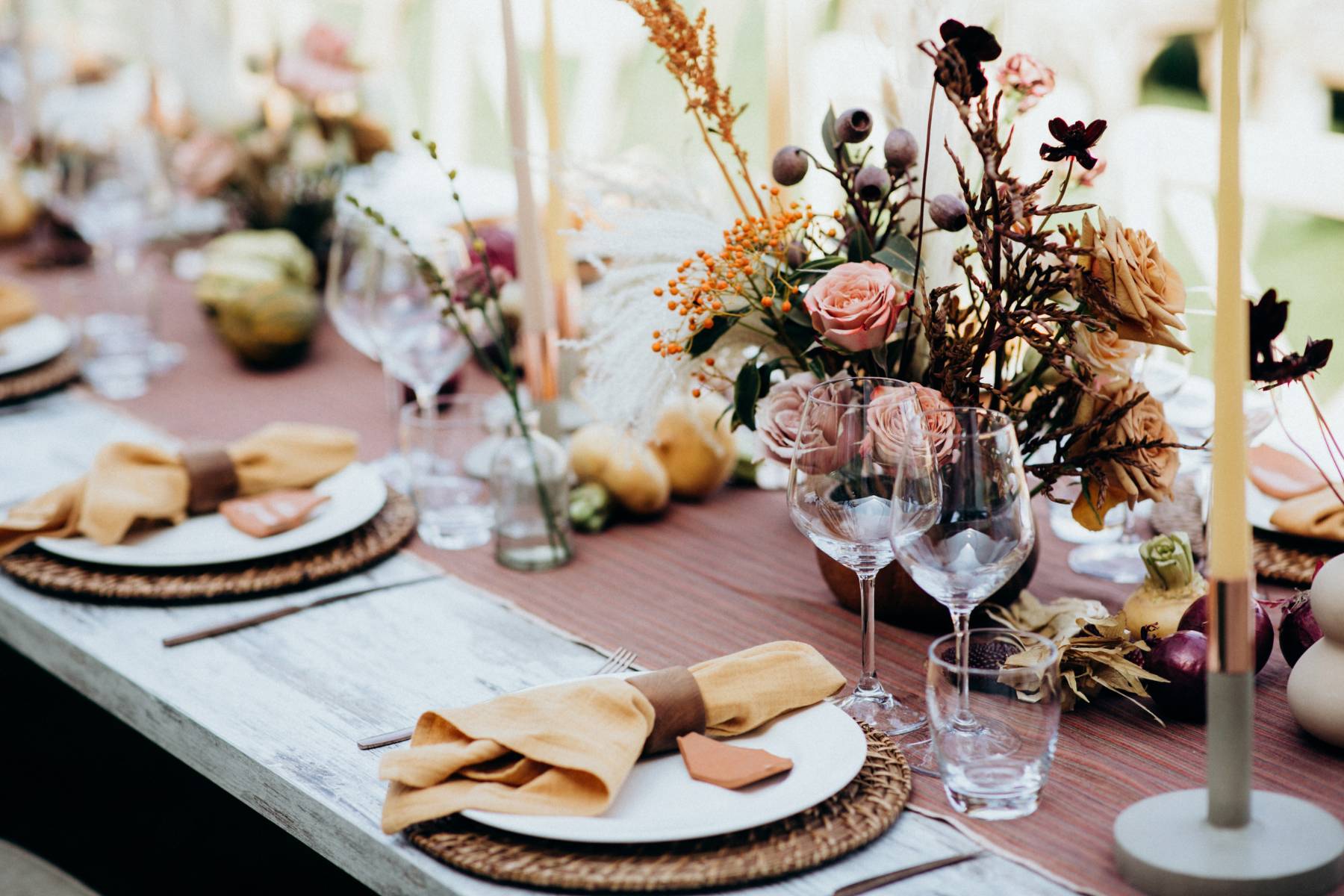 ** GOLF COURSE:
These are great if you want your ceremony and reception in one space. They will usually have a courtyard you can rent for the ceremony and proceed inside at one of their function/event rooms to hold your reception.
Their brunch menus are also pretty extensive, as well as creative!
Another saving is that golf courses usually have a great backdrop that you can use for photoshoots while your guests are doing "appetizers" in the function/event room!
** HOTEL FUNCTION ROOMS:
This is not the hotel event room or ballroom, but just the function room. Function rooms usually don't have that extensive electronics and floor plan design, so the rent is much more affordable.
Since most hotel function rooms are used on weekdays for corporate events, they are pretty welcoming for events on the weekend, especially brunch, to help them fill up their calendar!
Their brunch menus are also pretty affordable, especially if you have already blocked your own rooms with them!
The function rooms also have sound systems built into them, which again you can plug into!
Also, they usually have heavy curtains! This means when you want to start dancing after food is served, you can easily get those curtains closed and start the party!
** PRO TIP:
Choosing a venue with heavy curtains will help you and your guests transition from lunch to "party time" seamlessly! This means you will still get the vibe that you are partying "late at night!"
Using props like party light projectors that can also sync with the music playing will definitely set the party's vibe.
You can also rent out backdrops where you can "blackout" and cover the windows to still give that late-night party feel.

4. Menu Options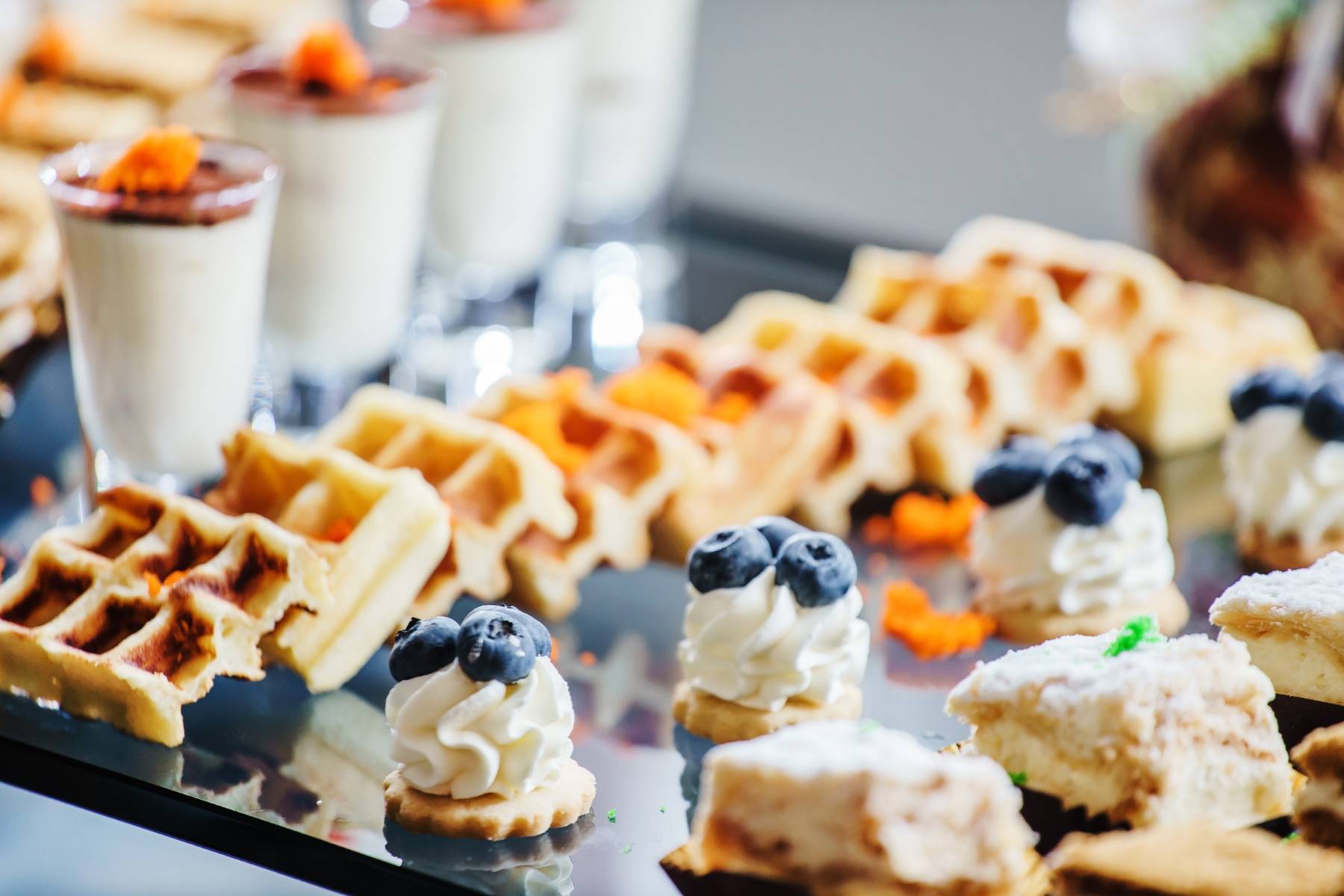 If you feel creative, there are many DIY ideas you can pull during a brunch wedding.
Hot chocolate station, cereal, and yogurt bar, mimosa/sangria bar, sandwich stations, cookie bar, and many more!
Croissants, pastries, pancake and waffle station, yogurt cup station, and eggs are a great meal not just to keep your guests full, but also to keep them interactive.
They can select their own toppings for the pancake, waffle, and yogurt cup station!
Here we share more ideas on how to DIY your wedding brunch menu!
5. Entertainment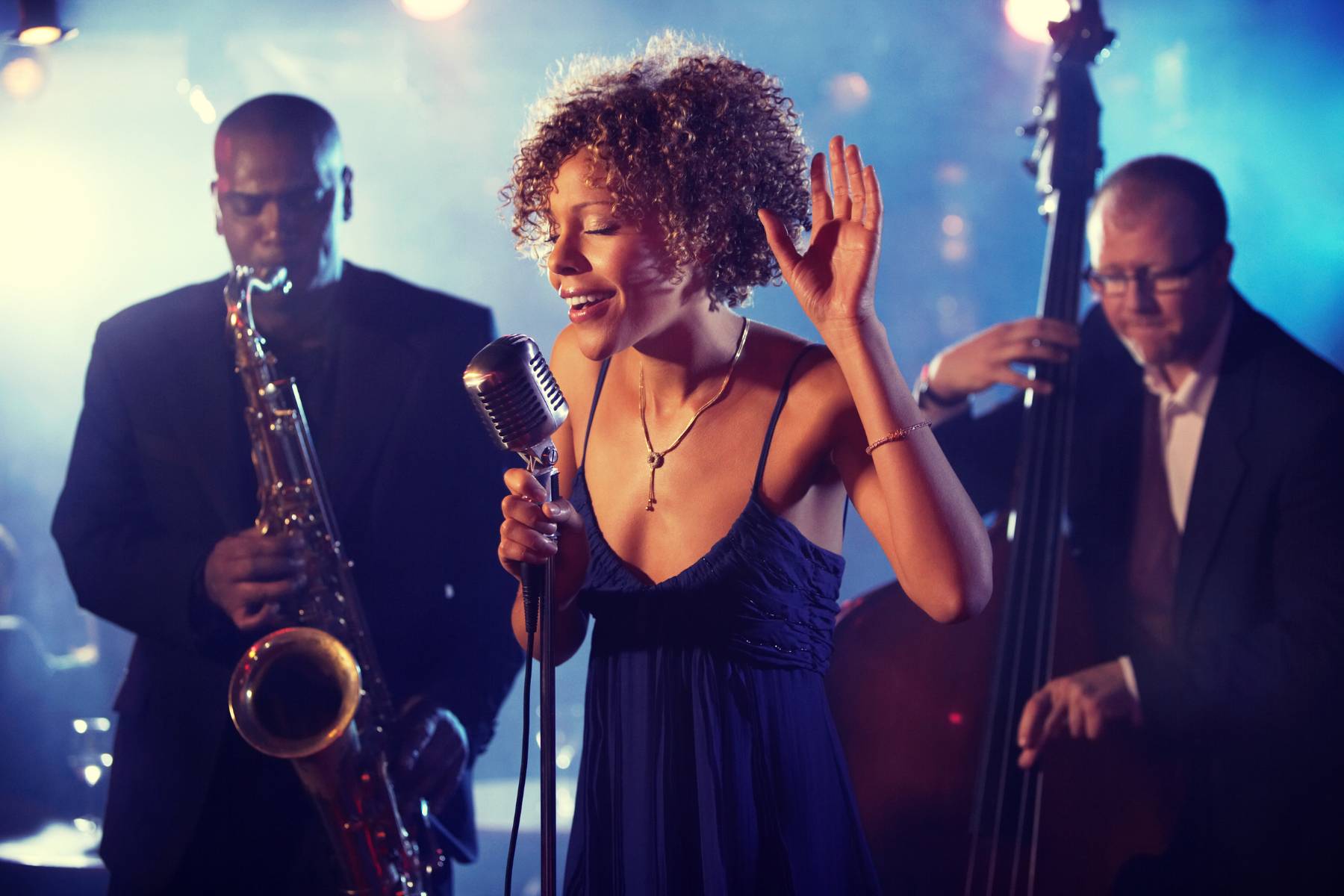 Just because you're doing a DIY brunch wedding doesn't mean you don't need entertainment.
As a matter of fact, it is the opposite. We are in the middle of the day, and people are not usually in the mood for a wedding or any partying for that matter.
In this guide, we've discussed in detail ways how you can DIY your entertainment specifically for your brunch wedding – because not all wedding entertainment plans are created equal!
But of course, if you can include acoustic entertainers and DJ in your wedding budget, the better!
6. Easy decor ideas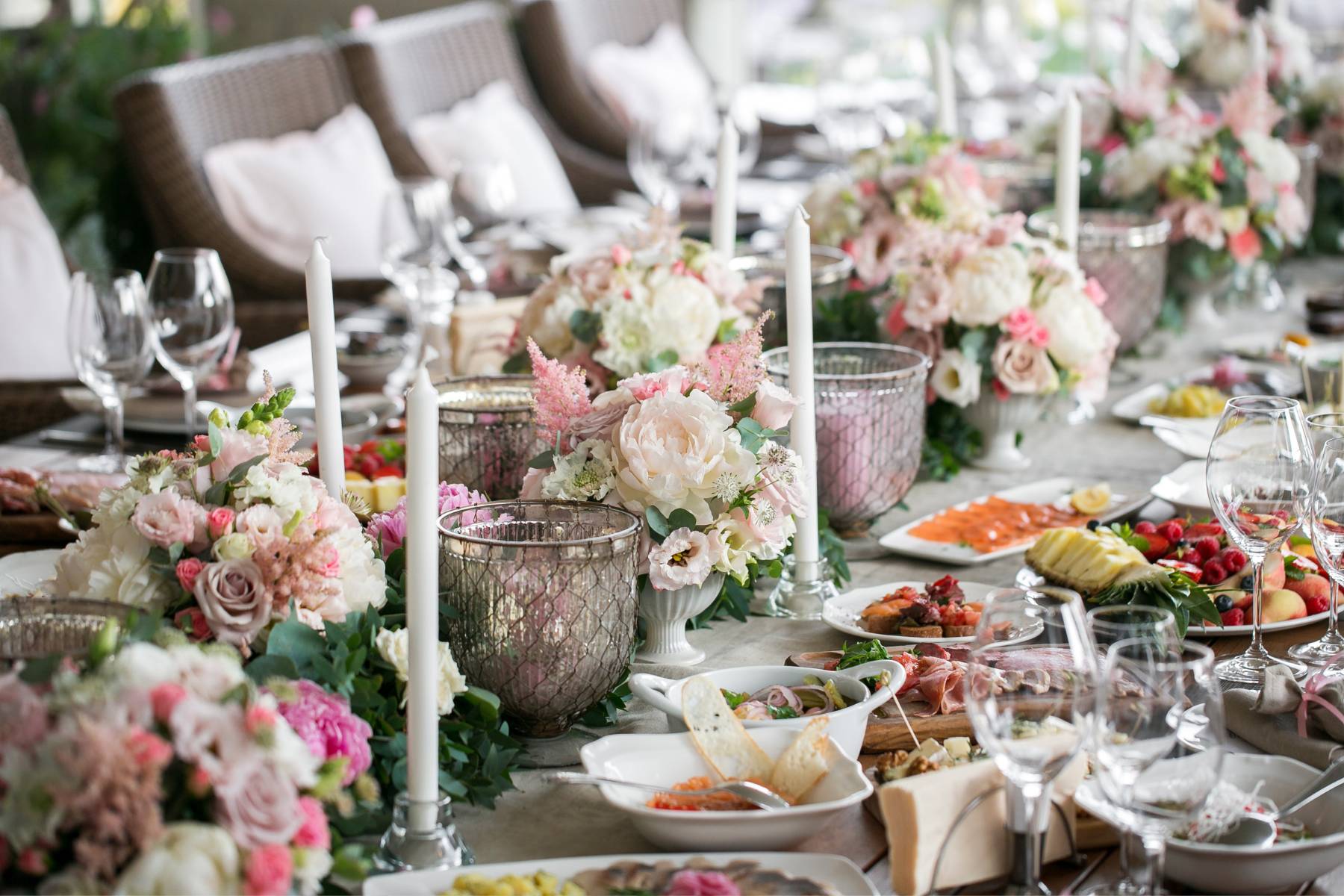 Since you are doing a brunch wedding, it is most likely that you won't need so many plates and utensils! Most brunch menus are singly plated – making your table-setting decor a little easier to design and manage!
Our top choices of easy and affordable decor ideas are greenery, cherry blossoms, hydrangeas, potted plants/herbs (that can also serve as your guests' favorite!), and gorgeous dried flowers!
Read more about easy and affordable DIY wedding centerpiece ideas here.
〰️ Embracing a brunch wedding opens the door to a world of possibilities – from beautiful garden settings to rustic countryside barns and even restaurants and golf courses with gorgeous interiors.
This daytime affair exudes an aura of joy and togetherness, allowing you to create lasting memories with your loved ones.
Moreover, the budget-friendly aspect of brunch weddings allows you to allocate resources wisely and perhaps even extend the celebration into a weekend of cherished memories.
With its unique blend of elegance and casualness, a brunch wedding promises to be an unforgettable experience, creating a treasure trove of cherished memories that will last a lifetime.
There you are lovelies! Reasons To Consider A Brunch Wedding! What do you think? Are you sold on a brunch wedding?