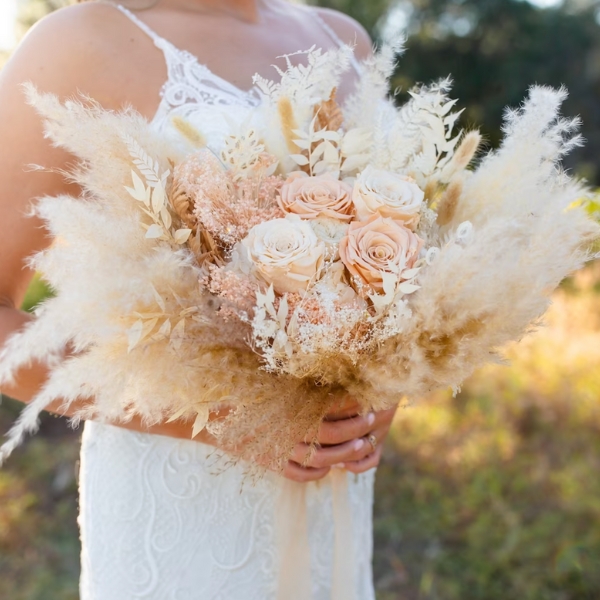 Dried Flower Bouquet Wedding: You'll Love From Etsy! Classic yet modern! Considering dried flowers for your wedding bouquet? We're putting together these beautiful wedding bouquet designs to help you find the best one for your wedding style!
The best part of this guide is that you can also use some of these designs for your centerpieces! Affordable and easy DIY dried wedding flower bridal bouquet ideas, that also work as wedding centerpieces! How amazing is this?
This site contains affiliate links. For more info, please see our full disclosure.
Dried flower bouquets and centerpieces for weddings have become increasingly popular as a wedding decor choice, and for a good reason.
They are long-lasting (great as a keepsake!), unique, rustic feel, eco-friendly, versatile and cost effective!
When we think about wedding flowers, we always associate them with fresh flowers. But these dried flower bouquet ideas from Etsy, will definitely make you take a second look at dried bouquets.
It's probably time to consider dried flowers for your wedding!
Not only are these dried wedding bouquets going to last even after the wedding, they are super easy to manage, which means you can order them way ahead of time.
Dried and preserved flowers add so much depth and texture! Add popular details like bunny tails, wildflowers, daisies, white ruscus, palm, lavender, wheat, and eucalyptus.
These bouquets are great for the classic vibe (peonies, roses, and baby's breath!) but of course, it fits perfectly into a rustic boho chic wedding vibe.
Because these flowers are easy to work with, you can mix them with real flowers, or even silk faux flowers!
These dried wedding flower bouquets are top-rated (customer favorites!) from Etsy. You'll find pictures of them on real newlywed-to-be!
As we mentioned earlier, you can also use these as centerpieces! Purchase your vases and cut the stems of these bouquets accordingly (ensure there are not a lot of stems showing and only leave the top part of the bouquet!)
When using these as centerpieces, opting for a colored vase will help cover the stems and make the blooms look fuller!
In this set, you will surely find a dried wedding bridal bouquet to match your style!

There you are lovelies! Dried Wedding Flower Bouquet Styles You'll Love: Etsy! Stay tuned for more inspiration!