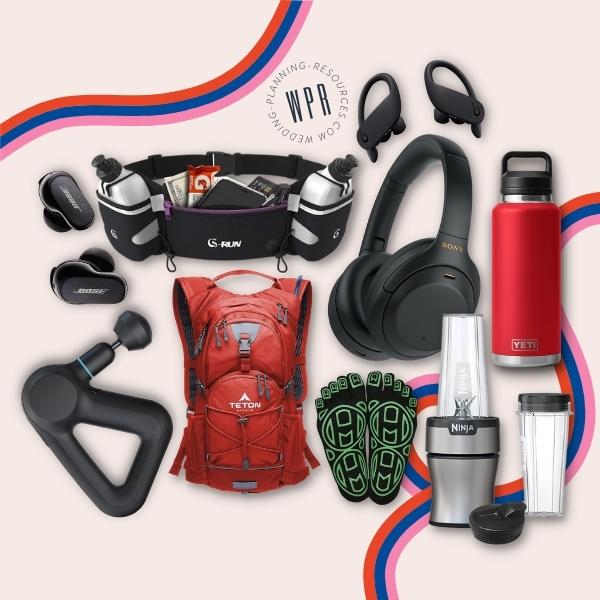 Gift Guide : Fitness Buff. The ultimate gift guide for the sporty active lifestyle peeps. Elevate their fitness game. Gear, gadgets, and gifts. Gifts that work out. Celebrate health and wellness. Gear up for giving. Gears your active loved ones will love!
This site contains affiliate links. For more info, please see our full disclosure. This post has Amazon links and as an Amazon Associate, Wedding Planning Resources earns from qualifying purchases.
Fitness isn't just about exercise; it's a journey to health and vitality. By choosing gifts that align with this path, you're not only showing your support but also enhancing their fitness experience.
From the moment they put on their new workout attire, sip from their durable water bottle, or track their progress on a smart device, your gift will be a constant reminder of your encouragement.
This is why we've assembled a handpicked collection of gift ideas that are sure to delight and motivate fitness enthusiasts.
Whether you're shopping for a dedicated gym-goer, a passionate runner, a yoga lover, or anyone committed to an active lifestyle, our guide is designed to help you find the perfect gift.
We've scoured the market for items that cater to various fitness interests and levels, ensuring that you'll discover something that will keep them moving, sweating, and feeling (and looking!) their best.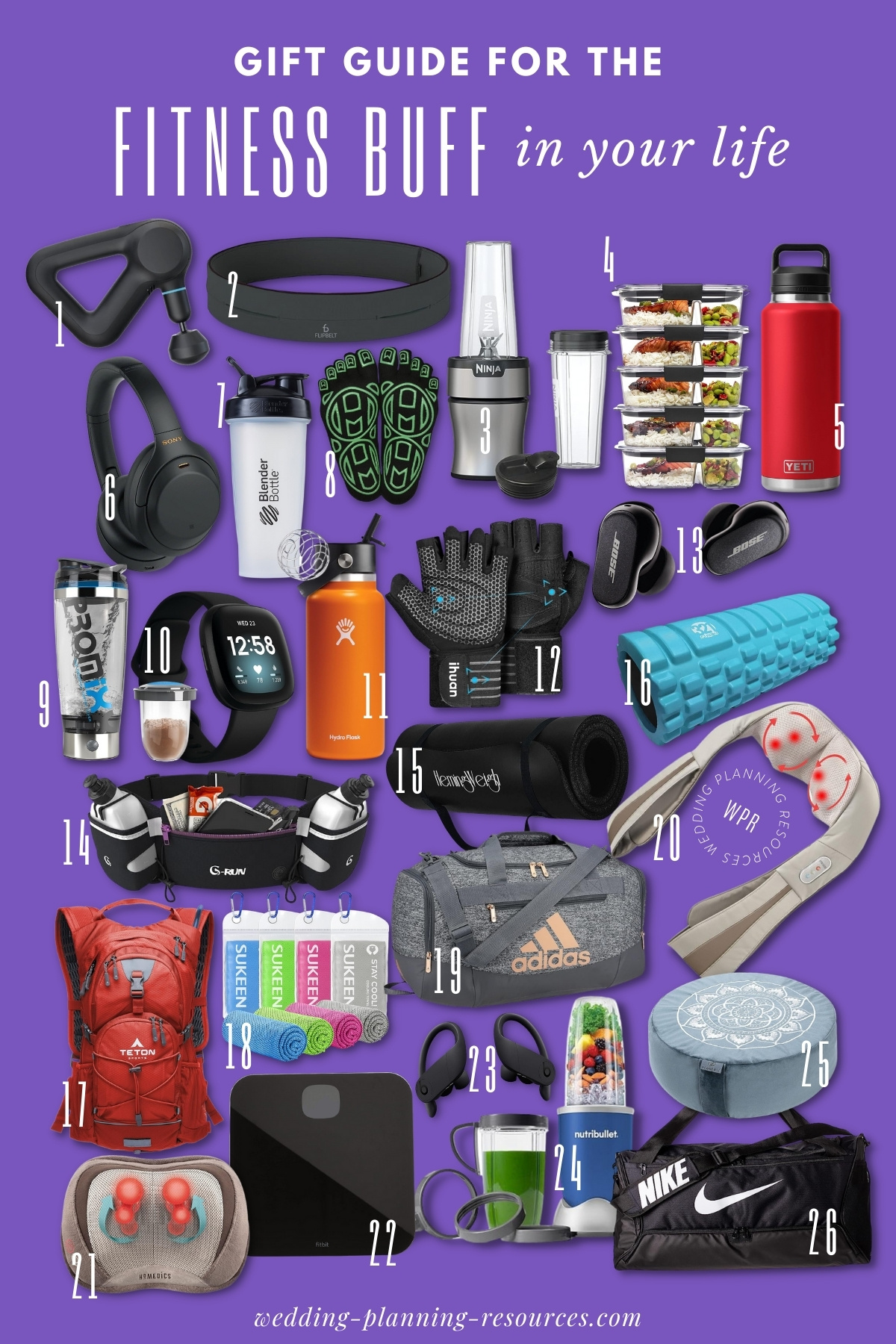 Gift Guide : Fitness Buff Gift Ideas
The TheraGun Prime is the ultimate gift for fitness enthusiasts seeking relaxation and pain relief. This powerful, 5th generation percussion massage gun is Bluetooth enabled and designed to target those post-workout aches in the neck, back, legs, shoulders, and throughout the body.
With its quiet operation and deep tissue therapy capabilities, it's a valuable tool to keep muscles feeling refreshed and ready for the next challenge.
Elevate any fitness enthusiast's running experience with the FlipBelt Classic Running Belt, a fantastic and functional gift idea.
This USA-made, non-chafing waistband pack is perfect for both men and women. With its moisture-wicking material and clever storage design for phones and essentials, it enhances workouts by providing convenience and comfort, ensuring that nothing gets in the way of an active lifestyle.
For those passionate about maintaining a healthy lifestyle, the Ninja BN301 Nutri-Blender Plus is a must-have gift. This compact personal blender features a powerful 900-peak-watt motor, ideal for crafting delicious and nutritious smoothies, sauces, and more.
With the convenience of three 20 oz. to-go cups and two spout-lids, it's perfect for fitness buffs always on the move. The silver design adds a touch of elegance to any kitchen, while the dishwasher-safe components make cleanup a breeze. A favorite among our readers, it's a fantastic addition to a fitness buff's kitchen.
Fitness enthusiasts understand the importance of meal prepping and portion control. That's why the Rubbermaid Brilliance Food Storage Containers are a valuable addition to any fitness buff's arsenal.
This set of 5 containers, each with 2.85-cup capacity and two compartments, offers airtight, leak-proof storage for lunches, meal preps, and leftovers. These BPA-free containers are not only a practical gift but also make staying on track with a healthy diet a breeze. Include them in your gift to delight health-conscious readers.
For fitness enthusiasts always on the go, the YETI Rambler 46 oz Bottle is a perfect companion.
This vacuum-insulated stainless steel bottle keeps beverages hot or cold for hours, ensuring you stay hydrated and refreshed during your workouts. Its convenient Chug Cap allows for easy sipping, making it a practical and stylish gift for anyone passionate about fitness and hydration.
Elevate the audio experience for any music-loving fitness enthusiast with the Sony WH-1000XM4 Wireless Premium Noise-Canceling Headphones. These over-ear headphones offer top-tier noise-canceling technology, allowing users to dive deep into their workout playlists without external distractions.
With built-in microphones for crystal-clear phone calls and Alexa voice control, these headphones are versatile and convenient for any fitness regimen. In sleek black, they're not just a sound investment but a style statement too. Perfect for those who demand the best in sound quality and comfort during their workouts.
Enhance your fitness routine with the BlenderBottle Classic Shaker Bottle, a must-have for anyone who loves protein shakes and pre-workout drinks.
This 28-ounce bottle is designed for effortless mixing, ensuring your shakes are smooth and clump-free. Its leak-proof design and sturdy flip cap make it ideal for on-the-go hydration during workouts. The clear body with a black lid adds a touch of style to your fitness gear.
This shaker bottle is the perfect companion for fitness enthusiasts who prioritize convenience and functionality in their nutrition routines.
Elevate your fitness routine with Mato & Hash 5-Toe Exercise Barefoot Feel Yoga Toe Socks, the perfect gift for fitness enthusiasts.
These innovative socks provide a barefoot-like experience, allowing your toes to move naturally and engage your core during yoga, Pilates, or barre workouts. With a secure and non-slip grip, you can confidently tackle any exercise routine while promoting proper toe alignment and balance.
Experience the future of shaker bottles with the Promixx Pro Shaker Bottle (iX-R Edition), the ultimate gift for fitness enthusiasts.
This innovative and rechargeable shaker ensures perfectly smooth protein shakes and supplements every time. With a built-in supplement storage compartment, you can easily stay fueled on the go, making it an ideal addition to your fitness routine.
Crafted with high-quality, BPA-free materials and a 20oz cup, this shaker bottle combines convenience and performance for a superior shake-blending experience.
Elevate your fitness game with the Fitbit Versa 3 Health & Fitness Smartwatch, a perfect gift for the health-conscious individual. This smartwatch features built-in GPS for accurate tracking, 24/7 heart rate monitoring, and Amazon Alexa integration, making it your ideal workout companion.
With a battery life of over six days and both small and large bands included, it offers comfort and convenience for everyone. Stay on top of your health and fitness goals with this sleek and feature-packed smartwatch.
Introducing the Hydro Flask Wide Mouth Straw Lid, the ultimate hydration accessory for active individuals. This durable lid is designed to fit your Hydro Flask wide mouth water bottle, making it easy to stay hydrated on the go.
The integrated straw ensures effortless sipping, while the robust construction is built to withstand your active lifestyle. Upgrade your Hydro Flask with this convenient lid for a spill-free, thirst-quenching experience wherever your adventures take you.
Designed for both men and women, these gloves are the perfect companion for your fitness journey. With full palm protection and wrist wrap support, they offer superior grip and stability, whether you're lifting weights, training, doing pull-ups, or any other fitness activity.
The ventilation design keeps your hands cool and dry, ensuring comfort during your workouts. Don't let discomfort hold you back – equip yourself with these gloves and take your fitness to the next level.
Immerse yourself in the world of music with the Bose QuietComfort Earbuds II. These wireless, Bluetooth earbuds take your audio experience to a whole new level.
Featuring proprietary active noise-canceling technology, these in-ear headphones let you enjoy your favorite tunes without any external disturbances.
What sets them apart is the personalized noise cancellation and sound customization, adapting to your preferences for an individualized audio experience. In a sleek Triple Black design, these earbuds deliver top-notch sound quality, comfort, and style for a truly immersive listening journey.
The Hydration Running Belt with Bottles is the perfect gift for fitness enthusiasts who enjoy running, cycling, or biking.
This waist pouch comes with water bottles to keep them hydrated during their workouts, and it features a pocket designed to fit any phone size, making it convenient for music or GPS tracking. The sleek and stylish purple design adds a touch of personality to their fitness gear, ensuring they stay hydrated and connected while on the move.
The HemingWeigh Yoga Mat is an ideal gift for yoga and fitness enthusiasts who love practicing at home, indoors, or outdoors.
With its generous 1-inch thickness, this mat provides superior comfort and support during workouts. Its non-slip surface ensures stability and safety, allowing users to focus on their poses and exercises. The sleek black design adds a touch of elegance to their yoga routine, making it a thoughtful and practical gift choice for anyone dedicated to their fitness journey.

The 321 STRONG Foam Roller is a fantastic gift for fitness enthusiasts who prioritize muscle recovery and myofascial release in their workout routines.
With a medium-density design, it's perfect for deep tissue massages to alleviate muscle tension and tightness. As an added bonus, it comes with a 4K eBook to guide users through various exercises and techniques for an effective self-massage session, making it a valuable addition to any fitness regimen.
The TETON Sports Oasis Hydration Backpack is an excellent gift for fitness enthusiasts who enjoy outdoor activities like hiking, running, cycling, and biking. This versatile backpack includes a hydration bladder, making it easy to stay hydrated on the go.
Additionally, its sewn-in rain cover provides extra protection for the contents during outdoor adventures, ensuring a hassle-free and enjoyable experience for anyone who loves to stay active in the great outdoors.
The Sukeen Cooling Towel is the perfect gift for fitness enthusiasts who engage in activities like yoga, sports, running, gym workouts, and more.
This 4-pack of cooling towels is designed to keep you cool during your workouts or outdoor adventures. Made of soft, breathable microfiber, these towels are easy to carry and provide a refreshing cooling sensation when wet, making them an essential addition to any fitness routine or outdoor activity.
The adidas Unisex Defender 4 Small Duffel Bag is an ideal gift for fitness buffs who love to hit the gym or embark on sports activities. This compact yet spacious duffel bag offers versatile storage for all your workout essentials.
With a durable design, multiple pockets, and a comfortable carrying experience, it's perfect for athletes and fitness enthusiasts on the go. Whether you're heading to the gym, the field, or a sports event, this adidas duffel bag has got you covered.
The Homedics Neck Massager is the perfect gift for fitness enthusiasts looking to relax and relieve tension after a strenuous workout. This heated Shiatsu neck and shoulder massager offers three speeds and directional changes for a customizable and soothing massage experience.
With convenient straps, it's easy to secure the massager in place and enjoy portable relief for the neck, shoulders, back, and legs. This massager is a great addition to any fitness enthusiast's self-care routine, providing relaxation and recovery when needed most.
The Homedics Back and Neck Massager is the perfect on-the-go gift for fitness lovers. This portable Shiatsu massage pillow with heat targets the upper and lower back, neck, and shoulders, making it a versatile solution for post-workout relaxation.
Its lightweight design is ideal for travel, so fitness enthusiasts can enjoy a soothing massage anywhere they go. With customizable heat settings and the ability to choose the intensity of the massage, this massager is a fantastic addition to any fitness enthusiast's self-care routine.
The Fitbit Aria Air Smart Scale in sleek black is an excellent fitness fan's gift. This smart scale offers a convenient way to track not only weight but also body fat percentage, making it a valuable tool for monitoring fitness progress.
With the ability to sync data to a Fitbit account, users can access their health insights on the go, helping them stay on track with their fitness goals. The modern design and easy-to-read display make this smart scale a stylish and practical addition to any fitness enthusiast's routine.
The Beats Powerbeats Pro Wireless Earbuds in sleek black are the perfect companion for the active people in your life. Powered by the Apple H1 Headphone Chip, these earbuds deliver a seamless and reliable wireless experience.
With a long battery life of up to 9 hours and sweat resistance, they're designed to keep up with your active lifestyle. The built-in microphone allows for clear phone calls and voice control, making them a versatile choice for workouts and everyday use. Whether you're hitting the gym or going for a run, these earbuds provide high-quality sound and convenience.
The NutriBullet NB9-1301B Pro is a fantastic addition to any fitness enthusiast's kitchen. With its powerful 900W motor, it effortlessly blends and pulverizes ingredients to create nutrient-rich smoothies, shakes, and more.
This 13-piece set in a stylish cobalt blue includes everything you need for efficient and convenient meal preparation. With various cup sizes and lids, it's perfect for making personalized drinks to fuel your workouts and maintain a healthy lifestyle.
The Florensi Meditation Cushion is an excellent gift for a fitness lover who values their mental and physical well-being. This large floor pillow is designed to provide comfortable and ergonomic support during meditation and yoga sessions.
It features a beautiful velvet cover, and the filling is made of premium yoga buckwheat bolster, offering both comfort and durability. With its traditional Tibetan design and ample size, this meditation cushion not only enhances the meditation experience but also adds an aesthetic touch to any space.
The Nike Brasilia Training Medium Duffle Bag is a must-have for fitness enthusiasts who need a reliable and stylish bag to carry their workout gear. This duffle bag offers ample storage space for gym clothes, shoes, and other essentials.
It features a durable and water-resistant design, ensuring that your belongings stay protected even in adverse weather conditions. With its comfortable carrying options, including padded handles and an adjustable shoulder strap, this bag is perfect for those who are always on the move to their next fitness adventure.
〰️ We hope you've found a wealth of inspiration and thoughtful gift ideas for the fitness enthusiasts in your life. Whether it's the latest fitness tech, stylish workout gear, or tools to aid in recovery, the options are as diverse as the fitness goals themselves.
With these gifts, you're not only giving them something tangible but also the motivation and enthusiasm to continue pursuing their fitness goals with vigor and determination.
Sometimes that small token gift is what can make a difference in someone's fitness journey, and we're delighted to have been a part of that search with you.
Cheers to a healthier, more active, and fulfilling life for the fitness buffs you hold dear.
There you are lovelies! Gift Guide : Fitness Buff Gift Ideas!
** This post has Amazon links and as an Amazon Associate, Wedding Planning Resources earns from qualifying purchases.