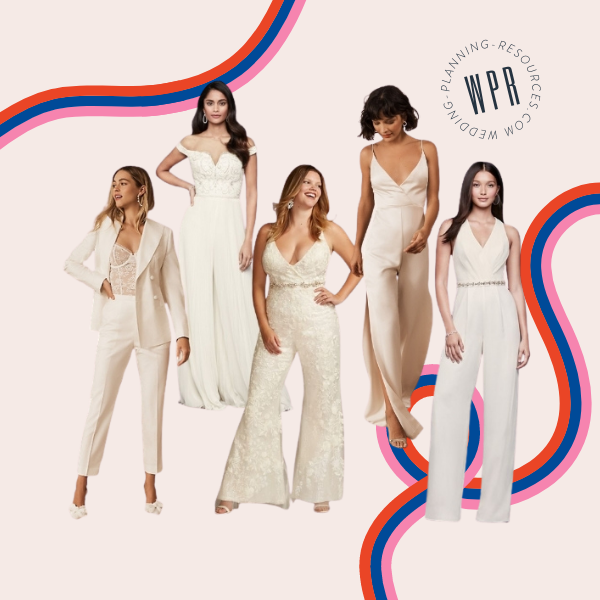 Wedding jumpsuits and pants set under $700: Top 5. No dresses here!Looking for the perfect bridal pantsuit under $700? Considering wedding jumpsuits instead of wedding dresses? In this curated list, we have put together a list of beautiful wedding pantsuits and elegant wedding jumpsuits!
This site contains affiliate links. For more info, please see our full disclosure.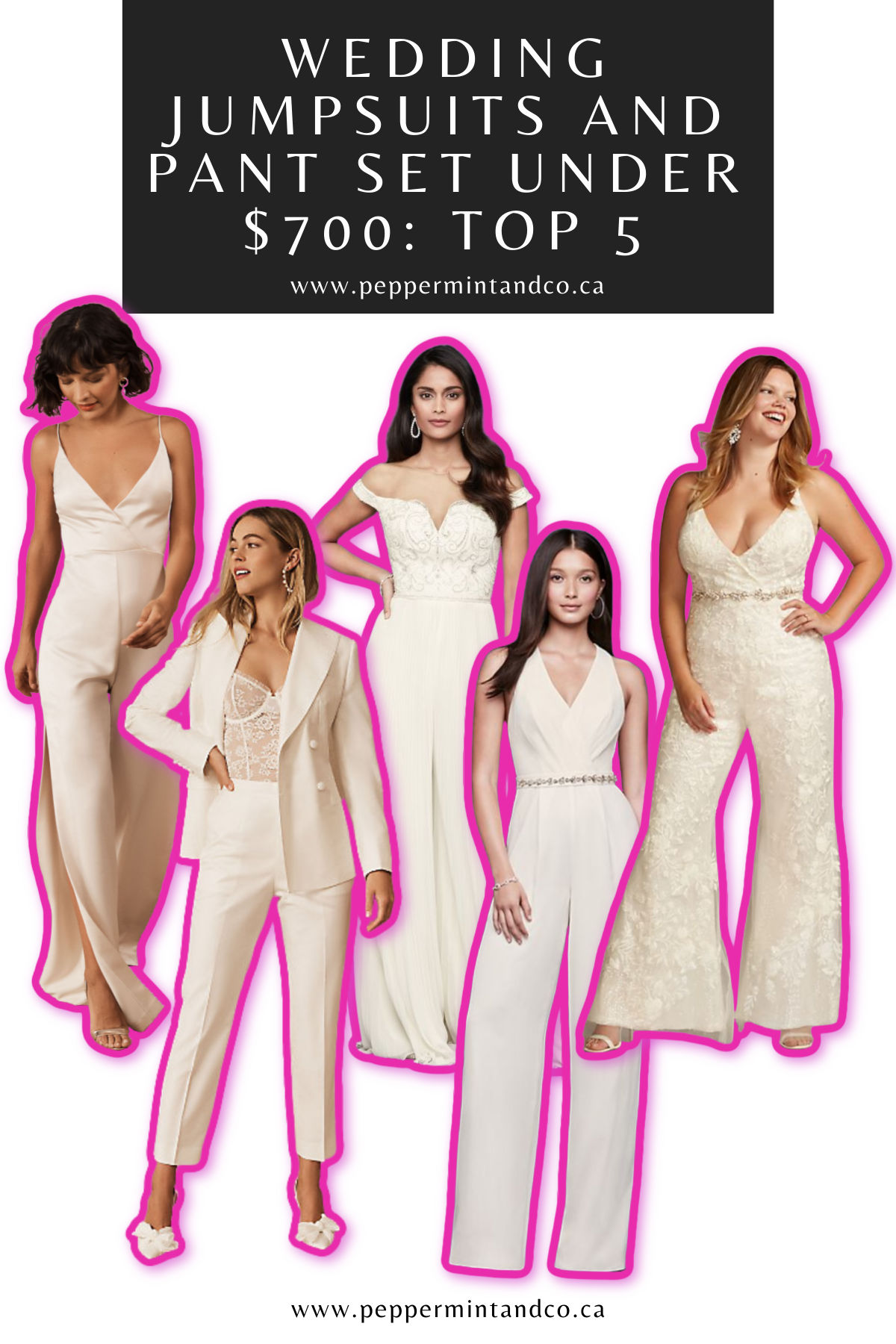 Have you ever felt that bridal dresses are just not the right thing for you? Or are you planning a civil marriage and looking for something with a modern flair?
Wedding jumpsuits are the perfect alternative for a bride seeking something authentic, and sophisticated, yet with a chic touch.
When you hear those words, the immediate thought would be that they might be costly, but we are here to show you that styling can look both flawless and also be kind to your budget!
Here are our top 5 favorite wedding jumpsuits under $700: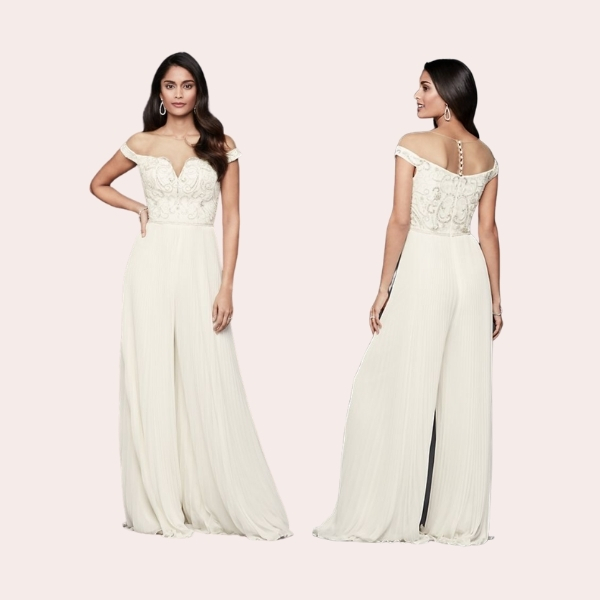 We are simply swooning over the modern chic twist of this classic bridal look! Gorgeously embellished bodice with 6000 crystal metallic beads and a cinched waist framing your figure most elegantly.
The way the wide pleated bottom flawlessly cascades down, we can already imagine you walking eloquently while this jumpsuit leaves a dramatic after-effect!
The off-shoulder elegance leaves a wonderful opportunity to accessorize with statement earrings or experiment with a monochromatic refined necklace.
And the best part? It is a wedding pant set for under $700!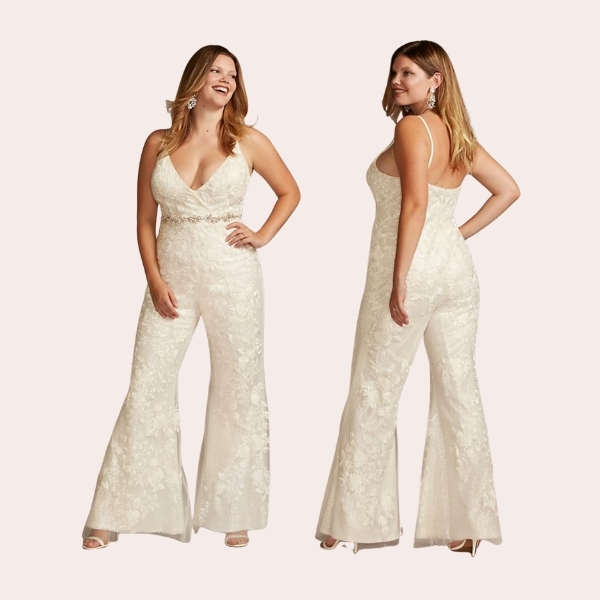 Do you channel the nostalgia of past decades in your style and wardrobe? Then this magnificent glamorous 70s-inspired lacy piece of art is just the thing for you!
We love when talented artistry entwines retro and contemporary designs so eloquently.
The plunging neckline adds so much to the charm! Stunning tulle adorned with floral lace applique, cupped sequins, incredible bodice, and our favorite – flare leg pants.
What a beautiful combination of style, textures, and sophistication; it has rightfully found its place among our top wedding jumpsuits selection!
Statement earrings or a long necklace would ideally accessorize this piece.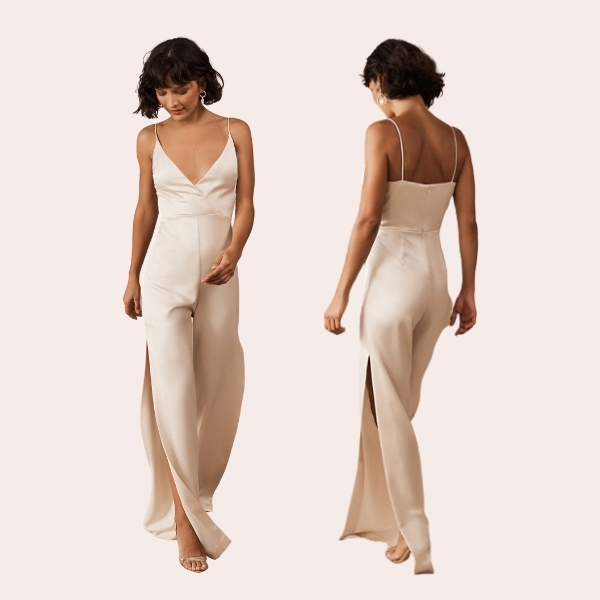 By the love of everything modern and minimalistic! Next on our list of wedding jumpsuits under $700 is this amazingly tailored minimal design.
We can already imagine combining some incredible baroque pearls to elevate the modern bride aesthetic or even adding mismatched earrings to bring out your personality.
This piece is undoubtedly a simplicity in its finest form and will certainly be one of the favorites for top wedding jumpsuits!
Slender straps, gorgeous deep v-neckline, and silkiness leave a certain timeless allure.
Bring out your authentic fashionable edge with this jumpsuit's side slits in each leg. Talk about classy and modern!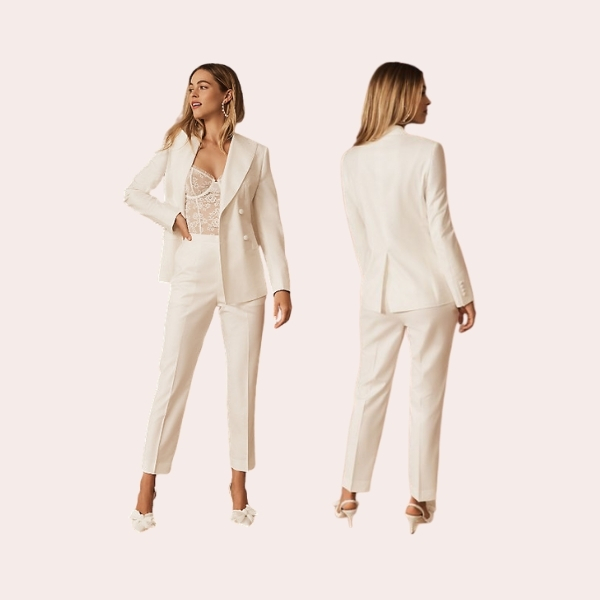 If you are asking us, then this is the winning Jacket & Pants combination!
Specially tailored for the modern bride who wants a city hall look, an alternative to dress with an edgy, classy look, or even fit for an elegant elopement!
You can match it with a silk cami top or even a lacy one to further accent your unique personality.
Long baroque pearl earrings would amazingly complete the bridal aesthetic!
This wedding pant set under $700 is a perfect escape from the typical bridal gown.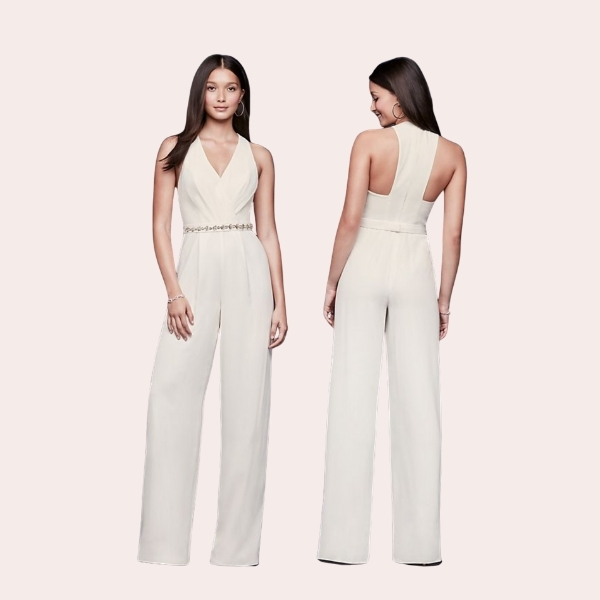 Seeking more formal and elegant wedding jumpsuits under $700? We cannot think of a better choice than this one, featuring a flattering draped crepe with the gentlest rose gold belt. The crystal-embellished belt is detachable so that you can opt for more accessorizing options.
Loving how the crepe adds sleekness and modern refinement, and the racerback is a stylish addition for modern brides who wish for more authentic and fun elements!
Browse more gorgeous wedding jumpsuits and pantsuits over at BHLDN and David's Bridal.
There you are! Top 5 Wedding Jumpsuits and Pant Set under $700!