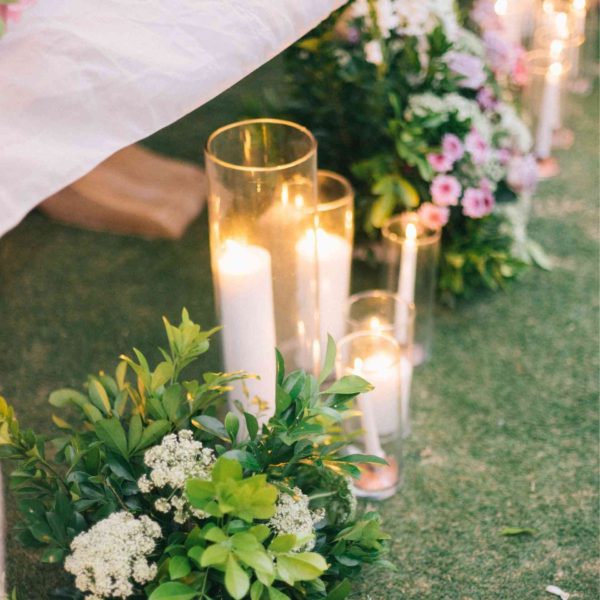 Affordable Design Alternatives. Wedding Entrance Decor Dupes (also for your aisle!)
This site contains affiliate links. For more info, please see our full disclosure.
Whether you are looking for designs for your wedding entrance or aisle, we've rounded up the most loved and classic decor, together with their dupes or "affordable alternatives."
Wedding Entrance Decor (also for your aisle!) DUPES: TOP 5.
1. Greenery and Candles
❤️ : LOVED FOR: Draping with lush greeneries and multiple chandeliers. Great for a daytime wedding entrance or aisle decor.
💲 : DUPED FOR: You can also skip the heavy draping to a sheer (lighter) voile panel with a more minimal greenery detail. Also, since you are not lighting up the chandelier during the day, you can rent a one-dimensional acrylic cut-out chandelier versus the real one at half the price.
❤️ : LOVED FOR: Edison bulbs stakes on the lawn and a gate filled with heavy greenery and chandelier. Perfect for nighttime weddings.
💲 : DUPED FOR: Rent flameless candles instead to line up the lawn. You can easily rent these from your local event rental place. In place of a heavy gate structure, you can rent a copper (regular metal will work as well!) structure, and instead of hanging chandeliers, you can hang a few lanterns with flameless candles inside. Again, these products are easily rented and at an affordable, friendly rate.
2. Plants and Trees
❤️ : LOVED FOR: The effect of a majestic garden with tall and lush trees. You can find locations that already have them growing strategically or also rent large and tall trees and have them put in planters or pots. This wedding entrance and aisle decor are just so dreamy!
💲 : DUPED FOR: Shorter plants that you can rent! Yes! You can rent plants from your local greenhouse. Choose shorter and smaller versions of the plants. You can spread them out more to really make it affordable. Why is renting shorter and smaller plants more affordable? Aside from the fact that they are obviously, smaller and shorter, they do not need to be re-potted like the larger trees. To add to that, the logistics and delivery for these little beauties are much more manageable, which will save you lots of bucks!
.
GET YOUR FREE WEDDING PLANNING KIT

3. Branches
❤️ : LOVED FOR: Tall long branches with hanging. Tall branches like these are custom-made, making them more on the pricey side, especially if you're only using it for your wedding entrance or aisle decor.
💲 : DUPED FOR: Wooden rectangular planters with manzanita branches. Or you can also use the stand-alone branches and put them on top of white plinths or pedestals, both of which you can rent easily.
PLANNING A WEDDING: DO'S AND DONT'S
4. Custom Signs
❤️ : LOVED FOR: Custom wooden signs with your favorite saying or verse on them.
💲 : DUPED FOR: A DIY print-out version. You can print it out on regular paper and have it laminated. You can print it out on a 24" x 36" or an 18" x 24". Instead of standing it on the ground, you can punch a hole on the laminate, tie a ribbon to a chair, or hang it on a planter stake. Perfect for your wedding entrance or aisle decor, also great savings on this!
5. Gorgeous Planters
❤️ : LOVED FOR: Custom floral arrangements in wooden boxes lined up. Absolutely love this!
💲 : DUPED FOR: Daisy or Pansy planters. These planters are more than half the price of the custom floral arrangements! To get that wooden detail, you can get wooden baskets at any discount store.
PLANNING A BACKYARD WEDDING: 2020 GUIDE
DUPES OR AFFORDABLE ALTERNATIVES FOR YOUR WEDDING ENTRANCE DECOR CAN BE AS PRETTY AS AS SOPHISTICATED WHEN PULLED OFF WELL.
HOPE YOU GUYS ENJOYED THIS POST! LET US KNOW IN THE COMMENTS WHAT YOU'D LIKE US TO DUPE NEXT!
20 CREATIVE WAYS TO SAVE MONEY ON YOUR WEDDING
**The execution of your event using our guides will depend on how open you are to alternatives, other options, and unexpected products/designs/ideas. It is suggested to do a concept trial and set your comfort level to make it a much easier and faster execution.**