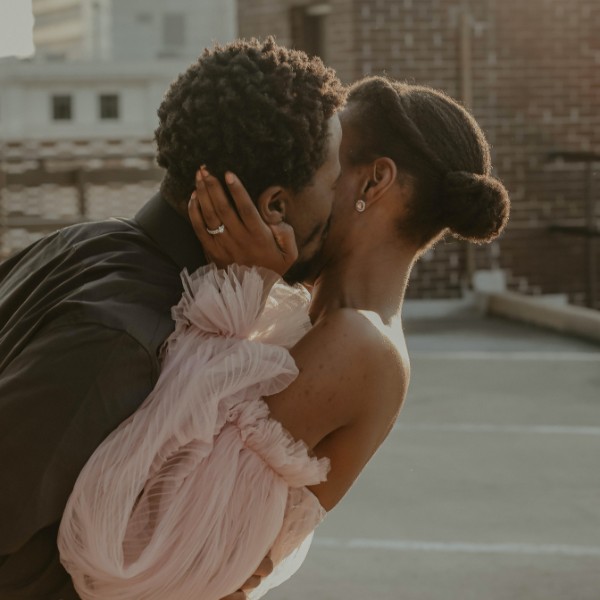 At-home Engagement Party Tips: Budget-Friendly: Yay! You are officially engaged! Woot! Congrats lovely! Now, what's next?
Are you looking forward to having engagement party ideas at home? Whether your theme is chic, modern, elegant, minimalist, bold, bohemian, or really anything at all, then you must be looking for the best at-home engagement party tips.
You have come to the right place lovely!
This site contains affiliate links. For more info, please see our full disclosure.
We got great and easy-to-pull-off at-home engagement party tips!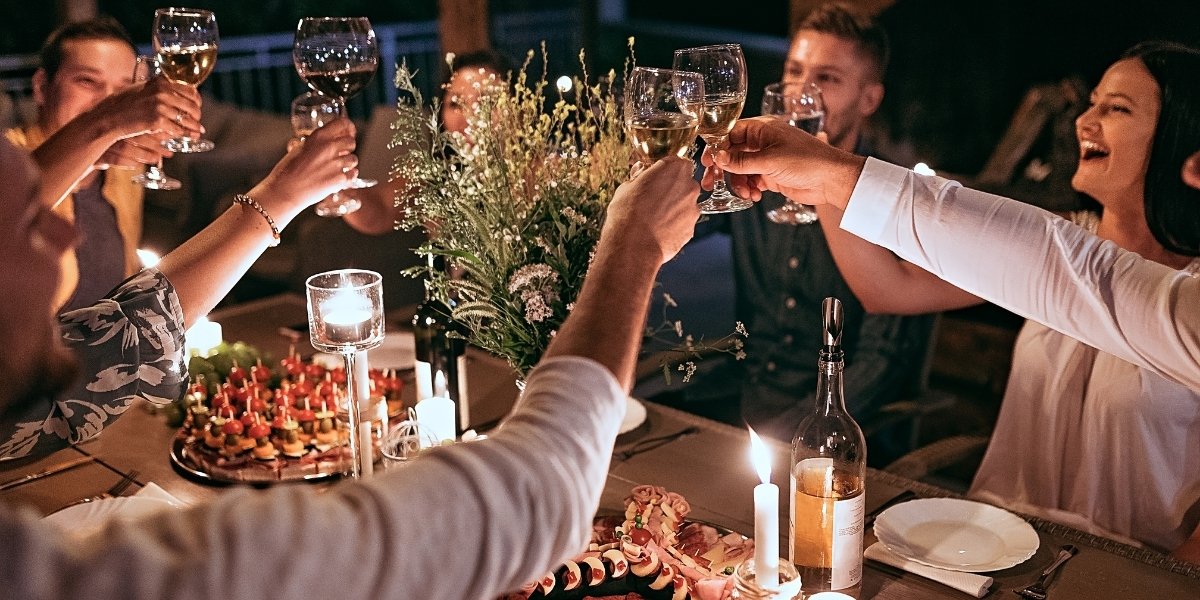 Classic, Simple & Household Staples
Just because you are doing your engagement party at home, does not mean you have to spend so much on decor. You can opt for balloon arches that are classic and simple – perfect for your backdrop.
For your table decor and centerpieces, you can reuse items you already have at home. Hear us out. Why not mismatch your table decor with trinkets lying around your house?
When you use items you already have at your home, you can order "some" flowers to pull together whichever look you are going for! You can DIY your flower arrangements as well, by ordering bunches online (like those from The Bouqs) and setting them up yourself.
It is also important to point out that renting decor is best for any at-home event. This way, you won't need to worry about garbage disposal. The rental company will usually set it up and go back at the end of the event to pick it up.
Rentals like floral arrangements, flatware, and glassware are a great way to not "interrupt" your current "household" set-up and let the decorators do their magic!
Check with your local nursery on how you can rent plants and flower pots!
Food and drinks (appetizers & easy buffets)
Now, of course, depending on how many people are attending and how long you'd like the at-home engagement party to go on, easy food like charcuterie boards / grazing tables and easy appetizers are great for a cocktail-style event. Even a simple buffet will be great!
Small bites and finger foods are easier for mingling! This means, fewer utensils, plates, and garbage!
Snack and charcuterie boxes are easy to set up and also less messy! In addition, it also saves a lot of space!
Looking to serve comfort food like pizza, burgers, and fries? You can definitely do this! Elevate presentation by using tiered serving platters. You can also rent chaffing dishes to keep them warm!
How about brunch? This is also a great idea!
For the drinks, you can create a "station" so you won't need to hire a bartender (unless of course, you want to!) Stations like sangria station, or your signature drink, work well! This saves you money on booze, and also, it keeps garbage (bottles, glasses, etc.) managed better.
Entertainment and activities
Give your guests and yourselves a chance to enjoy and *actually* celebrate the night! Entertainment ideas can be putting an acoustic show (your type of music) on a projector for guests to watch.
Having a DJ and/or an acoustic entertainer/singer will be best! Especially the ones that can also emcee and get some other activities going.
Games are always a great way to enjoy yourself with your guests. Trivia games and photo booths are so much fun!
If there are some people in your family and circle of friends who would like to make a toast, this is a great chance as well. Of course, you and your partner can also throw in a nice heartfelt speech during this time!
Up the vibe (our fave At-home Engagement Party Tips)
Create a stylish and comfortable area for you and your guests! Adding dramatic and/or interesting lighting will be great!
Lightings like starry lights or colored spotlights can change the whole vibe of the house. This will make it more of an "event space."
If you have a backyard, add lanterns or hanging patio lights to add that "Paris" vibe! Romantic and laid-back mood! If you can also add a fire pit, it adds to the experience altogether!
Setting up outside? Don't forget bug candles/sprays! Which can also double as decor candles! Check for the weather, if there is a chance of rain, renting a tent is always a great idea!
Adding a projector wall where you can play montages of you and your partner, as well as your guests will be a great way to entertain and make them feel special.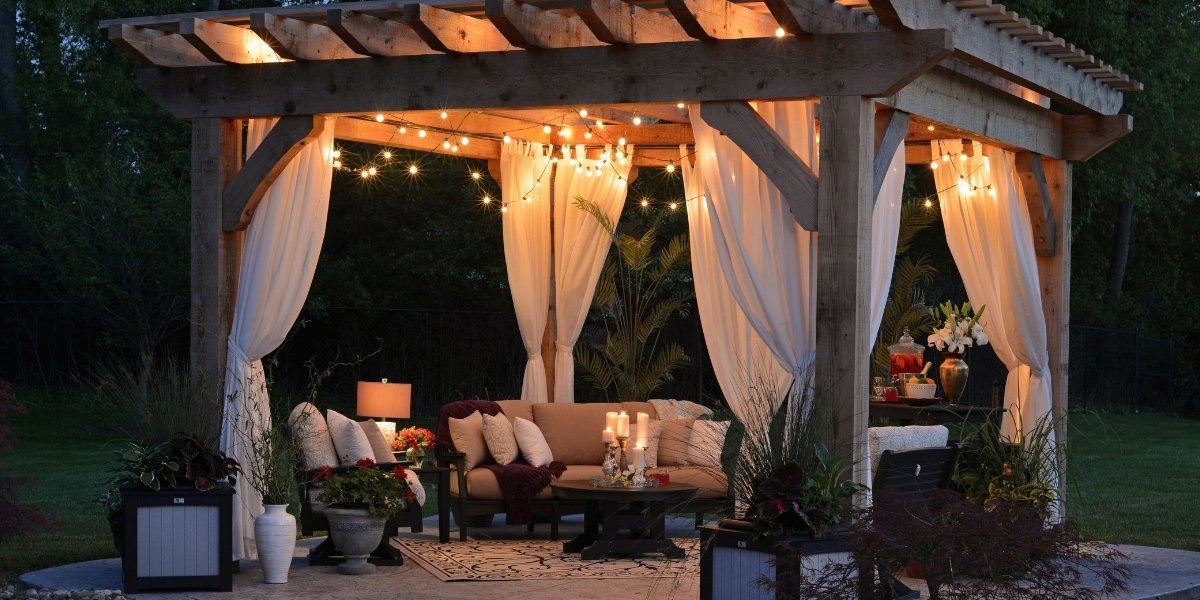 Seating and washrooms
"Lounge" areas can help your guests feel more comfortable.
Rent couches. It might seem like chairs is a better idea. However, depending on the space you are working with, one chair per person might not work. Couches with no armrests can provide more seating.
Couches with a water resistance cover will work better to avoid cleaning fees from spillage and accidents.

You might not need to rent a washroom depending on how many people you are inviting, but it is necessary that you prep your current bathroom for high traffic.
Stock up on hand soaps, and tissues and also set up automatic sprays and sanitizers. If need be, assign someone to watch out for the cleanliness of the bathroom.
Signage
Let your guests help themselves by setting up signs whenever applicable.
These signs can include, what is being served (alcohol and food), directions to the washrooms, where to get paper towels, plates, etc. Any sign that will help the guests navigate their way around your residence without *hopefully,* breaking anything or holding up the flow of the crown.
Requirements
With any at-home celebration, it is important to check with your municipality or local government requirements and restrictions on what you can bring or set up where you reside to accommodate a party.
This will ensure that you and your guests will celebrate the night away without any "officers" knocking on your door!
Don't forget to figure out the garbage situation, especially if you are DIY-ing a lot of things!
There you are lovelies! At-home Engagement Party Tips: Budget-Friendly!