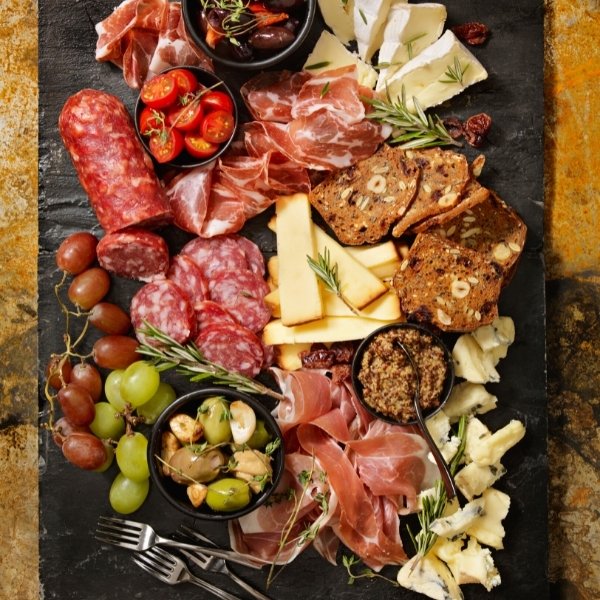 Charcuterie & Cocktail! Cocktail Hour Grazing Tables & Charcuterie Boxes. Looking for grazing tables and charcuterie boxes ideas for your cocktail hour? Or maybe thinking of also passing charcuterie boxes during the late-night wedding reception? Yes to dried fruit, cold cuts, cheeses, charcuterie, and cocktails!
In this guide, we are sharing cocktail hour grazing tables and charcuterie boxes!
Charcuterie Boxes
We are obsessed with how these boxes are presented! And of course, how amazing they taste!
These boxes include eco-friendly cutlery and mini flower stems to elevate the look and feel of the box!
SERVING OPTIONS:
During cocktail hour – use as a seating card or escort card as well
Place as part of the table setting, either as a giveaway/favor or menu holder
Passed on during late-night reception after dancing
Look for boxes that you can elevate or use for another purpose like seating cards. Also, if you can include full utensils, including napkins in them, the better.
These can be eaten while sitting or standing. Also, because the box/plate has a cover, it is easy to save it for later or to walk around with it while also holding a drink.
Depending on what you are serving for dinner, you can select charcuterie boxes to be on the lighter or heavier side. Ask your catering company and let them know about what you are giving out during cocktail hour to ensure it does not interfere or spoil the dinner experience.
These charcuterie cones are also a fun idea to add to y our cocktail hour! The only thing is that they need a stand for display as they are not able to stack. Also, they can impose a challenge of holding it as well as their drink at the same time!
Charcuterie cones can work if it's only passed, and not something they hold on to. Another thing to consider is to have garbage lying around if you do not have servers to clean around.
---
Grazing Tables
Who does not love a great grazing table? Not only are they yummy, but they also provide such beautiful sight, inviting your guests to enjoy.
THINGS TO CONSIDER:
Ensure there is anough space for the table/spread
Also, anticipate a line-up and crowding, which you will also have to control and organize
There is a need for plates, utensils and extra napkins
As well as space to eat
To help save space, you can add height by adding tier serving platters to the table so that you can maximize the tablespace. Help the crowd move further along by adding labels to the food on the table.
You can style it in a rustic way, or if you are like some of us, we love things in order, also organized by type and taste!
If a full grazing table is too much for you, a platter can also work! Usually, catering companies that offer this, already have their own serving tays and platters.
As much as these things are tempting to DIY. Working with a professional catering company will be better, especially when food safety and hygiene are essential.
You can add cute and classic easy handling utensils so your guests can enjoy their drink and the yumminess from the grazing table.
If you are doing a grazing table as an actual meal for the wedding reception, add other appetizers, as well as bread to ensure your guests are full and happy!
There you are! Cocktail Hour Grazing Tables & Charcuterie Boxes!