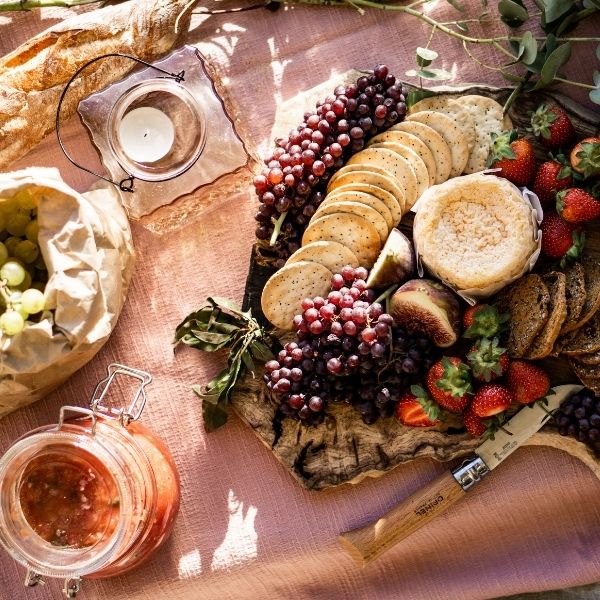 How to plan a picnic-style wedding! Picnic wedding fun! Looking for picnic ideas? In this guide, we are sharing tips on how to plan a picnic-style reception!
Have you ever thought of having a wedding on a sunny day while sitting on the grass and enjoying the calm vibes of happiness all around you? If you love doing unexpected/non-traditional things and want to enjoy your life while chilling and relaxing, then this picnic wedding idea is perfect for you.
A picnic-style wedding can go both ways! You can make it a very chill, relaxed vibe, and you can also fancy it up and have your guests dress up. This wedding will make you and everyone around you feel comfortable and enjoy a real non-traditional wedding experience.
We've rounded up tips on how to plan a micro picnic-style wedding!
1. Let your guests know it is a picnic-style wedding
Wedding invitations are the first and foremost thing that gives your guests an idea about the wedding theme. Choose a wedding invitation that shows the theme of your wedding. Or better yet, mention on the actual invitation that it is a picnic-style wedding reception! They will have a better understanding of what to expect.
2. Decide if you'll want it indoors or outdoors (important tip on how to plan a picnic-style wedding!)
You still have an option to host your picnic-style wedding indoors (or at a venue!) If you rent a space that has wide clear windows, it will protect you from the weather – and you can still do a picnic even in the winter! Actually, a picnic indoors by the fireplace right where the open windows look at the snowfall is something very non-traditional and magical!
If you choose to do it outdoors, this is most likely a late spring, or early summer event so that the weather can be bearable and manageable.

3. Pick a private and fun location
We suggest a more private location because picnics can be more intimate/micro than a sit-down wedding. You and your guests have your legs crossed and sit on the floor/ground.
Choosing a private location – meaning the guests are not exposed to the public, or there won't be any other event happening at your venue. Of course, if you choose your backyard, that'll be great! But if you choose to rent a venue, ensure that there is enough privacy and access to changing rooms, bathrooms, etc.
As mentioned earlier, don't limit the "picnic-style wedding" to the outdoors only. This can be successfully executed indoors as well.
PRO TIP: Even if you plan for a micro wedding, consider hiring a photographer or a videographer to capture your day. You still want these moments captured beautifully, and only pro wedding photographers and videographers can do that! Many photographers offer elopement/destination/travel packages!
PRO TIP #2: If you are doing this picnic-style wedding reception outdoors, be sure to check out our backyard wedding guide to check the lists of things you might want to consider to have to ensure you and your guests are comfortable.
4. Prioritize comfort
Depending on where you are setting up, consider your guests' comfort. Here are some of the items we suggest that can help you provide the best comfort for your guests:
Start laying out your seating area with a

rubber rug

(this will be a barrier for the cold/hot, so there is no direct contact), or if you can install flooring first, the better.
Add a layer of mattress topper so that your guests will be sitting on a "cushion" instead of hard flooring. You can cut this mattress topper according to the seating area you designate.
To finish the seating, cover all the bases with a plush soft blanket where your guests will sit.
Having throw pillows to add to their comfort will be great! The pillow has to have some support to it to put it on their lower back to support their spine.
Here are items that should be on your rental
Renting a picnic table, of course, is essential. However, if you cannot find a "picnic table," you can rent a regular

rectangular table

like

this

– and add on

solid metal buffet risers

underneath it to elevate it to a "picnic table" height.
Throw pillows are also something you can rent (lots of them at

Luxe Rentals

), which will save you money instead of buying them.
Another rental you can consider is, instead of purchasing a blanket to cover the seating, you can rent a carpet that can be rolled in the seating area – again, this will save you money.
Depending on what you are serving in terms of food, you might also need to consider renting flatware, glassware, etc., as needed.
Make it extra nice, and rent a large umbrella to provide shade if you are doing your picnic-style wedding outdoors.
---
---
5. Picnic Baskets
One thing that will make your guests' experience easier (as they are already sitting on the floor!) is to provide them with a meal that is easy to consume – something they can hold or put on the table if they like. Remember, when you are sitting on the floor, you get some comfortable moments, and you might want to move around to stretch out a little.
When you serve boxed meals, it will feel very much like a picnic, but also, it will help your guests eat the meal comfortably; however, they feel like it.
Some of our top boxed meal picks are:

For alcohol and the bar, since it is not very comfortable and easy to keep getting up and down when you're sitting on the floor, have a beer and wine bucket with ice on both ends of the table so that your guests won't have to get up to get their drink! Hire a server to keep an eye out for the buckets to ensure they are fully stocked.
6. Entertain well
Get things going and lively with a great live band! Because picnics are usually more personal, having a band makes the interaction and vibe more lively. A DJ will be great, but because your guests are sitting on the floor, they would want to look and watch and turn their heads which is where having a band is great! A band does not necessarily mean a big band; you can have a guitarist or a pianist sing and perform! Entertainment is essential!
7. Ensure accessibility and storage
This is essential, especially if you choose to do your picnic-style wedding outdoors! Consider portable restrooms or set up at a location where there is a nearby bathroom.
Another thing to consider in how to plan a micro picnic-style wedding is to provide access to space where they can leave their other belongings – it can be an extra table or a locker where they can keep their belongings, scarves, jackets, sweaters, etc. Things that they would usually hang or put around their chairs -but since this is a picnic-style wedding where there are no chairs, it might be hard for them to find a space to put their belongings.
Also, adding signs (with activities and timeline) will make it easier for your guests to know where things are, what's on the menu, what the schedule of activities is, and just all the things that they can have within their line of sight is easier, so they won't have to stand up every single time they want to know something.

8. Have a backup and prepare ahead
Outdoors are, of course, very tricky. It might rain, it might get too hot, and there might be more bugs than usual. All these things are to be considered. Speaking to a wedding consultant/designer will help you plan for unforeseen circumstances and have a solution ready for you.
9. Welcome or send off with care packages
Depending on what you have planned to serve your guests, having them welcomed or sending them off with a care package fitting for your event is a nice gesture.
We wanted to note that, yes, a picnic-style wedding can be comfortable. Still, you have also to consider your guests; if there are a lot of elderly on your guest list, they might have a hard time sitting low on the floor, but if your guests are much younger and you think is ok sitting and standing on and off the floor, then this will be such a fun wedding!
There you are! How to plan a picnic-style wedding!