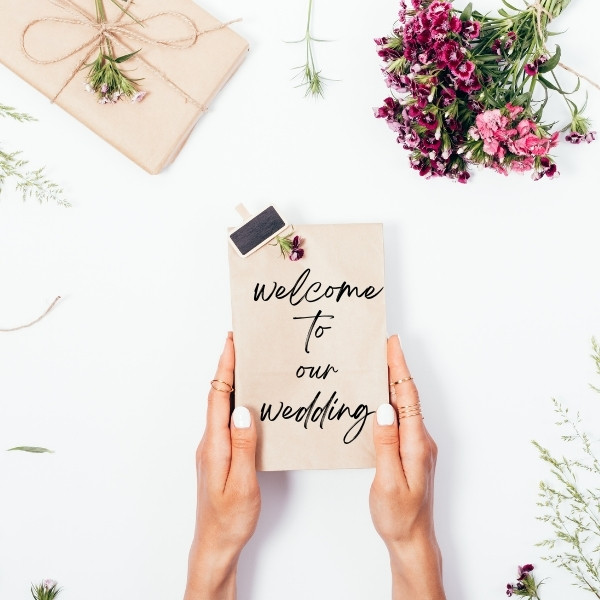 Wedding Welcome Bag Ideas: TOP 10! Curated welcome gifts! Looking for curated welcome gifts? Whether you are planning a destination wedding or using these as wedding favors, you will find a "bag" that's perfect for your wedding vibe!
This site contains affiliate links. For more info, please see our full disclosure. This post has Amazon links and as an Amazon Associate, Wedding Planning Resources earn from qualifying purchases.
Welcoming your guests with a thoughtful gift (something they will actually use/consume!) leaves such a great impact! Show them how much you are grateful that they have been part of your relationship/journey, and also how they get to celebrate with you on your special day!
Wedding Welcome Bag Ideas: DIY Top 10
Let's go over these ideas in detail!
1. Classic Welcome Cheers
This is a classic welcome box! You got your wine and nuts, along with a sweet and personalized thank you card!
2. Coffee, Tea, and Party
This welcome bag covers coffee and tea lovers! Also, it is best if you and your partner love coffee or tea! This way, your guests can relate to the two of you, and really just also another way of revealing your stories to your guests! You can add a thank you card sharing how much you love these products and that you also wanted to share it with them!
3. Hot Cocoa Love
Let's talk about some cocoa! Send a welcome box with different varieties of hot cocoa and a reusable mug! Incorporate your story into the gift by adding notes to each product and telling them how much you love it or a story attached to that product!
4. The ultimate summer outdoor welcome bag
This is one of my fave welcome bags! Because this has the essentials! I mean, how many times have we gone to an outdoor wedding or event where it is too hot, and you just needed a fan? Or maybe some sunnies? Or even just a snack or water because you're parched?
We've also added an SPF and an umbrella! Sometimes we are rocking a tube or spaghetti dress, and we do not want to get an uneven tan, of course! So they have the option to use an umbrella or an SPF!
5. You're our jam (one of our fave Wedding Welcome Bag Ideas: DIY Top 10!)
This is great if you have tons of guests from out of town. You can let them taste amazing local bakeries by featuring some of their goodies! Here we paired biscuits with jam and cream cheese! To really complete the experience, we got matching utensils and mini plates so they can taste these goodies asap!
6. Fun Snack Pack
This is also our fave, for an undeniable reason, it has all the snacks! I'd say this is also great if you have some kids on your guest list and would like to keep them busy during cocktail hour! (maybe not the ceremony because you will hear the crunching of the snacks! so hold off giving this to the kids until after the ceremony!)
7. Sweet Welcome
Yep. Sweet as candy, baby! We love Sugarfina candies, mainly because they have such diverse and FUN flavors! Like this coffee candy (we are obsessed!) Also, the name of these candies is beyond cute!
8. The Ultimate Outdoor Wedding Welcome Bag
So we did a summer outdoor welcome; we also have to do a fall outdoor one! We got this set of throw blankets (because we need the extra warmth!), lotion (because it can get pretty drying when it's cold!), chapstick (because our lips need some loving!), hand warmer (instead of or continually rubbing your hards for warmth, this hand warmer helps!), and of course, a BUG SPRAY; these suckers fly out in the fall, and you know they get pretty annoying!
9. Shots and holes
Shots. Yep. Holes. Yep. Lol. The best combo, yeah? We included the donut and donut holes to do a full circle! Also added some bubbly!
10. Charcuterie Welcome
But of course, we have a charcuterie! Because we all need a charcuterie! Lol. This is a snack version! Great for your out-of-town guests, and they just came from a long flight! This helps them settle in and snack their way into their hotel room.
Build your own!
There you have it! Wedding Welcome Bag Ideas: DIY Top 10!
** This post has Amazon links and as an Amazon Associate, Wedding Planning Resources earn from qualifying purchases.