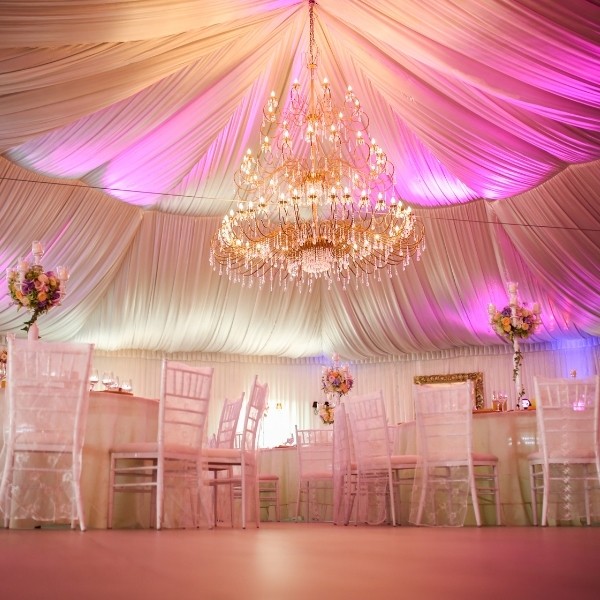 Tented Wedding Checklist. Let's celebrate outdoors! You can also use this as a checklist for a garden wedding. Whether you are planning a big backyard wedding or micro/intimate wedding reception, this outdoor tent wedding checklist will help you through your wedding planning process – ensuring you don't miss any details!
Who does not love outdoor/tented weddings? It doesn't matter if it is at home backyard wedding or a wedding venue, it will always be an amazing experience! That garden vibe being outdoors, that cool breeze right on your face, and those beautiful twinkling lights/candles; what's not to love?
Well, there are a few things that you should be conscious of to ensure that you, your partner, and your guests are at your most comfortable, and of course, primed to have the best night of your lives!
Necessary preparation and arrangements that go into planning an outdoor celebration are quite a lot, especially if you are laying out this "foundation" onto a ground that has not been designed to handle outdoor events.
From the lighting to the menu, here is how to arrange a flawless tented wedding. In addition, our tented outdoor wedding checklist will ensure you don't miss a thing while planning your celebration.
SIDE TIP: If you can share on your wedding invitation or wedding website that you are having a tented wedding, your guests can prepare better (i.e., the type of shoes they will wear or any other extra accessories that might be helpful to them) and can feel more comfortable on your wedding day.
Tented Wedding Checklist
Lay of the land
You will need some head cover (tent, of course!) when it comes to your outdoor wedding setup. The best thing about tents is that they can set this up for you in basically any area you prefer if you work with great wedding vendors.
Work with a reputable and experienced tent rental company, as this is the foundation of your wedding (literally!). Working with the best in the industry will work to your advantage.
Once you get the permit and approval (from the city or your governing area), your tent provider can easily set this up at your venue or even outside a stunning mansion or estate (that you can totally rent!)
Tents come in all sizes, shapes, and materials, whether you are going for a formal or casual celebration. Collaborate with your local rental company to figure out what style fits your vision. Make sure the tent you choose is fit for your surface pavement, grass, sand, etc.
Always remember to keep them weatherproof. In a summer wedding, fans and portable conditioning units are the must-have items, whereas tall patio or propane heaters work best to keep your guest warm in the cold months.
Adding Floor surfaces may be essential to correct uneven ground, and wall panels help protect against warmth or wind.
PRO TIP: Check with your venue or space if it is easier to hold other activities indoors (like dinner!) and have the cocktail and dancing outdoors if this makes sense for you; in terms of the venue and the budget you are working with. This will most likely save you the amount of renting and setting up a tent!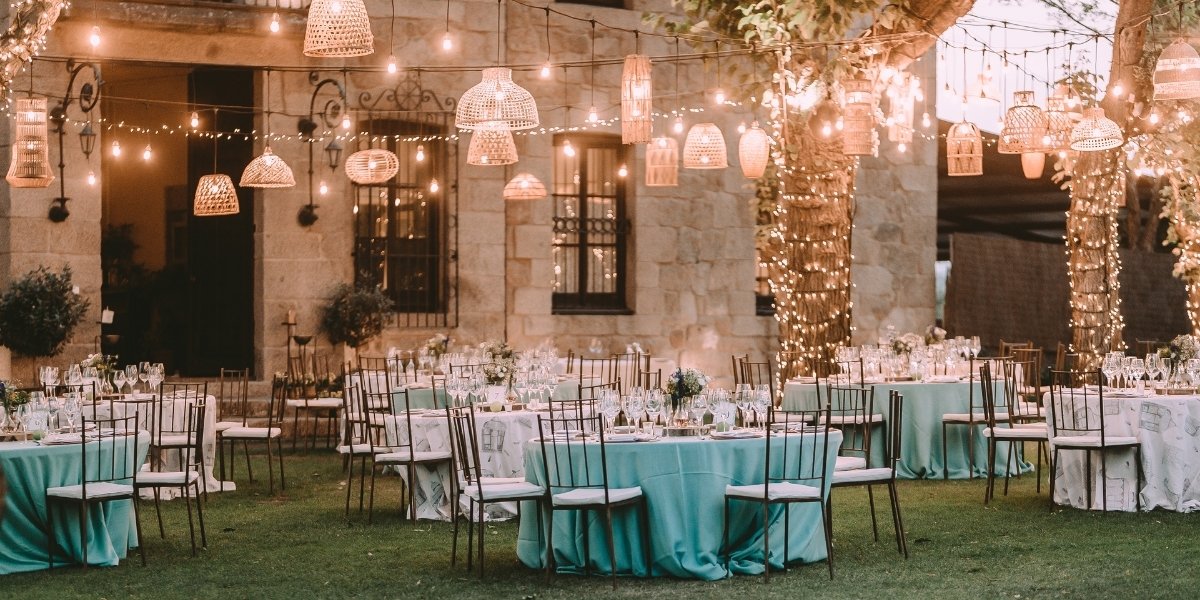 Here is a list of the things that you have to check when planning your tent and preparing your floor plan:
* MEASURE – Does your outdoor area have enough area to hold your guests and have separate zones for the ceremony and reception?
Will your space allow for a sit-down dinner, or is it better to have a cocktail wedding? What are the areas that need to be cleared?
Are you considering hiring a landscaper to prepare your lawn? or having a company lay down temporary flooring if needed?
* FLOORING — Depending on your theme, it might be helpful to have flooring to ensure guests can walk easily. There are rental floorings that usually come along with tent rentals, which should also be considered. More about tents discussed later on.
* PREP AREAS – Besides the space for the main event, you also need to allot a section for your vendors to set up, such as a food prep area. If your venue can do the food prep indoors, it will be easier for you inside their kitchen.
* POWER – As you need more power supply for your event (lights, sound system, etc.), you may need to rent a generator to carry the extra electricity load you will need.
SIDE NOTE: If you are doing a fall wedding in your backyard, you will need outdoor heaters, and you will definitely need specific power requirements for that!
* WASHROOM/S – Do you have enough facilities to keep your guests comfortable? Check if there is a need to rent portable potties (upscale ones) or if your guest room is nearby; you can also use that.
You can add personal touches to the comfort rooms, such as placing breath mints, sanitizers, or proper hand-washing reminders (very timely!)
If your venue will open up its washroom indoors, will it be more comfortable for your guests? i.e., how far is the walk from the outdoor tented area to the indoor washroom/venue? Or is it more convenient to give a few portable washroom/s closer to the tented area?
* WASHROOM TIPS: get automatic sanitizer misters that spray the space/washroom. Also, stock a lot of disinfectants and sanitizers. A working sink is essential as hand washing is still the best defense against viruses!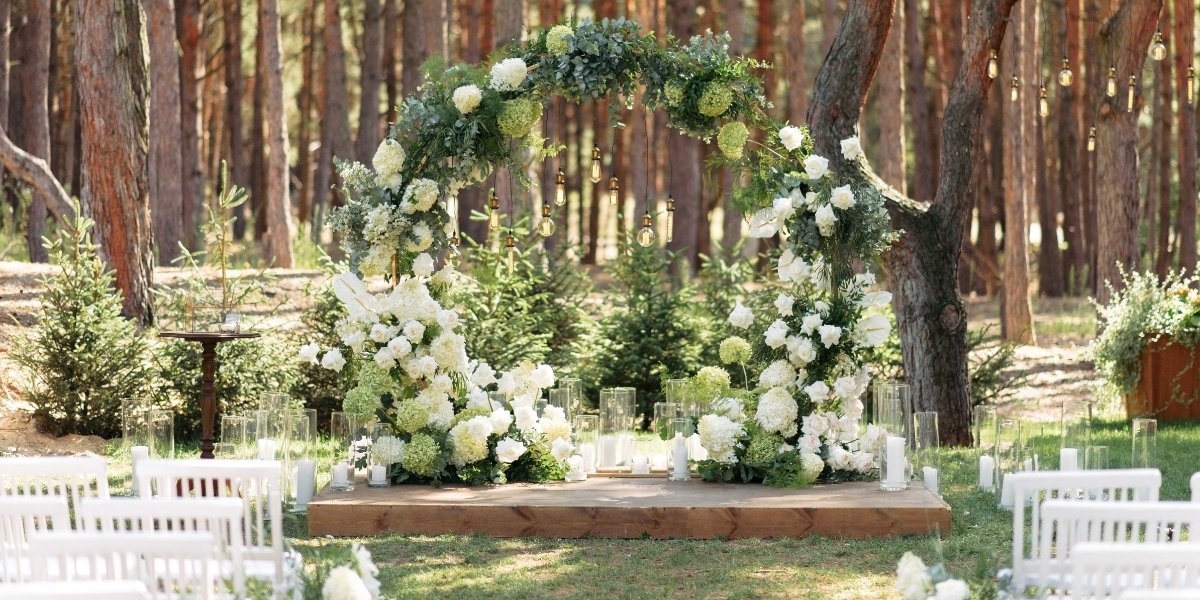 What if's
Even the strongest tents cannot resist heavy rains and violent winds. As much as tents can be stable, the elements can also be pretty harsh and unpredictable. Having the option to bring everyone inside will help you manage a tent wedding.
It does not even have to be necessarily an "inside" event, but space, where you can take them as the elements, is "happening."
Check previous weather forecasts on your "wedding day/month" so you can somewhat have an idea of what might come. As we all know, we can't also trust forecasts as mother nature can surprise us in every way possible.
Working with your planner/consultant and venue to develop plans B and C to help you manage your wedding day, especially your reception.
Permits
This is one of the most important things to double-check on your tented wedding checklist. Before you set anything in stone and make deposits for suppliers, make sure that you have the required permits in order.
In addition, there may be prior inspections (e.g., fire safety, electrical, etc.) needed and health protocols to meet before throwing a celebration outdoors.
If you have chosen a venue that already got all these permits in place, you should not worry about anything.
Still, if you are renting a private space or estate that is not considered an "event venue," you will need to check in with your local government to check what permits you need to hold your wedding successfully.
Remember that you might want to consider having coverage, like wedding/event insurance, to give you extra peace of mind if you are serving alcohol.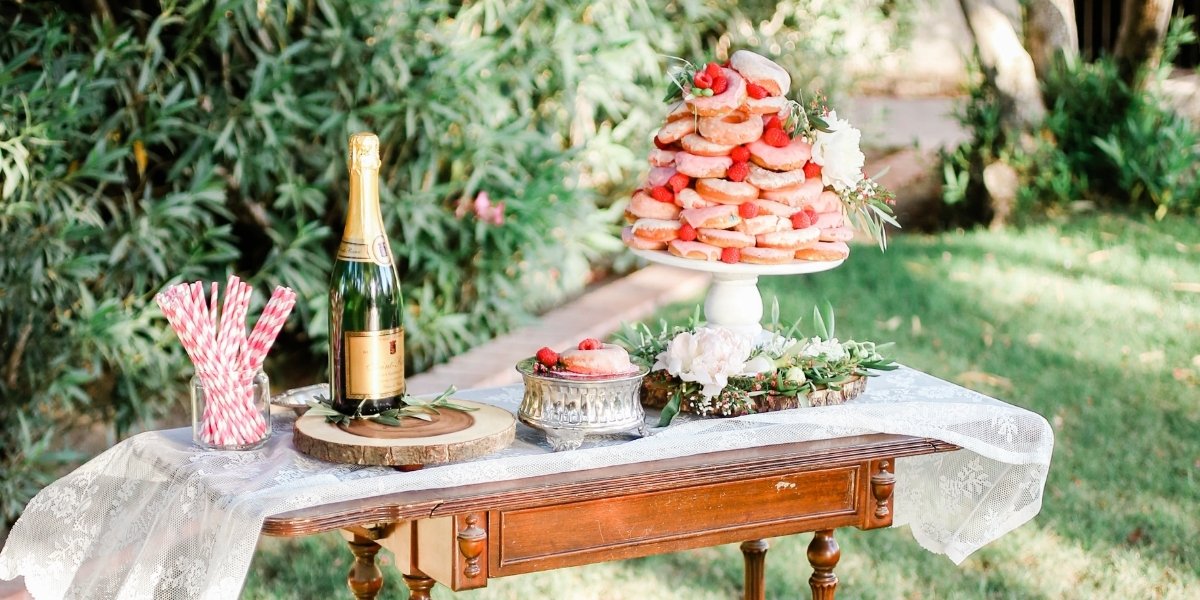 Rentals & Wedding Vendors (add this to your tented wedding checklist right away!)
Here is a list of rentals and wedding vendors that you would like to consider added to your tented wedding checklist:
* Wedding Ceremony/Reception Chairs + Linens
* Decor (of course, we want to add gorgeous elements to really bring the event to life, here are some design guides that can help you)
* Tables (dinner/appetizers, cocktail, serving, dessert, cake, gift, guest book tables)
* Pool Decor (if you have a pool, it will be great to add some decor details like some floaties)
* Photographer (we always say a great photographer is worth the investment!)
* Bar Service (this does not have to be very elaborate, check out our easy sangria bar post!)
* Cake + Desserts (these things can be as simple as a small one-tiered cake or brownies for dessert! Remember, presentation is everything and will change the game!)
* Ceremony/Reception décor and flowers (planning an outdoor tented wedding and working with a space that is not an indoor venue space will require other decor elements that a typical banquet hall calls for, like centerpieces and candles that are "wind" friendly)
* Lights and sounds (lighting at night is definitely a must! You can strategically have string lights hanging that will double as decor!)
* Outdoor Heater (as necessary, it does get breezy around nighttime)
* Pest Control (this can come in different forms, whether bug repellants or putting up citronella candles around the tables/area that also doubles as decor!)
* Dance floor (if you are having a micro or intimate event, this might not even be necessary since you can dance anywhere around your group, but if you have a larger guest count, check out dance floors that are flat and will make it easier and safer for your guests to dance on)
* DJ + Entertainment (we need to make it a fun party, ensure to advise your DJ/entertainers that this is an outdoor tented event, as the sound requirements might be different than that of an indoor wedding)
* Portable restroom (a nicer portable restroom option that you can rent, not the usual ones you see on construction sites, there are actually upscale). Don't forget to add sanitizing stations!
* Electricians + Generators (as necessary, consult your local electrician when planning to the plugin. Ensure to have all the vendors who will plug in accounted for, such as hiring a small piece band that might need speakers or looking for outdoor lighting that might need more power than usual.
Coordinate with your venue to ensure that your power requirements are met.)
* Signs. Consider having proper signage as to how your guests can find something and know what is currently happening. i.e., washroom, program, etc.
* Photobooth & other activities (something extra fun)
* Parking. Check on where your guests can park. Or other car-pooling options that you can suggest.
* Garbage. Prepare to have a lot of garbage. Dedicate space or classy and elegant disposal bins. Ask the venue what they currently have and see if that's enough or if you need to purchase/rent more.
You will need to bring in extra touches to complete your tented wedding setup since tents are nearly a blank canvas.
Luckily, many rental design choices are available, i.e., textured curtains and tiebacks, funky chandeliers, and bright cushions. Please select the most important and feasible elements and figure out how to fit them at the top of your list.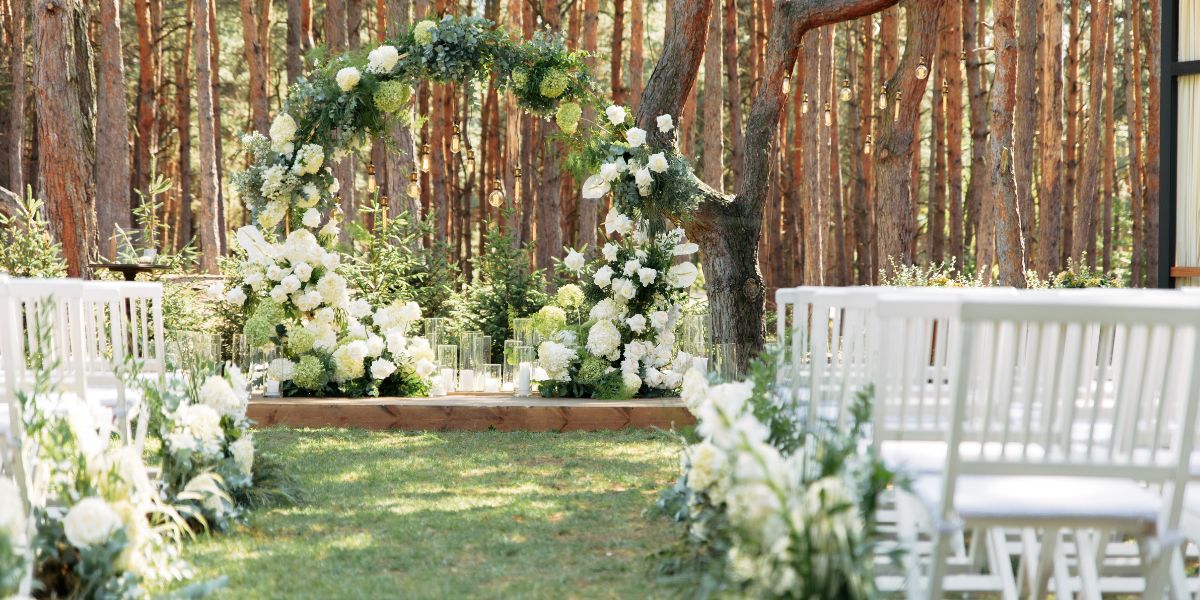 Comfort
This is probably one of the things that are often overlooked when creating your tented wedding checklist. Consider adding lounge areas with couches for your guests to enjoy. Plush and cushioned chairs will be great to add to that level of comfort.
Walk areas and clear signs about where to go will help your guests navigate the space better and safer!
Lighting
One of the easiest and most dramatic ways to generate a certain mood for your wedding is lighting.
Twinkling lights or strings of café lights in the trees, chandeliers, and pin spot lighting are all gorgeous ways to add some romance to your look. It will also give sufficient light to you and your invitees to party safely.
Remember that tented weddings, especially during dinner, can get dark and pretty dim, but adding dramatic and romantic lighting is not just good for decor, but for your guests to actually see things; where they are going, what they are eating, etc.
Adding lighting to your tented wedding checklist will elevate the feel of your wedding and will also set the mood for the rest of the night!
Catering
Doing a walk-through with your caterer at your tented space/venue will give you an understanding and bring up necessary discussions about your current plan.
Also, if there is no indoor kitchen connected or near your tented area at the venue, your caterer will need a separate tent to prepare in most cases. And keep in mind the need for electricity and running water.
Collaborate with your caterer to draw up a thorough floor plan and FLOW (you don't want the food getting cold and bugs feasting on them!)
Discuss the timeline you have prepared to ensure they bring out the food at the right time.
Finally, make sure that the catering company has experience running tented events.
They will not only deliver all the right supplies (so you won't need to rent them!) and set up and clean up, but they will also have enough wait staff on hand to guarantee that all of your guests are taken care of.
If you are planning a backyard wedding, this article will discuss details further if you are holding it in a residential area. This at-home wedding guide might also be an article that can help you out!
There you are! Tented Wedding Checklist!