Splashing good time!..
Planning or organizing a backyard event? Or perhaps holding your event at a space with a pool area? Whether it be for your wedding or a celebration, we are sharing this guide on how to pre-make these babies! Yes, you can pre-make these 2-3 days before your event! Here are tips on how to DIY pool flowers (floaties!)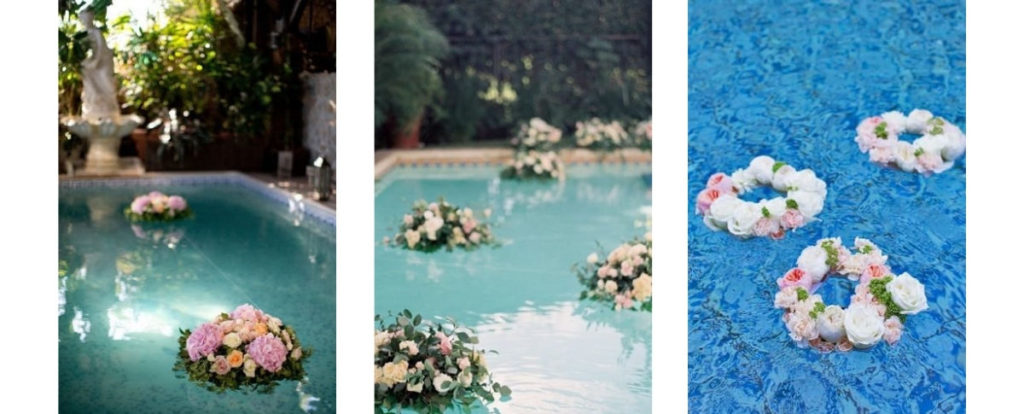 LET'S GET STARTED

Start with either a round styrofoam loop (1), or if you want it to be fuller, you can use a full circle styrofoam (1). Get your favourite silk flowers (4), we love some hydrangeas, roses and some pom poms.
Let's start creating this easy DIY pool flowers for your poolside wedding! To start decorating, pre-cut the wires on the silk flowers. Do not cut them too short, so you can still create some height and dimension to the arrangements.
Plug in the glue gun and start decorating! You're on your way to completing your DIY pool flowers (floaties!)
🌿 PRO TIP #1: Ensure you cover the white of the foam. Use smaller buds and greeneries.
🌿 PRO TIP #2: Do not over think the arrangement, freely poke through the foam. This will help you achieve a garden-y look and feel, instead of it just being a ball of flowers.
🌿 PRO TIP #3: Add height. When you poke the flowers through add height and intentionally have some of the blooms sticking out.
🌿 PRO TIP #4: If there are some threads sticking out of the silk flowers, cut them out. Those threads hanging out are a tell tale sign that the flowers are fake. But when you clean up the edges, it just makes it a little less fake than it looks.
🌸 FAKE FLOWER ARRANGEMENTS: HOW TO MAKE IT LESS TACKY 🌸
🌿 Looking to be extra fancy? You can also include some flameless candles in your DIY pool flowers! To do this, stick a plastic bowl on the styrofoam FIRST, before you add the flowers around it, this way on the day of the event, you can just light up the flameless candles on put it on top of bowl! How cute are these easy DIY pool flowers for your poolside wedding!
Super easy and quick! Voila! You have your gorgeous DIY pool flowers (floatie!)
Don't forget to pin this post for future reference!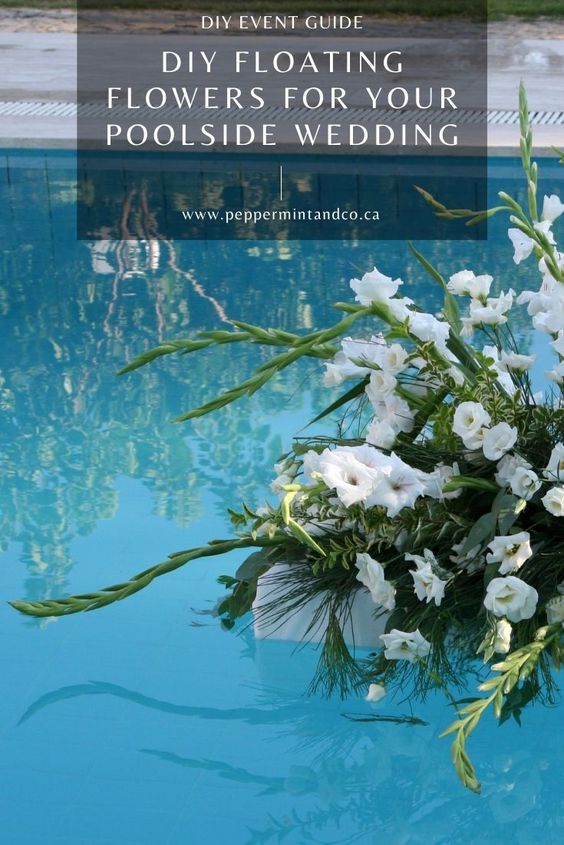 Thanks for pinning! Woot! Have fun!
*The execution of your event using our guides, will depend on how open you are to alternatives, other options and unexpected products/design/ideas. It is suggested to do a concept trial and set your level of comfort to make it a much easier and faster execution.**

---
Still in the process of planning your wedding? We can help through virtual consultations (available worldwide and the initial consultation is free!), to assist you in building concepts and overall design, whether it be mood board building, or assisting with step by step guides for your set-up. You can also download our complimentary wedding planning binder here to help you get started!
For design guides and product resources, we have a few of the most popular design choices to help you: Lush Greenery, Pastel Design, Rustic Glam and Backyard Wedding.
---


diy pool flowers how to make floating pool flowers how to make pool decor pool decor tips