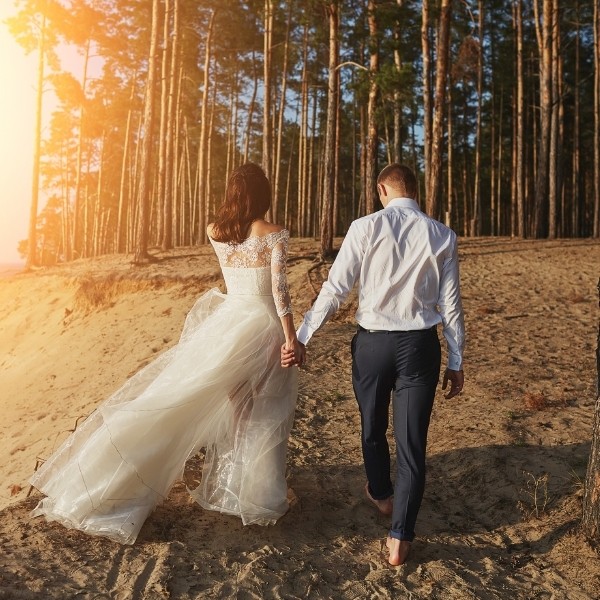 Planning & Designing. How to: Plan your own wedding in 2021? Yeah. We get it. It is a lot of work, but you can do it! We're here for you!
Last Updated: March 22, 2021
This site contains affiliate links. For more info please see our full disclosure.
2020 has certainly turned our lives around and will most likely continue until 2021 (hopefully not longer!)
With lockdowns happening worldwide and restrictions being imposed on social gatherings, you may have had to make major adjustments for your big day, such as lowering your guest count, opting to plan it yourself and most likely take on many DIY projects.
If this is you, we got tips to help you get started!
Organize your checklist and to-do list with the help of our wedding planning timeline guide here.
While there are undoubtedly big perks in hiring a wedding planner, organizing your own wedding can be fun, exciting, and being more hands-on (sweat and all!) might even make it extra special (memorable!) for you!

We've rounded up these TOP 13 tips on "how to plan your own wedding" to help you out!
1. Plan Early
Did you have to push back on your original date because of the pandemic? Maybe now you need to book your wedding far more in advance than you initially planned?
Think of it as a blessing because it gives you more time to consider planning your own wedding.
Yes, of course, it is sad to postpone or to push your date much further in the future, but on the other hand, you can chill and really "enjoy" the planning journey!
You can even get married (just the 2 of you!) low key in your house or a small rented space and then hold the reception/celebration later at a venue!
You can start by getting organized and getting all your ideas in one place. Start by selecting a website like Wedsites and downloading printables and sheets to get the foundation laid out. From there, it will be easier to build on and add your ideas as you go along.
PRO TIP: Get all the legal things done first! Marriage license – this means you will need to assemble documents and paperwork! Get this done before anything else!
PRO TIP 2: Choose your bridal party carefully! Give it some thought and start sending proposals or 'ask' them to be part of your wedding party! If you have expectations of their contribution so they can prepare for it. It doesn't have to be a breakdown of responsibilities but sharing a general outline of what you would like them to be involved in.
PLANNING A BACKYARD WEDDING GUIDE
PRO TIP 3: Create your own wedding email. Create an email account specifically for your wedding – "the.wedding.joe.and.jane@gmail.com" (this is just an example). This will help you put everything together in one place. Also, manage the calendar for bookings and deadlines. When you book appointments on your wedding email calendar, invite your personal email so you can also see on your personal calendar! Having a separate personal/work and wedding email will make you more focused and organized!
HOW TO PLAN A WEDDING IN 3-6 MONTHS OR LESS
2. Speak to a Pro Wedding Consultant
Even if you are not planning on hiring a full wedding planner, speak to a wedding consultant to organize your thoughts and plans. This can also help you with the execution moving forward.
Speaking to a pro puts many things in perspective and gives you pro insights to help you move forward with your planning, ensuring you got the process working for you!
Later on, as you start putting things together and think you will need more help, you can consider hiring a day-of coordinator or day-of assistance.
3. Flexible Budget
Usually, we would say to stick to a budget, but we can reverse the process this time around. If you have your "dream" or "ideal" wedding, you can now reverse engineer it and "save" up for it. It's now reaching the goal, instead of the usual, "stick to your budget!"
Now that you have the extra time, you can save up and find other creative "sources" or "resources" to help with coming up with the budget. Or even maybe along the way, you realize that there are better alternatives to your original idea.
HOW TO STICK TO YOUR WEDDING BUDGET
If you are also considering DIY-ing many aspects of your wedding, since there is a long engagement, you can schedule projects as you go along and save some money in the process. Again, when you DIY, you might save money, but that means you will have to allot more time to work on those projects.
WEDDING HACKS THAT WILL SAVE YOU MONEY: TOP 30

4. List down your priorities
With your fiancé, identify the most important aspects of your wedding, a.k.a. "the non-negotiables" (accepting what can be a DIY idea versus something you need to hire a person for!).
Is it booking your dream venue? Hiring a favorite photographer? List down your top 3 priorities as a couple, and book those first.
For the venue, consider a venue with outdoor options; this will help a lot with safety protocols. Your dream photographer is probably available far in advance; book them.
Booking these "priorities" will give you that committed and relaxed feeling. Now all the other details are just minor, and you can work through them, given the long engagement, or even if you are planning a micro/intimate wedding.
If you have agreed to a micro + intimate backyard wedding, here are some tips to help you.
BREAKING DOWN THE STEPS IN PLANNING A WEDDING
5. Pick your wedding theme
Do some research before deciding. HERE'S WHY, if you are not looking into hiring a wedding planner, you will probably need to execute designs on your own or with the help of other people. Going through designs and guides will help you anticipate the "man-hour/labor" involved as well as the number of hours needed.
Anticipating the work needed and the help you have available (especially if you are DIY-ing a lot!) to execute your theme is something you have to plan closely.
A good thing to remember is that just because you're planning your own wedding and have already DIYed many things and already have everything planned does not mean you do not need help. You will still need people to help you execute on the day because, after all, you are still the bride.
If you opt-out of hiring a wedding planner or coordinator but need a server, set-up help, and/or bartender, there are staffing companies like Staff Shop, where you can hire help directly and not worry about other things needed to be executed on the day of the event.
DIY DRIED FLOWER ARRANGEMENTS: WEDDING IDEAS + GUIDE
6. Consider your guests
Creating a guest list is one thing, but since we are in the middle of a pandemic, you would have to consider several things like: who are you going to invite, how many guests should you have (make sure you're compliant with guidelines), are your guests willing to travel, etc.
If you are looking into doing half in-person and half virtual, you might need to do more prep than you think; if you have someone familiar with the virtual event set-up, the better.
AV companies can help you live feed videos with audio so that your virtual guests will not just be looking while the other guests have their backs against them. This will also help your guests to hold their phones or tablets up to FaceTime or Skype with other family members.
SAFETY PROTOCOL EXTRA TIP: Together with having your guests and yourself wear a mask and practice social distancing, you can also rent stanchions together with signs to ensure physical distancing is practiced. To take things further for extra safety, you can also rent clear dividers (you can also decorate it!) to put in between tables.
Another option is to provide clear face shields that they can still wear, should they need to take the mask off to eat and/or drink. Extra layers of defense are always a good thing.
Check with your local government and public health officials about any guidelines, protocols, policies, and/or regulations that you need to meet if you will be holding an event.
GET YOUR FREE WEDDING PLANNING KIT

7. Seek Help
Don't be too hard on yourself and get the extra helping hands where you can. Enlist some of your trusted friends and also give some responsibilities to your fiancé.
You can ask for guidance through a virtual consultation and work with companies like Staff Shop, should you need help only on the day of your event (especially if you do not want to ask friends and family!)
If you're opting for a backyard wedding, you will still need help on the day-of. It is important not to underestimate the work needed to execute even the simplest of weddings.
WHY YOU SHOULD HAVE AN INTIMATE OR A MICRO WEDDING EVEN WHEN THERE IS NO PANDEMIC
8. Get things done virtually
Thank God for the power of technology! Websites like Wedsites can help you cross some important items on your to-do list at the comfort of your couch, ALL IN ONE PLACE!
Some of the things that you can accomplish on-line are:
** Vendor research, virtual consultations, and eventually book/secure vendors. Round up your top 5-6 choices for each category and start contacting them. Check out wedding venues and even take virtual tours.
** Build a wedding registry; you can now send your registry links to your guests (or you can also set-up "monetary" gifts from sites like Honeyfund!)
** Invite guests and send out electronic invitations OR you can also put together a wedding website.
** Set-up a streaming service if you wish for your wedding to go live online so other loved ones can join in virtually (Zoom, of course, is our fave! Ensure to "test" your set-up, or assign someone techy to handle/arrange this!)

9. Don't forget the pro photos
We always suggest starting looking for a professional photographer as soon as you get engaged! The good ones get booked pretty fast! Remember, regardless of the pandemic; they will shoot portraits, events, and weddings, whether at home or a venue.
Any professional photographer will make any event look like a million dollars and will leave you with amazing memories through phenomenal photos. Don't underestimate how a great photographer can help preserve memories of your wedding! This is definitely worth investing in!
Whether you decide on a virtual, micro, backyard, or a big wedding, pro photographers will help you preserve those memories and make you feel that "wedding feels" again.
10. Keep a master checklist
Create a wedding to-do list to ensure that you don't miss anything and keep yourself on track. Lots of planning websites where you can keep your checklist (especially if you are on the go all the time): Wedsite is one of our faves; also, Google Drive always comes in handy. If you are a pen, paper, and binder type of person, we got printables and sheets for you.
11. Day-of Wedding Timeline
Even if you are yet at the end of your wedding planning journey, having an idea of what the day will be like will be a great help. Creating a day-of timeline is necessary.
When you look at the number of hours and the number of people needed to execute a task/responsibility, you can plan better and smarter.
It helps the day have a better flow. Events, especially weddings, have a lot of moving parts. Giving yourself, vendors, and the team a schedule/time frame to work with will make them independent and not always go to you for questions.
HOW TO CREATE A WEDDING TIMELINE

12. Plan for Plan B
Planning doesn't always mean that things will go smoothly as you want them to be, so be ready for contingency plans. This is an important aspect of planning your own wedding.
ALSO, we want to say that plan B doesn't necessarily mean that you have to change everything altogether; it sometimes means redesigning or repurposing.
When considering a venue, speak to your venue coordinator on options for a sudden change of weather or blackouts, storm doors, umbrella storage, etc.
Remember that you might want to consider having coverage, like wedding/event insurance, to give you extra peace of mind if you are serving alcohol.
13. Keep the main thing, the main thing
This is a total cliché, but also totally TRUE. Wedding planning (with no wedding planner!) and DIY can be so stressful.
When you feel overwhelmed, remind yourself that it is not about how awesome your event will be. Your big day is about celebrating your union and commitment to the love of your life.
You don't have to do anything just because that's what other people have done. Do your own thing. The both of you are the only ones that know what is really best for your situation and circumstance! We're here for you if you need help!
WHY YOU SHOULD CONSIDER HAVING YOUR WEDDING AT A RESTAURANT
There you are! Our top 13 tips on how to plan your own wedding 2021!
DISCLAIMER: We've rounded up suggestions that are pandemic friendly. However, please note that it is still your responsibility to practice safety protocols, Covid-19 event guidelines, and constant hygiene. If need be, consult your local public health professional and abide by your government mandates.
We do not guarantee that your event will be 100% safe, as all safety practices are ultimately up to you and your guests.