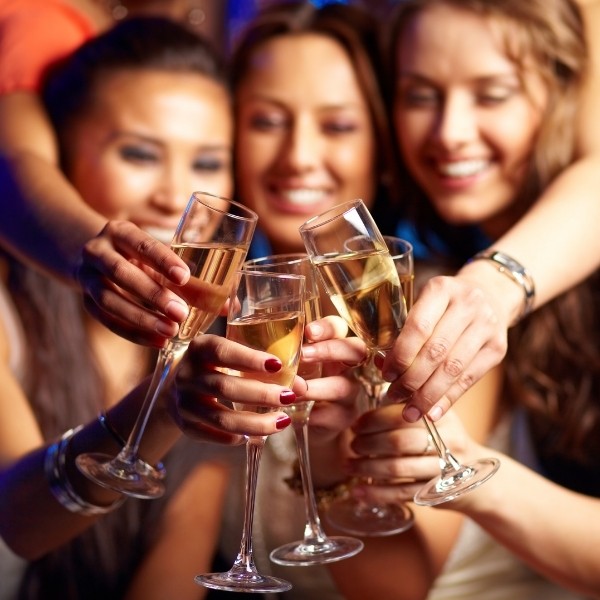 T'was a night! Wedding Hangover Kit Guide. Looking for wedding hangover kit ideas? Planning to DIY your wedding hangover kit and looking for the right products? In this guide, we are sharing what to put in a hangover kit for your wedding or bachelorette!
Whether you are having a huge traditional wedding or an intimate/micro wedding, the after-party is surely ready to strike you in the late-night hours.
Definitely celebrating the wedding all the way!
An after-party will always be great if there are no painful throats, headaches, and the inevitable hangover the next morning.
Help your guests will feel relaxed by preparing a cute handy mini hangover kit!
You can even present it to your guests as a wedding favor or send it to your guests before they reach their hotel rooms or even as soon as before they leave the venue. This way, they will have it when they need it the most when they sleep and right after they wake up.
This site contains affiliate links. For more info, please see our full disclosure. This post has Amazon links and as an Amazon Associate, Wedding Planning Resources earn from qualifying purchases.
Here are the essentials you must have in your wedding hangover kit to make it the best everyone can get.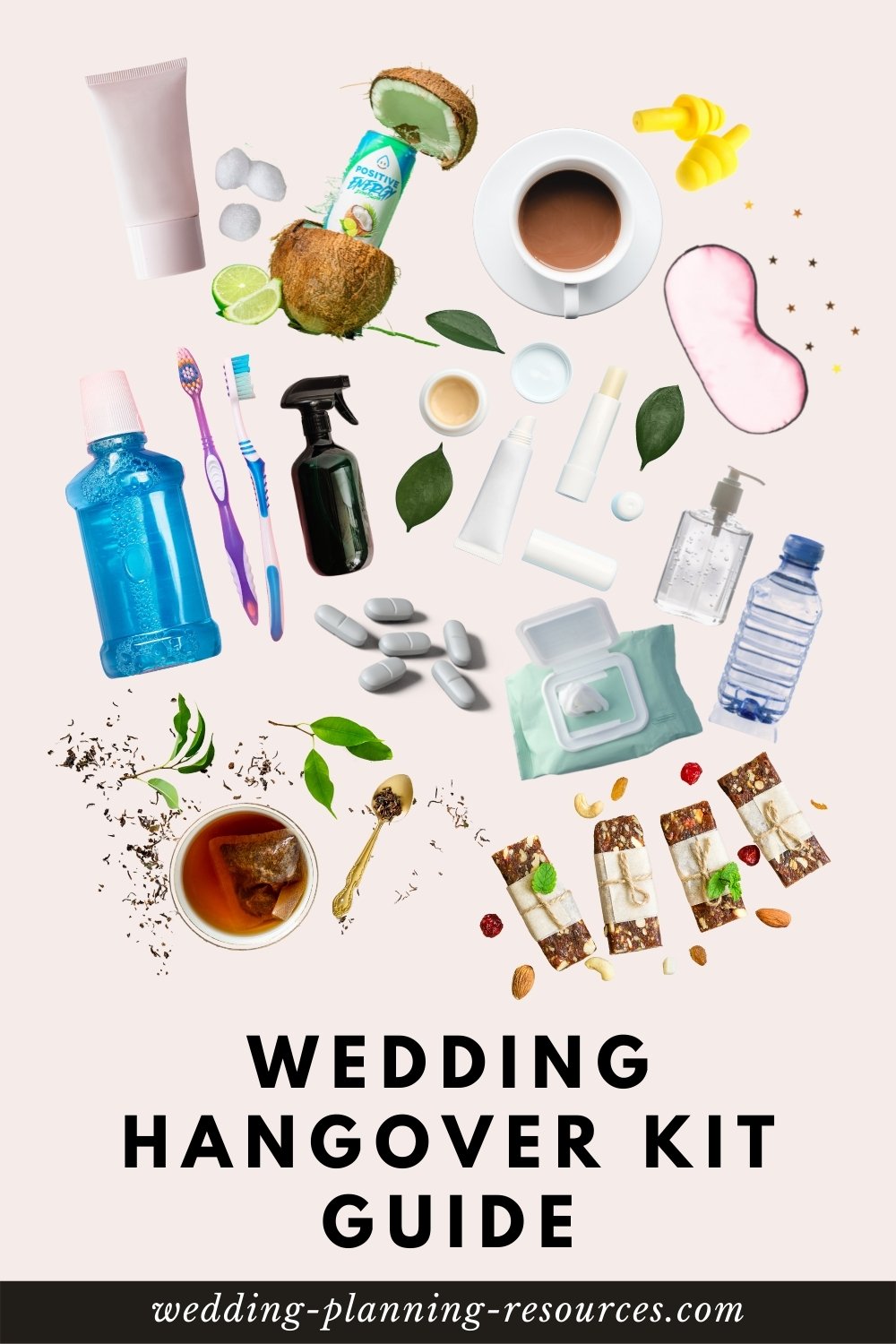 Dry Shampoo: Because you might not want to get up and take a full bath when you are hungover! How about spraying some dry shampoo and still feeling and smell fresh?
Coconut Water: Coconut water is a great source of electrolytes and is more refreshing than plain water.
Alkaline Water: Alkaline water helps rehydrate your body due to its greater electrolytic content and prevents ponding the head. It also reduces the nauseous stomach and helps you get over the hangovers the next morning.
Sanitizer: You'll never know what you have accidentally touched or if you want to drink or snack on something but do not want to get up; having a sanitizer handy will get you through!
Ear Plugs: The last thing you want is his hearing everything, even the faintest sound like a loud banging in your ear! Keep your surrounding noise down and use earplugs!
Make-up Remover: The makeup-removing wipes are a must in the hangover kits, as waking up late the next morning and taking a shower may not always be possible. So freshen up your skin with hydrating makeup-removing wipes so that you can reach the breakfast buffet on time.
Pain Reliever: A staple in any hangover kit. Actually, in any kit or purse, for that matter. Help get that headache in check.
Instant Coffee or tea: Add hot water, and you can have a sip of that cup of joe! Soothe your throat and inhale the smell of caffeine!
Breath Strips: The cool mint strips are the best to breathe fresh the next morning. They are better than the gum as gum sometimes fails to cut it.
Toothcare Set: Long night, lots of food and drink. Care for your tooth and gums, and get those grits out! Spearmint toothpaste and help you feel fresh!
Snack Bar: Oh yeah. Hangover makes us so hungry! But not necessarily for a full meal, but more like snacks! Include snack packs for quick bites!
Pepto Bismol: Fight Nausea and upset stomach! We get it, some food and drinks might not mix well, but Pepto Bismol can help with that!
Lip Balm: Dry lips? Definitely a hangover symptom! Include a lip balm your guests can keep even after the hangover is done!
Sleep Mask: Sleeping late in the morning without any disturbance will be your best friend, especially when dealing with a hangover! So why not add a silk sleep mask to the wedding hangover kit to ensure your guests sleep well after the party is over.
NOTE: Ensure that your guests won't drink and drive by pre-arranging transportation, either by pre-booking shuttles or having your coordinator assist with Uber bookings. Your venue should be able to avoid and handle any over-drinking.
Here are some quick and easy packaging ideas:
There you are! Your Wedding Hangover Kit Guide!
** This post has Amazon links and as an Amazon Associate, Wedding Planning Resources earn from qualifying purchases.