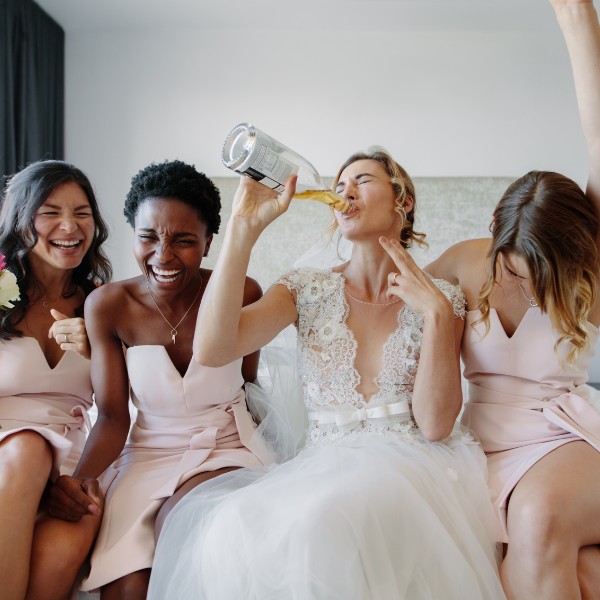 Bridesmaids Gifts: Christmas Festive Edition. Your bridal party, specifically your bridesmaids are your "people" – and there will be there to celebrate with you on your wedding day!
There might be people in your bridal party that have been with you through childhood, some might tough out jobs with you, and some just "gets" you. Lots of memories were shared!
Whichever relationship you have, with these Christmas festive bridesmaids gift ideas, you will surely find the best match! Because these gift ideas are also festive, you can create a bridesmaid ask and a Christmas holiday gift box at the same time!
You will find the staples like makeup bags, jewelry boxes, custom bracelets and rings, robes, PJs, blinged-out jewels, slippers, and coffee mugs.
Some might say that these staples have been given out so many times, but there is a reason why they are called "staples" – it's because they will be useful no matter what. However, you will also find festive and Christmas gifts that you can use to build your gift bag!
Spending a decent amount of investment on these gifts is totally worth it. If you haven't "popped" the question to your bridesmaids, this is also a great way to do that!
Now, you just don't have your bridesmaids' gifts, but also festive holiday Christmas gifts! You are all covered!
PRO TIP: As much as our team has vetted and reviewed these products, inspect the products and read more verified reviews in detail.
Some of your bridesmaids might not like a satin finish robe, but will opt more for cotton. Or perhaps, they don't like glass mugs but would like something breakable. These little things that you can check are what will make the gifts more personal and "thought of."
PRO TIP #2: Decide if you are going for quality instead of quantity. A custom high-quality sweater will run you about $35-45 to start. But that will only be one item. With a $35-45 budget, you can get many smaller trinkets that can be fun and cute.
As mentioned, it's a matter of knowing what your bridesmaids prefer or is also a good way to express that you "know them well" by choosing specific items. Especially if a specific person loves accessories and not so much clothing, then smaller trinkets will work for them better!
This site contains affiliate links. For more info, please see our full disclosure.
Check out more custom and handmade gifts over at Etsy! It's one of our fave places to find one-of-a-kind gifts!
Bridesmaids Gifts: Christmas Festive Edition

Check out more custom and handmade gifts over at Etsy! It's one of our fave places to find one-of-a-kind gifts!
There you are lovelies! Our picks for Bridesmaids Gifts Christmas Festive Edition!