Simple and beautiful.. Modern Minimalist Wedding Design Ideas. Are you in the process of planning / organizing a wedding?
The minimalist lifestyle has been an emerging trend with couples also opting for their wedding theme to embrace the "less is more" philosophy. And we say, "Why not?"
Contrary to what others may think, a minimalist theme is far from being bare and boring. It is crisp yet chic, modern with a hint of traditional and undoubtedly sophisticated. As with the lifestyle, this wedding theme removes the distractions and focuses on the things that are highly meaningful to the to-be weds. Each detail is intentionally added as they are valued and as Marie Kondo says it, "sparks joy".
If you're planning a minimalist wedding (ideas), it could be interpreted in several ways, from trimming down the guest list, keeping the wedding party to the bare minimum, to choosing uncomplicated attires. For wedding décor, however, it could be trickier as people are used to going overboard, especially on styling their celebrations. If you're looking for inspiration for your upcoming minimalist wedding, we've collected some ideas that may give you *a spark of joy*.
ORGANIC MINIMALIST WEDDING IDEA (still modern!)
Think lush greenery but a cleaner take on the theme. This style consists of mostly white/grey or (any colour of your choice actually!) elements with a touch of greenery and romantic candles!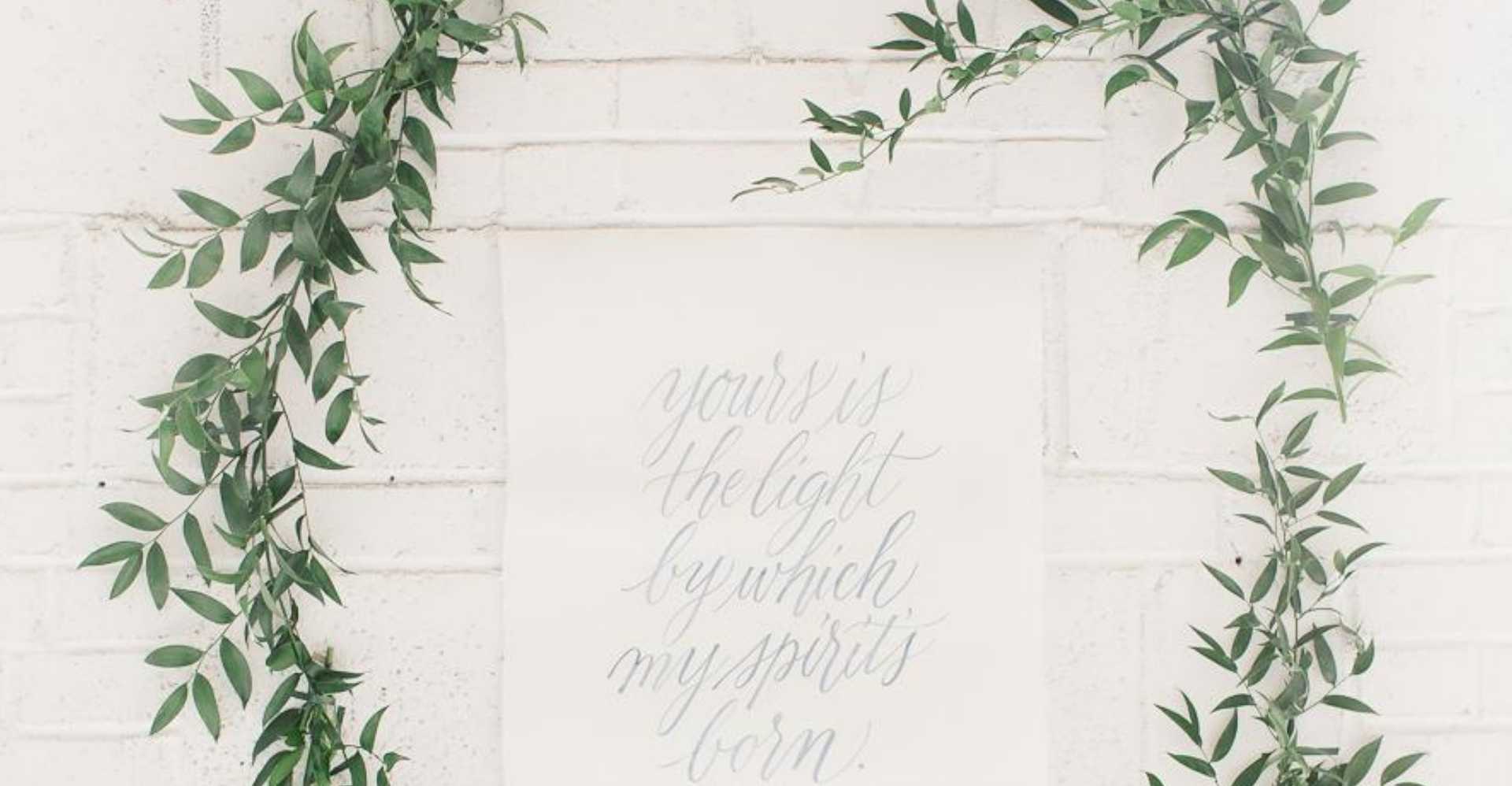 The ceremony backdrop could be a simple layer of white sheer drapes with or a gorgeous calligraphy saying, surrounded with greenery that matches the centerpieces.
For centerpieces, we can go super modern, simple and also something you can definitely DIY! Just pre-order these bad boys (foliage!), pick them 1-2 days before and then have someone lay them right smack centre of the table. This works best with rectangular tables!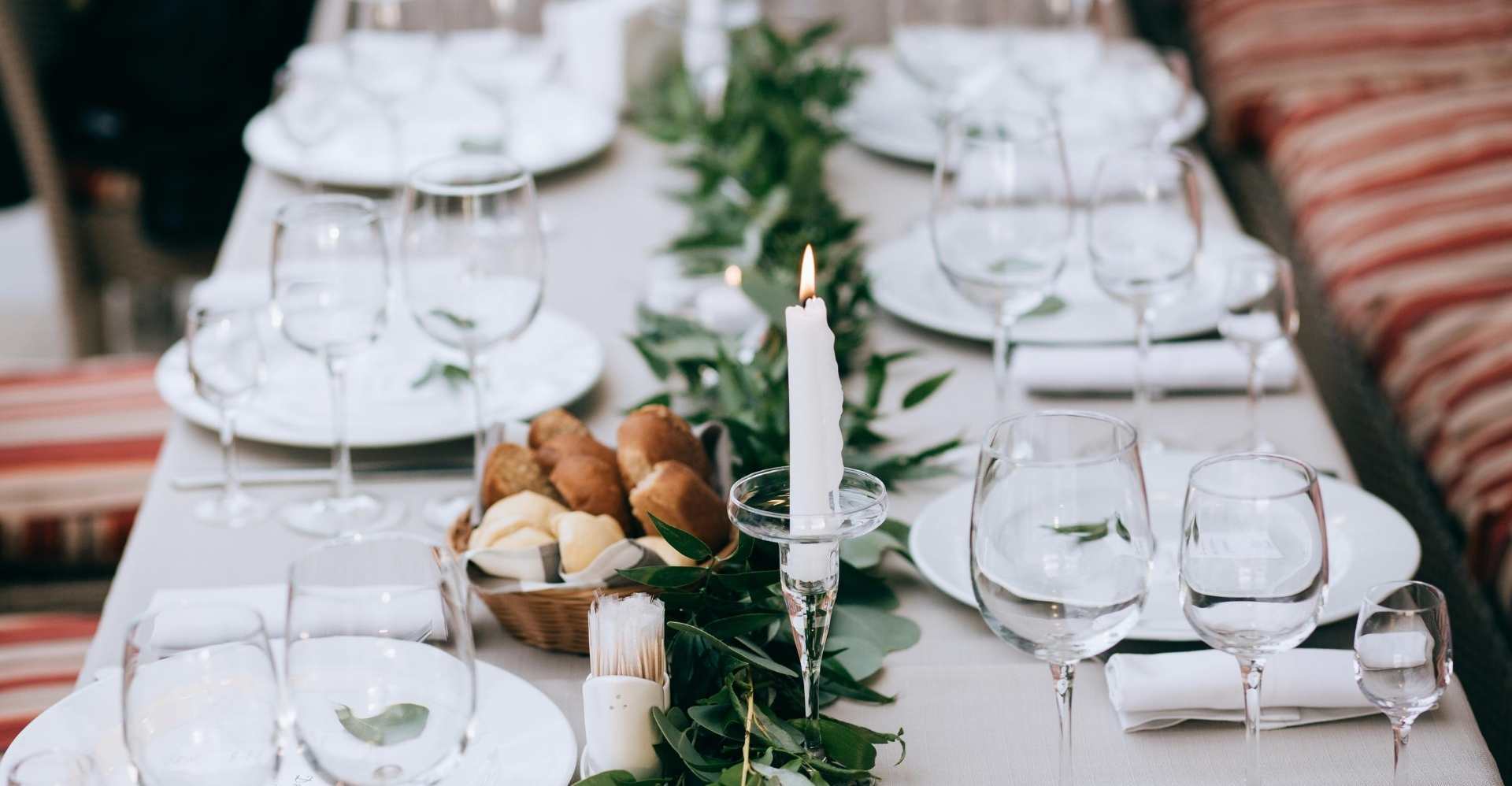 PRO TIP: To save on $$$, you can choose the same variety of greenery and order it from a flower shop, or if you have access to a flower market where you can pre-order large number of bunches (ask them for the minimum number to get volume discount!), will definitely be helpful for you. Another option are bulk wholesale flower websites like Fifty Flowers and Bulk Wholesale Flowers.
EXTRA PRO TIP: 2 of the most long lasting greeneries that you can purchase are salal and italian ruscus. These greenery bunches can last without being in water! You just have to keep them in a really cool place. What does this mean to you? This means, you can pick up these babies 1-2 days before your wedding so you can free up more time on your day!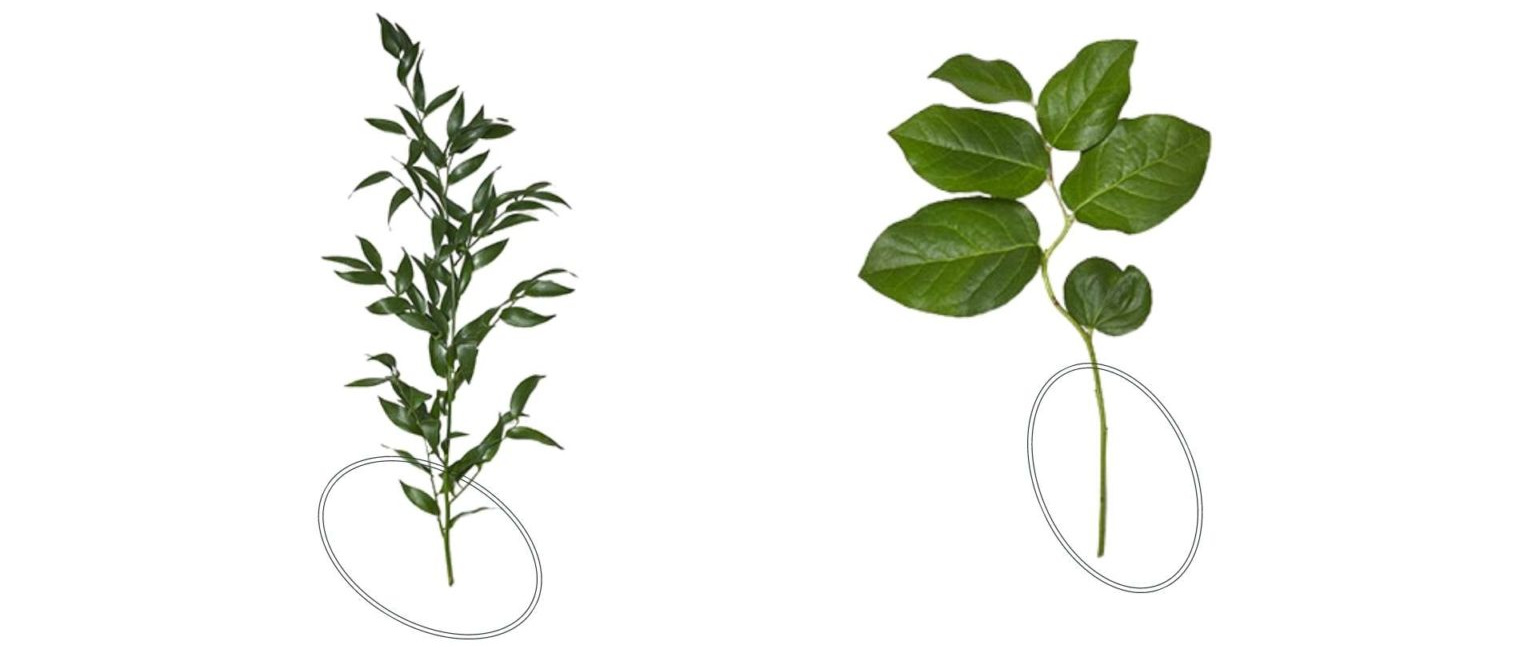 DIY PRO TIP: If you are DIY-ing the greenery you bought to be laid out on your wedding, the best way to prep is to pre-cut the long stems (bottom part, see circled part on the above pic!). These stems are usually a tell tale sign that you just literally laid the greenery on the table. I mean, you will, but this will elevate that. Without these long stems, it will almost look like they are all connected like a garland, since the long bottom stems will no longer be visible, the "end point" will almost "disappear". Yep. You just elevated a seemingly "ordinary" idea with this DIY design pro tip! We've done something similar to this here.
A clean white matte linen with a few candles inside tall clear vases surrounded with some green garlands will also look lovely. Or you could do away with linen, if you're using beautiful wooden dining tables.
For bouquets, a bundle of greenery or a single stemmed flower is all you need for a bridal bouquet—simple yet elegant. Adding some movement and extra depth to a bouquet, will really be great so it won't be such a "harsh" green bundle. Adding other varieties that are a different shade of green, and also some varieties that have "movements".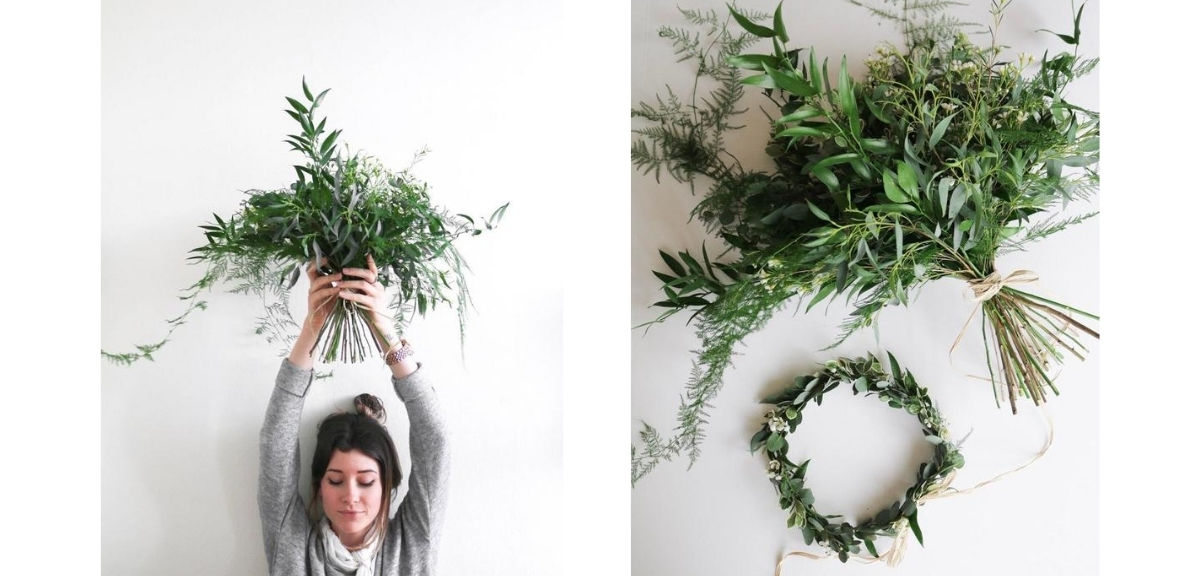 For the cake, an all white icing (or naked cake) with a little touch of greenery would tie with your theme.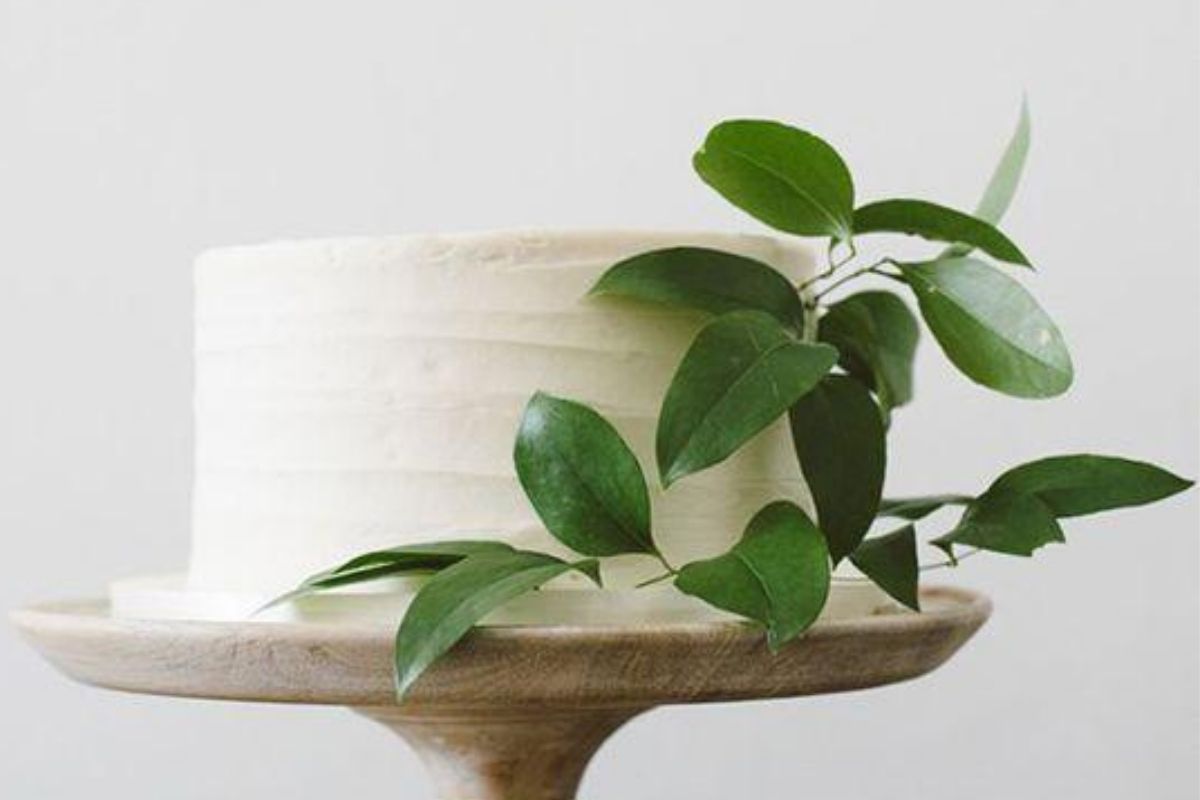 ---
MODERN INDUSTRIAL & GEOMETRIC MINIMALIST WEDDING IDEA
This is a theme that combines urban and rustic—an old meets new kind of style.
We would say that your venue is important if you're leaning towards this theme. You would want to choose a place that already has an industrial vibe *think exposed metal piping, brick or bare concrete walls*.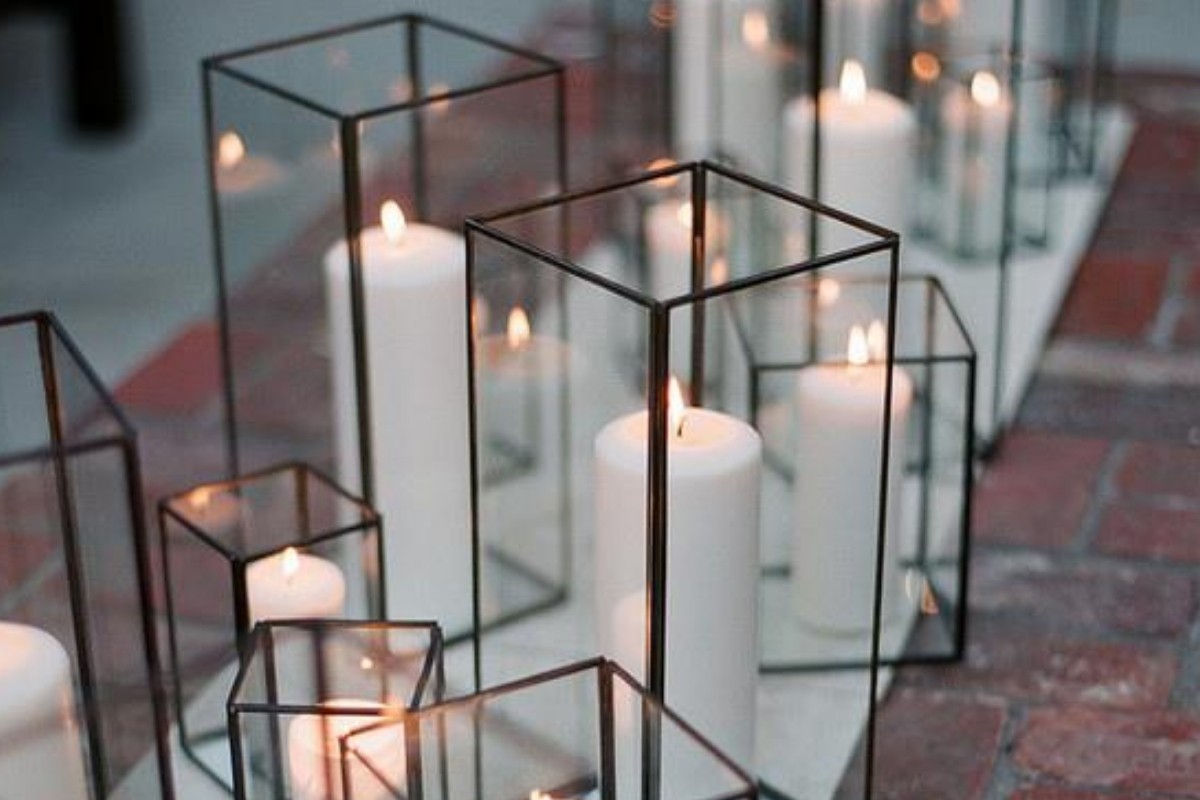 For the dinner setting, wooden tables are your best bet (this adds to the rustic feel). You could simply cluster candles and place them on metallic trays with a few greenery accents to serve as your centerpiece. This centerpiece is a wonderful take on the industrial minimalist theme, plus, the candles adds romance to the ambience.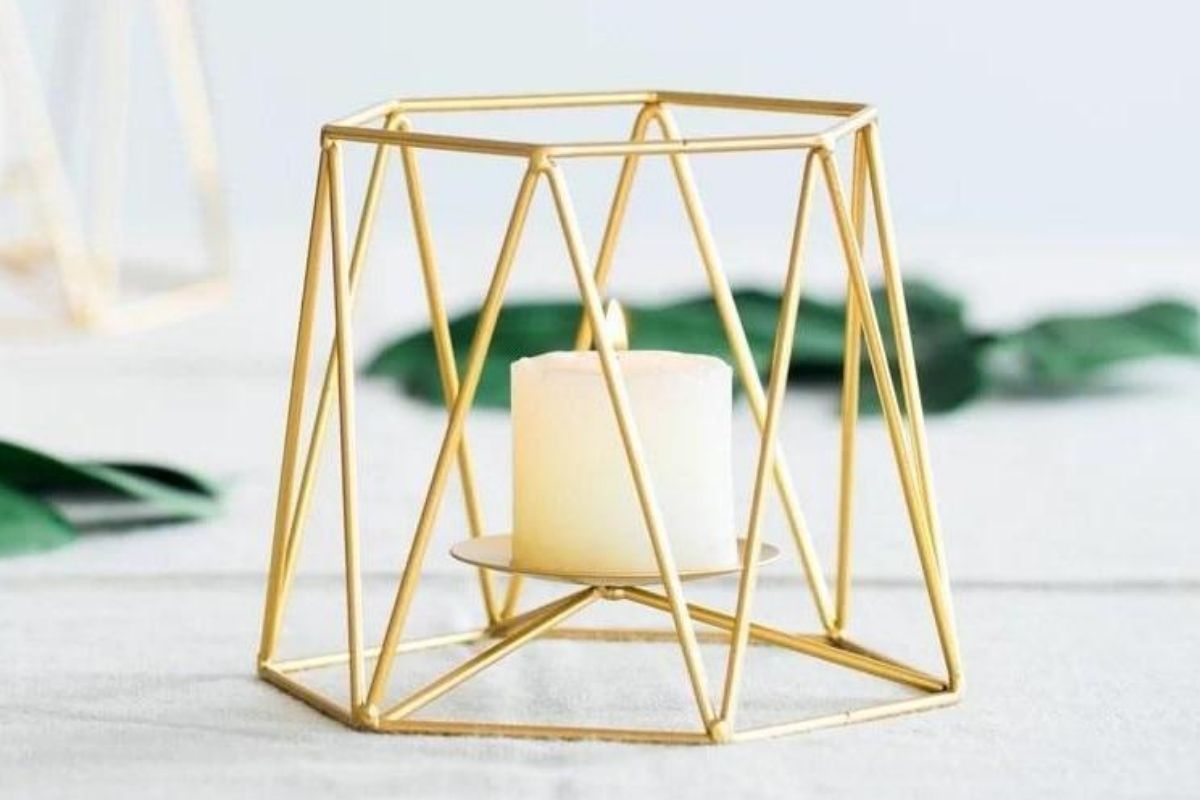 Most of the elements that you will be playing with include metal accents, lights (Edison bulbs, candles), wood, brick and of course, you can always also add some greenery and florals.
Nothing feels more industrial than exposed bulbs, right? Add a few Edison bulbs to your wedding arch, plus some touches of green and you'll have a chic backdrop for your vows.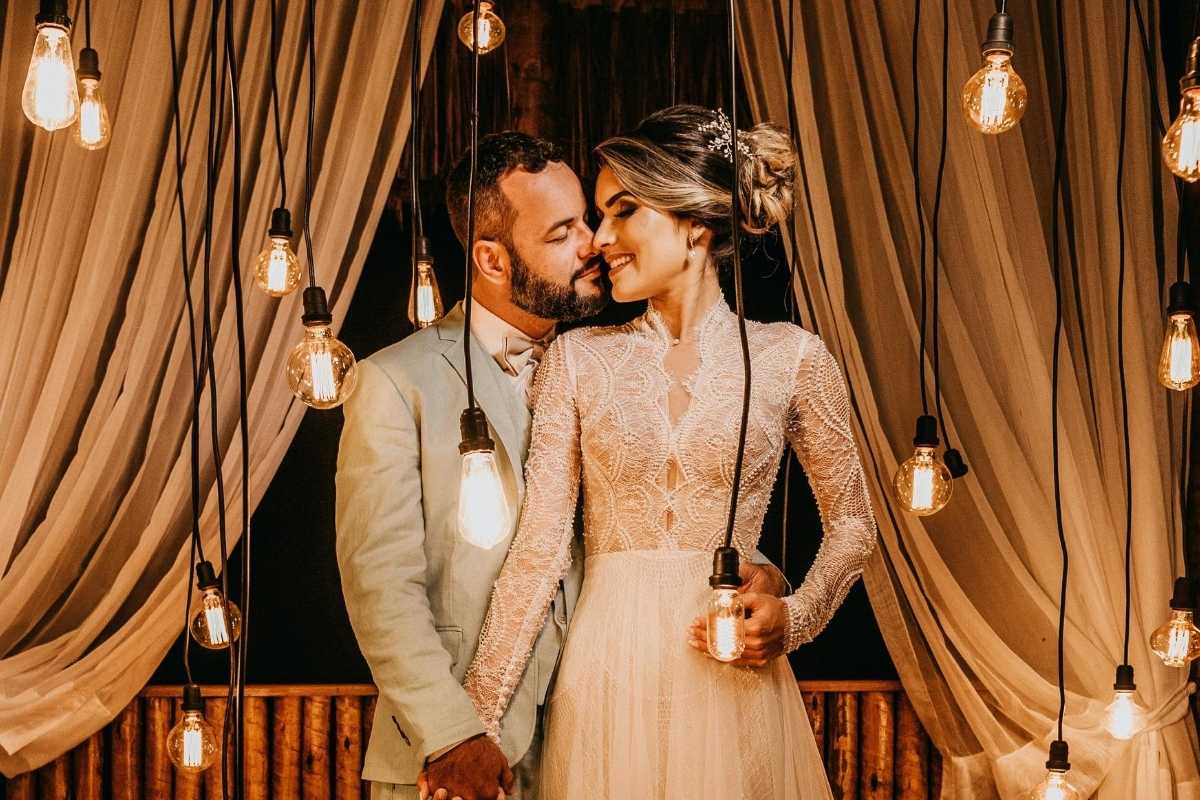 A gorgeous marble wedding cake with gold accents would easily fit this theme. To add some geometric elements to it, you can add a few of the above geometric candle holders around it – to really tie everything together!
The key to a modern minimalist wedding is to stick to what is only truly necessary and what is valuable to you as a couple. Remember that at the end of the day, it's not about how extravagant or simple your wedding is, it is your life-long commitment with your loved one that matters most.
**The execution of your event using our guides, will depend on how open you are to alternatives, other options and unexpected products/design/ideas. It is suggested to do a concept trial and set your level of comfort to make it a much easier and faster execution.**
---
Still in the process of planning your wedding? We can help through virtual consultations (available worldwide and the initial consultation is free!), to assist you in building concepts and overall design, whether it be mood board building, or assisting with step by step guides for your set-up. You can also download our complimentary wedding planning binder here to help you get started!
For design guides and product resources, we have a few of the most popular design choices to help you: Lush Greenery, Pastel Design, Rustic Glam and Backyard Wedding.