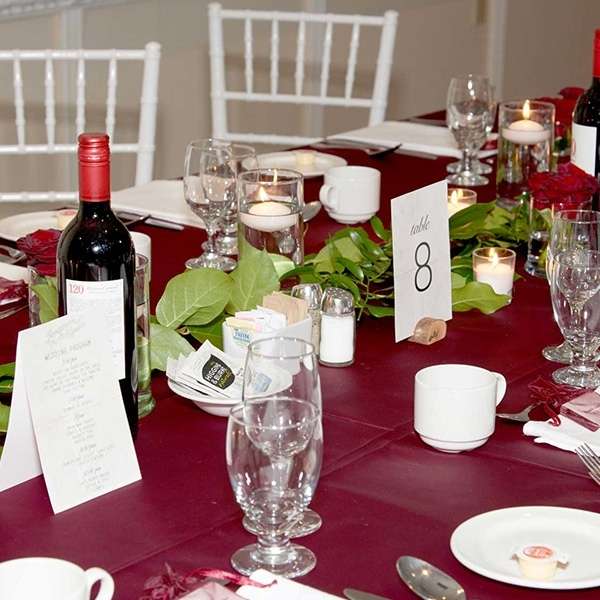 Bold but classic.. Burgundy and Greenery Wedding Design.
A unique take on the classic greenery theme—pops of burgundy give a beautiful contrast to the lush greens and all-white linens and chairs.
If you're planning/organizing your wedding and are looking for a one-of-a-kind theme for your big day, let us guide you through this super-easy but super pretty set-up that we did for a wonderful couple.
Burgundy and Greenery Wedding Design Guide. Let's get started!
Option 1 – rectangular table
Using a marsala or burgundy table cloth, then adding greeneries, can make this burgundy and greenery wedding design much easier to execute. You can use different varieties of greeneries.
PRO TIP: If you are using faux greeneries, choose greeneries with a much-muted tone instead of bright greens. Also, cut the stems short. Don't let them run long. Show less of the plastic stems as much as you can. ALSO, ENSURE THAT YOU CHOSE GREENERIES THAT LOOK AS NATURAL AS POSSIBLE. Don't select ones that look very plastic-y.
To add to the tablescape, add as many candles as you can. Mix it with votive and floating candles of varying heights.
To add some drama, fill a small vase with burgundy roses, cut very short, only a show concise part of the stem. (even silk / faux or fake roses will work well!
FAKE FLOWER ARRANGEMENTS: HOW TO MAKE IT LESS TACKY
Option 2 – round table
Achieve this burgundy and greenery wedding design; you can highlight the greens and lovely dark red blooms, which is why we chose to use white Chiavari chairs, white matte linen for the tables, and white matte napkins.
For the centerpiece, we used a tall white vase and filled it with fresh, lush foliage. Mini burgundy rose bundles were placed in short, clear glasses alongside floating tealight candles to set the romantic mood.
Clear white glassware and silver flatware were used. Favor bags in burgundy matched with the flowers were also placed on the table to tie up with the overall setting.
Super-easy-to-do tented printouts were used for the menu, while small wood card stands held the printed table numbers.
Like this burgundy and greenery wedding design, a theme could be simple and uncomplicated but remain magical when you combine the right elements that complement each other.
BREAKING DOWN THE STEPS IN PLANNING A WEDDING
GET YOUR FREE WEDDING PLANNING KIT

Creative Tips
VASE: If you can't find a solid-colored vase, you can use a clear vase (from your discount store) and spray paint it white—a no-sweat DIY! Also perfect for hiding the stems of the greeneries!
MENU and PLACE CARDS: For the place cards, all you need to do is to pick the right type of paper, thick enough so that it stands on its own when you stick the top part of it with a double-sided tape (see photo above). Then stick together (top part only). If you're planning to print them out, use a font that compliments your invitation.
This burgundy and greenery wedding design is a super easy and gorgeous DIY that you will not stress about!
PLANNING A WEDDING: DO'S AND DONT'S
**Our main goal is to share designs, ideas, product choices, and resources that will lessen the working hours (for research, going out shopping, picking up products and set-up) while still keeping it within the budget. These ideas closely (not exactly!) resemble a variation of a theme or design. The execution of your event using our guides will depend on how open you are to alternatives, other options, and unexpected products/design/ideas.**
20 CREATIVE WAYS TO SAVE MONEY ON YOUR WEDDING