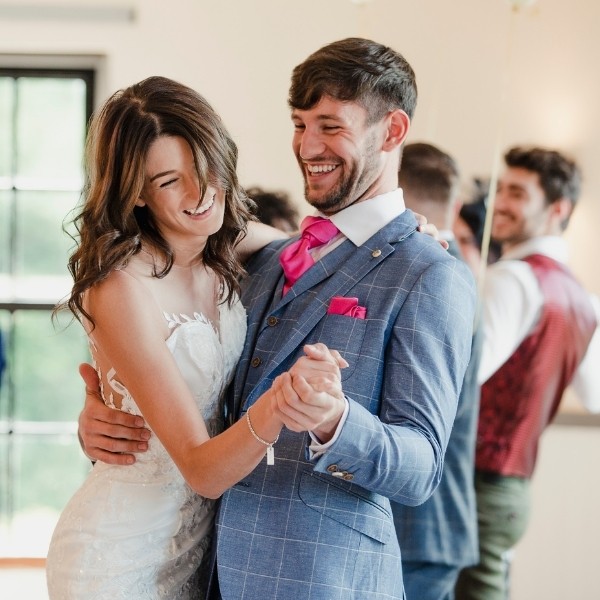 How To Have Fun At Your Own Wedding. Celebrate & Dance! It is your wedding day and you have spent a long time wedding planning! Now you are about to have fun at your wedding! We're sharing how to have a good time at a party – in this case, your party, your wedding! Let loose, have fun, and have a great time on your wedding day!
Between the steady dynamic and the unending plans for the day, you might feel overpowered and possibly somewhat over your head.
But it is your wedding day! You have got to soak it all in and enjoy it to the fullest!
Here are different ways to make your wedding day as fun as can be!
How To Have Fun At Your Own Wedding
1. Sleeping Beauty
It'll be a long day. You'll need to be fresh to enjoy the passionate and exciting ride. Try and loosen up the day before. In addition, start loosening up 2 weeks before!
Now we know this is "easy" to say but hard to do! Especially it will be a mix of excitement and anxiety, and it will be a challenge to tell which one you are actually feeling at that specific moment.
IDEAS:
Watch movies that will make you feel good. Some that will give you a good memory or a quick laugh like

The Proposal

,

The Princess Diaries

,

13 Going on 30

,

Hitch

,

Legally Blonde

,

The Devil Wears Prada

,

Bridesmaids

, and

To All the Boys I've Loved Before

, and the like.
Try breathing exercises. There are great easy-to-follow ones on YouTube that can guide you through.
Connect with Nature. Go for walks, sit on the beach, and enjoy the outdoors safely.
Book light massages (opt for something light to avoid any muscle soreness.)
Fill up your gratitude journal.
Listen to your fave music and have mini dance parties even for like 2-3 songs.
Light up your favorite scented candles to set the mood.
You can also take a good day off with your wedding bridal party and just chill and have a good laugh to lighten up and take all the wedding stress away!
2. Do not tightly or loosely schedule your wedding day
The last thing you want to do is feel rushed or anxious on the day of your wedding. Speak with your vendors, or even better, work with a coordinator to help you time activities accordingly.
There is no "perfect" timeline as many things can come up that you might need extra time to work around.
Another tip that you can do is to have some "food/snack" lying around so you are not "out of things" to do. An idle mind is when the anxiety starts to creep up! (ensure your food/snack of choice are non-messy ones!)

3. Speak with a wedding consultant or coordinator
A wedding consultant and/or coordinator will help you plan and coordinate your day accordingly and help you manage any challenges that might come up, which means you can have fun and actually enjoy!
Having a coordinator manage your day will enable you to dance the night away without thinking of any behind-the-scenes challenge (you won't even know about it!)
4. Embrace some alone time
Suppose your day is going to be packed (which it will be!), schedule alone time with just you and your partner! This does not include photoshoots together or any activity, alone time, meaning that you and your partner are just sitting side by side together, holding hands, taking a breather, and soaking the moment.
5. Let it go (more like let it be!)
I mean, Elsa already said (and sung!) this best; let it go. This will be really hard to tell yourself on the day of the wedding. This is why as mentioned above, condition your mind 2 weeks before.
"Let it go" might be pretty hard to say, but you can change it to "let it be." This leads us to tip #6.
6. Be present (definitely a must on how to have fun at your own wedding!)
Embrace all moments. All moments meaning even if something somehow comes up short of your expectation, at that very moment, see it as it is. Accept it and be one with it. Make fun or have fun with it!
This is not to say that if you feel like your expectations were not met, forget about it. You can deal with it later, after the wedding. Being present enables you to think on your feet, come up with fun ways/approaches, and maneuver around challenges better.
As mentioned earlier, start "conditioning" your mind and doing practices to help you "be present" 2 weeks before the wedding.
7. Surrender your phone
Have your closest and trusted friend "guard" your phone. Now the access is totally up to you, but there will be most likely many people who will be messaging and calling you. Having all those noises might cloud your day with other people's worries and questions.
When your phone is not within your reach, or at least not constantly being checked, you feel free, and you can be present in the moment better.
8. You CAN say no
Things might come up that you feel like you want to answer "no," but you say "yes" to get things "over with" or to "go with the flow."
Now, this might work in some cases. But what can happen is, this can easily pile up, and you will feel like you've lost control of the day.
There are ways to say "no" politely and even "set boundaries" early on in the wedding planning process so you can avoid last-minute requests and adjustments.
9. We cannot please everyone (important tip on how to have fun at your own wedding!)
It's a nice gesture, but it's impossible. Certain things and aspects might not be enjoyed and appreciated by everyone, and that doesn't mean you did something wrong or that they are not happy for you.
Every person has a different take on things and, of course, preferences. You have probably tried your best already to be there and cater to people as much as you can, and at this point, we have to get to the part where we say, "we cannot please everyone."

10. Be kind to YOURSELF
Lovely, be KIND to yourself! If you feel like you missed something or heard someone say something that somehow didn't sit well with you, treat and talk to yourself like you would talk to your friend.
Don't criticize yourself too much or use harsh words.
Talk to yourself kindly and avoid words like "oh man, I knew it!" or "I suck at this!". You can replace it with positive words like "I have done my best and all the hard work; today is for enjoyment and celebration, not judgment."
11. BONUS TIP: Download appropriate apps
This tip on how to have fun at your own wedding is our favorite! Download apps that will help you feel good; remind you of your hard work, or something that you can "talk to" (AI) that you can share your thoughts with (without judgment!)
Having something within your reach like your phone to declutter your mind and an outlet where you can write your thoughts will help you "be present."
Everything is a process. The best tip is to start the process and "condition" your state of mind so that when you get to your wedding day, you are in peace and with an open heart, engage in every moment!
There you are! How To Have Fun At Your Own Wedding!