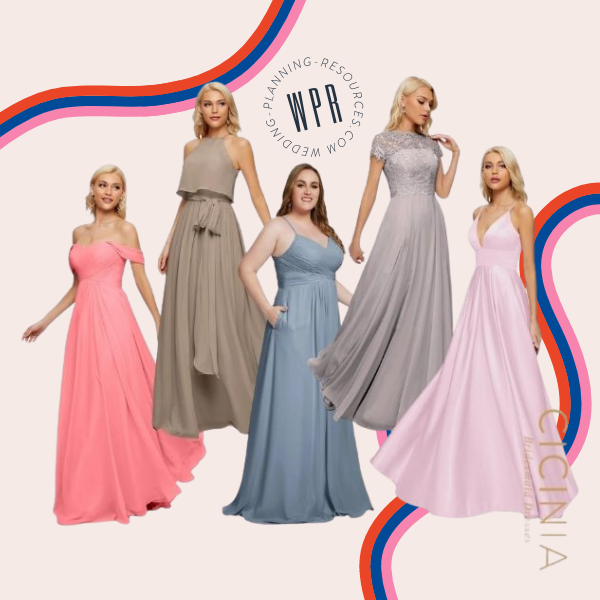 How To Choose Bridesmaid Dresses. Fashion & Bridesmaids! Steps to a cohesive bridal party outfit and dresses. Advice on choosing bridesmaids dresses without anyone feeling left out. Bridesmaids' dress selection tips. The art of choosing bridesmaids dresses.
This post is sponsored. For more info, please see our full disclosure.
Choosing bridesmaid dresses is an important part of the wedding planning process. Your bridesmaids play a special role in your big day, standing by your side and adding to the overall aesthetic of the wedding.
Selecting the perfect bridesmaids' dresses involves considering various factors such as style, color, body types, and budget.
It's essential to strike a balance between your vision as the bride and ensuring your bridesmaids feel comfortable and confident in their outfits.
As difficult as this sounds, at Cicinia, they help brides, newlyweds-to-be, and their bridesmaids with how to pick the perfect style and color for this once-in-a-lifetime event every day, so they know a thing or two about it, and we have partnered with them to share these tips to help you out.
In this blog post, we will guide you through the process of choosing bridesmaid dresses, providing tips and insights to help you make the right decisions and create a cohesive and beautiful bridal party look that will complement your wedding theme and leave everyone feeling fabulous.
Here are your tips on how to choose bridesmaid dresses: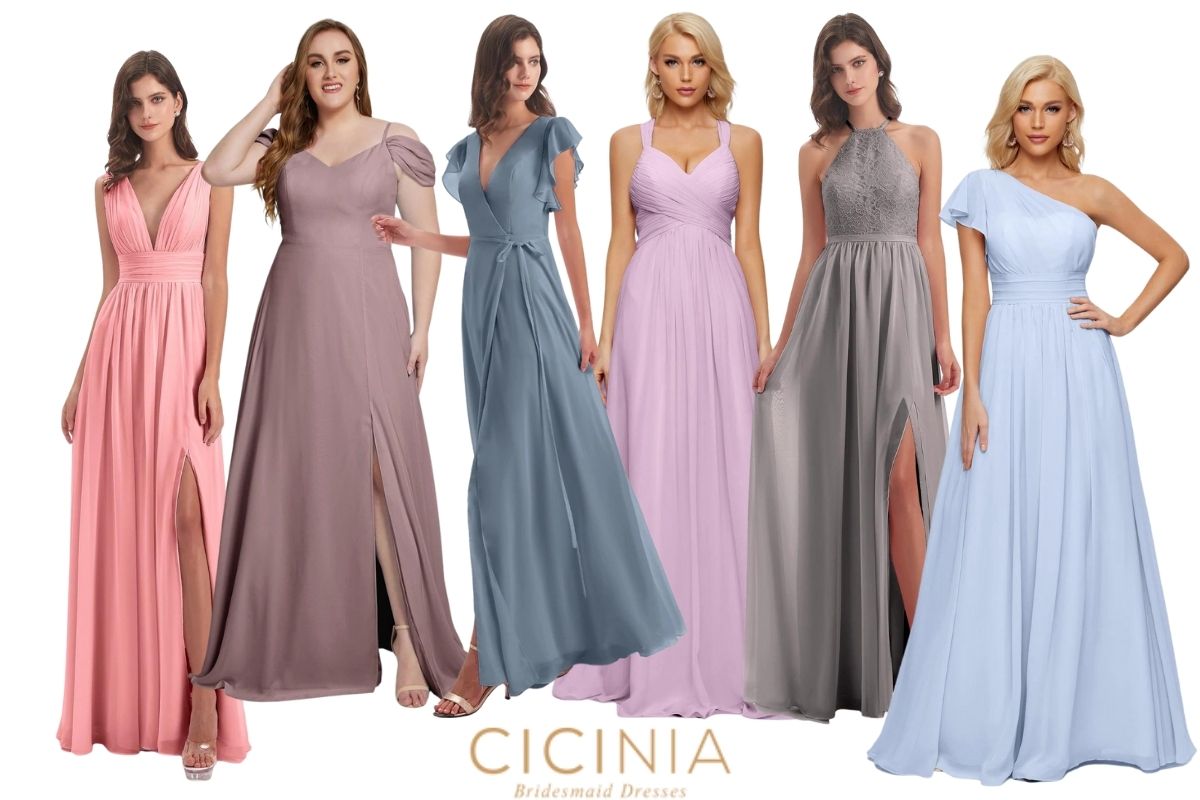 Be mindful of the budget.
The first step in every wedding is setting a realistic budget, and that should be the case on how to choose bridesmaid dresses as well.
Think about your bridesmaids before going wild and falling for a dress that might not fall into their budget or price range. It would be ideal to have a conversation with them regarding how much they are willing to spend on a dress and find an option that suits every pocket.
PRO TIP: You can always find a similar style and look in a much more affordable price range which makes it a win-win for everyone!
Now, more than ever, shopping online for bridesmaid dresses has never been much easier. At Cicinia, the prices of the dresses can start under $100 and increase depending on the style.
This price range coupled with the styles and quality makes it easier for you and your bridesmaids to browse styles and colors easily!
Spend the night with your bridal party and browse dresses on the big screen (your TV or on a projector) and make it super fun! Order a charcuterie board and some wine!
Find the right color and material.
How to match the bride and bridesmaids' dresses? Have you ever argued with your friends about the name of a color? You say it is champagne, and they say it's beige?
When it comes to bridesmaid dresses, color selection always goes that way. If you only say they need to wear a pink dress, it's most likely that it will be different shades of pink; and if this is ok with you, or that is your jam, then yay!
But if you want your bridesmaids to have the same shade, or even within the same shade family (monochromatic), it's best to shop together; whether online or in person.
A hot pink color does not look the same in a satin fabric as in tulle or even in organza. How about establishing one color or a couple of them within the same color palette and specifying the material?
Of course, it's not always going to be as easy as it sounds. Anytime there is a group decision that has to be made, it will most likely require quite a back-and-forth and possibly a longer discussion.
Another great tip on how to choose bridesmaid dresses is to order swatches before planning that bridesmaid dresses online shopping party.
This will help with the discussion and the decision-making. It will also be easier for you to envision the dress you are looking at online and make more sense of it when you are seeing, holding, and feeling the swatch.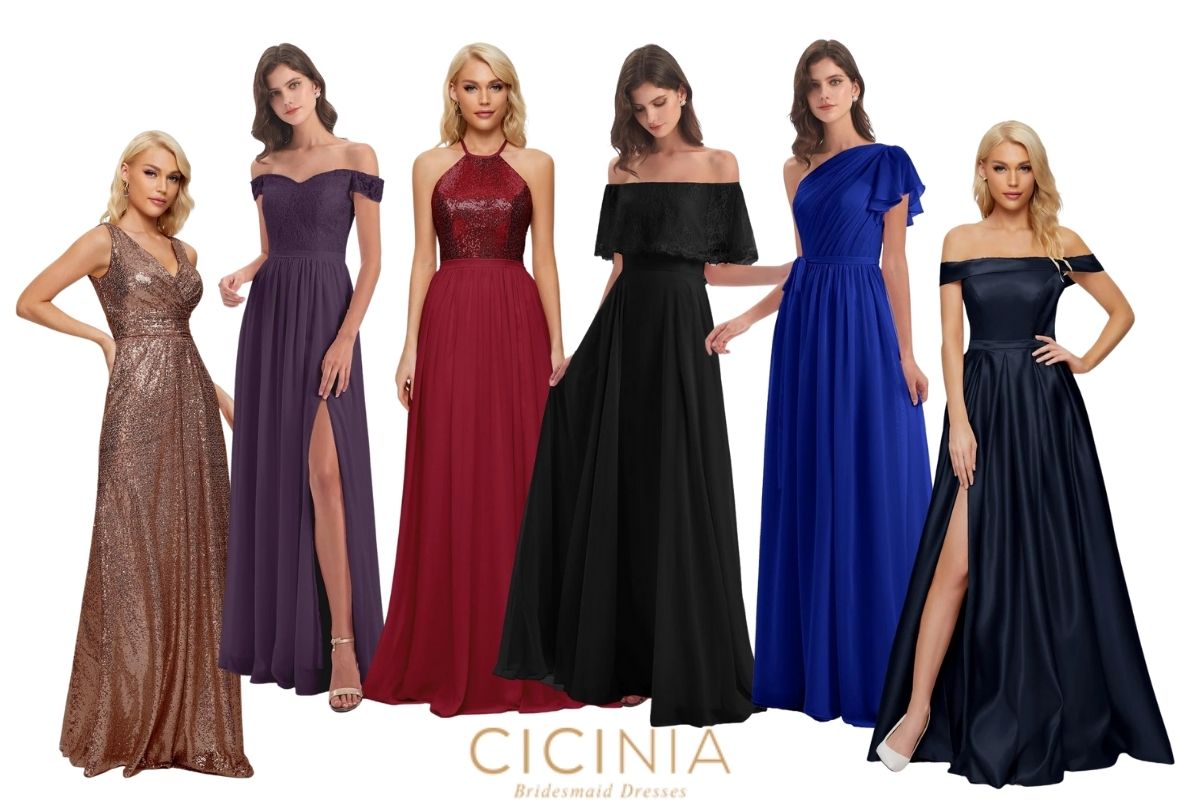 Offer multiple options for your bridesmaids.
Of course, this goes without saying that every person is different. From their style, height, skin color, personality, and body shape. The truth is it is pretty hard to find a dress that is "universally" flattering.
It is for sure your wedding day, but of course, you also want your bridal party to also be happy, confident, and comfortable.
There is a very good chance as well that your friends might also say "yes" to what you like because they want you to be happy. But it's also kind to check in with each of them personally. If they are truly comfortable and confident with the style you chose for them, then that's great!
But say you feel that they might not be comfortable or do not feel their "most confident", you can try letting them choose a specific cut or style, as long as it is within the same color or material.
This is why it is important to select an online bridesmaid dress store where the materials and color are the same, but they come in many styles, colors, and sizes.
How sweet it is for you to give your bridesmaids options that are catered to each of their styles, without totally moving adrift from your vision, aesthetic, and theme.
Cicinia offers a free customizing service to ensure your bridesmaids fit like a glove in their dresses!
How to choose bridesmaid dresses? Look for the right style.
To find the right style, you need to consider a couple of factors first, and that's the style of your wedding dress or outfit. Since they will be around you and appear by your side in many photos, it is essential to have a cohesive idea through it all.
Think about the formality of your wedding; a daytime reception and an evening one require different types of dresses.
And finally, the color palette and style of your wedding décor. While your bridesmaids don't necessarily need to match the color of your tablecloths, it is essential to keep it all within the same idea.
Weather also plays a factor in choosing a bridesmaid dress. If it will be a snowy day, a long dress might not be the best option. Unless everything (including hair, makeup, and dress-up!) is done in place. This means, that no one needs to head out and brave the elements!
If your wedding dress is modern and straightforward, you might not want your bridesmaids to wear the same style but one that complements it. It could be a little shorter but in the same modern vibe, texture, or contrasting color.
You can even consider a classic simple black style for their bridesmaids that can look modern and sophisticated, yet still elegant and timeless.
For romantic or bohemian bridal looks, your bridesmaids will look beautiful wearing a dress with lace details, sequins, and flowy chiffon or romantic tulle.
Remember, the options are endless with different necklines like V-neck, halter, off-the-shoulder, one-shoulder, straps, and more. The hemline can also help you create the right image. For example, an asymmetrical or knee-length set your floor-length wedding dress apart while looking within the same style.
Feeling like a non-traditional approach? You can do that too!
There are really no rules! Well, it's your wedding, so technically, it's your rules! You can mix and match! You can even make them wear white and you can wear maybe blush pink, black or beige. Whichever way you want! You can create your own rules on how to choose bridesmaid dresses!
Select fabrics that are appropriate for the season and the level of formality you desire. Lightweight fabrics like chiffon or lace are ideal for summer weddings, while velvet or satin can work well for fall or winter weddings.
If you want to add a touch of individuality, consider allowing your bridesmaids to choose dresses within certain parameters, such as a specific color or fabric. This allows them to express their personal style while maintaining a cohesive look.
Discuss accessory options with your bridesmaids, such as shoes, jewelry, and hairstyles, to complete the overall look. Ensure that the accessories align with your vision and complement the chosen dresses.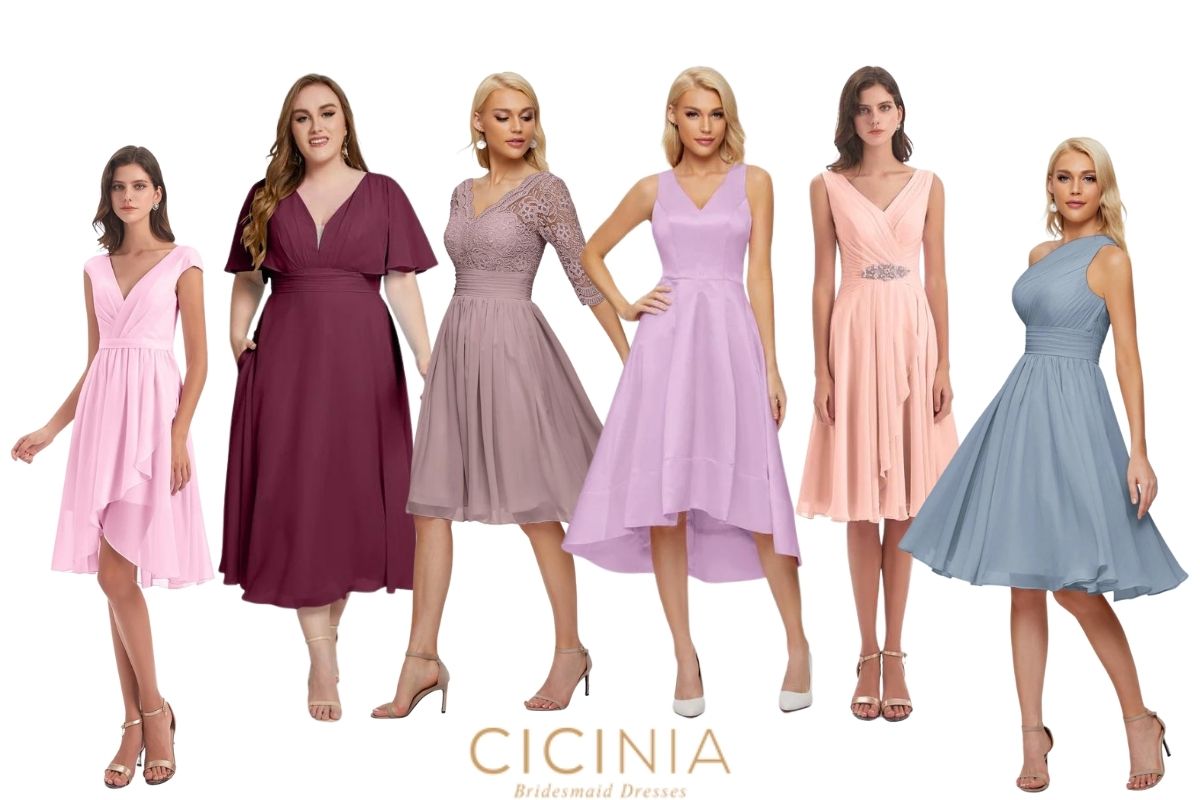 Choose an easy purchasing option.
We all have heard the nightmare brides and bridesmaids go through with long waiting times to receive their dresses or the hassle of renting a dress that does not fit correctly.
Have you ever had those moments where you just want someone to answer your question quickly so you can move on with your shopping or decision process?
Right? You ask yourself questions like, "Is there even anyone here that can help me?" and "I have a super quick question.."
Find a brand with great customer service. Like real people, not bots or auto-responses. But real people who can help you and make your experience better.
Cicinia offers instant customer service from real people who are always ready to help solve any issue.
Free customization service is also available! A lead time of fewer than 20 days will ensure that your purchase arrives timely.
Create an experience.
What better tip to share on how to choose bridesmaid dresses than to create an experience? We already mentioned this earlier. Just because you are shopping online, does not mean that you and your bridesmaids cannot enjoy an in-person experience.
Plan a bridesmaids' dresses online shopping experience at home. Have the swatches ready and start browsing online. Also, have a measuring tape handy so you can visualize the dress better.
PRO TIP: Ask your bridesmaids to bring their favorite dresses and styles. This way there is a point of reference and comparison. But more importantly, this is a great reason to play dress-up and have so much fun!
There you are lovelies! Tips on how to choose bridesmaid dresses!