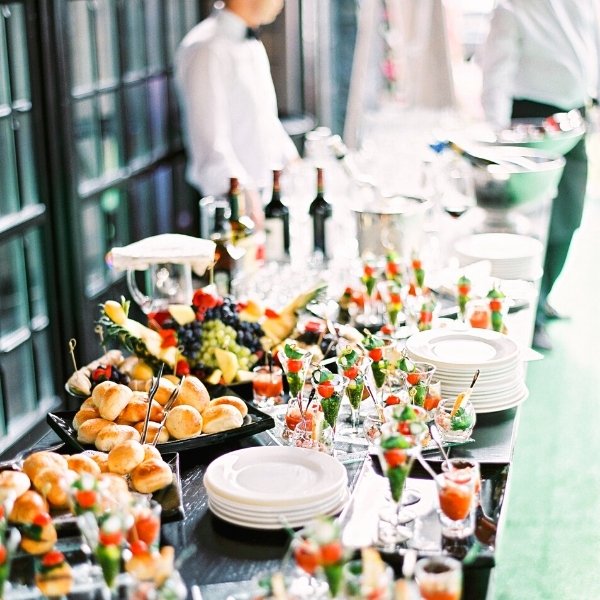 Wedding Food Buffet or Station. This or that? Are you in the middle of wedding reception planning and trying to figure out if you prefer a wedding food station over a traditional buffet style for your wedding guests? Or maybe vice-versa? Have you totched the plated meal and main course idea for your wedding reception?
In this guide, we outline things you would want to consider to help figure out which one works for you best!
For the longest time, wedding buffets were the more informal alternative to the conventional seated dinner: they're more participatory, diverse, and allow for more flexibility than a standard three-course meal.
Food stations are a new alternative that has more of a theme and style to them. Food stations are the new buffet, a newer and more contemporary method to serve food, especially if you have already scratched off the plated meal on your list.
Wedding Food Buffet or Station? But which one will you choose for your wedding day? Here are things to consider to help you decide: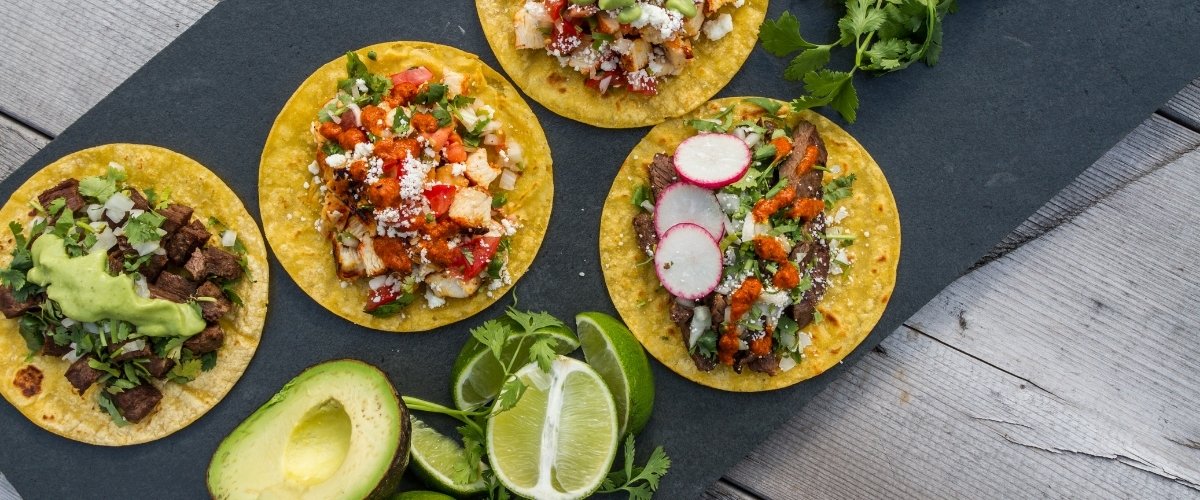 1. The difference
BUFFET:
A buffet is a table/s set with all of the numerous meal items you choose – typically, the buffet line will begin with salad, bread, meats, and then sides.
FOOD STATION:
A food station is just a group of tables that have their owpose or theme.
For example, there might be a mashed potato station, a pasta station, pizza station, carving station, taco station, etc., the choices are unlimited.
The latest favorite for a food station? Charcuterie platters and grazing tables.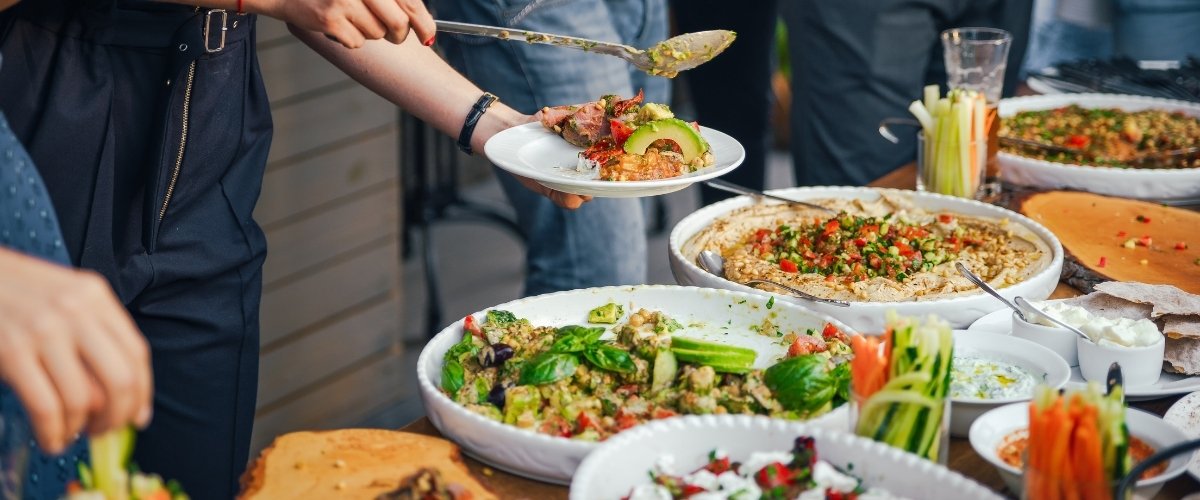 2. Setup
BUFFET:
Although both food stations and buffets are less formal alternatives to a traditional seated dinner, the format variation can significantly influence the flow of your reception.
A buffet, with all the food on one long table and a single line of people waiting to be served – or serving themselves.
There is a scarcity feeling to a buffet menu because when wedding guests see the lineup, they almost feel like they might lose their chance to "pick" the freshest, or worse, they might end up eating leftovers.
Our buffet guide article here will help you navigate the wedding buffet setup to help solve these problems and this article will give you wedding food ideas.
FOOD STATIONS:
On the other hand, food stations are generally distributed throughout the room, encouraging guests to cycle between eating and dancing and explore the whole reception area.
People may come and go as they choose if they want to go around and talk to other attendees or dance, and couples who want the option of not being tied at a table all evening can also enjoy more because it allows you to get up and mingle with other people.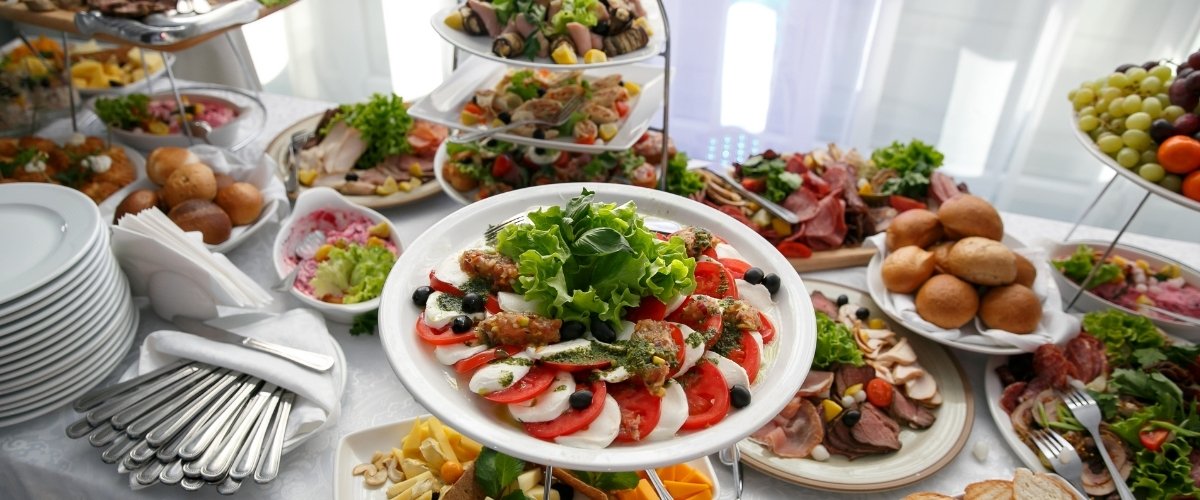 3. Service (this is an important distinction between wedding food buffet or station)
BUFFET:
Depending on the type of buffet service you choose, it is most likely self-serve. The servers only come to check on the food to see if they need to be replenished. They will only come to replenish if this is included in your package, which usually comes at an extra cost.
More often than not, there is no replenishment. The amount of food that is out on the buffet table/s is based on the guest count already. This means, what is served is set for the number of your wedding guests.
FOOD STATION:
While you may serve the same amount of food in any style, food stations provide additional menu diversity and distinctive presentation opportunities. It appears to be a little more sophisticated, contemporary, and foodie-like. It's a little more intriguing to dedicate an entire spread to one item. Some of the best stations include a Parisian-inspired steak Frites station, a cheese and charcuterie station, an Italian burrata bar, and dim sum. Your coordinator or caterer may also assist you in arranging food stations that blend in with the fabric of your wedding.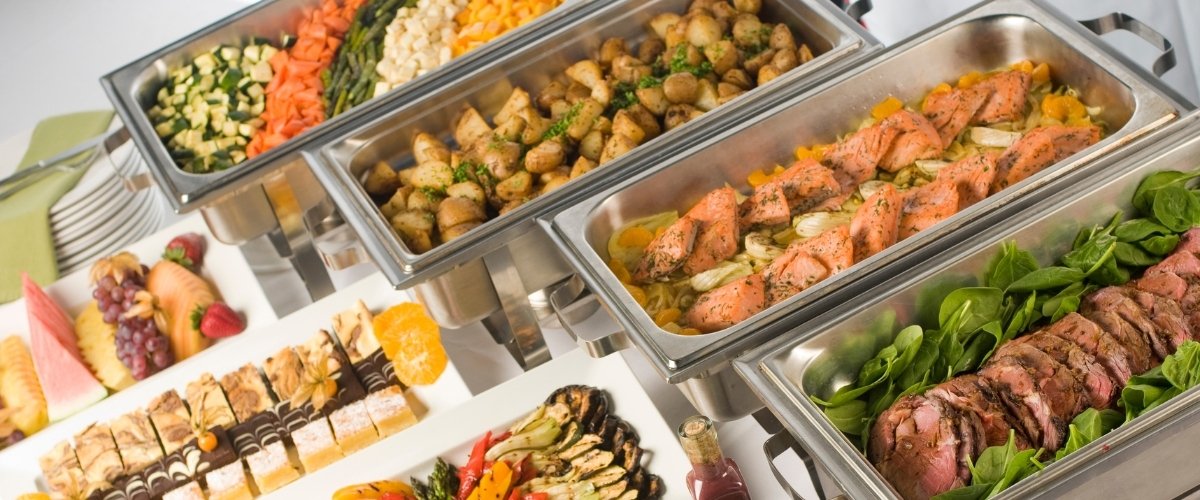 4. Cost
BUFFET:
The cost per person will vary depending on your food choices. Choosing a side, salad, starch, and meat/fish are the usual wedding dinner choices. This is also your most affordable price package. Depending on your venue, location, and catering company, averaging $40-$60, which can go up to $80-$90.
FOOD STATION:
This will depend on what your station is serving. GTA Catering shared an average (CAD) pricing per person (pp) below:
Carving Station $16-$25 pp
Thai Station $13 pp
Fajita Station $12 pp
Taco Station $9-13 pp
Poutine Station $12 pp
Pasta Station $10-14 pp
Antipasto/Harvest Station $13 pp
Chocolate Fountain station $10 pp
Pricing will widely vary based on location, wedding vendor, number of wedding guests, and season. These prices are just for a general idea. We recommend reaching out to your local catering company to receive a more accurate quote or pricing idea.
5. How to choose?
Of course, budget is a big factor. Probably the major decision-maker.
But also consider the dining experience. Food stations provide more of an experience, while buffets provide that comfort of having options and an abundance of food (or so how it looks like!)
Food stations need more area to set up. If you are in a tight venue, this might not work.
The irony is, if you are in a tight venue, the buffet will also cause crowding because of the lineup, and will also pose a challenge.
Multiple Food stations provide a faster service, and your guests will be fed faster. The wedding buffet lineup tends to be longer, even if every table will take turns.
Choosing is tricky as both are excellent options. It just depends on what your vision and priorities are.
Please speak to your caterer and share your wedding goals with them. Amazing wedding caterers, as well as wedding venues, can help you come up with the best decision or other options that you have not yet explored to help you achieve your wedding goals as close to your wedding budget as possible.
There you are! Wedding Food Buffet or Station