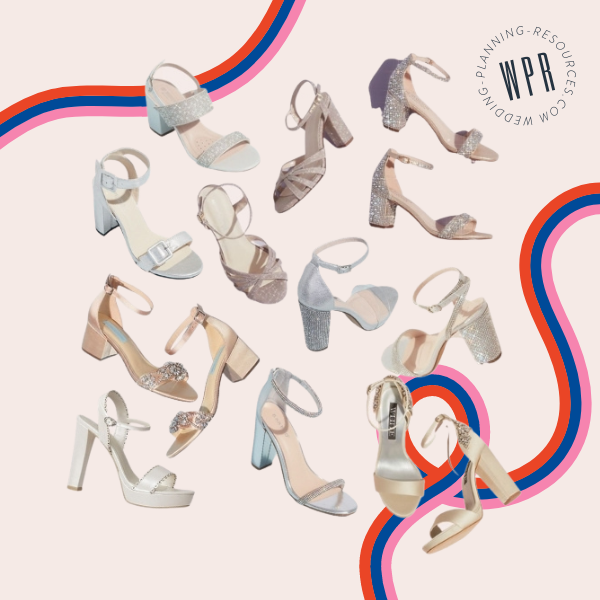 Comfy & Stylish! Wedding Shoes: Block Heels Under $100. Because why not block heel for your wedding shoe? In this guide, we're sharing the curated list of our fave block heels that will be great for your wedding!
Block heels have been a fave thing that newlyweds-to-be reach for when they want that heel and comfort!
Today, we've rounded up our top 10 picks from David's Bridal! This is great if you are also purchasing other wedding-related products from David's Bridal!
Why not purchase (mix and match!) your wedding outfit and accessories from one place? Especially if you are ordering online!
Browse styles and determine how to find the perfect wedding shoe for you! As well as make them extra comfortable!
This site contains affiliate links. For more info please see our full disclosure. Product descriptions are sourced from the manufacturer/brand/seller's shop as linked accordingly.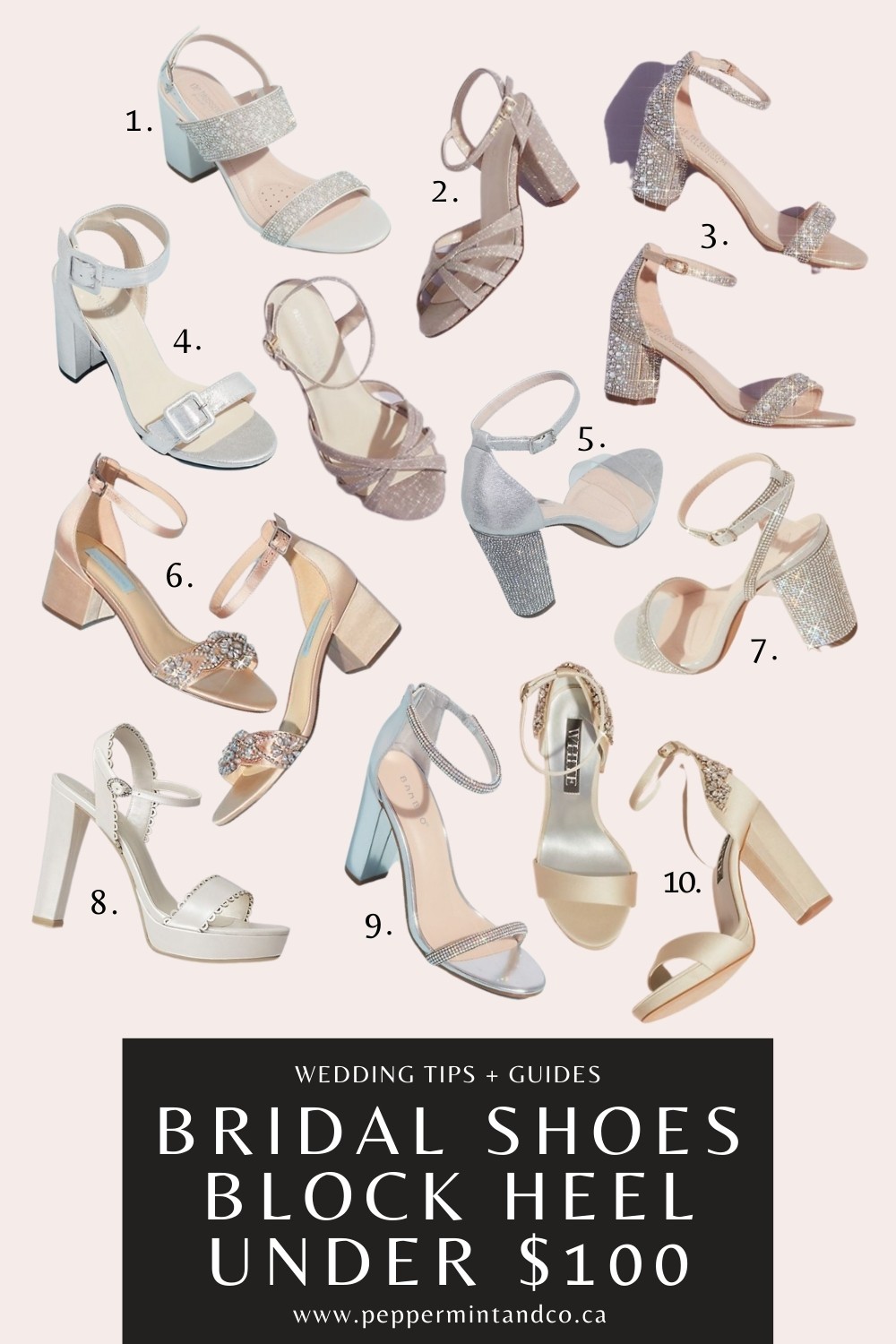 1. Pearl and Crystal Wide Strap Block Heel Sandals
This pair of sandals has it all: glitz and glamour – thanks to crystal and pearl embellishment on the straps – and even a block heel!
2. Maeve Glittery Block Heel Sandals
Detailed with a strappy vamp and a sturdy block heel, these subtly sparkling sandals are perfect for dancing.
3. Allover Crystal Glitter Block Heel Sandals
A metallic glitter upper is fully embellished with an array of round crystal stones for maximum sparkle for your occasion look. A medium block heel and cushioned instep will keep you comfy all night.
4. Block Heel Sandals with Oversized Buckles
Detailed with oversized buckles and a high block heel, this pair of chic sandals is sure to make a statement.
5. Metallic Platform Sandals with Crystal Block Heel
It's not just the crystal-embellished block heels of these metallic platforms that wow: A skinny ankle strap and clear toe strap have an elongating effect on legs.
6. Satin Block Heel Crystal Embellished Sandals
Intricately embellished with crystal infinity loops and floral blooms. These satin ankle strap sandals deliver statement, dramatic style with the comfort and support of a block heel.
7. Glitter Block Heel Sandals with Ankle Strap
A little bit classic, and a little bit glam, these glitter block-heel sandals will go with just about everything in your closet. As a result, you not only feel gorgeous but it also allows you to dance all night!
8. Pearlized Platform Sandals with Scalloped Edges
Iridescent shimmer, scalloped trim, and a crystal buckle make these platforms a perfect wedding pair. (semi-block heel)
9. Rounded Crystal Straps Metallic Block Heel Sandals
A play on the modern minimalist heeled sandal, this metallic pair features a block heel and rounded crystal straps for added drama.
10. Crystal-Embellished Satin Platform Sandals
Sparkle with every step in these elegant satin platform sandals. Simple straps at the ankle and toe complement the crystal-encrusted heel caps, beautifully arranged in floral clusters.
** Above all, you know your style better than anyone else in this world, and we want you to truly feel your best (and comfortable too!) on your wedding day, and we wish for you to find the perfect match for you!
Find your perfect wedding shoe over at David's Bridal! There you go! Our top 10 Wedding Shoes: Block Heels Under $100!