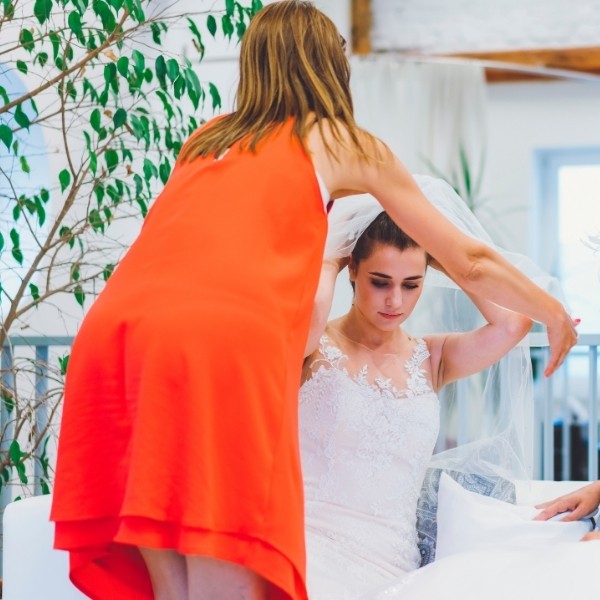 Questions to Ask Your Wedding Planner (potential!) Meeting with your potential wedding planner and wondering what to ask? Looking for wedding planning questions? In this guide, we are sharing questions to ask your potential wedding coordinator and/or wedding planner.
Your wedding date is set! You feel butterflies in your stomach. But you also might be feeling some anxiety and stress soar up whenever you envision possible challenges that need to be tackled.
Choosing the right wedding planner is like having a best friend you never thought you needed!
We have compiled a list of all the questions you need to ask your potential wedding planner to help you find 'thee' one!
However, it is important to note that it will be a great idea to share your ideas and goals with them first. This way, their answers will have more connection to what you have already planned in your mind. Just making it easier to see if they "get" you!
Bring your inspiration/mood board along with you to your meeting, or share it before the meeting to ensure that you both are on the same page and understand the essentials of the "relationship" you are about to start.
Your family dynamics will be a good thing to disclose right from the beginning. Share with them how involved other family members are. If you and your partner are not the final decision maker, share this with them to plan an approach better.
Another big thing to share is your personality. Even before the meeting, show your real personality from the very beginning. This gives your potential planner a chance to understand you better, as well as to honestly say if there is a blossoming relationship to look forward to, or maybe not a good match, from the get-go!

Questions to Ask Your Wedding Planner (Potential)
Availability
Are they available on our wedding date?
How many weddings are you planning at the same time as mine?
Would you keep in touch personally and/or over the phone during the whole planning process?
How much input do you appreciate from us?
Are you going to have any other event on the same day as mine?
Are you going to be present throughout the wedding day?
How many team members will be working on my wedding day? and how will they be dressed on that day?
GUIDE TO PICKING THE RIGHT WEDDING PLANNER. (PART 1)
Portfolio Check
A wedding planner's background and portfolio are the keys to understanding their personality, style, process, and approach. Going through their portfolio and testimonials thoroughly will help you get a better idea of what you can expect from them.
Questions related to their experience include:
How many weddings have you planned before that are similar to mine?
For how long they have been working as a wedding planner?
Can you share some ideas that you think will be a great match for my wedding style?
Have you previously planned a wedding at our venue? If yes, can you share some photos?
Are you comfortable working with a wedding our size?
In terms of the traditional parts of our wedding, do you have experience or knowledge about them?
What is your approach in dealing with mishaps, challenges and setbacks in a wedding?
Based on our style and preferences, do you feel confident that this is something that you can manage?
WHY YOU SHOULD HIRE A WEDDING PLANNER OR CONSULTANT

Pricing and Package Details
How much do you charge for full-time planning services? Based on our wedding needs?
Do you offer month-of-coordination or a la carte services? If yes, what are the costs involved?
Based on my wedding needs, style, budget, and preference, are we able to work out a custom package?
What is your preferred payment method and what are the installment options?
How much initial payment is needed to get started
Are there any additional costs we might have to handle after the wedding?
Can we review the contract together?
In terms of rescheduling and cancellation, how do you navigate around it?
TOP 10 WEDDING PLANNER SECRETS
Services (one of the most important questions to ask your wedding planner (potential)
** The below are usually included in the contract that you have reviewed together (as mentioned above), the below is to check-in and match it with the contract details.
Can you suggest vendors and other professionals according to my budget, needs, and goals?
Can they create a timeline and schedule for everything?
If there's an issue with the vendors, will you come up front to deal with it?
Do you offer design services that will help us with working with other vendors?
Which proportion of the wedding doesn't come under your responsibility?
Would you stay after the wedding to make sure everything is taken care of?
How much would you charge for planning a rehearsal dinner or an after-wedding brunch? Or is it included in any of your packages?
How many team members does your package include? Are you going to charge for adding extra staff members?
Are you going to deal with the payments of vendors and other professionals? Or does it stay with us?
Are you going to help me with dress-selection and other designs to help me ensure everything is coordinated?
Can you work collaboratively with our videographer and photographer in terms of ensuring specific shots are not forgotten?
Would you step ahead to describe our ideas to vendors for a better understanding?

Contract
If we had to postpone/reschedule our event for some reason, are you going to charge extra fees for that?
Are you going to provide details of the budget covered by you?
Backup Plan
If for some unseen reason, you are unable to be present on the wedding day, who's going to take up your place?
Are you and your team insured?
Asking these questions will also give you an idea of how patient, detail-oriented, and a good listener your potential planner will be. Be honest with them about yourself and your expectations, and it will be a little bit easier for them to show their true self.
You will be working with them for at least 8 months, going over details. There will be many back and forth and probably some challenging decisions that have to be made together, which is why you and your potential wedding partner must have a solid relationship!
There you are! Questions to Ask your Potential Wedding Planner!