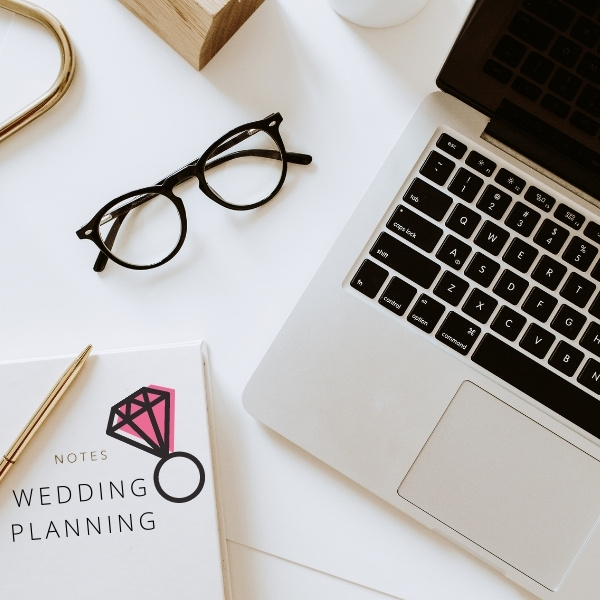 Sharing pro secrets! Top 10 Wedding Planner Secrets!
This site contains affiliate links. For more info please see our full disclosure.
We are sharing tips and tricks from industry pros that you can take advantage of!
Top 10 Wedding Planner Secrets!
1. Soft hold
You can do soft holds more often than you think. If you need maybe a day or two to sleep it over and review the contract further before signing and paying your vendor, you can ask for a soft hold. This means they have penciled you down for the date of your wedding. When they get another inquiry, they will then call you and ask for your decision. You then have to decide if it is a yes or no.
This is a soft hold, and if there is a bully booking that comes through, they will boot you out. But if you feel like you and your potential vendor had a great connection, and you didn't feel like you were just "another bride," they are most likely to respect the soft hold and call you first. If you really love your vendor, respect them as well and call them if you change your mind.
PRO TIP: Create your own wedding email. Create an email account specifically for your wedding – "the.wedding.joe.and.jane@gmail.com" (this is just an example). This will help you put everything together in one place. Also, manage the calendar for bookings and deadlines. When you book appointments on your wedding email calendar, invite your personal email so you can also see on your personal calendar! Having a separate personal/work and wedding email will make you more focused and organized!
2. The "rest" of the wedding printouts/stationeries
In terms of the save-the-date card and the actual invitations, you can have them custom designed. There are great online websites like Minted, where they make the most elegant wedding stationery designs, and you can spend them a little bit.
Now for all the other stationeries like menus, programs, favor cards, and all other signs, you can mass print those at your local Staples, and they can print it and cut it on cardboard at a much more affordable rate. If you feel a little extra fancy, there are websites like Vistaprint where you can have some style selections and still keep it affordable.
To set the DIY wedding stationery, you can ask your venue coordinator if they can also place them on the tables as they set up the tableware. Most venues will agree to do so. Or if you have hired a day-of wedding coordinator, they will definitely set it up for you.

3. Re-purpose your decor and flowers
Always ask your decorator or florist if they can help you design something that can easily transition from ceremony to reception.
A little tweak like a vase change can easily change the flowers' look, and it won't look recycled at all. Ask your florist if they can add a few blooms in the centerpieces before setting it up for the reception. This way, it will not look the same. It will be a little bit of an extra fee, but it will be worth it and will still be much lesser than completely having a different set.
4. Don't underestimate the value of good entertainment
You and your partner are the main attraction, of course, but your guests' are your audience, and just like any event, without your guests, it's hard to celebrate and party!
It might seem like entertainment like DJs, bands, photo booths, emcee, hosts, and performances are extra costs, but they are good investments in real-time.
Your guests will have a better time at your wedding when there is great entertainment. Not that your wedding is boring, but it's because not everyone will be able to enjoy the same thing or talk to you and your partner at the wedding. Give them a chance to enjoy and a reason to stay until the end of the night to celebrate with you!
TIME-SAVING WEDDING PLANNING TIPS
5. Understand what you are expecting but be open
This is one of our fave top 10 wedding planner secrets. As you already know, it is essential to drill down what you are expecting. Which parts are negotiable and which aren't. Here's why you might be expecting a 5-course filet mignon dinner but with a $100/plate budget. That is hard. But if you ask your caterer what options they have to incorporate somehow what you want and stay within your budget.
It is very tempting to stick to the menu you have in mind and ask for quotes, and eventually book the vendor that offers the most affordable. Although this is an understandable approach, it is also very limiting. One of the top wedding planner secrets is to ask around with a focus on creative inputs, rather than just the price alone. Chefs are not just great at cooking, but also creatively coming up with dishes. They can curate something for you within your budget that can somehow incorporate your original menu ideas. Understand your expectations and be open to hearing from the creative pros; you might be surprised at how creative chefs and vendors can be – after all, that is why they are the pros.
GET YOUR FREE WEDDING PLANNING KIT

6. Check out other dates
If you have a preferred wedding date, even if it is available at your venue of choice, ask and see if there are any other dates open that might help you save some money. Of course, if your wedding falls on a hectic month (summer, awards season, etc.), there might be a premium added to your package. There is nothing sneaky or wrong with it (within reason); it is a straightforward supply and demand law. The more demand, the higher the cost will be because there is not enough supply since venues can only book a max number of events per day.
If you check out other dates that might not be as busy, you might be able to save some money! This, of course, depends on where you are, but in Canada, hard winter is less likely to be a high wedding season, unless, of course, that is what you are going for! Look at other dates and see if you can work your plans around it.
7. Vendor Referrals
This may sound very "cliquey," especially from a wedding professional, but hear us out.
If you book the photographer of your dreams, they are mostly already working or have preferred vendors on their roster. This will be of great value to you not only on probably better pricing but also when a group of vendors already worked together for a while. They have already established great working dynamics and understand each other's style.
For example, if the photographer and videographer have already worked before many times, the dynamics will be so much easier. There are an unspoken flow and creativity bond between the vendors that will transcend through the results – and they are always going to be great!
This is very true for wedding planners as well. If you found a wedding planner that you connected greatly with, they will be able to come up and refer you to a great team that has worked together already in the past. Your wedding planner will know the expertise that you need for your wedding and will be able to call it. Think about Captain America leading the Avengers – that vibe, only they're fighting to get you the best wedding ever.
8. Don't use up all your budget (yet!)
Leave some room in your budget for unexpected things. So if, for example, if your original meal budget per person is $150, only aim to book 80-90% of that, meaning around $120-135 will be your goal booking.
Suppose you are working with a caterer or a venue; check your options for both pricing. Similar menus, but of course, the more expensive one has more stuff in it. Book the $120-$135 price range. This means you have booked your venue/caterer.
That extra 10-20% is such good padding for you to spend if something unexpected arises. Now towards the end, closer to your wedding, if everything is good and nothing unexpected came along, you have a choice if you'd like to upgrade the menu to $150 per person or if you want to save the money.
Note, however, that if you chose to do this, make sure to speak to your venue coordinator/caterer; when is the last date for you to give the final menu choice and numbers. This way, you can decide and plan better.
CREATIVE WAYS TO SAVE MONEY ON YOUR WEDDING

9. Ask your venue all the things that come with booking
Ask your venue what you can get exactly. Usually, this will be in the contract, like chairs, napkins, linens, tables, and other common things. But we're talking about other things that might be more affordable if you book it through them.
For example, you might want to add some couches at the lounge area for cocktails; ask your venue if they have something in-house that you can rent. Then compare it to the price quoted by outside vendors. Delivery and pick-up fees are something you can save on if you can already renting something that they already have in their premises/property.
Another example is the draping. Again, if you are looking for some draping, ask them how much they charge and compare it to the pricing from an outside vendor.
Ask your venue about other things that you might want to book somewhere else first and see what they can offer for you. More often than not, they will be able to help you and get you better pricing.
STEPS IN PLANNING A WEDDING: BREAKING IT DOWN
10. Listen to your gut
This is probably not a top 10 wedding planner secret anymore, but this is definitely something important to mention. There are so many things professionals can tell you and share with you, but you and your partner's decision is what really matters at the end of the day. Listen to your gut. Professionals are here to look out for you and give you the best advice we can. Still, internally and ultimately, you and your partner are the only 2 people in the world that know your circumstance better than anyone else.
Don't let anyone push you into making decisions that you are not comfortable with. Research and vetting, combined with your gut, will be your best compass in finding the right vendors and people to entrust your wedding to.
There you are! Top 10 Wedding Planner Secrets!