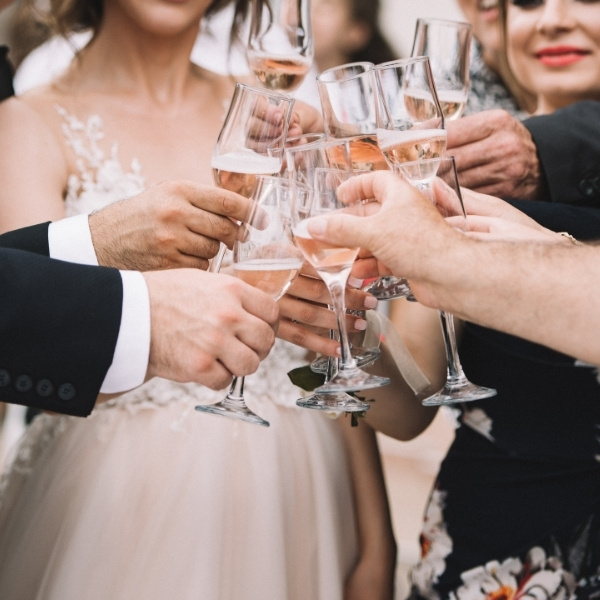 Cheers to the newlyweds! Who should give a wedding toast? Does the father of the groom give a speech? Looking for ideas on how many speeches at a wedding? In this guide, we're sharing ideas on who gives speeches at weddings! (including a toast at a wedding!)
Toasts are one of the highlights of the wedding reception! They can be heartwarming, emotional, and even funny.
They are the words of devotion dedicated to you as two loving souls who have just been married.
Wondering who gives wedding toasts? Who to ask? Well, worry not; we are here to provide you our guidance!
Ideally, toasts that will keep your guests engaged will be at a 3-4 minute max.
If you plan to go longer than that, we would suggest bringing in some visuals (slide shows) or music (sound effects) to keep your guests engaged!
PRO TIP: Speak to your wedding consultant/coordinator/planner about the toasts/speeches you have planned.
This way, they can prepare a timeline better. You also don't want to overcrowd a time slot with speeches back to back. Your wedding consultant/coordinator/planner will be able to help you with this.
You can also consider getting a generic timeline of your wedding printed so that your guests can follow the night's activities and flow.

Who Should Give a Wedding Toast?
The Best Man
Traditionally, it is expected from your best man (or honor attendant) to raise the glasses and start with the reception toasts.
Usually, it all starts with a good funny story about the groom that most guests don't know! It is amusing as the best man introduces something "fresh" to the crowd and eases the ambient.
Furthermore, that often grows to be one humorous yet sentimental opening to express appreciation towards the couple. Get your tissues out and prepare to start crying as the story unravels!
Also, the funny anecdotes get the good vibes flowing and gives your guests a "connection" to you and your partner as a couple!
As much as this is a "tradition," you can make this modern by maybe having the maid of honor do a joint toast with the best man! Prepare a slideshow and take turns in describing specific experiences (maybe 2-3 only! don't go overboard!)
The Maid of Honor
Who wouldn't want to hear some more amusing stories but also a sentimental part that describes the love you two share?
There is nothing dearer than listening to your close friends talking about how they see your love through their eyes and share it with the guests.
Also, your maid of honor has most likely seen and watched you grow as a couple. Sharing some anecdotes about how special your relationship is, adds that boost of "love vibe" that you will feel rush through the room!
The Newlyweds (who should give a wedding toast? you can also do it!)
You might not be surprised about this part of who gives wedding toasts and feel slightly stressed about it, but no need!
After the honor attendants ease you, it is time to put your beloved in the spotlight.
Also, this is a wonderful opportunity to raise your glasses and thank all your guests for coming (a.k.a. your thank you speech, but this is a shorter, less detailed version!), to be grateful for the joint families who may have helped to make it all happen, and for the wonderful future that is to come with mutual love and respect.
Make it extra special by also making toasts for each other! Here's an example:
Let's toast to my partner, who has decided to spend the rest of our lives together…

To the one who can see through me…

To the one who has led me to understand and experience love…

To the one who has helped me thankfully gather all of you here today to share this special day…

To my best friend, I love you, we all love you, and I can't wait to start our life adventures together!

xo
Did you feel the magic? It is not just a toast to your partner, but you also managed to address and thank all your guests. It sounds like a win-win.
The Parents (and grandparents!) from both sides
Whether the parents host the wedding or not, they would be delighted to welcome the attendees to celebrate with all of you!
Even though you have shed a few happy tears by now, your parents will be the ones who crown the sentimental beauty of the reception.
It may be the case only one to speak on everyone's behalf, but we highly doubt it, the joy in their hearts won't allow silence, so prepare to be spoiled by more loving words by both of your parents!

Guests who want to join
Some of your special friends and other guests would fall into the category of who gives wedding toasts, and it would be entertaining if they join. You can ask beforehand and let them share their thoughts on your reception.
PRO TIP: Don't let anyone grab the mic and start speaking, especially if it might be because they had a little more to drink.
They will end up rambling and also might cause some unnecessary challenges on your wedding day.
PRO TIP #2: If you want other family members or guests or those who wanted to have a speech an opportunity to speak, you can arrange this at your rehearsal dinner or even at the morning-after brunch.
We hope that we've shed light on who should give a wedding toast, but remember – ultimately, it is your wedding, and you are free to tailor your wedding reception however you like it!
Our team supports you, and we know that only you and your partner know what's best for you! We are here for ideas and inspiration! xo
There you are! Our insight to your question "Who Should Give a Wedding Toast?"