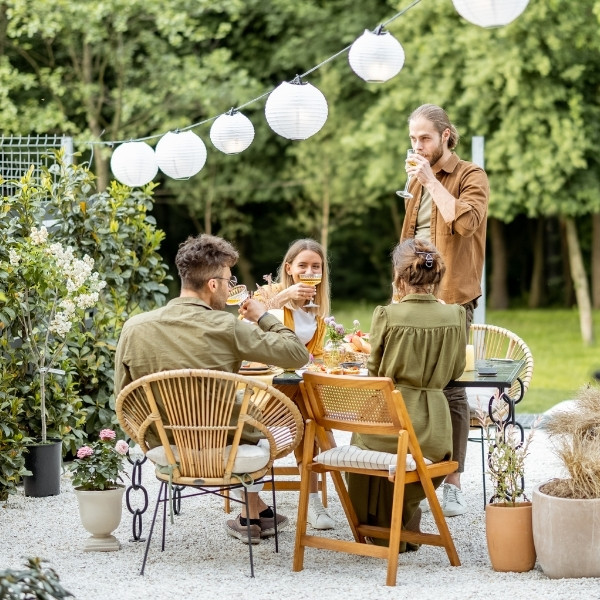 Affordable & Fun! Due to Covid, our wedding ends at 5 pm. What can we do after that won't break the bank? Wedding planning during Covid? How to have a Covid wedding? In this guide, we're sharing ideas on what to do at your wedding during Covid, especially if it is cut short due to restrictions.
---
---
Now let's get on to today's question!
"Due to Covid, we made our wedding earlier to end at a restaurant at 5 pm. I am at a loss for what to do after it so we (as newlyweds) can continue to celebrate and have fun without breaking the bank.
What evening of the wedding ideas do you have or post-reception ideas to include guests beyond the short late lunch? Thank you!"
Depending on where you are (current restrictions) and your guest count, an outdoor space rental might work! This can be an Airbnb rental that has a great backyard where you rent to bring in some cocktail tables and chairs. Or renting a "production" studio that has an open space. (some of them actually allow events!)
A cocktail-style set-up will be a great and easy idea! You can DIY a sandwich bar (or pre-order it as well!) and prep a DIY sangria bar that you set up yourself.
Grazing boxes are also super fun and convenient! Like this one from Olive & Fig.
Also, there are great musicians (guitarist/singer) that can entertain and get the crowd singing/dancing along! Or you can also always make your own playlist!
Having some help with set-up will definitely benefit you. You don't need to hire full-on staff, but just a few people to put this together for you. There are servers you can hire for 4-5 hours!
If you have prepped most of these DIY projects, your server/help can easily set them up and you will then be ready to party!
Also, consider having a cleanup crew after your celebration, especially if you are renting a space to ensure you don't get charged any extra fees.
PRO TIP: Add this information to your invitation. Let your guests know that you are doing an "after-reception get together", and set up a separate RSVP for this so that you can also calculate home many people are attending so you can prepare better.
If you have already set up a wedding website, this will help with RSVP tracking! Or you can send this as a "separate" invitation 2-3 months before your wedding if you are still "deciding" on the where and what.
There you are! Our insight into your question: Due to Covid, our wedding ends at 5 pm. What can we do after that won't break the bank?
We are delighted to be able to share our insights! All the best! Happy Planning! xo
All insights and advice provided by the Peppermint & Co. Ltd. Team are generic and should only be used for informational purposes. Read the full disclaimer here.