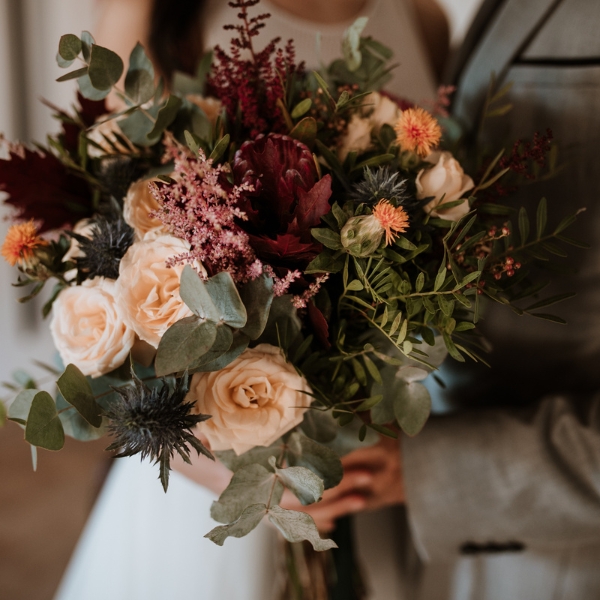 Affordable Wedding Flowers: Bloom my love! Affordable Alternatives For Pricey Flowers. Of course, wedding flowers will always be part of your wedding day in one way or another. But wedding flowers? They do get pretty pricy! Your day can still be filled with colors and love by using cheaper and affordable alternative varieties. Do you want lovely but inexpensive bridal bouquets?
Flowers and decorations hold an impact in making your wedding day extra memorable! These cheap and affordable alternative flower varieties can also make everyone WOW! These affordable alternatives for pricy flowers will enlighten your wedding and lighten your pocket!
If you are on a budget but still want to have beautiful flowers in your wedding decor, we are here to help you out! We have listed expensive wedding blooms and their more affordable counterpart so that you can have your dream wedding decor and flowers on a budget. Let's get started!
Affordable Wedding Flowers: Alternatives
Vintage Carnations as an alternative for Peonies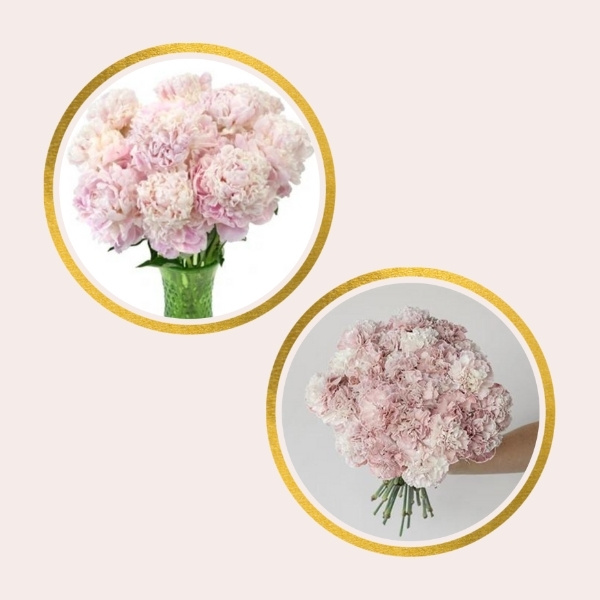 We know what you're thinking… "There is no way carnations will look like peonies!"
Well, hear us out here. We are not talking about the regular carnations you see sitting in the buckets inside a floral shop or grocery store! We're talking about vintage carnations! And they are beautiful!
Peonies are gorgeous flowers, but they are costly. They can seem to be at a "higher-end" price during its peak season (spring/early summer), but their price can increase off-season dramatically.
These vintage carnations we have here had a lot of resemblance with Peonies. They are cheaper and come in a wide range of colors. Their petals are delicate and textured, just like Peonies.
If you are DIY-ing your flowers, grouping 3-4 stems and making it look like one big "peony" bloom will help trick the eye! You might actually pull it off!
Assuming you are working with a florist, then they sure will have a better "hand" on how to bundle these vintage carnations together to give off that "peony vibe" your wedding bouquet would love!
Hydrangeas instead of Stock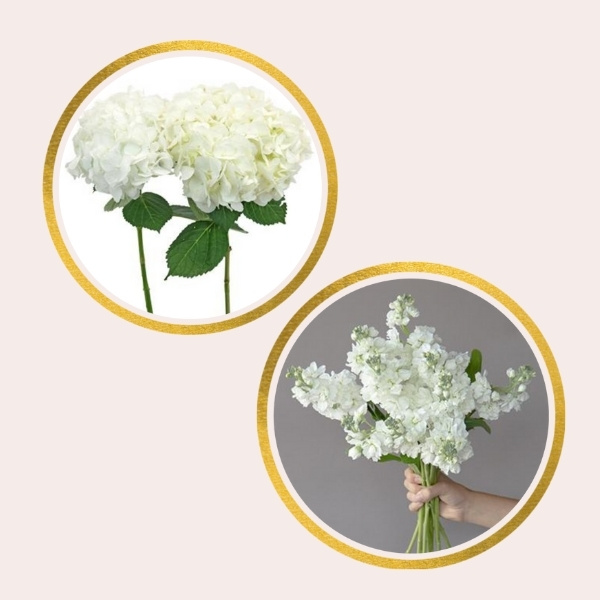 Okay, given that hydrangeas are a little more expensive than the stock stem, this might seem like a weird alternative.
But hydrangeas cover more area than stock. So the "saving" here is depending on how and where you are using it.
You can go heavier on the hydrangeas for centerpieces and have some stock sticking out if you want that green tip. If you are not a big fan of the stock's green tip and would like that cut off, then go heavy on the hydrangeas as it will cover more area without needing more stems – hence, the saving.
Now in terms of bouquets, we usually discourage using hydrangeas in wedding bouquets as hydrangeas are the type that needs to be in a water source to keep looking fluffy. And if you are getting married in the summer, hydrangeas in your wedding bouquet will most likely show signs of wilting in browning mid-day!
You can definitely use them in combinations as there is something special about the stock petals and their scent! But if you are looking for more savings, hydrangea all the way is your best bet!

Sweet Peas as an alternative for Lilies of the Valley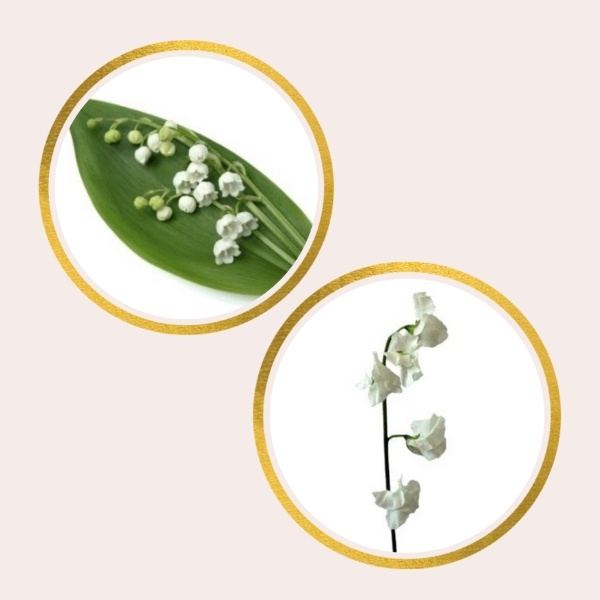 Lily of the valley looks fascinating and catches everyone's eye. The bell-shaped flowers can be mimicked by sweet peas, which are just as delicate and beautiful. If you want to keep your decor decent and elegant, you can go with these in white with a little hint of pink.
Although they don't look the same, they give off that same "royal wedding" vibe.
Dendrobium Orchids instead of Stephanotis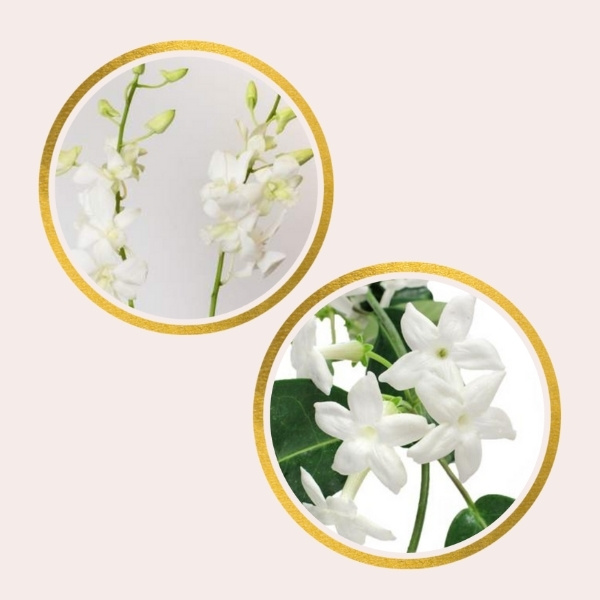 When looking for affordable alternatives for pricy flowers, this is probably one of our favorites.
How gorgeous are these two varieties? Perfect for that classic "queen" wedding bouquet vibe!
However, we all know how expensive stephanotis can get. A great alternative to that is dendrobium orchids!
Since we are only using the actual bloom, you can easily wire it through a wooden pick/stem and insert it as part of your bouquet. Also great for boutonnieres and corsages.
Cherry Blossoms as an alternative for Orchids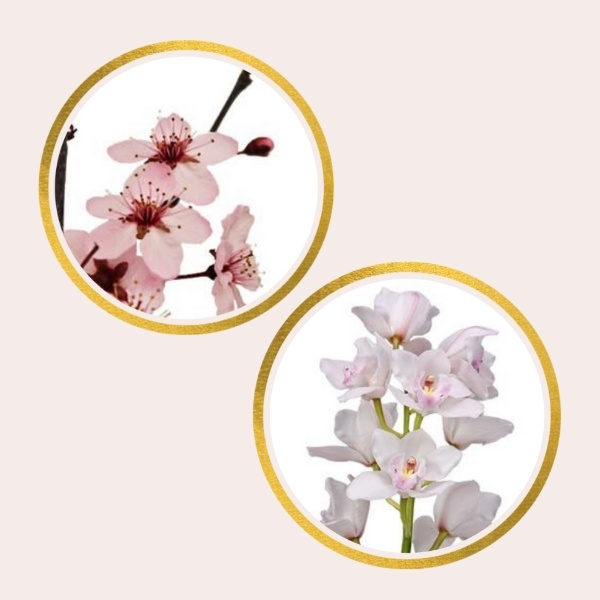 Assuming you are going for real cherry blossom branches instead of the silk ones, a great alternative is orchids!
One thing to note is that the stems of these two varieties are totally different, which means it is not a direct "alternative" but a design option.
If you only want to use the bloom itself for your bouquet, it might work as an alternative.
For centerpieces, it is a different story. It is not a direct substitute. The best substitute for real cherry blossoms is silk ones. Remember that cherry blossoms have brown stems and lots of branches.
As an alternative to cherry blossoms, Orchids will more likely work into your wedding bouquet as a great saving! But, for wedding centerpieces, definitely go for silk ones for savings! They are also easier to set up!
Preserved White Roses instead of Gardenias (one of the most unexpected affordable wedding flowers alternative)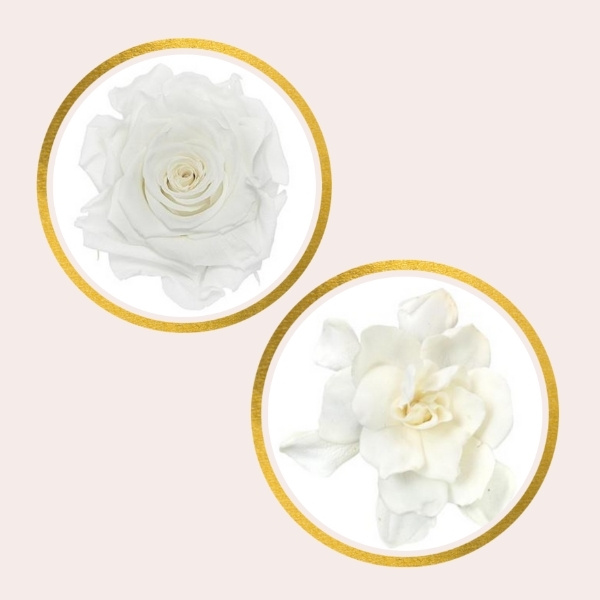 You didn't see this coming, did you? Well, here we are.
Preserved white roses are pretty manipulated to look fully bloomed, and they are almost the same shade of white as gardenias, making them a great affordable alternative!
Add these bad boys to your wedding bouquet, and they will give off that "gardenia" feeling without breaking the bank! Also, this is a more "manageable" DIY project that you can take on since it is preserved, and no need to worry about processing or water sources.
You will, however, need to learn to wire them through. So they can "sit" still in your bouquet. Preserved flowers are very light, and you want to ensure that they are secure as you include them as part of your wedding bouquet.
Tulips as an alternative for Calla lilies (this is one of the best affordable wedding flowers hack!)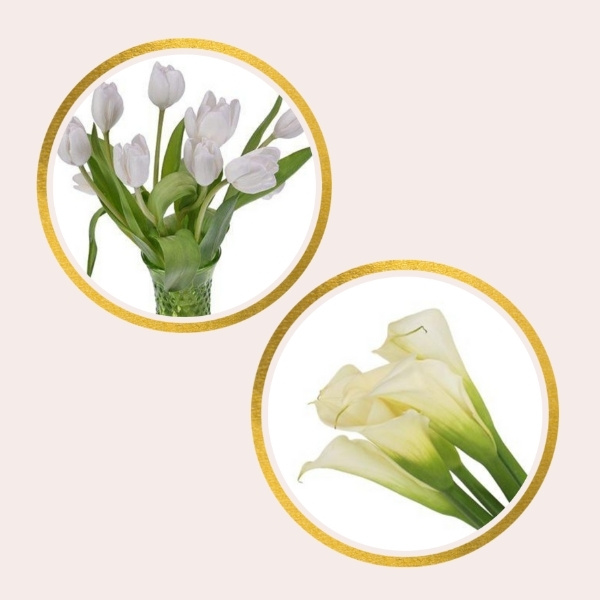 Calla lilies are vibrant and dramatic. An alternative for mini calla lilies is tulips which look equally appealing and stunning.
This alternative is perfect if you are looking for a "single-variety bouquet." Especially the ones that have exposed stems as both tulips and calla lilies have long stems! If you are all for long stems and beautiful white blooms for your wedding bouquet, then this is for you!

Chrysanthemums instead of Dahlias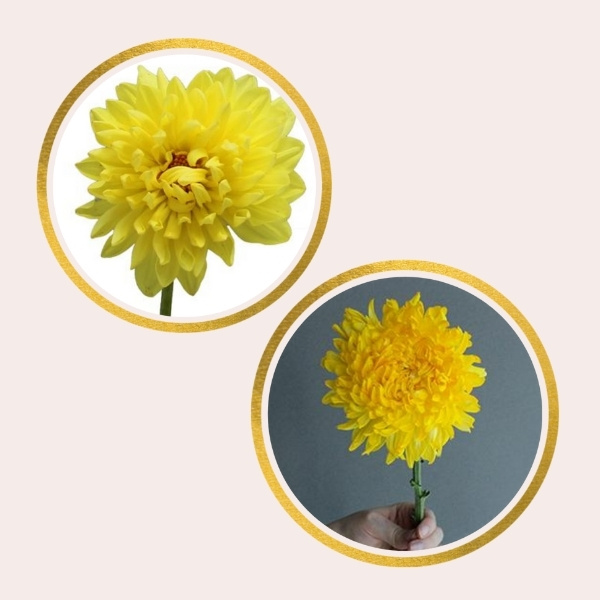 There are certain breeds of Chrysanthemums that resemble Dahlias.
They look so identical that to a non-floral enthusiast, they won't even notice the difference! These big blooms are perfect for your wedding bouquet and wedding centerpieces!
Gerbera Daisies with a dark center as an alternative for Anemones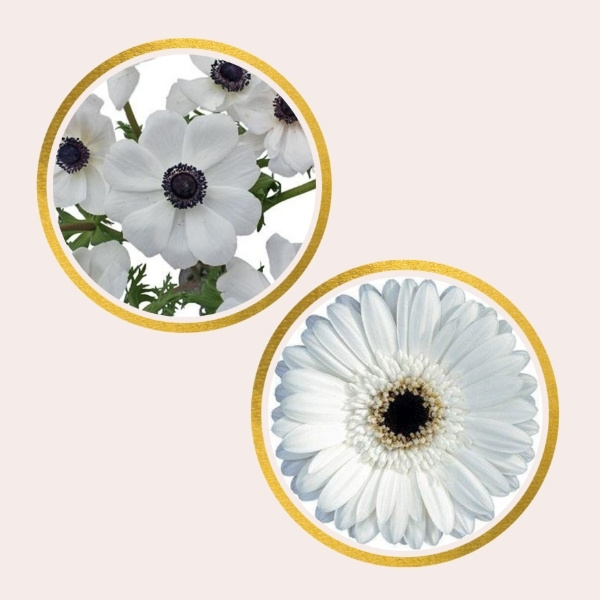 Anemones are quite pricy and not fully petalled as Gerbera daisies, but they can look a lot like them when their petals are fully opened.
You can save money here by using anemones in things that are more visible, like your wedding bouquet and centerpieces. But for other items like backdrops, fireplace arrangements, and other arrangements that are higher/taller and not within close range, you can get away with using gerbera daisies!
There you are! Affordable Wedding Flowers: Affordable Alternatives For Pricy Flowers!