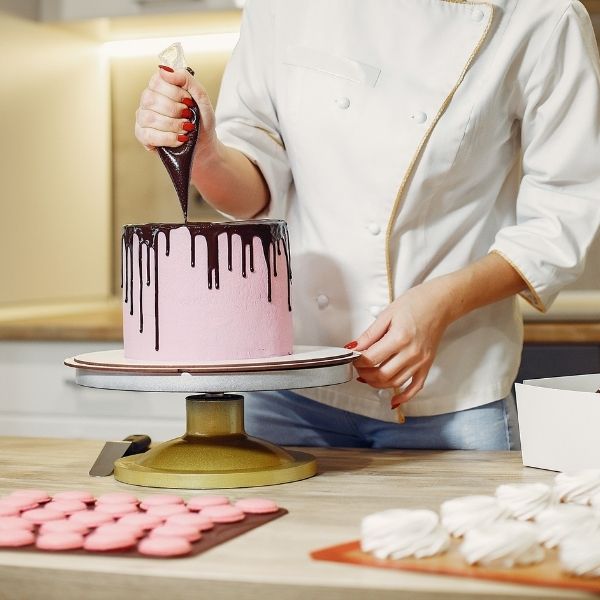 How to pick the right Wedding Cake Designer. Part 1. Frosting for life! Meeting your potential wedding cake designer? Wondering how to pick a wedding cake baker? Tips on choosing your wedding cake designer? What questions to ask your wedding cake designer? Looking for a designer to create the perfect wedding cake for you?
We've collected expert tips from fellow wedding and event industry professionals to help newlyweds-to-be how to pick the right wedding cake designer.

BCAKENY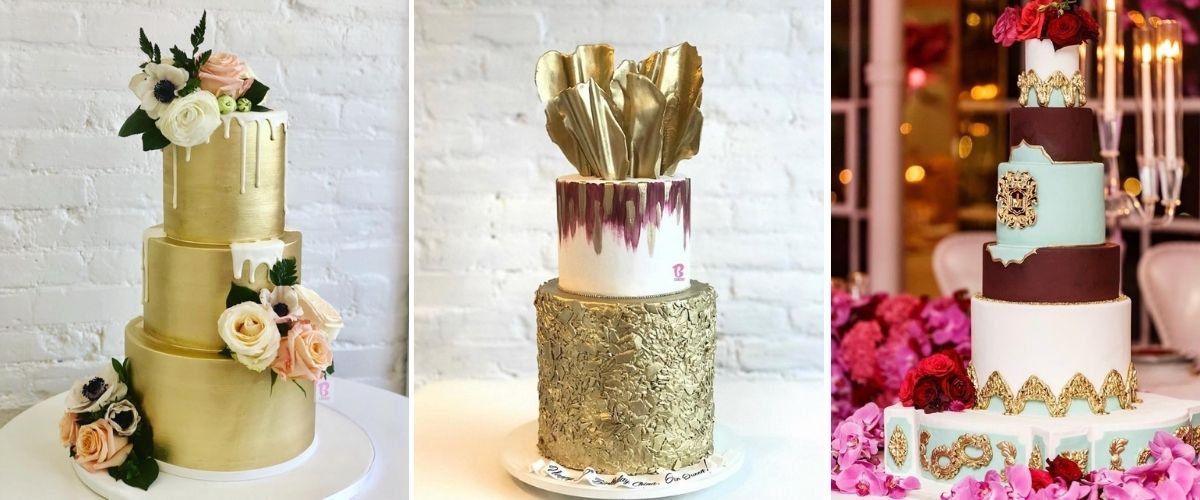 1. "Find cake designers who aren't afraid to break tradition."
As full-time custom cake creators, BCakeNY specializes in creating one-of-a-kind masterpieces for every occasion. Which really just makes them experts in listening. Then, like a seasoned jazz band, they respond with a cake design that perfectly compliments the couple's love story and theme.
BCakeNY met couples who found them simply because they wanted a beautiful but nontraditional cake and weren't being listened to by other top wedding cake designers.
BCakeNY absolutely blows your mind with a traditional white multi-tiered design. But they can also do "fill in the blank."
EXPERT ADVICE:
"Be purposeful in its design. Your wedding cake is the symbol of your new union.
Find cake designers who aren't afraid to break tradition to create something one-of-a-kind for your special day. "
– Dara Roach | CEO | BCakeNY


BAKE MY WISH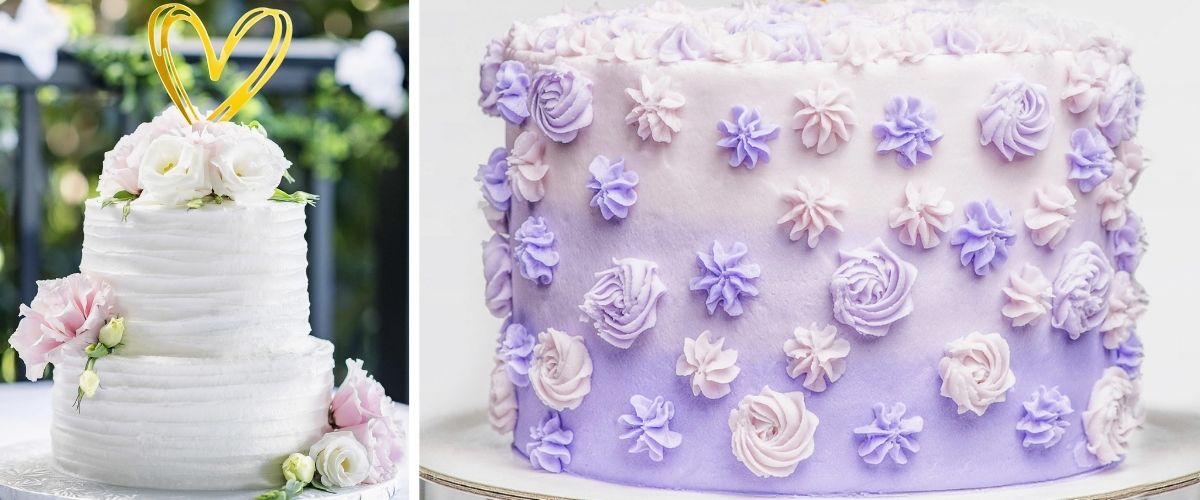 2. "Flexible & Accommodating."
Mirela is the Master Chef at Bake My Wish Inc. Born & raised in a small European town where she developed her passion for making cakes & meticulously practiced her craft to perfection.
As she continued her education in Canada, she took her craft to the next level, utilizing her wealth of delicious European & Canadian recipes and her years of experience at Bake My Wish.
EXPERT ADVICE:
"I think the overall experience and how flexible & accommodating your cake builder is, is as equally important as the look & taste of the cake and it's our number one focus in Bake My Wish.
We treat every customer as our only customer, putting them at ease and guiding them every step of the process and listening & putting their priorities first "
– Mirela Islamovic | Master Chef at Bake My Wish Inc.


EVERYTHING LULU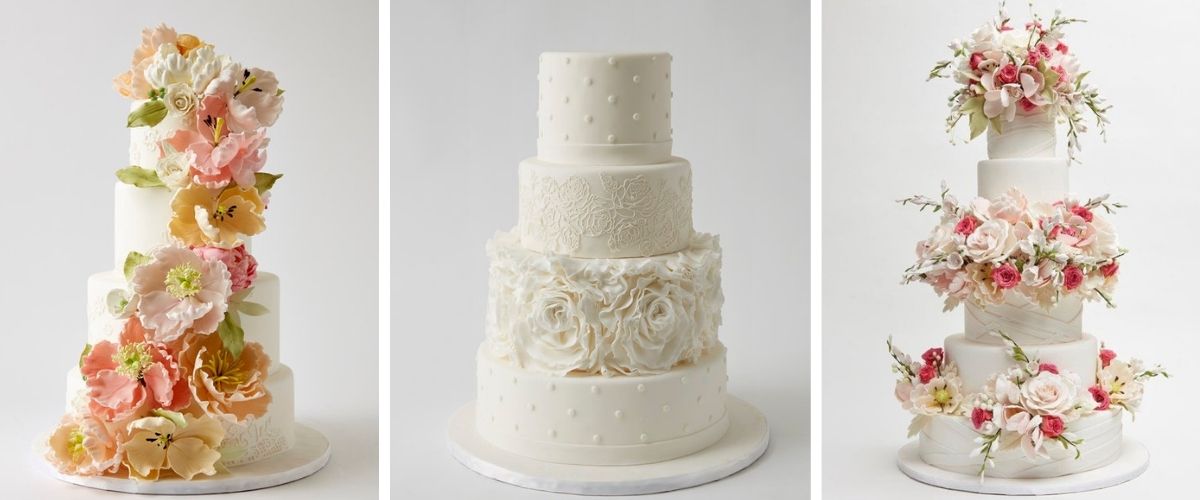 3. "Ask your baker if they can split your cake flavors into two options."
Lulu Cake Boutique is a family-run business that cultivates relationships with its clients.
Not only do they make their wedding cakes, but they also make their baby shower cakes and kids birthday cakes as their couples continue their journey in life!
They use luxurious ingredients like Valrhona chocolate, farm-fresh butter and cream, perfectly ripe fruit from local farms, and fragrant spices; our artisans masterfully blend flavors to create tastes and textures that defy description.
Lulu Cake Boutique is equally obsessed with how their creations look. From plotting every polka dot and hand-painted flourish to coaxing each sugar petal into exquisite reality—every Lulu masterpiece is a tribute to more than a decade of their now-famous craftsmanship (not to mention obsession).
EXPERT ADVICE:
"Ask your baker to split your cake flavors into two options. This way, your caterer can serve a different flavor to every other guest, and they get to try more than one flavor!
Not only does it make the cake indulgence more exciting, but it's nice for people to share and break the ice!"
– Carmen Velasquez | Senior Cake Designer at Lulu Cake Boutique


FINESPUN CAKES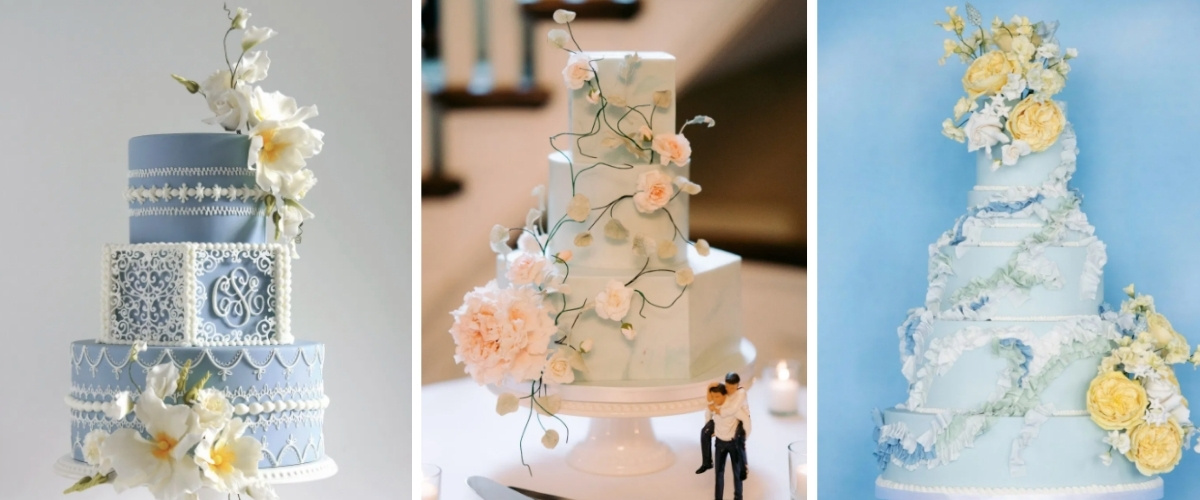 4. "Check if your cake designer's aesthetic aligns with what you're dreaming up for your wedding."
Finespun Cakes & Pastries is located in Toronto and they create custom cakes and sweets for your special occasions.
They focus on quality over everything else, and they use the best ingredients and handmade decorations custom-designed for their clients' events.
Their specialty is romantic and whimsical cakes with attention to detail, and they are known for their hand made sugar flowers.
With creative, handmade designs and seasonal flavor pairings, they create something out of the ordinary, a fresh twist on tradition, and a cake their clients will be talking about for years to come.
EXPERT ADVICE:
"Look through the cake designer's portfolio and see if it aligns with the aesthetic you're dreaming up for your wedding.
I always recommend doing a tasting and telling my couples to pick whatever flavor they love because they can't please everyone.
And lastly, talk over the phone or on a video call with your potential cake designer to make sure you're comfortable with who you're choosing for your big day!"
– Alexandria | CEO & Master Baker at Finespun Cakes
AMY A. PEPPERMINT&CO.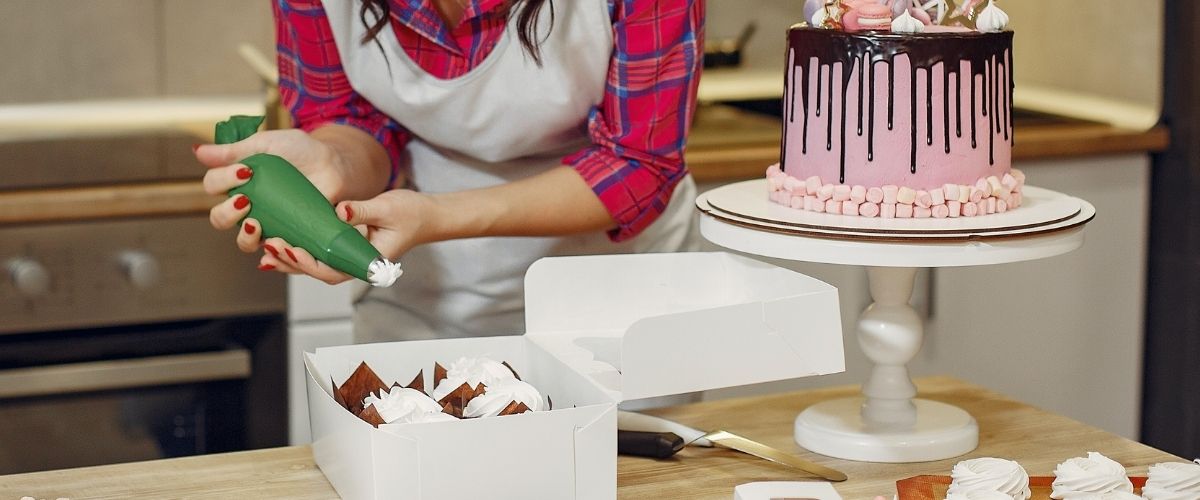 5. "Attend wedding shows to take advantage of samples."
Amy A. is the Logistics Lead & Associate Planner at Peppermint & Co. Event Consultants.
With her 8+ experience in event planning and on the catering side, together with the logistics team, she shares her tips on how to pick the right wedding caterer and things that you should ask/discuss/go over with your potential caterer.
EXPERT ADVICE on how to pick the right wedding cake designer:
Many cake vendors will have samples at wedding shows; this is a great way to try their cake without the commitment of being locked in.
They usually have multiple flavor bites that you can taste. Make sure to ask for a business card and write the flavor you liked the most. This way, when you reach out to them, you already have. a "favorite" flavor in mind.
HOW TO PLAN A MICRO PICNIC-STYLE WEDDING
Ensure you understand delivery or pickup options, they are the professionals, and always get them to deliver and set up the cake onsite.
Trusting your cake "pick-up" with a friend or a family member who does not have experience handling cakes might cause an unfortunate mishap. Invest in the cake designer's delivery and set-up fees to ensure your cake arrives in great condition and is designed on-site to perfection!
Ask if your potential cake designer will be on site. Will they be the ones setting up on-site? If not, will the person who will set-up understand fully the design that you are going for? Will that person be able to "fix" things should something unexpected come up?
FOOD STATION IDEAS: EASY DIY DESSERT STATION
Consult your potential designer about their team process to ensure there is no communication gap between the person you spoke to at your design meeting and the person baking/delivering/setting up (especially for bigger, more established bakeries).
– Amy. A & the logistics team | Lead Logistics & Associate Planner at Peppermint & Co. Event Consultants

HANA J. PEPPERMINT&CO.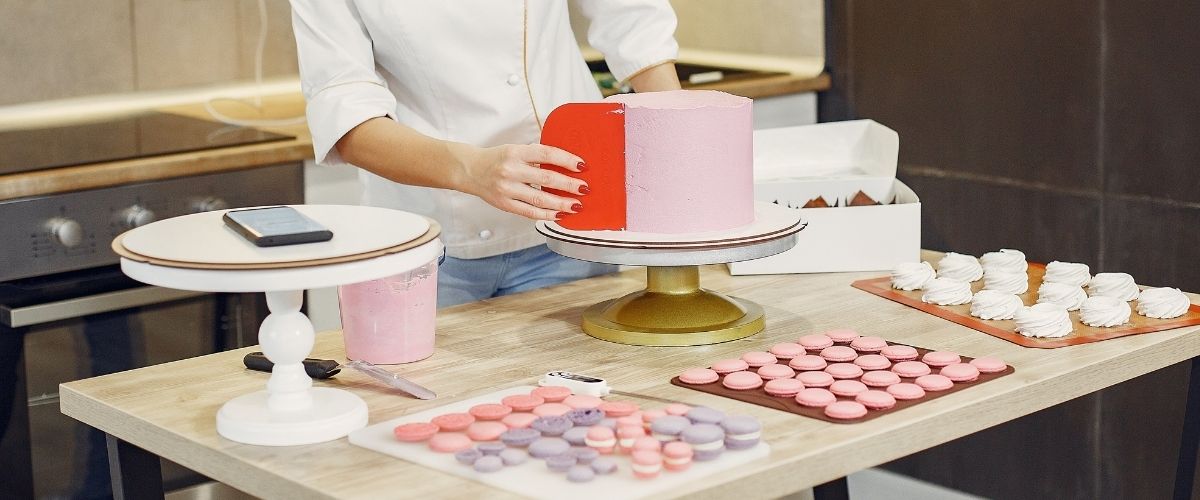 6. "Schedule meetings with various designers and review their suggestions."
With over 5 years of experience in events across the Americas and Europe, Hana J. understands that the secret to the best events is about meticulous preparation and the management of the unexpected. As well as adding that touch of creative sparkle!
Hana J. is a resident Event Planner and Coordinator at Peppermint & Co. Ltd. Event Consultants. Together with the planning team, she shares her tips on how to pick the right wedding caterer and things that you should ask/discuss/go over with your potential caterer.
EXPERT ADVICE on how to pick the right wedding cake designer:
A cake designer is an artisan behind beautiful cake creations; they will decorate your cake based on your requirements. A great tip is to do your own design research first. This will help you understand what you are looking for.
When you meet with your potential cake designers, be open to what they custom design for you. If you are working with a modest budget, allow your designer to suggest options that will meet your budget but not fully sacrifice your vision.
Schedule meetings with various designers to ensure that you have the taste, size, and style on point. Some cake designers own their small bakeries, other work for already established places.
15 THINGS NOT TO FORGET WHEN WEDDING PLANNING
Having a printout (visuals instead of just showing your phone/tablet) handy of your cake inspirations will make it easier to discuss and go over your vision with your potential designer.
Ask about details. You might not be a fan of handwritten monograms on the cake, and- if this is the case, ensure you mention this to your potential cake designer. They will most likely advise you to use a cake topper instead or consider gum paste stenciled monogram (will affect the price).
If your wedding theme has gold as an accent color, communicate this to your potential cake designer. This will help them incorporate gold in little ways, like a gold cake base, gold dusting, etc.
WEDDING HACKS THAT WILL SAVE YOU MONEY: TOP 30
If you can, share your whole mood/inspiration board (not just the cake!) with your potential cake designer. When they see the bigger picture and understand your overall wedding theme, they can help you tie in other elements that you might not have initially thought to incorporate.
– Hana J. & the planning team | Event Planner and Coordinator at Peppermint & Co. Event Consultants

SAMANTHA'S CAKE SHOP

7. "My advice is to not always go with the cheapest option."
Samantha believes dessert is more often than not the centerpiece of your event. It gets the best seat at a wedding and represents you at your events.
No matter what the event is, Samantha promises that she will do her best to execute a design that her clients will love.
EXPERT ADVICE on how to pick the right wedding cake designer:
"There are a few things you should look for and keep in mind when you're choosing your cake designer.
First things first, you should have an idea of what sort of style you are looking for. Whether it be classic, romantic, bold, or something different… whatever it may be, it always helps to have an idea of what you're looking for before you start "looking."
You can follow many blogs, magazines, and other wedding-catered social media for inspiration as there are always new and exciting trends or classic styles available to pick ideas from.
People tend to find cake designers online through social channels, from seeing us in publications or from word of mouth from friends who have worked with us, admire our work, or even many times from other vendors who refer us to you.
When you have a list of designers you'd like to approach, one of my top tips is to look at their work.
Is their overall style comparable to what you have in mind? Is there an overall theme to this designer's work? Anything they might specialize in??
You'll be able to tell a lot about an artist by what sort of content they post and if they have a website that shows more details of their work.
Once you narrow down the artist you'd like to choose, even if you're reaching out to multiple cake vendors my advice would be to ask the right questions and give some helpful information in your first email.
Most of the time, it's helpful to mention the date of your wedding, the wedding location, the number of guests you're expecting, and a basic idea of what you're looking for in terms of style if you have any pictures that are great too!
If you envision 7 tiers or 2 tiers regardless of the number of guests, that's also helpful information to have. We can always add false tiers to give that high-impact luxury look you might be searching for while not having to worry about cake going to waste. Another thing to keep in mind is to have a realistic budget.
There are so many vendors out there all with a variety of skills and experience, and there are also a lot of different price points. My advice is to not always go with the cheapest option.
It may sound like it's "just a cake" but a lot of work and time goes into creating your dream wedding cake.
If someone is quoting you $800 for a cake and you find someone who will do the same for $200, I would question that and make sure I saw a lot of their work before I entrust them with something as important as my wedding cake.
This is not to knock these less experienced designers; we all start somewhere, but if you're looking for something specific, make sure the cake designer you choose makes sense for what you need.
Delivery/setup/location expectations: There is usually a fee for delivery and set up for your cake so expect to have an added fee based on distance and time to and at your venue.
Also, keep in mind to have realistic expectations when it comes to summer weddings. Cakes need to be held in a cool room, and can be at room temperature for several hours during a reception, but not in direct sunlight or outdoors in the summertime. Butter+Heat=melting wedding cake… not good!
Overall there are so many things to consider when choosing any wedding vendor.
Still, for cakes, the biggest tips would be to choose a designer that creates styles that speak to you based on their portfolio, is mindful of budget, and has realistic expectations for price points, trust them once you decide on a design, and make sure with any vendor that you actually like them as a person, makes it fun, enjoy the process and build relationships that make the experience so much more enjoyable.
– Samantha, Samantha's Cake Shop
Stay tuned for How to pick the right Wedding Caterer. Part 2!