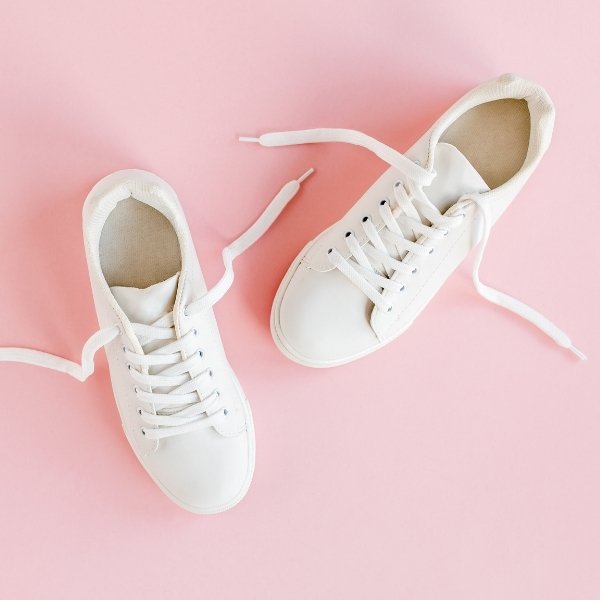 Comfort & Style! Why Some Brides & Grooms Are Opting For Sneakers. Because whoever said that you should only wear heels (or flats!) at your wedding? Why not go for a comfortable and fashionable sneaker that you can dance all night in? Stilletos and heels are sexy – but have you ever danced the wedding reception night away in a comfortable pair of sneakers?
From classic white bridal wedding sneakers and glam glittery, bling, pearls, and crystals, to bold colors, floral patterns, and even custom designs, you can choose whichever style you want to go for. Rest assured, that your wedding will be as beautiful, if not extra comfortable when you opt to wear sneakers! From low-end wedding sneakers to luxury brands, you'll find ideas here!
Written by Jillian Brooke
Weddings are a time for celebration, and many are choosing to add a personal spin to their big day. The trend in weddings is to have a personal touch and keep it fun, which is why the exploration of non-traditional styles is on the rise.
Aside from modifying the wedding dress or outfit to their personal preference, using sneakers are now a new trend in modern, stylish, and fun weddings. Instead of traditional shoes, opting for comfy sneakers – some during ceremonies and others just for receptions has been a popular move. So, here are five reasons why brides and grooms are opting for sneakers:
This site contains affiliate links. For more info, please see our full disclosure.
1. Comfort
A wedding is an all-day event and the last thing any newlywed-to-be would want is for their feet to be killing halfway through the day. Comfort is a high priority, and this is where sneakers win over the traditional heels for the wedding day.
One classic example is the Wedding Collection sneaker line by Converse. Their sneakers are easy to get in and out of, so if it is only for the reception, shoes can be switched in and out of in no time. Their sneakers provide comfort for those tired feet and they are perfect for any terrain.
2. Customisation
A newlywed-to-be can express their own style through shoes, and what better way than to have customized shoes on the wedding day. Customization can come in many ways like personalized embroidery embellished with stones and pearls, or elegant lace patterns to match any ensemble.
Another choice could be wedding-specific shoes monogrammed with important wedding details such as the wedding date to remember the moment. Customized kicks make this new trend fun and creative.
3. Limited Art Piece
The modern sneaker isn't just for everyday wear; it is now also a canvass for works of art. Artists, designers, and trailblazers are collaborating with brands to make incredible shoes that would look great even on a wedding day. The PEACEMINUSONE x Nike Kwondo 1 sneaker, designed by K-Pop star G-Dragon in collaboration with Nike, is one such example. It is made with all-white leather, and it models a classic golf shoe for distinction. The wingtip brogue design marries traditional and modern styles which make it look formal but also hip hence it's perfect for walking down the aisle.
---
---
4. Matching kicks
Another reason why some brides & grooms are opting for sneakers is to get cute, yet, fashionable matching styles that are not only fun but also great for photos!
Many sneakers are unisex, so to add fun to the newlywed-to-be ensemble, they can opt for matching kicks. They could be the same color, opposite colors of the same maker, or simply complementary shoes. Another great idea would be to match and customize sneakers with their names. This shows to the guests that they are proud newlyweds and love each other so much that they coordinated their entire outfit all the way down to their shoes to match and become one.
5. Versatility
Wedding day shoes declare a fashion statement. It is an expression and a way to share their personality, hence, should not be limited to style options. In an article on the subject, Vogue talks about why a newlyweds-to-be should wear sneakers. With the endless options of sneakers, whether its high-tops, low-tops, classic lace, shiny sparkles, floral, or an ostentatious red – feelings and vibes are expressed through shoes.
Modern newlyweds-to-be sway from the traditional ways and express themselves with what truly makes them and their wedding special. The use of sneakers has been on the rise. With sneakers, anyone getting married can be comfortable and stylish on the biggest day of their lives.
There you go lovelies! Why Some Brides & Grooms Are Opting For Sneakers!
ABOUT THE AUTHOR:

Jillian Brooke works as a style consultant with a focus on bridalwear. Her favorite thing is to help newlyweds-to-be pick ensembles that bring together style and personality. She lives in Vancouver with her husband and two kids.