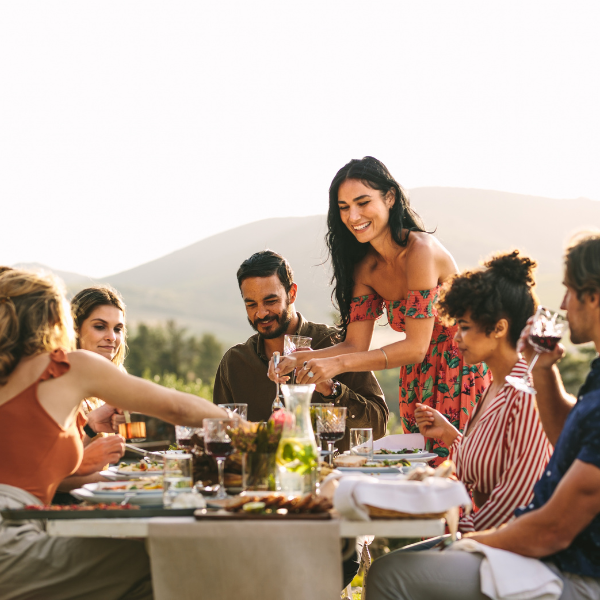 Affordable Entertaining Essentials: Hosting On A Budget. Entertain on a Dime. Must-Have Affordable Essentials for Hosting Success. Party Like a Money-Saver. Impress without the Stress. Create Magic on a Budget.
Who says hosting a memorable event has to drain your bank account? Contrary to popular belief, throwing a gathering that impresses your guests and leaves a lasting impact doesn't have to come with a hefty price tag.
With a bit of creativity, resourcefulness, and careful planning, you can host a fantastic gathering that fits within your budget constraints.
By focusing on essential elements such as invitations, decorations, entertainment, food, and favors, you can create an enjoyable atmosphere without sacrificing quality or style.
This site contains affiliate links. For more info, please see our full disclosure.
In this blog post, we will explore a range of affordable entertaining essentials that will help you create a delightful atmosphere and make your guests feel welcome, all while staying within your budget.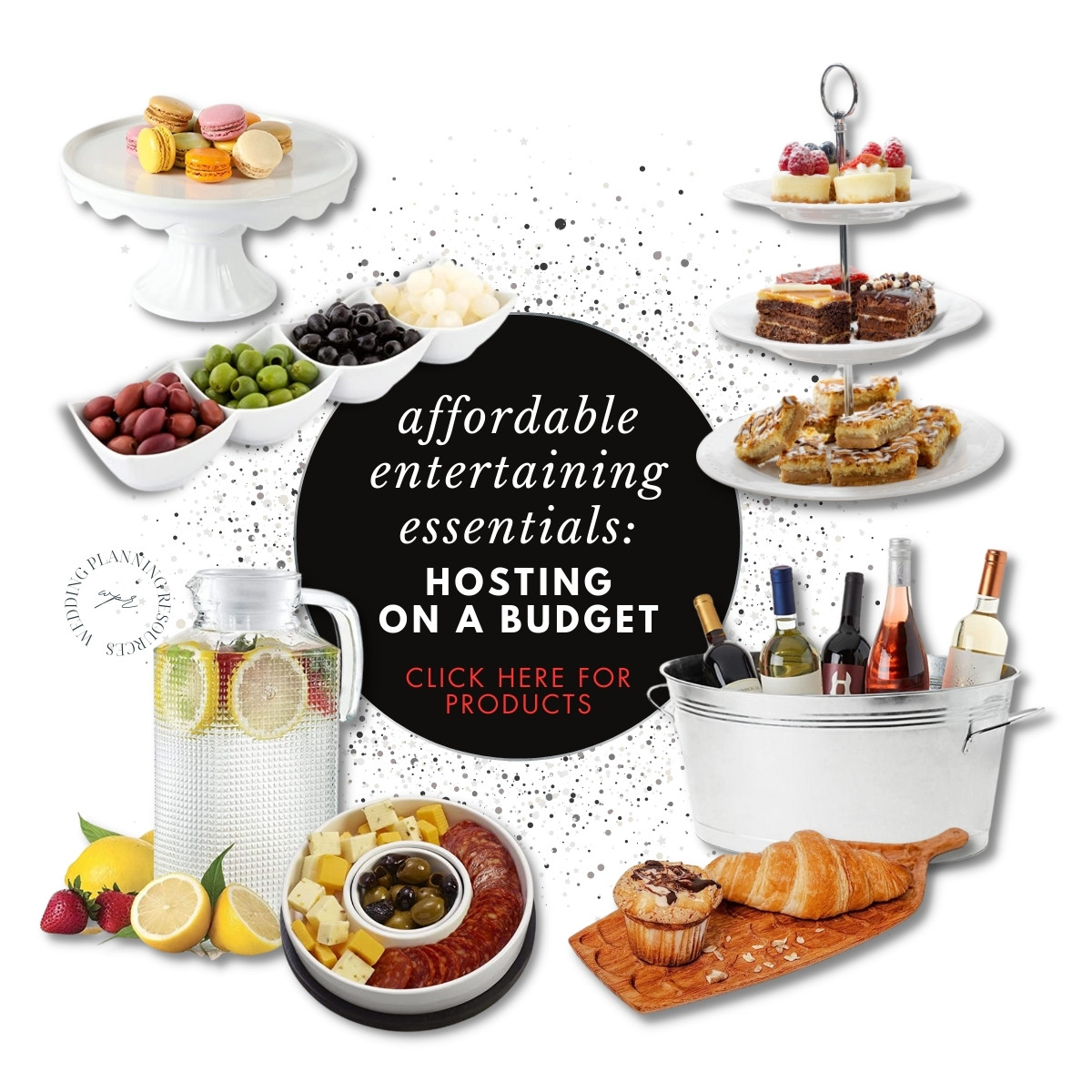 〰️ INVITATIONS: Instead of spending money on printed invitations, opt for electronic invites. Digital invitations not only save money but also allow for easy communication and RSVP tracking.
PRO TIP: Add a start time and end time on the invitation. This way, there won't be any case of overstaying.
〰️ DECORATIONS: Transform your space into a welcoming environment with affordable decorations.
Votive candles, potted herbs, bud vases with single blooms, dried flower arrangements, and light greenery garlands are the best and most affordable options.
Also, you can purchase bouquets online that are already pre-bundled so you can just cut them straight into your fave vase!
〰️ MUSIC AND ENTERTAINMENT: Create a lively atmosphere by curating a playlist with your favorite songs or using music streaming platforms like Spotify or YouTube.
If you have musically talented friends, invite them to perform during the event. Board games, card games, or even a DIY photo booth can add extra entertainment and encourage interaction among your guests.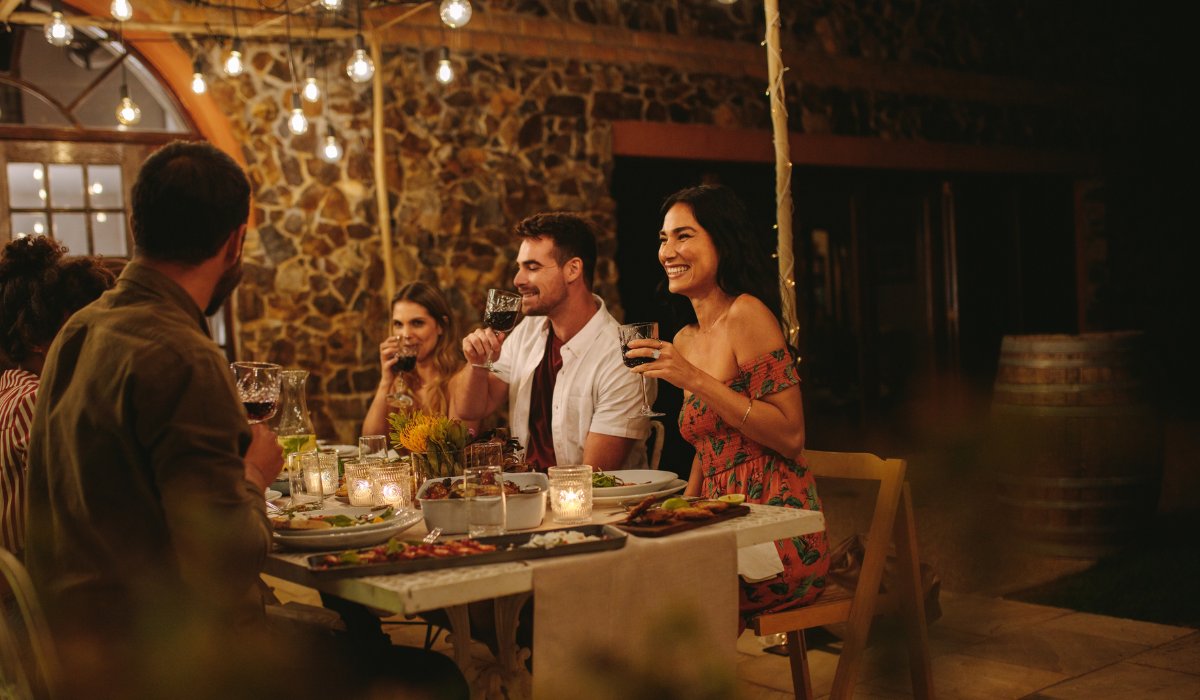 〰️ FOOD AND DRINKS: When it comes to catering, there are several cost-effective options.
Alternatively, you can opt for affordable yet delicious finger foods or create a DIY food bar with toppings, dips, and build-your-own options.
There are lots of easy one-pot recipes, easy oven-baked dinner ideas, easy salad recipes, 30-minute pasta dishes, and easy no-bake dessert ideas.
For drinks, offer a signature cocktail or create a self-serve beverage station with a variety of non-alcoholic options.
TIP: If you are pressed for time, pre-order party trays or even order from UberEats and transfer the food over to your "own" dinnerware, and voila! You are ready to entertain!
〰️ DIY PARTY GAMES AND ACTIVITIES: Engage your guests with entertaining games and activities that you can create yourself. From trivia quizzes to scavenger hunts, numerous options require minimal or no expense.
Classics like Heads Up and Pictionary are always a crowd fave.
Outdoor gatherings can include activities like sack races, badminton, or even a DIY piñata.
〰️ PARTY FAVORS: Send your guests home with a small token of appreciation. Instead of purchasing expensive favors, consider DIY options like small chocolate goody bags.
You can also provide guests with digital souvenirs, such as photo collages or playlists of the event's music. These gestures show your gratitude without straining your budget.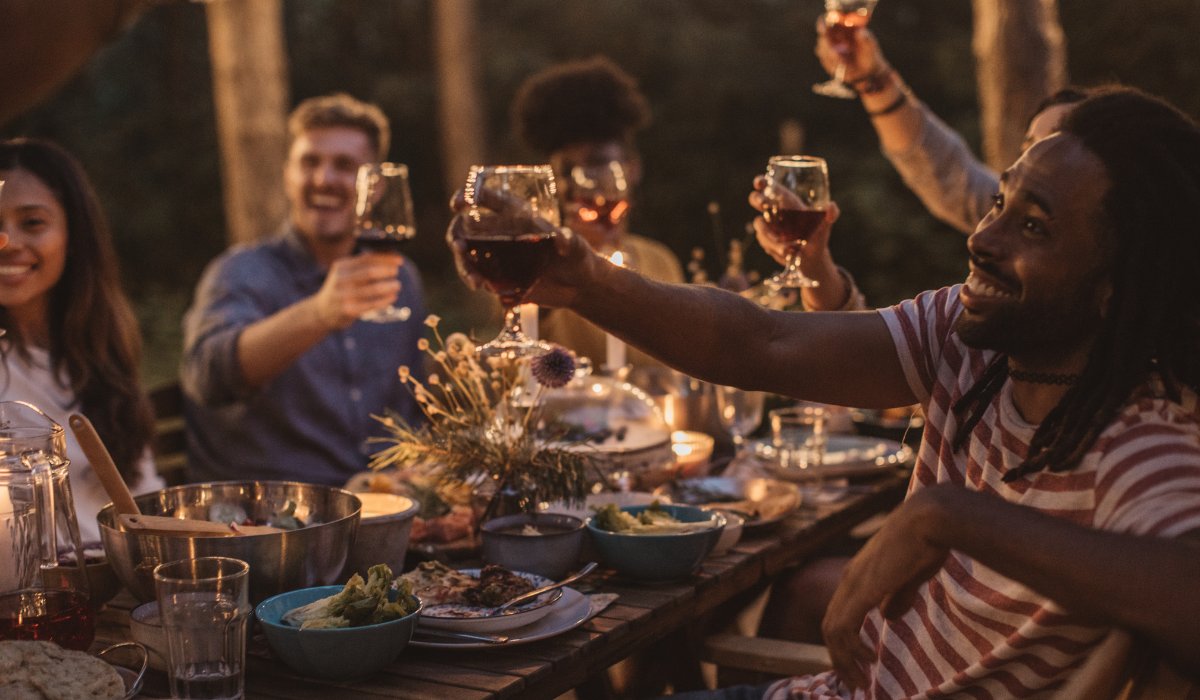 〰️ SERVING ACCESSORIES: Presentation matters. Really, it does.
Serving accessories, such as elegant platters, stylish trays, and decorative bowls, add a touch of sophistication and elevate the visual appeal of the food you're serving.
By investing in aesthetically pleasing serving ware, you can create an ambiance that makes guests feel special and enhances their overall dining experience.
Proper serving accessories contribute to the efficiency and smooth flow of your event. Having an assortment of serving trays, utensils, and drink dispensers allows you to effectively manage the serving process, ensuring that guests are served promptly and effortlessly.
Consider using tiered stands or buffet organizers to optimize space and make it easier for guests to access the food and drinks.
Small details can make a big impact, and serving accessories are no exception.
PRO TIP: Stick to buying white, grey, black, metal, or wooden products so it will be easier for them to be mixed and matched!
PRO TIP #2: If you enjoy entertaining, investing in classic and staple pieces and accessories that will last even when reused repeatedly is the best way to go!

Here are some of our fave serving accessories for your affordable entertaining essentials (we've mixed disposable and reusable options to help you out!)

〰️ WOODEN CUTTING BOARD – this is great for really just about anything! For your appetizers, your cheese board, your meat board, and everything else! Such a versatile piece to have to easily elevate your presentation!
〰️ CHIP & DIP SERVER (or condiment tray!) – condiments tray is great for butter, jam, and other condiments especially if you are serving bread on the table!
〰️ SALAD BOWL – this is a great way to serve salad without it getting mushy! Separate the greeneries from the dressing! You can use a carafe to hold your dressing and stuff it in the ice bucket to keep it cold!
〰️ SERVING PLATTER (tiered serving) – also works as a dessert, cake, and cupcake stand! Also, just because these are called "cupcake stands", doesn't mean that's the only use for it! You can use it for anything.
〰️ BREAD BASKETS – line this up with a paper towel and put your bread in it! A great way to add food to your table! Remember, breads are a great filler! Add some butter to the table to make it extra elegant!
〰️ TONGS AND SERVING ACCESSORIES – depending on what you are serving, you'll want to have serving accessories staples!
〰️ WATER PITCHER OR CARAFE – or you can also consider a beverage dispenser!
〰️ ICE BUCKET – great for keeping your drinks cold! Put your carafes in the ice bucket to keep them cold!
〰️ CLOTH NAPKIN – totally your choice but this can help elevate the feeling of the event and also less garbage!
〰️ DECOR – you can also always add some decor on the serving table to enhance the look and feel of the event! We love the look and feel of dried flower arrangements! There's a rustic yet elegant feel to it!
〰️ CANDLES – adding a specific scent to your event will help set the mood!

〰️ POWDER ROOM ESSENTIALS – hygiene and cleanliness are important! Check and restock supplies or have them readily available within your guests' reach so they can help themselves!
〰️ DINNERWARE – if you don't like using your "regular" dinnerware when entertaining, you can keep a box of dinnerware specifically for entertaining!
〰️ CHAFING DISHES – these are good to have if you're serving soup or for your pasta sauce. Anything that has some type of liquid or sauce will work. Serving dry food might not work as it might dry it out!
Serving accessories may seem like minor components of event planning, but their importance should not be underestimated.
From enhancing the presentation of your food and drinks to ensuring efficiency and organization, these accessories play a crucial role in creating a memorable experience for your guests.
By investing in versatile, visually appealing, and theme-enhancing serving ware, you can elevate your next event to new heights and leave a lasting impression.
Also, you are already spending on this gathering, so why not use products that can help elevate it?
Remember, the details matter, and the right serving accessories can make all the difference in taking a seemingly ordinary event to a whole new experiential memory!
There you are lovelies! Affordable Entertaining Essentials: Hosting On A Budget!