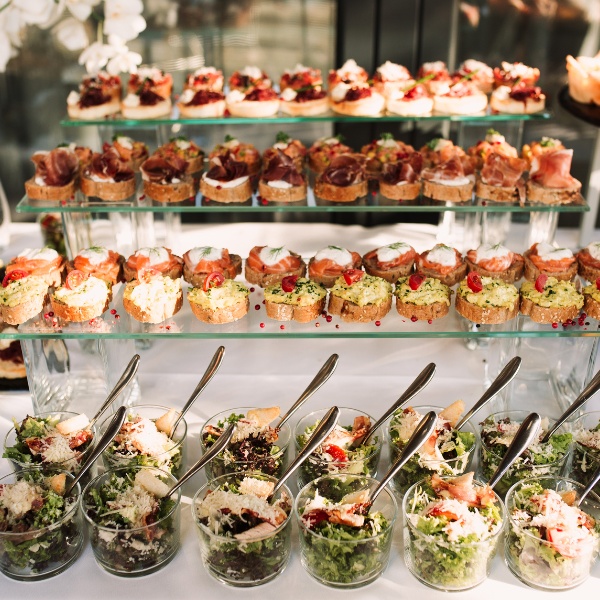 Budget-Friendly Meals DIY Wedding: Top 15. Deliciously Affordable. Wedding Bliss on a Budget. Culinary Creativity on a Budget. Savor the Savings. Affordable Elegance.
As couples look for ways to make their special day memorable without breaking the bank, finding budget-friendly meal options becomes crucial.
Not to say you have to give up lots of great parts of your wedding. No, no, no. We are here to help you elevate ideas that are usually deemed as "tacky" at a wedding (like buffets!)
In this blog post, we will explore 15 delicious and affordable meals that can be served at a wedding without compromising on taste or quality.
But first, let us share a few things on how to pull off a DIY wedding feast:
PLAN AHEAD. Start by outlining your guest list and estimating the number of attendees. This will give you a clearer idea of the quantities you'll need to prepare. With a well-planned approach, you can purchase ingredients in bulk, reducing costs significantly.
KEEP IT SIMPLE. Opt for straightforward recipes that use fewer ingredients but still pack a flavorful punch. Simple doesn't mean boring! These options are affordable and can be easily prepared in large quantities.
DESSERT BUFFET. Offer a variety of desserts like cookies, brownies, mini pies, or a DIY sundae bar. This not only saves costs but also adds a personal touch to your wedding day.
RENTING VS. CATERING. Consider renting equipment such as chafing dishes, buffet tables, and serving platters instead of hiring a full-service caterer. This DIY approach gives you more control over your budget while adding a unique touch to the presentation.
ASK AND HIRE HELP. Don't be afraid to ask for assistance from friends and family who are willing to lend a hand in preparing and serving the food. You can also hire servers for your event to help serve the food that you have prepared.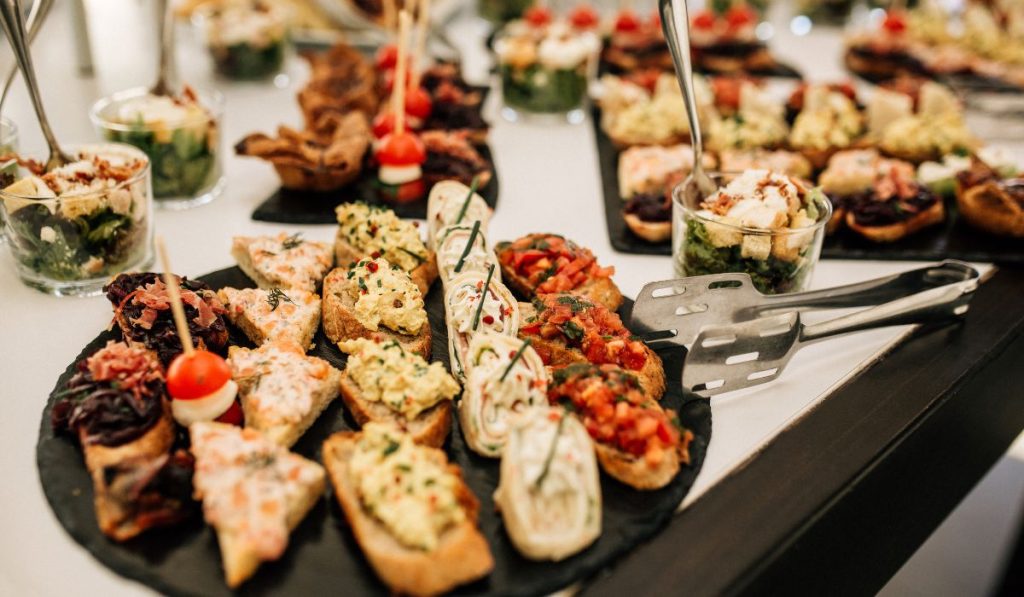 PRO TIP: Create a story around the food you serve. This will make the food choices more personal, and not just budget-friendly. Add small printouts and labels that show the stories so your guests can relate to them better.
PRO TIP #2: Rent products that are great for presentation. Chafing dishes are great, but they are not always the classiest looking things. But perhaps a heat lamp can be another alternative that can look more elegant.
PRO TIP #3: Ceramic serving tiered platter and metal tongs always add that elegant touch. If you can avoid anything that is plastic, the better. Renting original china and hotel quality serving platter will elevate the feel and look of your DIY wedding.
Adding height and texture and also adding some flowers or other decor elements will help these budget-friendly wedding meals look expensive!
PRO TIP #4: You can definitely order party trays if that's easier for you. But, don't serve it using the aluminum tray that it came in. Transfer to a modern serving platter to elevate the look of it.
Even some of the condiments, soups, sauces, and salad dressings are easily available from the grocery store. It is about moving them to a better, more presentable serving container. That will really transform the look and feel of your DIY wedding budget-friendly meals.
PRO TIP #5: If you don't want to rent so much, use different boxes to add height. Use those as a "stand" in where you can do a high-low kind of set-up.
PRO TIP #6: Consider serving them family style so guests won't need to line up. You can hire a server to help you serve the food. You can make 2-3 platters per table to share.
Now let's get to these budget-friendly options that are sure to satisfy your guests' palates while keeping your wedding expenses in check.
Budget-Friendly Meals DIY Wedding: Top 15

Build-Your-Own Taco Bar
Set up a vibrant taco bar with various protein options like seasoned ground beef, grilled chicken, or vegetarian fillings.
Include an assortment of toppings such as shredded cheese, salsa, guacamole, and sour cream.
Add some rice and beans on the side for a complete and satisfying meal.

Pasta Buffet
Pasta is a crowd-pleaser that won't break the bank.
Offer a selection of pasta shapes and sauces like marinara, Alfredo, or pesto.
Add a variety of toppings like grilled vegetables, chicken, or meatballs. Don't forget the garlic breadsticks to complement the meal.
Cold salad is also a great idea if you are worried about serving the pasta warm. It is easier and cheaper to put them into an ice bath bowl container than to set up chaffing dishes.
Slider Station
Mini sliders are a fun and budget-friendly option. Serve a variety of sliders with different fillings such as beef, chicken, or vegetarian options.
Offer an array of toppings and condiments for guests to customize their sliders.
Add a side of sweet potato fries or regular fries for a delightful combo.
Baked or Mashed Potato Bar
Set up a baked potato bar with a range of toppings like sour cream, chives, shredded cheese, bacon bits, and even chili or broccoli.
This simple yet hearty meal option will please guests while keeping costs down.
BBQ Buffet (one of the super fun budget-friendly meals DIY wedding)
A classic BBQ buffet is not only delicious but also budget-friendly. Serve grilled chicken, pulled pork, or beef brisket with a variety of BBQ sauces.
Offer traditional sides like coleslaw, cornbread, and baked beans. These sides can be easily store-bought and transferred into a classy serving bowl to elevate the feel of the BBQ.

DIY Pizza Party
Set up a station with different kinds of pizzas.
You can check with your local Italian restaurant if they are able to provide large orders of pizza with different toppings and flavors.
They are best served under a heat lamp.
Fajita Bar
Offer a fajita bar with sizzling grilled chicken, beef, or shrimp.
Provide an assortment of colorful peppers and onions, limes, along with warm tortillas and flavorful condiments like salsa, guacamole, and sour cream.
Soup and Salad Buffet
For a lighter option, create a soup and salad buffet. Serve a variety of soups like tomato, vegetable, or chicken noodle, along with an assortment of fresh salads and dressings.
Add crusty bread rolls for a satisfying meal.
QUICK TIP: You can also purchase premade soup and pour them into a ceramic bowl on a heated plate to keep them warm.

Waffle Bar
A waffle bar can be a unique and budget-friendly meal option. Serve crispy waffles with an array of toppings like fresh fruit, whipped cream, chocolate sauce, and maple syrup.
Add some crispy chicken, bacon, or sausage on the side for a sweet and savory combination.
Perfect for a brunch wedding!
Sushi Platters (one of our fave budget-friendly meals DIY wedding)
If you're a fan of sushi, consider serving sushi platters at your wedding.
Opt for simple yet delicious rolls like California rolls, vegetable rolls, or spicy tuna rolls. Offer a variety of dipping sauces and garnishes for a delightful culinary experience.
QUICK TIP: If you are preordering this with catering, try using a medium-sized serving platter – but order a lot of those. This way you can take them off the table as they start to become empty.

Light dinner being served is okay, as long as there will be some late-night snacks to ensure that your guests are not "hangry" towards the end of the night.
If you choose fajitas and tacos for dinner, or a pasta bar, setting up a mashed potato bar at the end of the night can help curb your guests' hunger.
Or if you really want to save money, serving a selection of "pastries" – not necessarily desserts, but savory pastries like ham croissants and quiches will still be great!
You can pre-order a whole bunch from your local grocery store and voila! you have your late-night snack problem solved!
When you plan to DIY your food, include storing, prepping, cooking, serving platters, serving utensils, set-up, utensils and flatware, food circulation, bussing, and cleaning (garbage) into your plan and costs as these can easily add up.
〰️ With careful planning, simple yet flavorful recipes, and the support of loved ones, you can craft a memorable menu that reflects your tastes and values.
Embrace the joy of preparing, ordering, or cooking and sharing food with those you hold dear, as it adds an extra layer of love and warmth to your wedding celebration.
There you are lovelies! Budget-Friendly Meals DIY Wedding: Top 15!