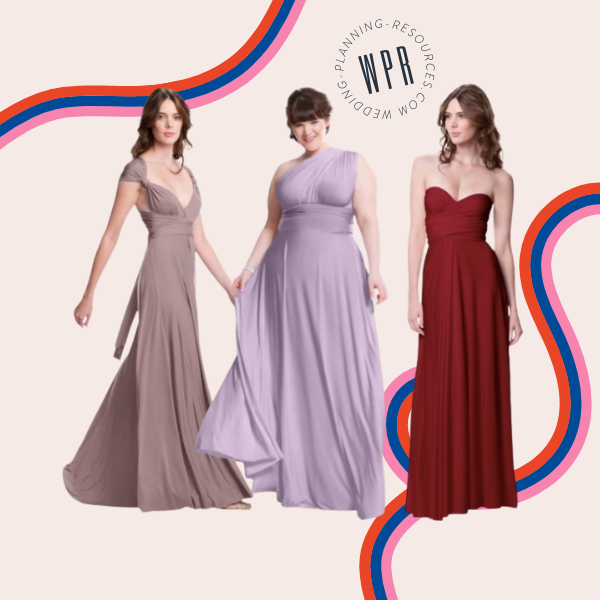 Convertible Bridesmaids Dresses: What You Need To Know. Lots of style-options! Considering a convertible dress for your bridesmaids? Infinity bridesmaid dresses? This guide shares what you need to know about convertible dresses and why your bridesmaids would love them!
Looking for something that your bridesmaids will love even after the wedding? Something that they can style interchangeably? Then, convertible dresses might be a great match!
Your amazing bridesmaids shouldn't only look great but should feel comfortable too. For this purpose, going with a convertible dress is the best decision you can make.
Since you can style these convertible bridesmaids' dresses in many ways, your bridesmaids can wear them to any occasion and look gorgeous in every style they choose every time.
Whether you are the bride or one of the bridesmaids searching to find the perfect dress, we got you!
If you are already thinking about a convertible dress as an option, then we are here to tell you everything you need to know, as well as what to consider!
This site contains affiliate links. For more info, please see our full disclosure.
What to consider when selecting your convertible bridesmaids' dresses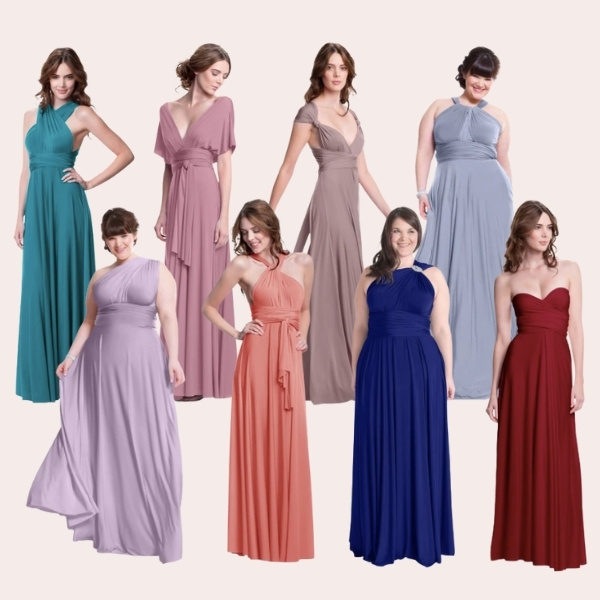 Weather
More than anything, this is to consider your bridesmaids' comfort! During the winter, as much as maxi dresses are great, it might be a little more challenging if you are going to walk through the snow. Selecting an ankle-length might help!
During summer and spring, short or knee-length can help beat the heat!
There is, of course, no hard rule; you can choose what you think is most appropriate – but you can also always mix and match!
Color / Shades
Lots of options when it comes to color! You can certainly match it to your decor. Or keep it classic with beige and blush!
If you are looking for your maid of honor to be special, you can choose a shade that's slightly lighter or darker – whichever you prefer.
Of course, the possibilities for color choices are endless, and you can pick what works for your style and theme best!
Shopping online and undecided about the color you are going for? Not to worry, you can order your swatch bundle here and find your perfect match!
Size
Because of the material and playing out the style, an "exact" measurement is not usually needed. You can go for your generic size and then adjust the styling to suit your body type.
This is another thing we love about these dresses, they are more forgiving and have more "give" than other "made-to-measure" dresses! Perfect for any body shape!
Henkaa offers sizes from 0-24! Now that's a range that will ensure you will find something that's perfect for all your bridesmaids! The best part? Regardless of the size, they are all priced the same!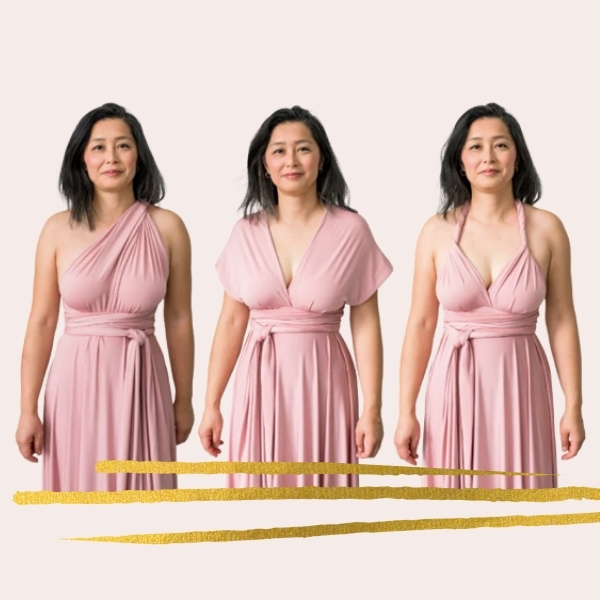 Length
If you are not super picky on the length, you can even mix and match the bridesmaids and let them choose their preferred length as long as it is within your color or shade preference.
You can also always get the length altered if you prefer. But the great thing about these bridesmaids' convertible dresses, they need minimal to no alterations!
Comfort (super important when considering convertible bridesmaids dresses!)
These convertible bridesmaids' dresses do not just look great, but they are also comfortable and light! You can dance around with no hesitations!
Styling
There are many ways you can style your convertible bridesmaids' dresses. Whether you are looking for a halter, on-sleeve, sleeved, sweetheart, reverse sweetheart, or many other style options, convertible dresses from Henkaa can help you with that!
You can style most of their dresses in 21+ different ways! Yes, that is many ways! That means you can go to all events and weddings in the same year with one dress differently styled each time!
Henkaa has easy-to-follow tutorial videos to help you style your dresses. Their customer service will help you determine the size that matches you best! But of course, you have a 30-day window to return your unworn dress/es it if you feel that they are not the best match for you.
Browse more Henkaa Convertible Bridesmaids Dresses

online

! Make it a fitting/browsing tea-party (or wine!) with your

bridesmaids

!
There you are! Convertible Bridesmaids Dresses: What You Need To Know!