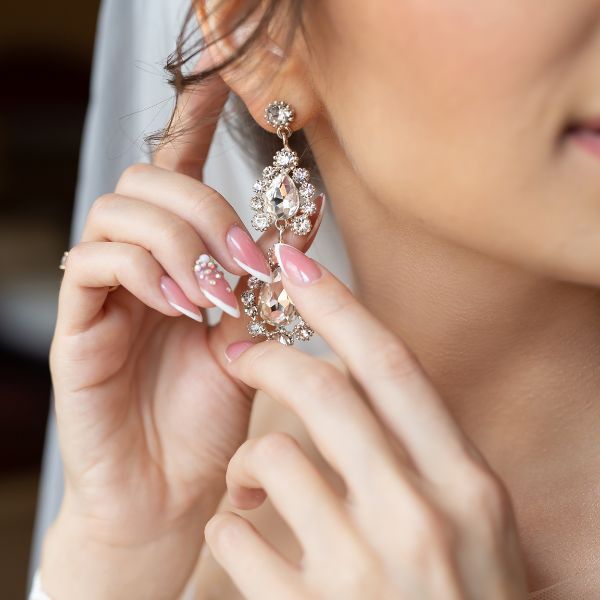 How To Choose Wedding Earrings. A guide to choosing the perfect wedding earrings. Shine bright on your wedding day. Accessorize with elegance. Dazzling details. Bridal beauty. Wedding fashion. Selecting earrings to enhance your wedding look.
This site contains affiliate links. For more info, please see our full disclosure.
Wedding earrings are a key component of your overall wedding fashion vibe. They have the power to elevate your overall look and add that extra touch of elegance, sophistication, or whimsy, depending on your style.
Earrings are one of the final touches in completing your wedding fashion ensemble. They are like the exclamation point at the end of a sentence, adding that finishing touch to your look.
Before we dive into the world of earring selection, let's take a moment to appreciate the significance of this accessory.
Wedding earrings are more than just adornments; they're symbolic of your love story and style.
They frame your face, catch the light, and capture the essence of your wedding day.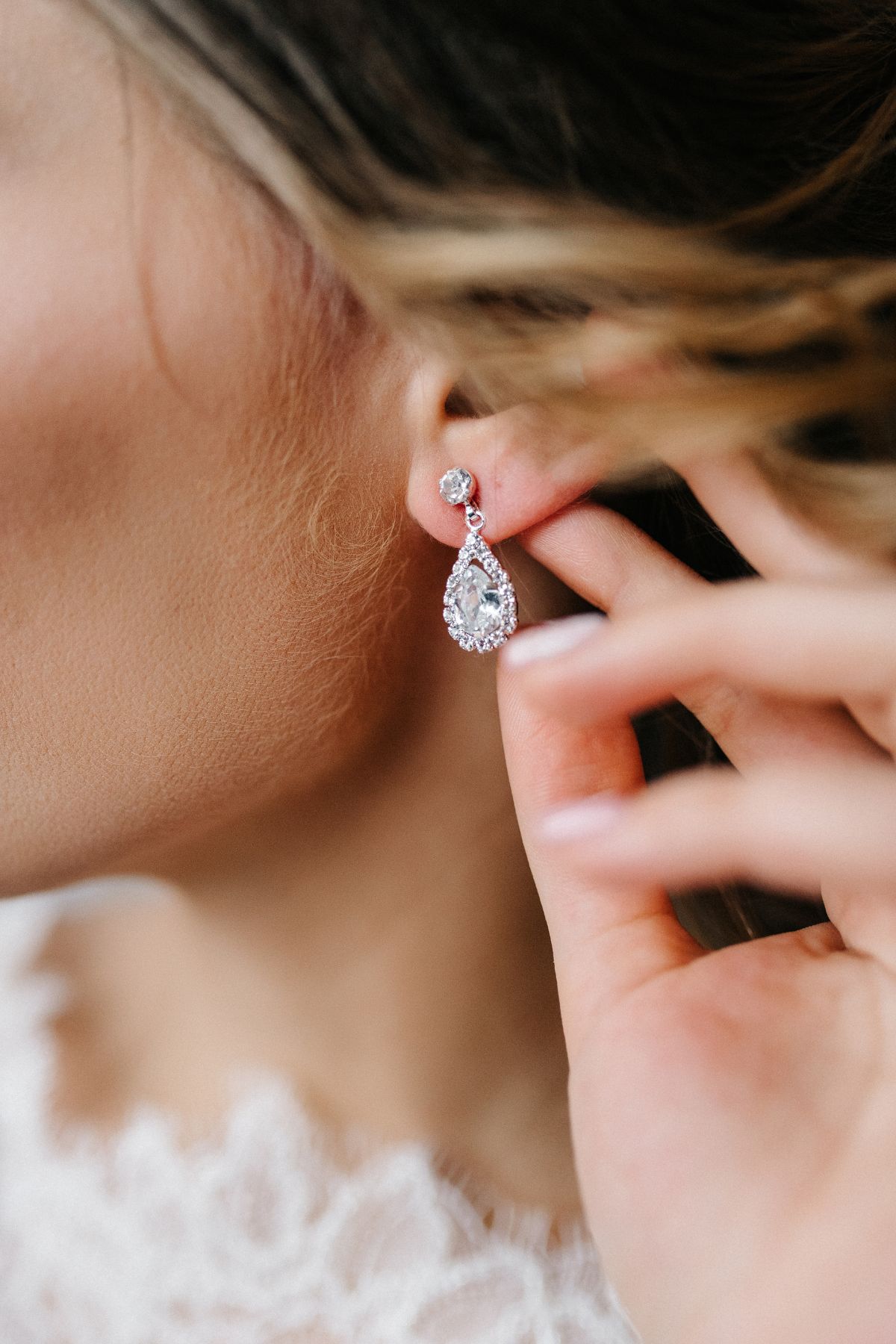 Here's why they matter:
〰️ ENHANCE YOUR BRIDAL LOOK. Earrings can elevate your overall wedding look. They draw attention to your face, highlighting your smile and makeup.
〰️ PERSONAL EXPRESSION. Your earrings are an opportunity to express your style, whether it's classic, vintage, bohemian, or modern.
〰️ SENTIMENTAL VALUE. You might choose earrings with sentimental value, perhaps heirlooms or a gift from a loved one, adding an emotional layer to their outfit. Makes a great story!
〰️ PHOTOGENIC IMPACT. Stunning earrings can enhance your wedding photos, catching the light and adding a touch of sparkle to every shot. Creates that magazine editorial look!
Choosing the Perfect Wedding Earrings
〰️ MATCH YOUR DRESS. Consider the neckline and style of your wedding dress.
A strapless gown pairs beautifully with statement chandelier earrings, while a delicate pendant might complement a V-neck dress.
This is an important point when figuring out how to choose wedding earrings.
〰️ FACE SHAPE MATTERS. Your face shape can influence earring selection.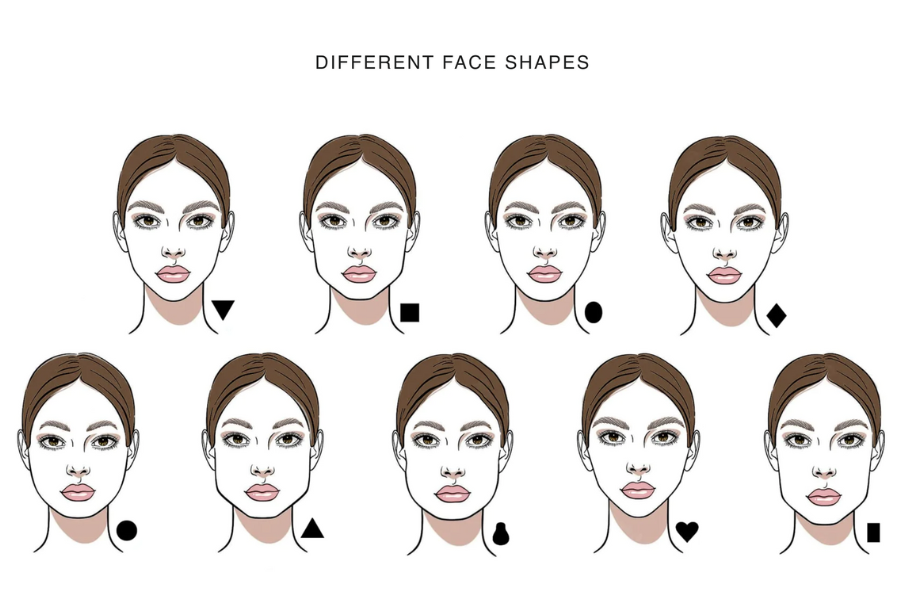 ROUND FACE. Earrings that add length and create the illusion of a slimmer face work well for round faces. Choose drop earrings, dangles, or long, angular designs like chandeliers. Geometric shapes or teardrop earrings can also help elongate the face.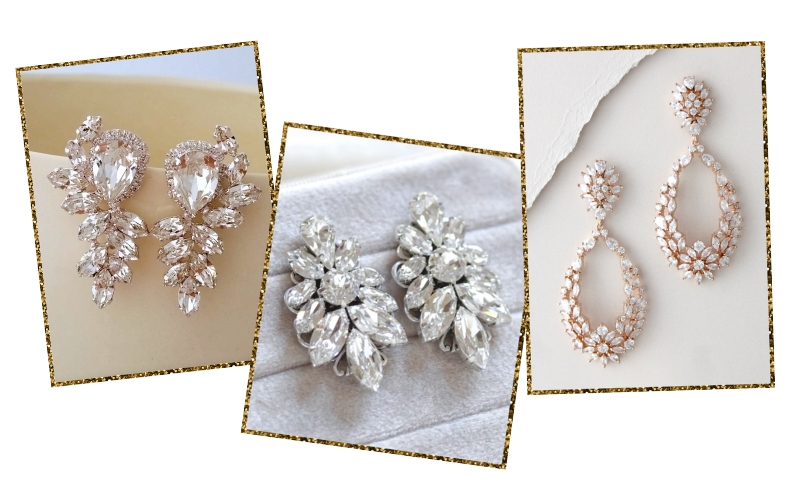 OVAL FACE. You can be versatile and can wear almost any earring style! Experiment with studs, hoops, drops, and dangly earrings. Just be mindful of the size to maintain balance.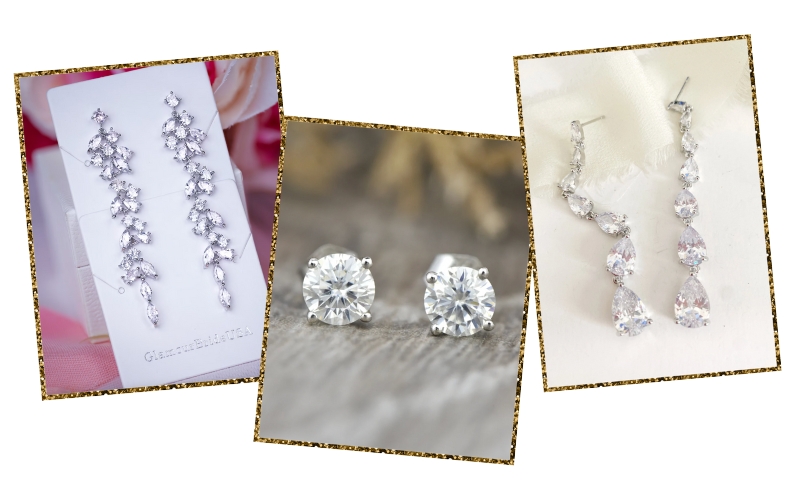 HEART-SHAPED FACE. Heart-shaped faces often have a broader forehead and a narrower chin. Earrings that balance the width of the forehead can work well. Consider chandelier earrings, teardrops, or earrings with volume at the jawline to create balance.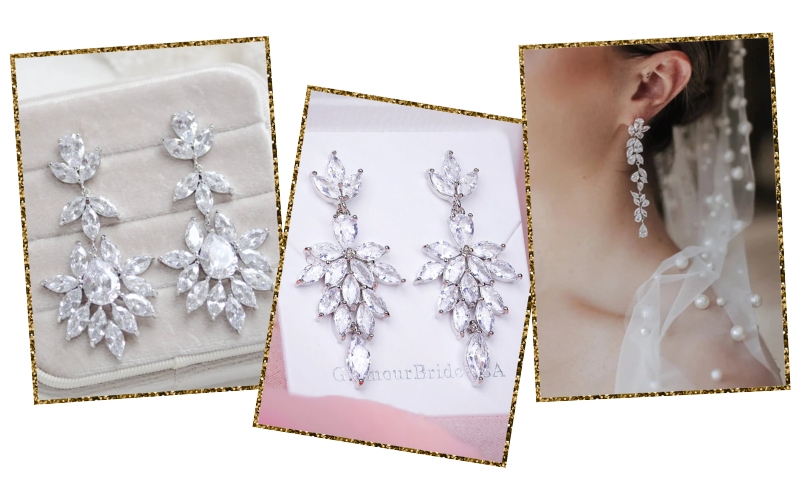 SQUARE FACE. For square faces, soften the angles with curved or rounded earring shapes. Hoops, oval studs, and earrings with circular or organic designs can complement the strong jawline and add some softness.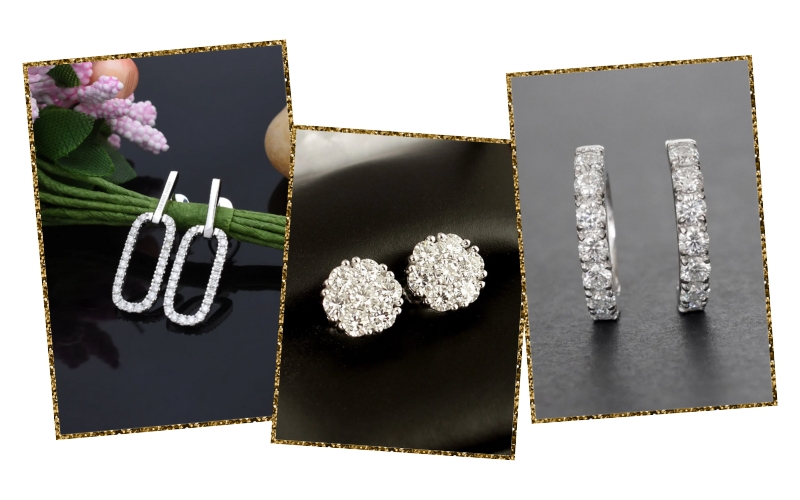 DIAMOND-SHAPED FACE. Diamond-shaped faces have prominent cheekbones. Choose earrings that highlight this feature without adding extra width to the cheek area. Studs, small drops, and short dangles work well. Avoid overly wide or bulky earrings.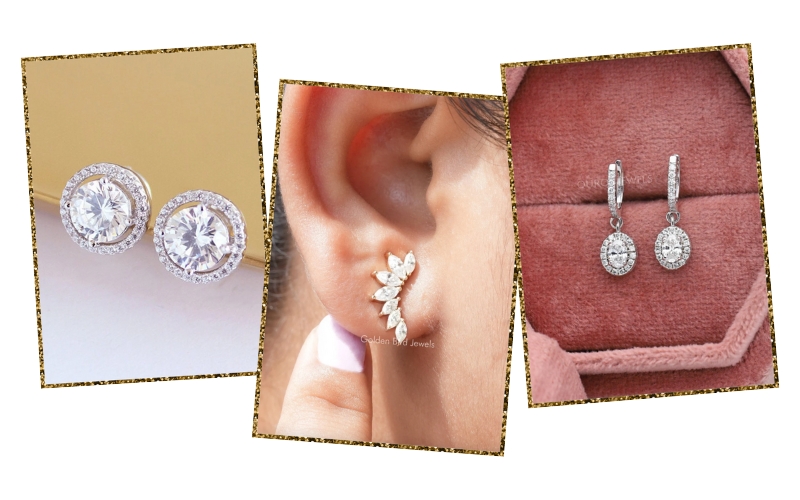 OBLONG OR RECTANGULAR FACE. Oblong or rectangular faces benefit from earrings that add width and create the illusion of a shorter face. Try studs, clustered earrings, and short to medium-length dangles or hoops. Avoid excessively long or thin earrings.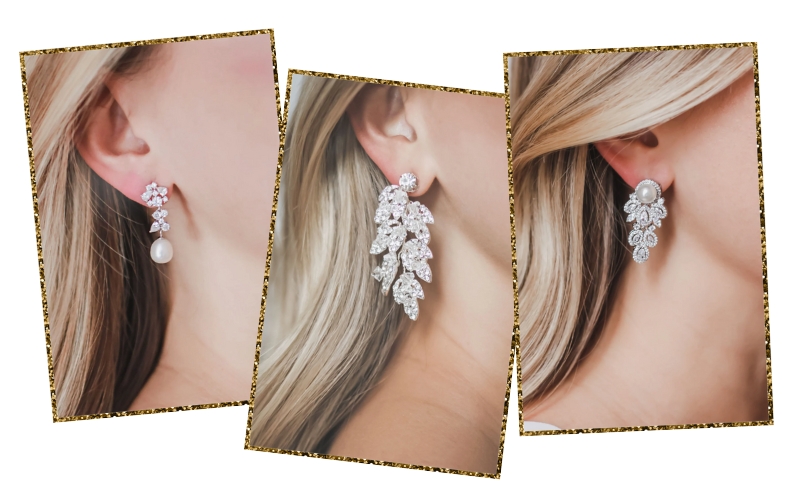 Remember that these are general guidelines, and personal style and comfort play important roles in your earring choice.
It's perfectly fine to experiment and find what makes you feel confident and beautiful.
Ultimately, the most important thing is to choose earrings that make you feel like the most radiant newlywed-to-be that you are on your special day.
〰️ METAL CHOICE. Another essential thing to consider on how to choose wedding earrings is the metal. Match the metal of your earrings to your engagement ring or other jewelry for a cohesive look. Common choices include gold, silver, rose gold, or platinum.
Matching the metal of your earrings with the metal of your engagement ring, wedding band, and other jewelry creates a coordinated and harmonious look. This coordination enhances the overall aesthetics of your ensemble.
Yellow Gold: Exudes warmth, tradition, and classic elegance.
White Gold: Offers a modern and sleek appearance, often chosen for its timeless appeal.
Rose Gold: Adds a romantic and vintage touch with its blush hue.
Silver: Provides a contemporary and versatile look, perfect for a minimalist or bohemian style.
The metal choice can complement your skin tone, enhancing your natural beauty. Some metals may flatter your complexion more than others, creating a more radiant and balanced appearance.
If you or your partner have metal allergies, it's important to choose a hypoallergenic metal that won't irritate your skin. Common hypoallergenic choices include platinum and titanium.
In some cultures and regions, certain metals may hold cultural or regional significance. Choosing a metal that aligns with your cultural heritage can be a meaningful choice.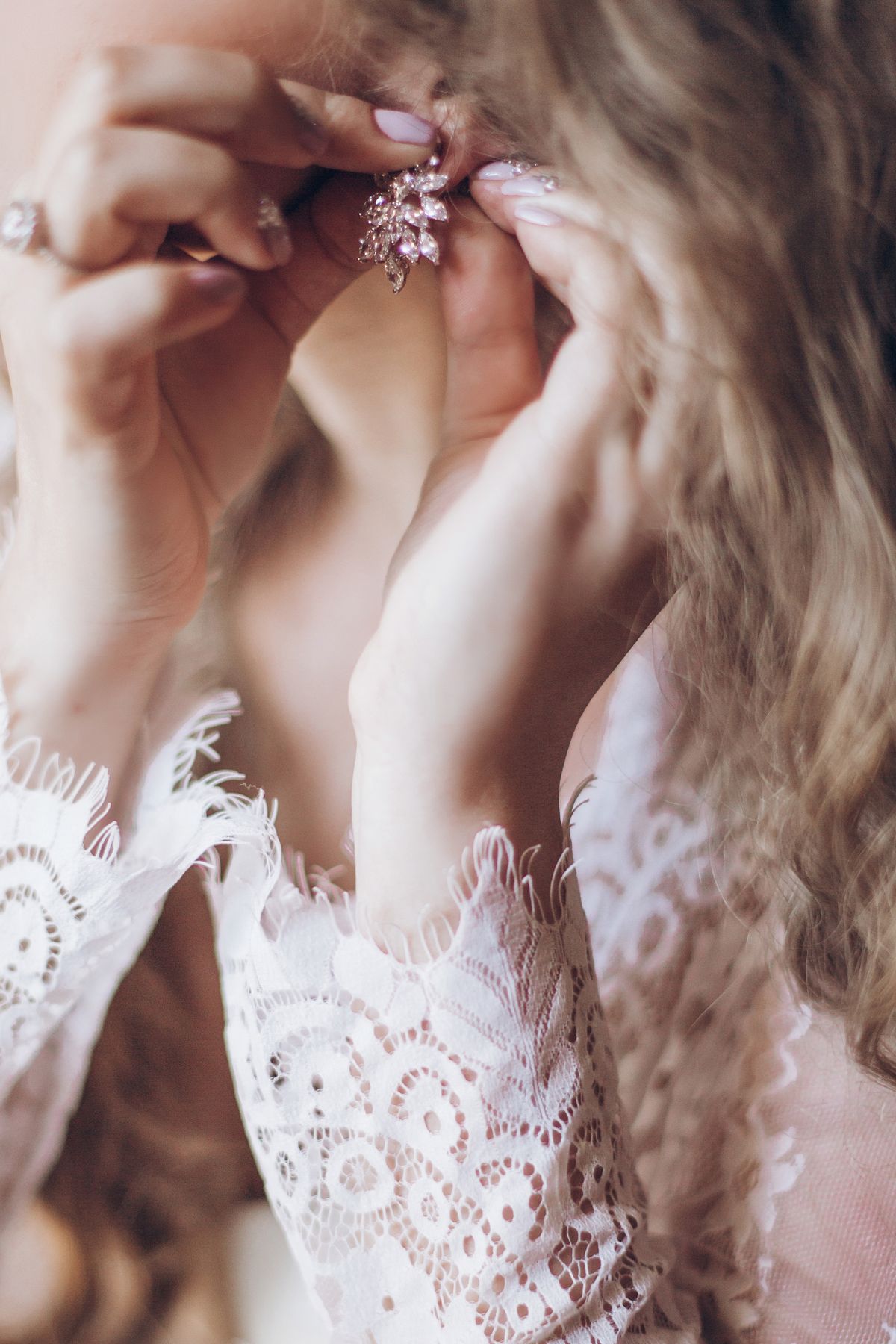 〰️ COMFORT IS KEY. Since you'll be wearing your earrings throughout the day, prioritize comfort. Opt for lightweight designs with comfortable backings to avoid discomfort.
Your wedding day is long and eventful. From the early morning preparations to the late-night dancing, you'll be wearing your earrings for many hours. Comfortable earrings ensure you can enjoy every moment without discomfort.
〰️ CONSIDER YOUR HAIRSTYLE. Think about how your hairstyle will interact with your earrings. Updos often pair well with statement earrings, while dainty studs complement loose, flowing hair.
Earrings can frame your face and draw attention to your features. Different hairstyles can affect how your face is framed, so choosing earrings that work well with your hairstyle ensures a flattering and balanced look.
Your hairstyle can impact the visibility of your earrings. Updos, buns, or hairstyles with hair tucked behind the ears may allow your earrings to take center stage. Conversely, long, flowing hairstyles may partially conceal your earrings, making their design and length important considerations.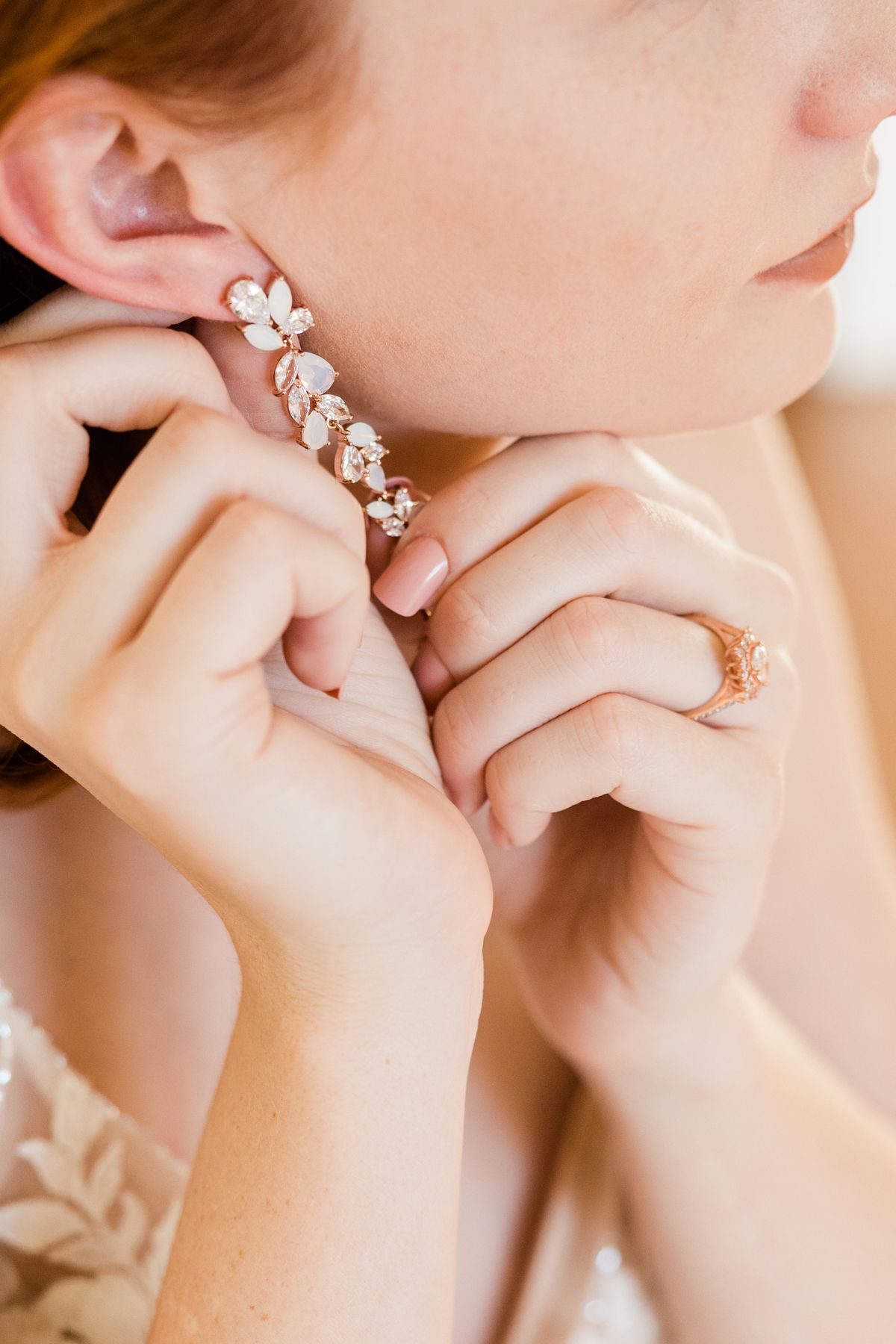 〰️ REFLECT YOUR PERSONALITY. Let your earrings reflect your personality and style. If you're a boho bride, consider dreamcatcher-inspired earrings; for a classic look, go for pearls or diamonds.
If you have a love for nature, you might choose floral-inspired earrings. If you're a minimalist, you may opt for simple and elegant studs.
Choosing earrings that align with your personal style allows you to authentically express who you are as a person and as a couple.
Wearing earrings that resonate with your personal style enhances your confidence. When you feel like yourself, you radiate confidence and grace, which is especially important on your wedding day.
Personalized earrings, whether they are family heirlooms, gifts from loved ones, or chosen based on your unique taste, create an emotional connection to your wedding day and the people who have played a role in your journey.
〰️ BALANCE WITH ACCESSORIES. Ensure that your earrings balance with other accessories like your veil, headpiece, or necklace. Less can often be more when it comes to bridal jewelry.
Balancing your earrings with other accessories ensures that your overall bridal look is visually harmonious. It prevents any one element from overpowering or clashing with the others, resulting in a cohesive and polished vibe.

Selecting the perfect wedding earrings is a delightful journey that allows you to express your style, celebrate your love, and enhance your vibe and look.
Remember, there's no one-size-fits-all answer—your earrings should resonate with your unique personality and style.
Consider your dress, face shape, comfort, and personal taste. Whether you opt for classic pearls, dazzling diamonds, or whimsical boho designs, your wedding earrings will add that extra touch of magic to your special day.
IMPORTANT NOTE: Really, there are no rules. You can break all the rules that society or even the fashion industry has set. You should enjoy your style and love your own vibe!
There you are lovelies! How To Choose Wedding Earrings!