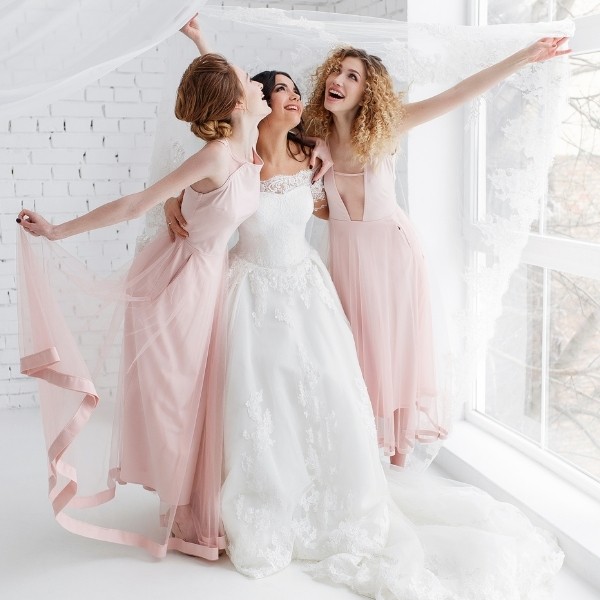 Fun Fitting Time! Bridesmaids' Dress Selection & Fitting Party Guide. Planning a bridesmaids' fitting party? Looking for bridesmaid dress shopping fun ideas? How to prepare for a bridesmaids' dress fitting?
This site contains affiliate links. For more info, please see our full disclosure.
Do you and your bridal party love shopping and dress fitting?
Choosing a perfect dress among hundreds of options available nowadays and ensuring every person in your bridal party is represented is a bit of a discussion.
But also, when you know your "people" for a long time and understand their style and what they will be comfortable in, this can actually turn out to be a great memorable experience!
It is one of the cutest moments you will enjoy with your friends; imagine wearing your dresses for the first time and deciding your look for the upcoming wedding!
Yes! These moments need to be celebrated well, just like lots of others. Here are some tips you must consider while planning a dress-fitting party.

1. Create an inspiration board
See what your bridesmaids are looking at as inspiration! You can do so by creating a Pinterest board for your bridal party!
They can each pin 4-5 styles.
This will help you understand what your bridal party preferences are.
When you now have an idea of their style, you can creatively work around your preference with it.
2. Narrow it down
Now that you have all this information, you can narrow down your top 5 choices!
Also, include links where you can purchase these dresses so your bridal party can have an idea of what to expect in terms of budget.
Speaking of narrowing it down, also include possible dates on when you plan to do your bridal party dress fitting, so you and your bridesmaids can plan.
---
---
3. Decide on the store/s and date
From narrowing it down, we are not into booking the fitting date!
If your bridal party happens to be available all day, try booking 1 dress fitting in the morning, have lunch or afternoon tea, then do another fitting from a different store!
Ensure that you get the product information and take photos from the store/s that you visited.
PRO TIP: Create a timeline to ensure that you get as much packed into the day! Share this timeline with the stores you are visiting.
Speak to your potential dress consultant and already pre-send or share the top styles you and the bridal party have put together!
If you have some bridesmaid's gifts you wanted to give out, you can do so during lunch or dinner! Make it extra fun, cute and sweet!
4. Voting time
Now that all of you got a chance to see and try them on, you can get a chance to decide!
If you can, on the same day that you guys did the fitting, you can plan a dinner and go over the dresses and decide which one will be the "winner"!
Once you have decided, you can then plan when and how to order; whether you pay for it first, then your bridesmaids can pay you, or if you all can purchase on your own.
5. VIRTUAL FITTING IDEA
Since there are many restrictions and closures in light of the pandemic, you can always choose a virtual fitting!
Order your top 3 dress choices online!
Set a date where all of you can try them on! Either through Zoom or Facetime!
PRO TIP: Because fitting requires a full-body view, so everyone can see how the dress looks on your full body, consider prepping and finding a dedicated space to do the fitting. To help your bridal party, you can also order ring lights like this to help them set up their "fitting space." Also, this ring light will help everyone see each other better!
Elevate the virtual fitting session by sending a gift box, either with a mini bottle of wine or champagne, together with a mini charcuterie box like this from Olive & Fig.
After your virtual fitting session, you can now decide which dress is the winner! From there, you can also decide when you will order and any other discussion like shoe style, accessories, make-up, and hairstyle.

Don't forget to return the dresses that were not picked to avoid any fees or being stuck with extra dresses you won't use (well, of course, unless you actually want to keep it!)
There you are! Bridesmaids' Dress Selection & Fitting Party Guide!