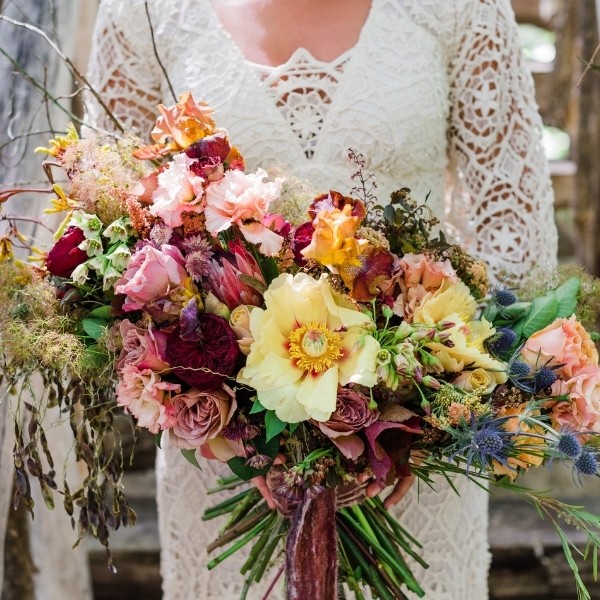 Why Wedding Flowers are Expensive! Love the blooms! In the middle of wedding planning and wanted to know why wedding flowers cost a little higher than you expected? Maybe trying to understand why wedding bouquets are costly? We know your love your wedding florist but we also know that there is a part of you that is taken aback by the wedding flower quote and pricing. We've curated this guide to help you understand why the pricing is more expensive than what you expected.
This is a very common, if not famous, question that comes up when newlyweds-to-be start to ask around for quotes for their wedding flowers. Looking for the average cost of wedding flowers? A floral pricing guide perhaps?
Planning and budgeting for your wedding can be pretty generic until you start asking around and sending vendors what you have envisioned; then, you see the amounts begin to go over your budget.
You will be surprised when you discover how much your budget can 'only' cover, and there is a chance that this might bring up some challenges, and the fear of comprising your vision might arise.
This is why when choosing a florist or decorator, you must ask for design options that are variations of your original vision, and that are closer to your budget.
When your florist provides options, this will help you understand what your original budget can cover and options that might be over budget. These options will help you manage your expectations. Being open to hearing options will benefit your design options.
Creative florists will be able to provide you with the closest designs or a variation to your original design while working within your budget.

Sure, you can ask around and find the florist that will make everything according to your budget; however, the more you ask around, the more you will discover that the design, service, and execution will vary, and the decision is absolutely up to you who you would like to go for.
But why are wedding flowers expensive? Centerpieces, backdrops, and bouquets; why are they expensive? These are just flowers that are bundled together, aren't they?
This site contains affiliate links. For more info, please see our full disclosure.
Technically, yes, they are flower bundles together. But behind the scenes, work goes beyond just the price of the bloom. There are many reasons why your wedding flowers can be expensive- here are some of them:
Why Wedding Flowers are Expensive
Design Inception
Even before booking your florist, meaning you are still in the early consultation process, they have already created and developed designs that will fit your original vision and budget.
Once you have decided to book them, there will still be finessing of the final details. Which means the design process doesn't stop there.
Creative florists consider your event as a whole. Meaning, they don't give you the flowers that you need, they go above that and ask what other elements you currently have, and they will then do their best to incorporate things into your flowers that will help tie the whole event beautifully!
They will also most likely provide you with a breakdown of costs to help you understand what exactly you are paying for and getting.
Details like flower varieties, approximate sizes, vessels, and other details are presented to you in conjunction with the general design idea.
As you can expect, the status of the florist that you are working with will definitely affect the pricing as well.
If they are in demand and famous, they will for sure be on the higher end. You might have done your research before speaking to them, so you will have an idea of how much they will charge.
Before the wedding, you might have questions along the way, and you would want to work with someone willing to help you out and provide a fantastic service.
** MONEY SAVING TIP: Be open to your florist's design recommendations and variations that will fit your budget.
Also, know which product you are open to compromising with; for example, you might have a few must-have flower varieties. For the rest of the types, you can be open to a more affordable alternative, which your florist will be able to help you with!

Flower Varieties
Remember earlier we mentioned the details that went into the design inception? The more varieties involved in your arrangements, the more expensive it can get.
The breakdown of flower varieties is usually explained to you by your florist. They will tell you which specific flowers cost the most and what possible alternatives can help work with your budget.
Certain flower varieties cost more than usual. Their stem price and how they are processed and prepped are different from your standard roses, carnations, and mums.
If your flower choices include specialty garden roses, peonies of specific shades, gardenias, Casablanca lilies, stephanotis, freesia, and other similar delicate and specialty varieties, expect to pay more than their 'regular' counterpart with roses, hydrangeas, carnations, and mums.

You might think that if they are in season, they are cheaper, sure they are more affordable, but they are still and will always be on the more expensive end of the flower pricing range.
Know that certain flowers must be special-ordered from other areas of the world—for example, lilies of the valley are mainly sourced from specific countries only. They are only available outside of greenhouses for three to four weeks in May.
Specific specialty blooms that are usually smaller in size are costly for wedding bouquets and decorations, as it will require a considerable number of them to produce even a small bouquet.
Also, some greeneries like silver queen and varieties from the eucalyptus family are more expensive than your usual greenery varieties like Salal, Ruscus, and Variegated Pitt.
** MONEY SAVING TIP: Consider using 2-3 varieties max if you are looking to save some money. Anything more than three flower varieties will quickly add up to the total price.


** PRICE TIP: There are specific colors and varieties of slightly more expensive roses, like Quicksand and Queen of Pearl. If these blooms are part of your color theme, expect a price increase.

Transportation
Another reason why wedding flowers are so expensive is transportation. In addition to the cost of flowers, you also have to consider the transportation cost. For these flowers to arrive fresh and in the best condition, they have to be transported just in time for your event.
For generic and "easy to work with" types of flowers like roses, carnations, etc., they can pass as regular transportation and are usually included in standard shipments.
But as previously mentioned, specific flowers are specially ordered and will cost extra to transport.
Prep, Processing & Handling (one of the most valid points as to why wedding flowers are expensive!)
The amount of work needed for prep, processing, and handling is definitely hours upon hours of work. This is one of the major reasons why wedding flowers are expensive.
Flowers arrive in bulk and are mostly not in the most beautiful state. They are packed tight and stacked on top of each other. A far cry from its final beautiful peak state!
These flowers have to be processed. They need to be cleaned, stripped, and prepped before even handling them for design.
Foliage and leaves are trimmed on all stems. Stems have to be cut, and they have to be in water buckets to ensure they "drink" as much water as possible.
Some blooms have to be processed for a couple of days, if not more, to open up and reach their peak, a.k.a. the most beautiful state.
Some flowers have soft stems like the ranunculus and daisies that often needed to be wired to create stability, another layer to the labor-intensive floral arranging journey.
** MONEY SAVING TIP: The lesser the variety, and the more generic flower varieties you choose, the more money you will be able to save.
Designing & Designers
Now the blooms have been prepped, the designing starts. Designing involves not just arranging the flowers but also prepping the vases and/or containers.
Vases need to be cleaned, sanitized, filled with foam and/or water, and packaged for transport.
Depending on the volume of flowers you requested, they will have to be all designed on the same day, meaning if there are volume of flowers, more designers will need to put things together.
Designing and arranging the flowers are usually done 1-2 days before the wedding and stored in the fridge to be transported to the venue on the wedding day.
** MONEY SAVING TIP: The more experienced, popular, and prominent your florist is, the more expensive they are.
If you are looking to save some money, try to work with a florist with a more generic style, or even consider an up-and-coming florist with great potential to help you save some money and get better pricing on your wedding flowers!

Set-up & Execution
These arrangements and decor will now have to be delivered and set up.
For complete execution, most of the same designers who have put them together will most likely be on-site as well.
Why? Because finishing touches are essential, and the designers who made them will also be the same people providing the best finishing touches!
Finishing touches are done to ensure that the arrangements are set up accordingly. This may include adding some more blooms and fillers or moving things around accordingly to ensure that everything is beautifully coordinated.
If you are re-purposing some of the arrangements, the design crew will have to wait until the ceremony is done to move the arrangements from the ceremony to the reception. At the reception, and yet again, do the final touches.
On your wedding day, you would want to have the design crew know what they are doing and the overall design. The design crew usually works together with the set-up/execution team closely to perfect your arrangements.
These labor-intensive tasks need many hours to execute and quickly add up to the labor and production costs, which is why wedding flowers can get expensive.
** MONEY SAVING TIPS: Check how much you will save if you choose a non-flower decor for your ceremony, something like greeneries only, or even just bows. This might be more cost-effective than transporting the ceremony decor to the reception.
** CEREMONY FLOWERS TIP: Use larger arrangements at the front and the back (only!). Yes, at the back by the doors. When they open the doors for the other half of the newlywed-to-be to enter, it is a main photographer's shot.
Another essential shot is when you and your partner are to do a kiss to end the ceremony. These two areas will be worth your investment as they are the most photographed during the ceremony.

Conclusion
You will either see a charge for labor, processing & delivery separate from the actual flower prices or possibly included in the floral pricing itself on your proposal or invoice.
The more transparent the pricing is, the better you can see where your money is being spent.
The prices increase mainly because of the flower prices themselves and the labor, processing, delivery, & set-up.
Florists have 'signature styles,' which is usually why you would want to work with them. They represent the style you are going for. Whether you have found them through referrals, social media, or the internet, doing your research will help you decide which florist to go for.
It is ok to ask more than three vendors for quotes, but ensure to consider a maximum number (we suggest 3-5 only!) and make a decision accordingly. If you ask for more quotes, there is a chance you will feel overwhelmed, and it will be harder to make a decision.
Break down your vendor booking tasks to help you filter and narrow things down more effectively.
Know what you value the most. Of course, you value design and price. Still, it will also be helpful to ask yourself, is it essential to have a florist who is easy to talk to, responsive, creative, accommodating, patient, service-oriented, and can establish a good relationship overall?
Do you want them present on your wedding day, or are you ok if they send someone else to execute? These factors usually come at a higher price point.
On the other hand, if all these other things are not as important to you, and you would like the flowers to be straightforward, arranged (with little to no adjustments), and delivered/set up per the agreement, there is a higher chance that you will be able to find a florist who can do that for you within your budget.
As usual, we are here to provide insights, and we put together these general/informational guidelines to help you arrive at the best decision for your wedding.
This video breaks down bouquet pricing and floral varieties to help you manage your budget:
There you are! Why Wedding Flowers are Expensive!