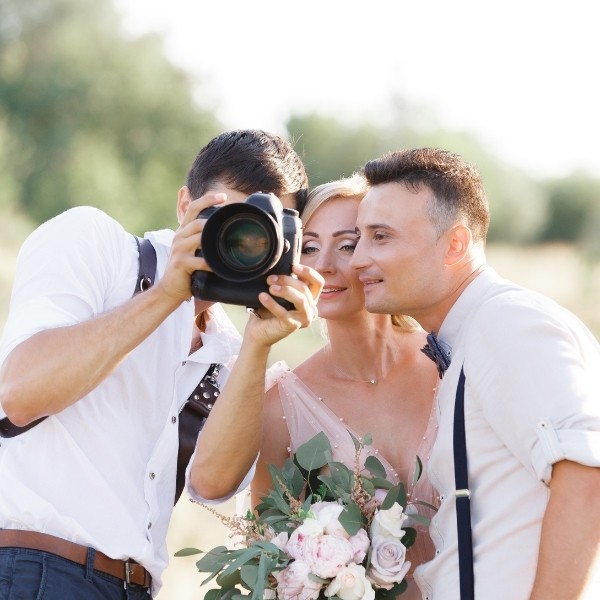 Questions to Ask your Wedding Photographer! Capture the day! Looking for what to ask your potential wedding photographer during your first meeting or initial consultation? In this guide, we are sharing great questions to ask your wedding photographer.
Your wedding is the most important event of your life. So everyone wants to capture all the best moments of their special day. Having a wedding photographer who not only understands your ideas but also executes them in that way would surely be a cherry on top.
If you have been here for a while, you know that we always recommend investing in a wedding photographer. A great wedding photographer can capture the wedding beautifully and enable you to relive the moments as if it was only yesterday.
They know the exact moments to capture, and their eye for details, emotions, and situations is impeccable.
You are investing in your wedding and spending money on it; it only makes sense to entrust and invest your wedding to someone that matches your style and understands your vision to capture it!
You're going to spend a long time with your photographer as your fiance on your wedding day. So you need to make sure that you feel relaxed and comfortable with your photographer. Only then will they be able to get the best out of your big day for you.
For sure, it is a significant investment to work with an established photographer, but with a little more research, you will also find amazing talents that are up and coming that might be a little closer to your target spend/budget.
The below questions are to be asked during your first consultation. Note, however, that you have already done your research on pre-consultation and checked out their portfolio to ensure that it is similar to your style/vision. They are within your budget/willing to spend, and you have read through their testimonials.

Questions To Ask Your Wedding Photographer!
Availability
Are you available on my wedding date?
How many weddings are you going to cover on that day?
Will you be the one covering our wedding, or would it be one of their team members?
If someone else would cover our wedding, can we have a meeting with them?
💕
Is there going to be an assistant with the main photographer?
Would you stay a little longer if the wedding prolongs? Or will you charge extra hours for that?
How will you and your team members be dressed on that day?
In case the photographer assigned gets sick or becomes unavailable, will you advise us and introduce us to the one who will be covering?
HOW LONG WILL IT TAKE TO PLAN A WEDDING?
Portfolio Check
Can you share specific wedding photos that you have worked on that are similar to ours?
How many weddings have you photographed before? (this should verify what you think based on your research!)
Have you previously shot at our wedding location or venue?
Will you be able to provide suggestions on where to do photos, both at engagements and weddings?
💕
What is your general aesthetic style? (again, this is to verify the research that you have already done!)
Do you work mostly digital or in film? Or both?
Have you already worked with our wedding planner or videographer before? Would they like to meet them? (it is important to discuss this beforehand to ensure that your vendors working behind the scenes have already worked together, or at least will have no problem working together)
Pricing and Package Details (one of the most important questions to ask your potential photographer!)
How much does the package that will best suit us cost? And what services are included?
Do you offer to customize a package according to our needs? (i.e., you might need some extra photos with family, this might need another extra photographer, and it is good to mention it from the get-go to get a better pricing idea)
Does each package include a photographer and an assistant? Or do you charge extra for the assistant?
💕
What are the available hours for each package? How much do you charge for extra hours?
Are the services of retouching and color correction also included in the package? Or do you charge separately for them?
Do you also provide albums or printing services? If so, what are the costs?
How much initial payment do you have to pay them before the event?
What do the payment installment/s look like?
Contract
Do we get copyrights for the photos?
How much privacy do we have with our wedding photos? (especially if you are not comfortable having your faces or family members on social media/websites)
What are the cancellation and/or rescheduling charges/agreement look like?
WHY YOU SHOULD HIRE A WEDDING PLANNER OR CONSULTANT
Equipment and Backup
(This part is definitely up to you. This is good to discuss to keep your peace of mind; understand, however, that if you are not a photographer yourself, hearing too much information about these things might actually give you more confusion and worry!)
What type of equipment do you use to capture the pictures?
Do you keep a backup in case some of their equipment doesn't work at that time?
Are your pieces of equipment insured?
How about lighting? Do they bring their own lighting equipment if the venue's lighting doesn't fit their requirements?
.

Execution
Can they execute some specific shots you want for your wedding?
Are you familiar with our ceremony/reception traditions? (this is very important to bring up as they will have to capture specific moments, which means they have to be familiar with or understand the traditions/set-up that will take place!)
What is your turnaround time for the pictures?
💕
Are you going to retouch and color-correct all the pictures?
How much time will it take to deliver the pictures/albums?
Are you able to help us with the poses and style? (per mentioned earlier, if you have a wedding planner/coordinator, they will usually be working with the photographer to help execute poses and prep you, your partner, and the bridal party to be always in tip-top shape!)
Can you work collaboratively with your videographer and wedding planner? (remember that your wedding planner, or even yourself, will be sharing the wedding timeline with your photographer, and it is important that they understand and follow through with it closely!)
HOW TO MAKE A DAY-OF WEDDING TIMELINE
There you are lovelies! Questions To Ask Your Wedding Photographer!