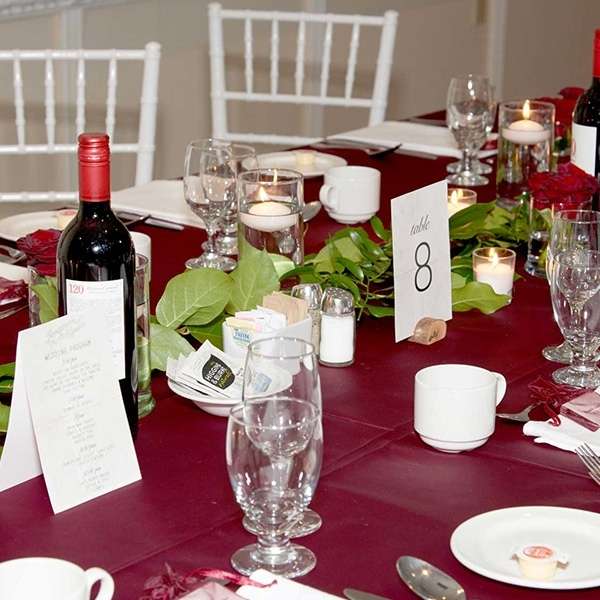 DIY Burgundy Wedding Decor. Bold but classic! Have your eyes set on burgundy wedding decor ideas? No problem! We got you! If you are going for a burgundy wedding theme, this DIY guide will help you come up with ideas and options that you would like to consider for your wedding reception!
A unique take on the classic greenery theme—pops of burgundy give a beautiful contrast to the lush greens and all-white linens and chairs.
If you're planning + organizing your wedding and are looking for a one-of-a-kind theme for your big day, let us guide you through this super-easy and super pretty set-up that we did for a wonderful couple.
This site contains affiliate links. For more info, please see our full disclosure. This post has Amazon links and as an Amazon Associate, Wedding Planning Resources earns from qualifying purchases.
DIY Burgundy Wedding Decor. Let's get started!

Option 1 – rectangular table
Using a marsala or burgundy table cloth with white napkins, then adding greeneries, can make this burgundy and greenery wedding design much easier to execute. You can use different varieties of greeneries; our fave ones that are easy to work with are salal and ruscus.
Here is a guide on how to create an easy greenery centerpiece.
IMPORTANT TIP: Always order one or two of each product first to see how they will work for you. Then from there, you can order in bulk.
PRO TIP: If you use faux greeneries, choose greeneries with a much-muted tone instead of bright greens. Also, cut the stems short – to the very tip of the greenery; leave no stem showing! Don't let them run long.
Show less of the plastic stems as much as you can. ALSO, ENSURE THAT YOU CHOOSE GREENERIES THAT LOOK AS NATURAL AS POSSIBLE. Don't select ones that look very plastic-y.
Cut the bottom part of the stem, only keep the stems with actual leaves!
PRO TIP #2: Consider using dried/preserved greeneries as well!

To add to the tablescape, add as many candles as you can. Mix it with votives and floating candles of varying heights.
You can try playing with floating candles and flameless ones to see which ones work best for you!
To add some drama, fill a small vase with burgundy roses, cut very short, only a concise part of the stem. (even silk / faux or fake roses or calla lilies will work well!)
If you choose to work with silk or fake flowers, use a white vase to hide the fake stems to achieve a more natural look!
Don't forget to check out this guide on how to make fake flower arrangements look more realistic!
Option 2 – round table
Achieve this burgundy and greenery wedding design by highlighting the greens and lovely dark red blooms! By choosing to use white Chiavari chairs, white matte linen for the tables, and white matte napkins, you can see how the boldness of the colors pop!
See the above products that you can also reuse for your round tables!
For the centerpiece, we used a tall white vase and filled it with fresh, lush foliage. Mini burgundy rose bundles were placed in short, clear glasses alongside floating tealight candles to set the romantic mood.
Clear white glassware and silver flatware were used. Favor bags in burgundy matched with the flowers were also placed on the table to tie up with the overall setting.
Super-easy-to-do tented printouts were used for the menu, while small wood card stands held the printed table numbers.
Like this burgundy and greenery wedding design, a theme could be simple and uncomplicated but remain magical when combining the right elements that complement each other.
Creative Tips
VASE: If you can't find a solid-colored vase, you can use a clear vase (from your discount store) and spray paint it white—a no-sweat DIY! Also perfect for hiding the stems of the greeneries!
You can spray them in your backyard/patio/balcony (anywhere outdoors) and let them dry.
PRO TIP: If you are scared that you will make a mistake, try the textured paint so it will look like a "design" instead of a mistake.
MENU and PLACE CARDS: For the place cards, all you need to do is to pick the right type of paper, thick enough so that it stands on its own when you stick the top part of it with a double-sided tape (see photo above). Then stick together (top part only). If you're planning to print them out, use a font that compliments your invitation.

For DIY centerpieces, you can store the finished products in boxes from your local hardware store with rubber non-slip liners for dry centerpieces.
If you are filling up the vase with water, only fill it out halfway through so the water won't spill while in transit.
Looking for boxes that you can stack will make it easier for you to transport them. Non-slip rubber liners in between boxes will be your best friend to avoid any slipping while in transport.
If you are not able to stack, you can pre-bundle the flowers using pipe cleaners and stack them gently in a box. This way, when you get to the venue, you can assemble, fluff, and set them up easier and faster.
Don't forget to label boxes and have a "visual" sample of how things are supposed to be set up as a reference.
This burgundy and greenery wedding decor DIY guide is a super easy and gorgeous DIY project that you will not stress about! Enjoy lovelies! xo
There you are lovelies! DIY Burgundy Wedding Decor!
**This post has Amazon links and as an Amazon Associate, Wedding Planning Resources earn from qualifying purchases.