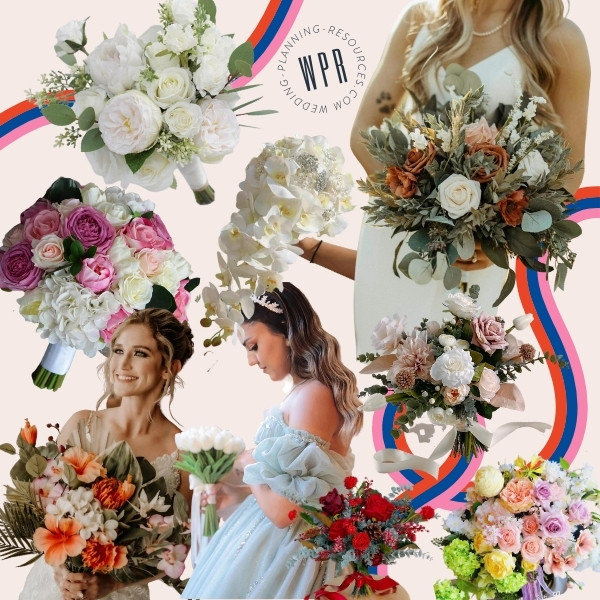 Silk Wedding Bouquet Designs You'll Love. Looking for fake wedding flower bouquets that are beautiful and not tacky? Planning on using silk flowers as bridal bouquets, corsages, and boutonnieres? In search of realistic looking – almost real touch fake silk wedding bouquet designs? You're in the right place!
This site contains affiliate links. For more info, please see our full disclosure.
We wanted to start by saying that these are fake or silk flower wedding bouquet designs. This means that if they are compared to real flowers, they will surely lose because they are after all, fake.
But, if you are looking for silk wedding bouquets with great designs and amazing high-quality real touch floral choices, then this list will help you out! We have combed through Etsy to share these amazing finds.
Fresh flowers can get really pricey! You can certainly do fake wedding bouquets, instead! This depends on whether you are doing them yourself because fake flowers can also add up and almost come out to be 10-20% less in cost than fresh flowers – that's not a lot of savings for something fake versus real!
It is a hard judgment call to pick fake flowers over real flowers, since depending on what type/style you pick, fake flowers might end up more expensive. But longevity-wise, artificial flowers always win (obviously!) since you can take them home after!
The top reasons why silk wedding bouquet designs have become popular are because they are long-lasting, cost-effective (it depends!), allergy-friendly, versatile, and super easy to store and transport!
In addition, they are re-usable! Great for home decor!
These designs are beautifully curated with the right flower variety, texture, and colors to make them as close to real as possible!
From peonies, roses, dahlias, garden roses, and tulips to ranunculus, orchids, and eucalyptus greeneries, you will find them here!
You'll find a range of colors: from orange, red, burgundy, auburn, and fuschia, to the classic white, blush, dusty rose, peach, cream, and beige.
PRO TIP: If you are not feeling the bouquets with bold colors and want to stick to the classic whites, you can still do that and you can incorporate your colors through the ribbon that will be used to tie the bouquet. Or you can also add it yourself. You can cut the ribbon long for it to be visible. You can even mix a hue of colors within the same family to create that depth of color!
PRO TIP #2: You can also check dried flower bouquets to see if they fit your style better!

Browse more beautiful silk wedding bouquets over at Etsy!
There you are lovelies! Silk Wedding Bouquet Designs You'll Love!