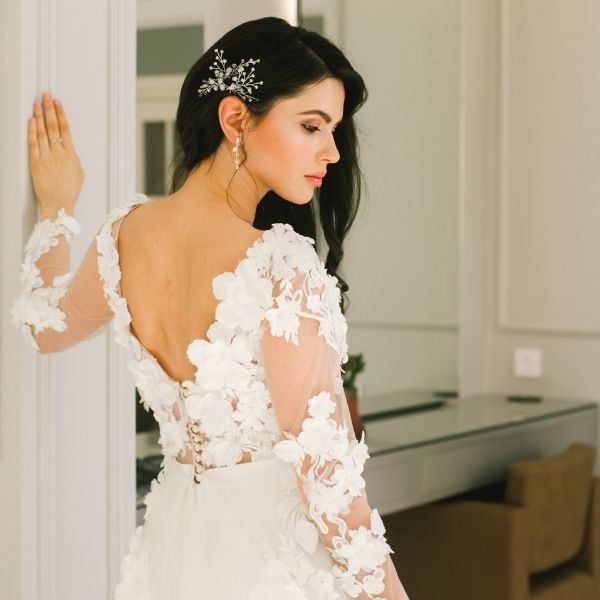 Wedding Day Fashion Essentials Under $100. Part 1. Elegant & Modern! Top 15: Looking for things a bride needs to wear on her wedding day? Wedding day essentials checklist? Wedding day essentials checklist? Wondering what to put on your bridal accessories list? Bride essentials kit? Essential wedding day accessories?
We've rounded up these wedding day fashion accessories for under $100! You can be a "cool" and "modern", yet still elegant bride with these!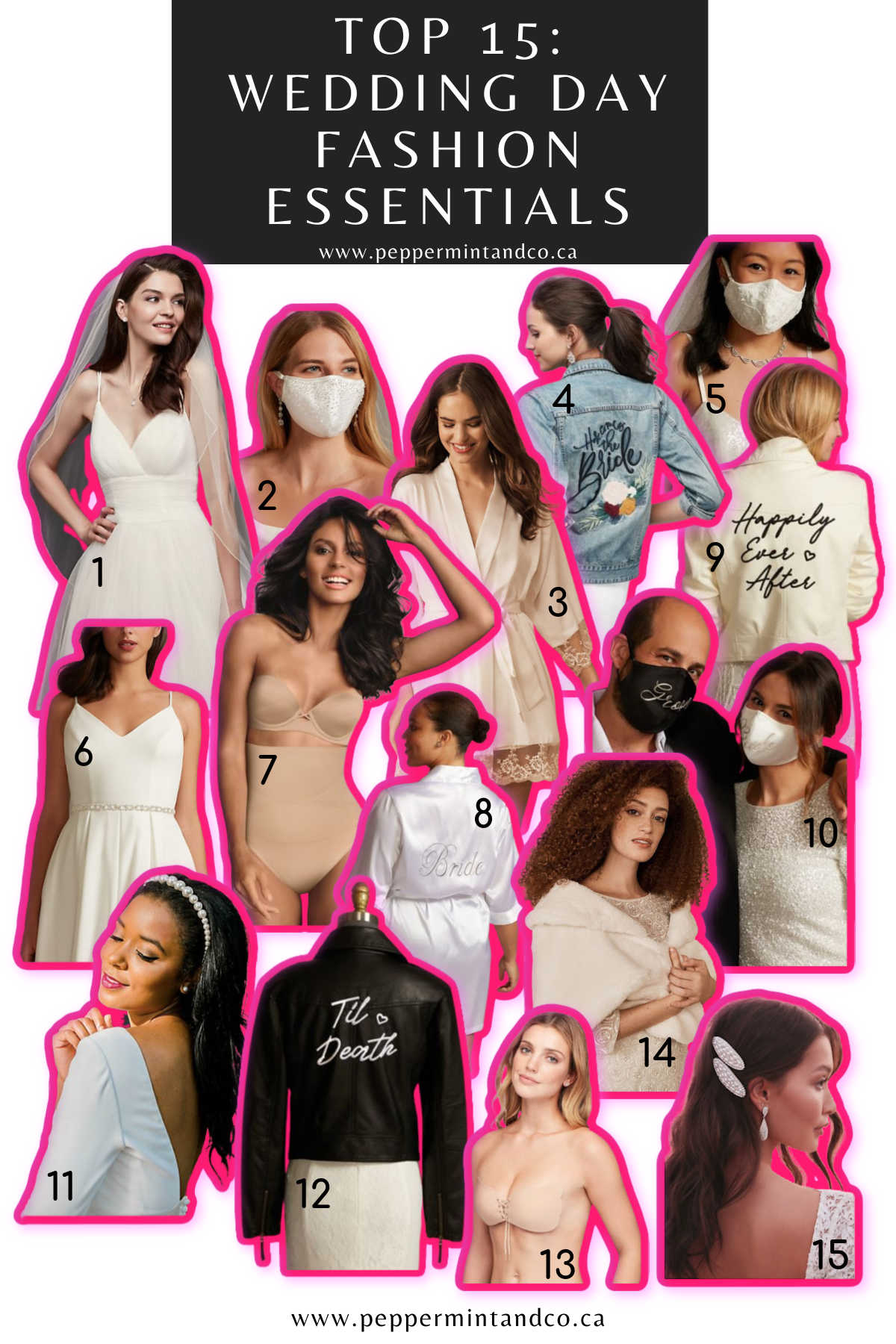 This site contains affiliate links. For more info, please see our full disclosure. Product descriptions are sourced from the manufacturer/brand/seller's shop as linked accordingly.
Please note that these prices are taken from the seller and/or manufacturer at the time of posting this article. Prices may change and/or vary.
1. One Tier Tulle Fingertip Veil with Pencil Edge | $49.95 | Such a classic veil. Lightweight and easy to attach. If you also do not want to wear them after the ceremony, you can also easily take them off!
2. Scattered Crystal Satin Fashion Face Mask | CAD 26.72 | The crystal scattered adds that "shine" and almost "bling" effect!
3. Rosa Kimono | $88.00 | We are loving the lace trim on this robe! It just gives it that extra sexy and sophistication!
4. Here Comes The Bride Embroidered Jean Jacket | CAD 80.30 | How rock and roll are these? If you want to add a little bit of "casual" to your wedding shoot, this will definitely give that effect! Also if it is a little chilly outside, this will come in handy!
5. Beaded Lace and Satin Adjustable Loop Face Mask | CAD 26.72 | If you are looking for a less shiny mask but also not just your plain satin one, this one with beaded lace is for you!
6. Pave Crystal Infinity Link Sash | CAD 80.30 | Such a sophisticated finish. Nothing too blingy, but just enough sparkle to add that extra "oomph!" to your dress!
7. Maidenform Seamless High Waist Brief | CAD 33.42 | This modest shapewear to "hold it in"! Especially if you chose a more form-fitting dress. (Also, just for any other day, or even every day!)
8. Embroidered Bride To Be Robe | CAD 46.82 | This fun robe ties with a self-sash and is embroidered with the phrase "bride to be" on the back.
9. Happily Ever After Vegan Leather Moto Jacket | CAD 93.70 | And they lived…well, you know the rest! Add this white vegan leather moto jacket to your wedding event outfits for an amazing photo op! Embroidered with "Happily Ever After" in the script and embellished with a heart.
10. Embroidered Script Bride and Groom Face Mask Set | CAD 40.12 | This his and hers set of fashion face masks are ready to celebrate (safely, of course!). Features a white satin mask, embroidered in metallic script with "Bride," and a black satin mask, embroidered in a metallic script with "Groom."
11. Graduated Pearl Headband | CAD 17.35 | Trend-right yet oh-so-classic, this graduated pearl headband adds a fun pop to any hairstyle.
12. Til Death Script Black Vegan Leather Moto Jacket | CAD 93.70 | Show off your bride status with this ultra-cool black vegan leather moto jacket. Embroidered with "Til Death" in script and embellished with a heart.
13. Braza Cleavage Pal Adhesive Bra | CAD 20.03 | This adhesive backless, strapless bra features adjustable lacing so you can customize the support and enhancement to your liking.
14 BHLDN Maxime Faux Fur Wrap | $98.00 | Keep warm with this wrap! The perfect add-on to your winter wedding!
15. Pearl and Crystal Oval Hair Clip Set | CAD 22.70 | Beautiful on their own or worn together, this oval-shaped hair clip set sparkles with clusters of radiant stones and brilliant pearls.
There you are! Top 15: Wedding Day Fashion Essentials Under $100. Part 1.