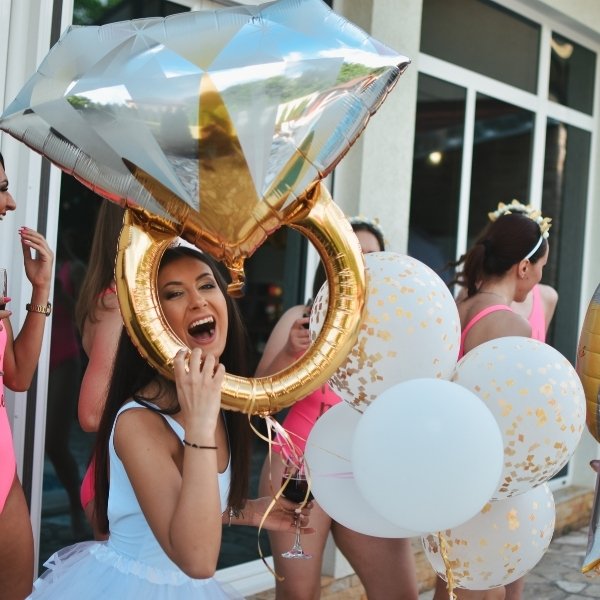 Bachelorette Outfit Ideas. Wondering what to wear to a bachelorette party? Starting to shop and pack for your bachelorette weekend trip? We got tips and ideas for you!
Classic white outfits are always the go-to! And we love classics! You are the newlywed-to-be after all.
Packing for your bachelorette of course depends on where you are going. From swimwear, mini dresses, maxi dresses, totes, and party dresses, to accessories, we got ideas that will help you figure out your "vibe" for that weekend!
Your choice of shoes also matters! If you are going on quite a walk during the day but plan on partying the night, you will most likely want to pack light shoes or sneakers for walking or running and comfy party shoes at night!
Packing outfits that you can easily "transform" from day to night – or from outdoor to indoor are what will help you pack "light". Also, not get frustrated that you "didn't pack enough!".
Bring accessories, sweaters, and bottoms (pants, skirts, and/or shorts) that you can use to change up your look. For example, you can tuck in your mini dress or tie your top to change your overall look.
Something sparkly, sexy, sporty, and bold will help you get that "party" vibe going!
Coordinate with the rest of your bridal party (great for pics!) This doesn't;t have to necessarily be the style but the colors.
It will also help to pack something you are comfortable with already. Try out the options that you are planning to pack and see how much you can or can't move around in them. It might be sexy to pack stiletto heels, but it might not make you enjoy your party longer.
Why not opt for platform heels that will make you feel equally sexy, and also make you last longer at your party!
Pack fashion accessories and jewelry that you won't be too worried about if in case you lose or break them.
Don't forget to also pack your travel-friendly or mini-size makeup and skin care!


There you are loves! Bachelorette Outfit Ideas! Stay tuned for updates!