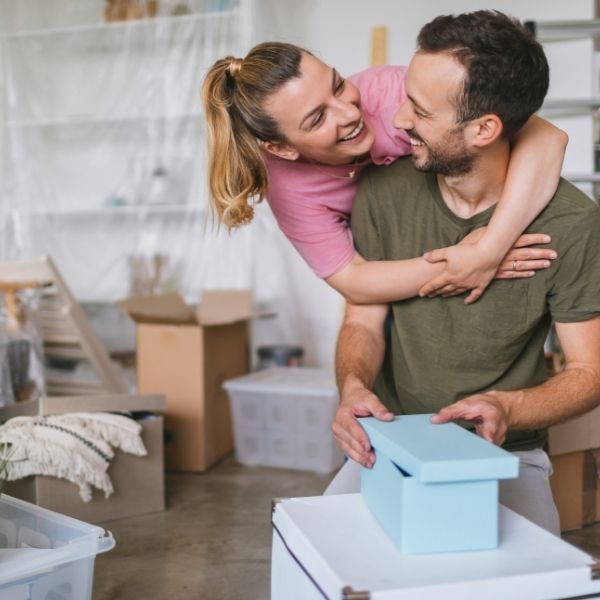 Wedding Registry: Living Together. Must-haves and favorites! Getting married? Starting a new life together but already living together? We've curated this list for your wedding gift registry. Nope, this is not your typical Kate Spade product list (although we love them too!), but this list is for the ones that are already living together and would like to build their "newlywed corner!"
This site contains affiliate links. For more info please see our full disclosure.
Wedding registries are a tricky thing to finalize when you are already living together. As you almost have all the things that are usually added to the registry. You can always think of updating some of the old stuff you don't like or want to upgrade. We have rounded up must-haves and a couple's favorites to give you interesting and exciting (and also beautiful!) ideas!
Because you are already living together, focus more on the "experience." Products and ideas that will elevate an experience that you might already have – since you are already under one roof.
Do you have to wait for them to be on your registry? UHM. Probably not! We got you! You can shop some of these items (have you seen that cute lamp?) on WayFair even before adding them to your registry! Or you can get one for your living room – and add on to your registry and use it for your room! Right? Now your living space is all cohesive! Yep. We never run out of creative ideas around here!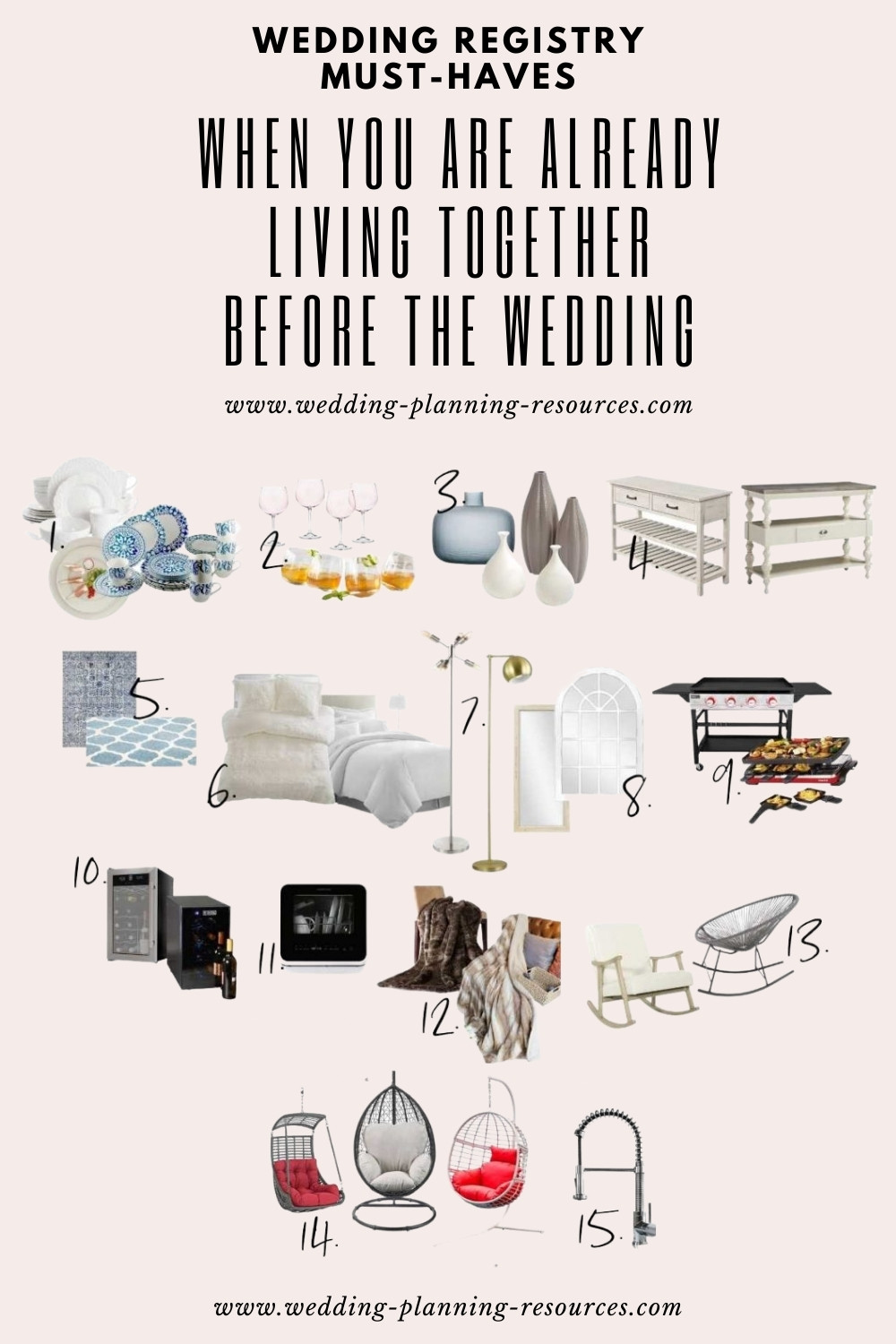 Love the list! Wedding Registry: Living Together!
1. Dinnerware
Quilted Eyelet 16 Piece Dinnerware Set, Service for 4 | Royal Ornate 24 Piece Dinnerware Set, Service for 6
We all deserve dinnerware upgrades! It just makes food somehow more delicious and also makes for a pretty appetizing table! You can donate your dinnerware or keep them in your storage when you have a party and have people over. Instead of using plastic disposable dinnerware, you can use your old dinnerware and still impress your guests!
2. Wine Glasses
Meridian 10 oz. Crystal All Purpose Wine Glass | Winton Personalized Tipsy Old Fashioned 7 oz. Stemless Wine Glass
Because wine is essential. WINE NOT? Setting up a bar cart or a "wine corner" is a nice upgrade. Don't worry; we made this wedding registry for couples already living together to be cohesive and connected! Read more to find out ideas on how where to set up your "wine corner."
3. Stylish Vases
Temperance Textured Table Vase | White Ceramic Table Vase | Handmade Cutting Glass Table Vase
One thing about stylish vases is that you do not necessarily have to put flowers inside them! Just on its own, they are already stylish and beautiful! If you were planning on putting some flowers, single large blooms would work best with them! Don't overpower them with too many flowers. Let its beauty be seen.
4. Sleek Console
Dighton Console Table | Ellerbe 45″ Solid Wood Console Table
Remember that aforementioned "wine corner"? Well, this is how you will build it. This sleek console can be used for anything really, but WINE NOT for a "wine corner"? (see what we did there?)
Remember to place a tray on top first before putting down wine bottles and glasses. You can use it as a liquor corner as well. Wine is just a little better as you wouldn't usually drink it cold so you won't be dealing with much condensation, and the wood will be preserved longer.

5. Modern Rugs
Bogdan Geometric Slate/Ivory Area Rug | Area Rugs
Upgrade the feel of your space, or even add that pop of color with the help of a gorgeous rug! Get that living room spiced up!
6. New Bedding Set
Jacinto Comforter Set | Tannen Single Reversible Quilt
Just picture this: after a long day, you come, you have dinner, and you want to lie down on your bed. This luxurious, extra soft, warm, and comfortable bedding hugs you (and also your partner! lol!). Is that amazing, or is that AH-FREAKIN-MAZING? Right?
Especially for wedding registries for couples already living together, add something on your registry that you and your partner (both of you!) can actually share as an experience. It just makes that upgrade more meaningful.
7. Modern Lighting
Nugent 62″ Tree Floor Lamp | Hephzibah 60″ Task/Reading Floor Lamp
Set the mood with these modern lighting fixtures! Remember earlier we mentioned how you could start buying one for the living room and then add to your wedding registry another one for the bedroom or office? This ties everything together.
You don't have to use all the same style, but use a similar color and aesthetic. Say, for example, if you have a reading nook, you can get a spotlight version of the same style; if you are looking to put one by the door, maybe a more statement lamp will work. Play around but ensure that they are cohesive.
8. Mirror Mirror on the wall
Swainsboro Arched Windowpane Distressed Accent Mirror | Zandra Farmhouse Beveled Distressed Full Length Mirror | Logsdon Traditional Beveled Accent Mirror
Get that mirror that you have wanted to get for the longest time! Add character to your space with gorgeous mirrors! We love this window-style mirror and how it can change a corner and elevate the look. Remember that "wine corner" that we talked about earlier? You can put a mirror on top of it to elevate that "corner."
9. Get your grill on
Cooking Station 4-Burner Flat Top Liquid Propane Gas Grill with Side Table | The Rock by Starfrit Raclette 17 Piece Grill Set
These are great for a smaller get-together. If you are only having a few people over and are not looking into firing up the big grill, these options (smaller and tabletop) are good to have and are pretty fun! But more importantly, less cleaning to do!
10. Wine Not (one of our fave products in this Wedding Registry: Living Together list!)
18 Bottle Dual Zone Freestanding Wine Refrigerator | 8 Bottle Single Zone Freestanding Wine Refrigerator
Remember that "wine corner"? You can stick a wine cooler under the console. If you consider this, you can get a console without bottom/middle racks and measure the height and area to ensure that the cooler will fit!
11. Mini Dishwasher
Farberware Professional 17″ 62 dBA Countertop Full console Dishwasher
One thing about a dishwasher is when it's not full; we usually don't run it. However, if the dirty dishes stay in there for more than a day or two, it starts to have a weird smell.
This mini dishwasher will help you put your easy dinner (we're talking about those simple pasta dishes!), and this dishwasher can take care of you and your partner's dishes! Easy night. Easy dishes. Now head on to your "wine corner." This will be that "I did not know I needed it!" item on your wedding registry (especially as you are a couple that is already living together!)
12. Comfort Blanket
Threshold Faux Fur Throw Blanket | Wolf Throw Blanket
Now you got the dishes done; you got your wine from your "wine corner," you choose to watch a movie on the couch—what better way to cuddle than with a super soft and comfy throw blanket?
Again, when choosing wedding registry items for couples already living together, think about the experience and how the items you will choose help you and your partner experience things together – better.
13. Rock it
Tauri Rocking Chair | Amir Rocking Chair
Who says rocking chairs are only for when you have kids? You can place this in a corner near the window, have a moment with your coffee, and watch the outdoors. The best moments are while sipping hot cocoa while watching the snow!
14. Swing Time (another one of our fave products from this Wedding Registry: Living Together list!)
Skegness Swing Chair | Korey Swing Chair with Stand | Randwick Porch Swing with Stand
These super comfy and cute swings are great for the outdoor area, even for the patio if you are in a condo! In line with the rocking chair, you can also relax with this swing outdoors and enjoy a good breeze!
If you'd like an extra great (sweet!) time, you can also choose to have a 2-seater swing by the porch! We got all the love and felt for a great swing!
15. Wash dishes in style
Edison Pull Down Single Handle Kitchen Faucet
Upgrade your sink business with this gorgeous pull-down faucet. Not only wash the dishes in style, but it adds a whole new nostalgic vibe to your sink! And did we also mention how much easier it will be to wash pots and pans? Yep. Definitely a win. A great addition to a wedding registry, especially for the couple already living together!
Bonus must-have!
If experience is what you are looking for, try HoneyFund, and fund your dream honeymoon! HoneyFund is the #1 cash and honeymoon registry! Look for the perfect getaway and enjoy your honeymoon gift!
There you are! Wedding Registry: Living Together!
WEDDING REGISTRY: LIVING SEPARATELY