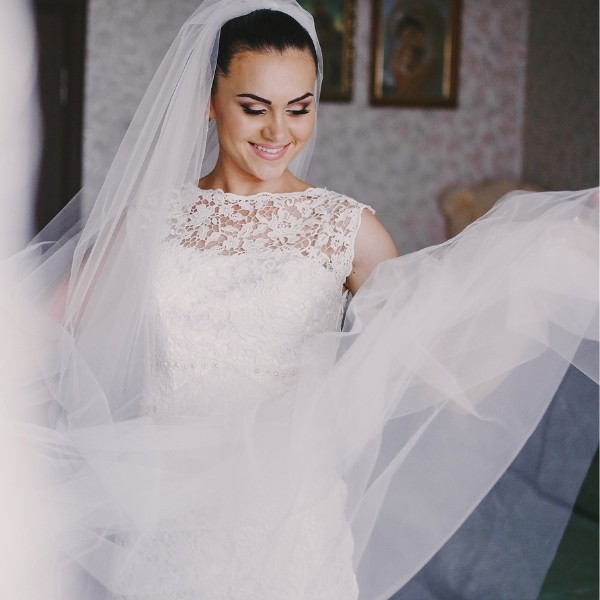 Work it lovely! Must-Have Shapewear for your Wedding. Looking for the best tummy control shapewear wedding? Best shapewear for a mermaid wedding dress? Wedding dress undergarments? In this guide, we are sharing our yop picks for wedding dress shapewear!
When we put aside all the gorgeous dresses and incredible accessories, what a newlywed-to-be can wear that is absolutely breathtaking is her happiness and confidence – the way she is radiant.
Of course, it is natural to feel slight discomfort due to weak spots and some imperfections that we only see about ourselves; that is why what matters to us is your flawless reflection and all the ways you can achieve it!
Undoubtedly, you would like to be glowing on your special day, not worrying about anything looking the way you don't want to, and you deserve it.
When it comes to this subject, wearing undergarments is, of course, a choice, and we believe that every newlywed-to-be is gorgeous the way they are. On the other hand, they can be a great benefactor to compliment your outfit choice and how it can look extra good on you!
That is why we decided to boost your confidence and compile a list of the best shapewear for your wedding!
This site contains affiliate links. For more info, please see our full disclosure.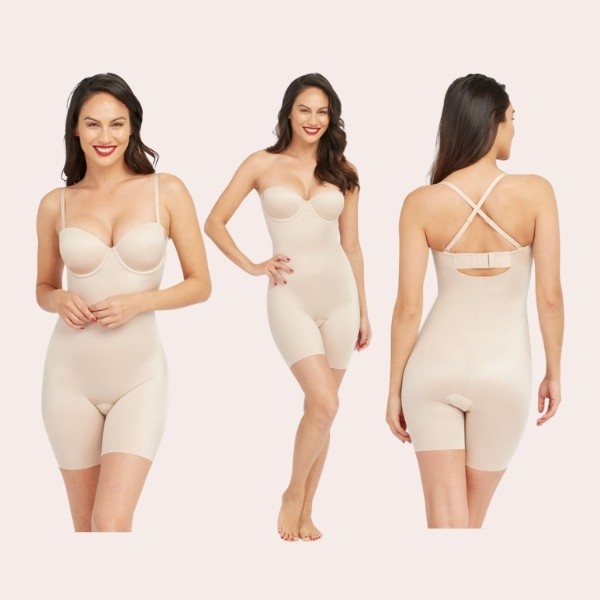 This Spanx for a wedding is the classical strapless option for your glamorous look! Before you put on the dress, let this mid-thigh bodysuit work its magic behind the curtains and provide you with the most beautiful effect.
The straps are adjustable; of course, you can wear them or not, which provides an extra versatile side to your wardrobe. We can imagine it with a gorgeous off-shoulder dress, without a single worry that anything would be revealed due to its sleek fabric that stays on.
Shape your upper part, belly, and thighs with this one piece! The bra cups are fix-flexible, which is perfect for your chosen size, and adjusts to the shape while firming the posture simultaneously.
And the good news is, it stays invisible under your gown!
WEDDING JUMPSUITS AND PANT SET UNDER $700: TOP 5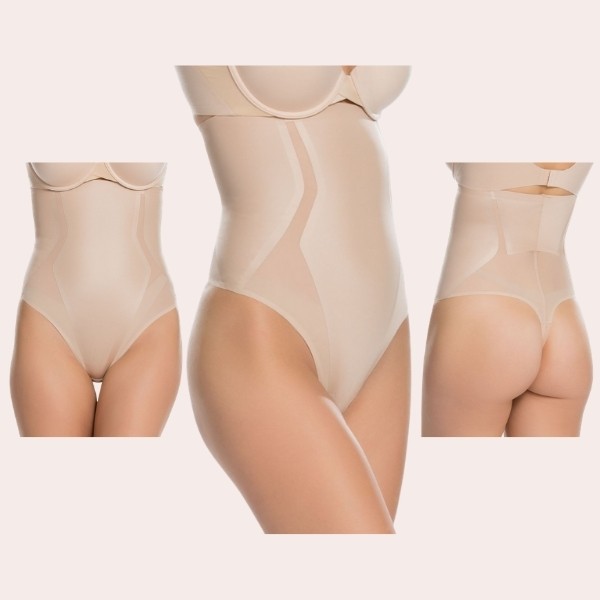 Next on our shapewear for your wedding list is this beautiful undergarment that provides extra support below your dress or maybe even a jumpsuit.
This stylish piece gives you a slimming experience supported by an incredibly bonded waistband, mesh, and silky details for a smooth transition to skin.
If you want to make sure to feel sexy and powerful, this piece is the support that your confidence needs!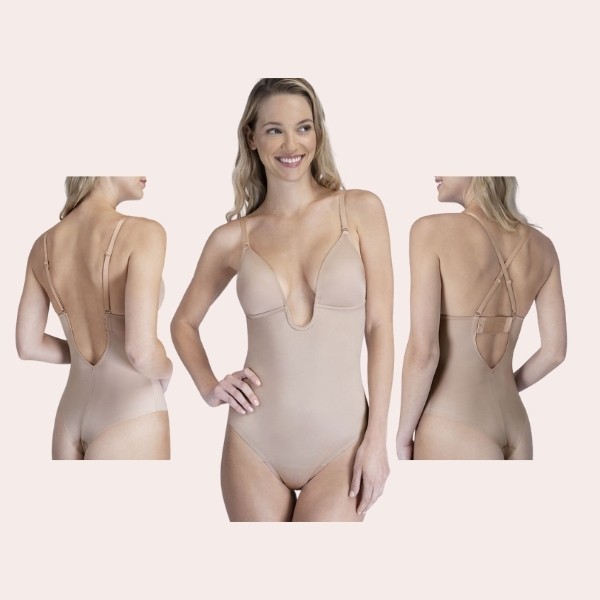 Seeking support that will fit your plunging neckline dress? Then feel no stress!
This stunning bodysuit also has a low back that looks invisible with gowns that have low back designs. Providing shaping while staying hidden, literally your best friend when it comes to bold dresses.
Needless to say that the thong will eliminate any visibility for the back part.
This ultimate shapewear for your wedding comes with adjustable straps and a tummy panel for firmness, which is very lightweight at the same time!
CHIC AND CASUAL WEDDING DRESSES: TOP 5 (PART 1)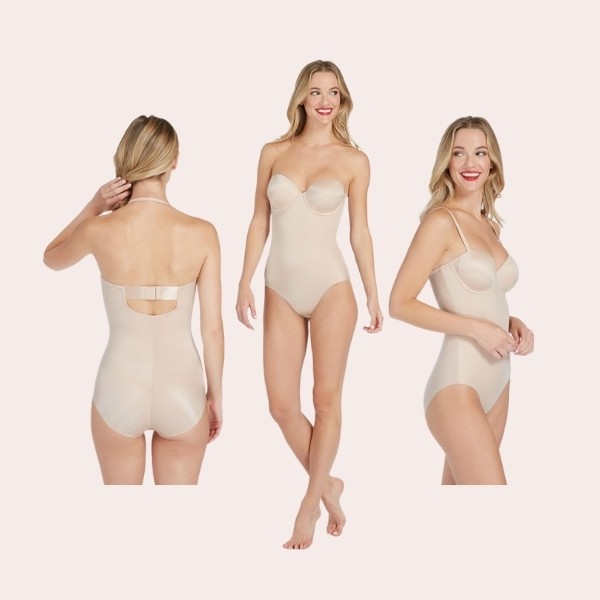 This beautiful Strapless Spanx for a wedding is an elegant way to give extra support and boost your figure with a comfortable bra and the option to wear it with or without straps.
The fit-flexible cups will provide support even for larger bust sizes, giving you the backbone for your look.
Comfortable and firm, it is the wow factor to complete your gown!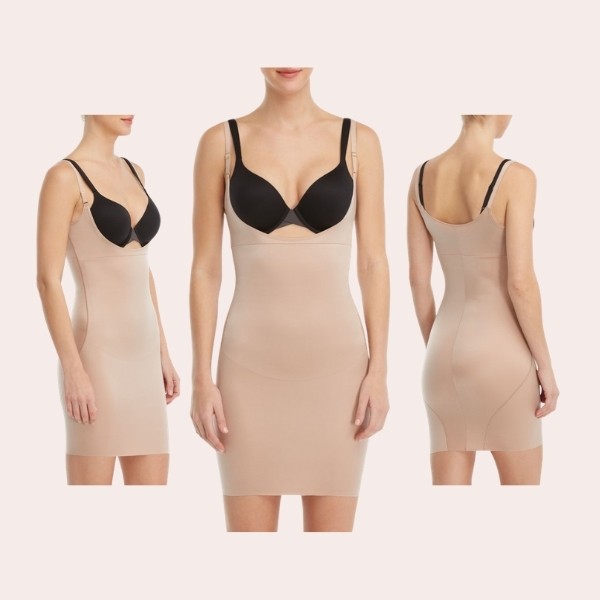 This is the queen when it comes to undergarments with fantastic no-slip technology, perfectly enveloping your body – shaping it in that way to accent precisely what you want to be emphasized!
The fabric is breathable and doesn't lose its grip. Adjustable straps provide versatility for multiple wearing opportunities, fit to shape your body even under the gorgeous chic mini dress due to its invisibility!
Basically, what every newlywed-to-be would appreciate full support that she can wear with another delicate piece afterward, too, while looking flawless!
Find the best shapewear that matches your needs over at Spanx!
Have we helped you with our selection of shapewear for your wedding? Then we are more than thrilled! Browse our planning resources for more chic selections that are specially tailored to help in your styling.