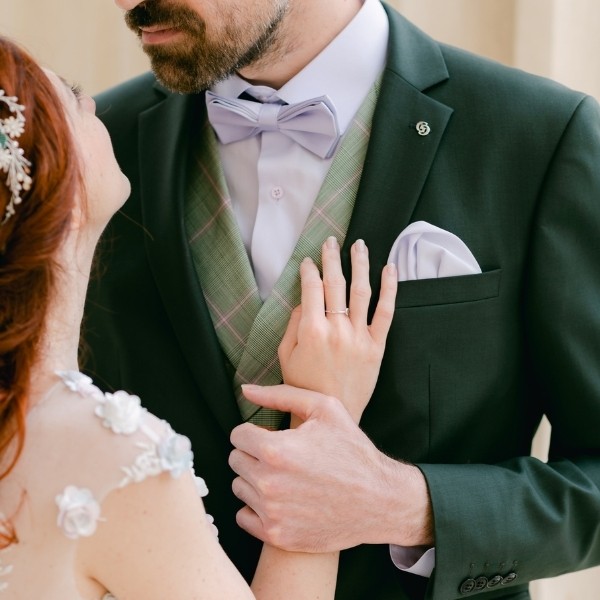 Morganite Engagement & Wedding Ring: What you need to know. In-love with blush! Considering a morganite engagement ring set? Or perhaps what does a morganite engagement ring mean? In this guide, we are sharing what you need to know about the morganite engagement ring and wedding ring set!
Like your beautiful relationship, your engagement/wedding ring is something that'll always be precious and close to your heart. With so many trends changing every year, we appreciate the shift towards morganite wedding rings.
Because why not love a shiny and sophisticated blush-toned gem?
Morganite is a rare beryl gemstone, and its color ranges from light pink to peach and purple. Apart from morganite being a trend these days, this gemstone symbolizes love and purity.
Furthermore, factors like cost and brilliance make it a preferred choice by many newlywed-to-be. Just imagine how magnificent a pink wedding ring would look on you. It would perfectly complement your outfit leaving everyone equally amazed.
Ready to buy your wedding ring? Just wait for 2 minutes and read this article till the end. So you know everything about morganite wedding rings before you purchase one!
Peoples Jewellers share more about Morganite to get you in the know on what it is all about!
"HISTORY: Discovered in Madagascar in 1910, morganite was named in honor of millionaire banker and mineral collector John Pierpont Morgan.
Morganite is said to be the gemstone of the universal heart and is believed to nurture feelings of love and tenderness in a relationship. It is also thought to enhance communication skills and provide focus during times of stress.
COLOR: Morganite ranges in hue from soft pink to peach to violet pink, with soft peach pink being the most common. Morganite is also dichroic, which means you will see more than one color if you view it from different angles.
HARDNESS: Morganite is rated at a 7.5‐8.0 on the Mohs scale and is perfect for everyday wear. Morganite is a popular engagement ring gemstone and pairs beautifully with diamonds.
TREATMENTS: Morganite is occasionally heat-treated to improve its pink color and reduce its orange tint.
CARE: Morganite should be stored separately to keep from scratching or being scratched. Store it in a lined box or a soft pouch. Avoid steam or ultrasonic cleaners, and keep your morganite sparkling by cleaning it under warm running water with a mild soap. Dry with a soft, lint‐free cloth."
— Taken from Peoples Jewellers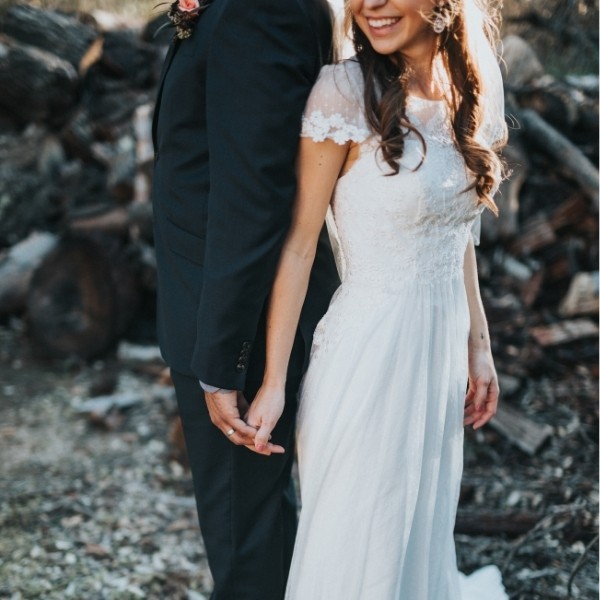 Tips on how to choose your Morganite wedding and engagement ring
COLOR. The color hue of a morganite also depends on the angle you see it. So make sure you have a good look at your pink morganite before you purchase it.
SIZE + SHAPE. The size of a gemstone is usually expressed in carats in the jewelry industry. So a one-carat morganite stone might cost you something ranging between $350-500; if there are other gems or diamonds on the ring, as well as the setting, it can easily go up to thousands, depending on the place of purchase. Conversely, a diamond ring of the same size will cost you thrice.
SETTING. Undoubtedly, morganites are a budget-friendly choice for your wedding ring, but they stand lower in strength than diamonds.
Diamonds can withstand any accident or scratch without losing their shine, but you need to be careful with morganite. Morganites tend to be softer, so ensure to check the best setting to avoid damage.
REPUTABLE RETAILERS. Purchase from reputable jewelers like Peoples to ensure you are getting the "real deal." Purchasing from places that can also help you with care and maintenance is a big factor that will enable your jewelry to last longer free of damage.
CARE. Morganites don't lose their sparkle, but like every other piece of jewelry, they need cleaning. Use a soft cloth or toothbrush to cleanse your wedding ring with liquid soap.
Avoid using bleach or any harsh chemicals. Also, avoid using them while doing chores, especially the dishes, laundry, and the like.
Here are some of our fave morganite engagement and wedding rings: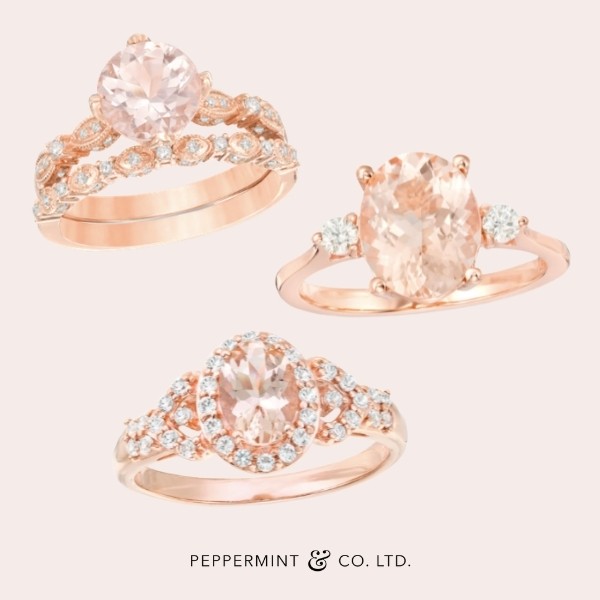 Love the list!
This site contains affiliate links. For more info, please see our full disclosure. In addition, product descriptions are sourced from the manufacturer/brand/seller's shop as linked accordingly.
(1) Morganite and 0.34 CT. T.W. Diamond Vintage-Style Bridal Set in 14K Rose Gold | She'll treasure the elegant look of this extraordinary vintage-inspired bridal set. Crafted in 14K rose gold, the engagement ring features an 8.0mm soft-pink morganite center stone.
The ring's shank glistens with shimmering diamonds, each with a color rank of I-J and clarity of I2-I3, arranged in marquise-shaped frames, while Intricate milgrain detailing adds heirloom appeal.
On your wedding day, the coordinating diamond-lined band completes the ensemble. Radiant with 0.34 ct. t.w. of diamonds and a bright polished shine, this bridal set is a brilliant expression of love.
(2) EFFY™ Collection Oval Morganite and 0.11 CT. T.W. Diamond Three Stone Ring in 14K Rose Gold | Bold yet feminine, this gemstone and diamond ring from the EFFY™ Collection draws all the right kinds of attention. Created in 14K rose gold, this delightful three-stone look features a romantic 10.0 x 8.0mm oval-shaped soft-pink morganite flanked by sparkling 0.055 ct. diamonds.
Radiant with 0.11 ct. t.w. of diamonds and a bright polished shine, this ring is an enchanting choice she won't be able to resist. A family-owned New York-based business, EFFY™ has built a reputation for unrivaled quality and flawless craftsmanship, with a sense of individuality captured in every design. Exclusively at Peoples.
(3) Oval Morganite and White Topaz Frame Petal-Sides Double Row Ring in 10K Rose Gold | Add sophisticated sparkle to your favorite looks with this romantic gemstone ring. Crafted in precious 10K rose gold, this flattering choice showcases a 7.0 x 5.0mm oval-shaped soft-pink morganite wrapped in a frame of shimmering white topaz.
Additional white topaz adorns open petal shapes that flank the center stone and the double-row shank. Polished to a bright shine, this ring is a sweet accessory she can wear with almost anything.
Check out more gorgeous Morganite ring selections as well as other gemstones over at Peoples Jewellers!
There you are! Morganite Engagement & Wedding Ring: What you need to know!