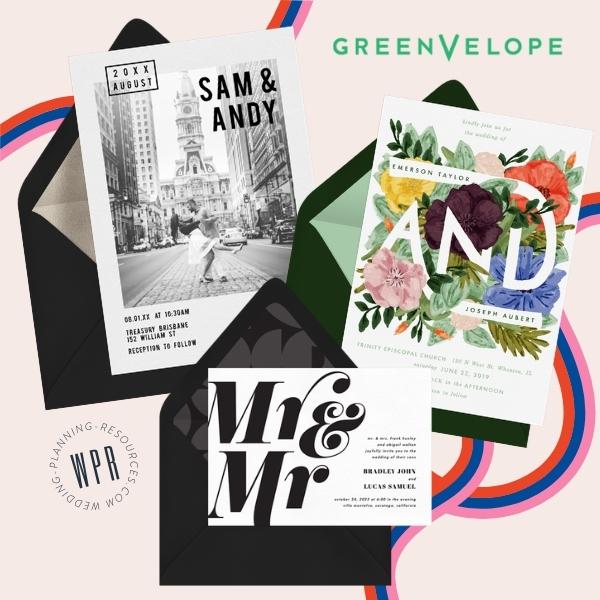 How To Send Email Wedding Invitations? Pros and Cons. Paper or Online Wedding Invitations? Considering sending digital wedding invitations? Digital wedding invitations? Sending wedding invitations online?
If you are considering paperless wedding invitations, we're sharing tips on what to consider when sending online wedding invitations with RSVP options. Read through to see if email evites for weddings are for you.
This site contains affiliate links. For more info, please see our full disclosure.
Here are your pros and cons to help you decide if email wedding invitations (digital) are for you:
PROS:
CONS:
** How to send email online wedding invitations?
It can be fun to look for designs and wording for your wedding invitations! Designs that will match your style and vision!
Wedding invitations send out the vibes and theme of your wedding and convey your greetings to the guests.
Now the question is, are you sending paper invitations, or are you looking into the possibility of switching to an email / online wedding invitation?
We've rounded up the pros and cons of email / online wedding invitations to help you decide if this is a Yay or Nay for you!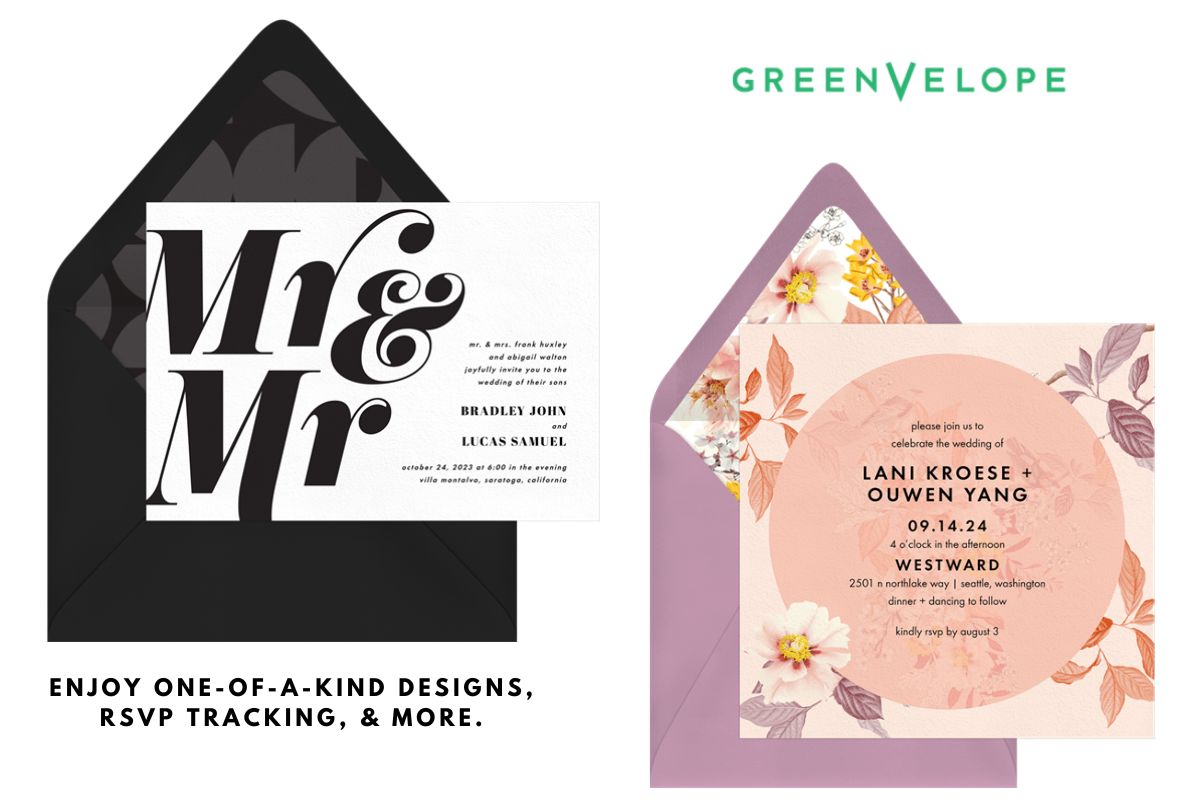 How To Send Email Wedding Invitations? Pros and Cons.
PROS
* Costs Less
No doubt that email / online wedding invitations come at a fraction of the cost of paper physical wedding invitations. Physical wedding invites might cost you $1k+ onwards (depending on your guest count and stationery choice/s), including sending out thank you notes and postcards.
Conversely, online wedding invitations can cost you as little as $50 (depending on your guest count).
* Get Creative
Gone are the days of the generic uncreative online email invitation designs. Email wedding invitations like those from Greenvelope have an amazing classic, elegant, and beautiful design that you can easily customize.
* Time Savers
This is more convenient in this day and age. Instant delivery. With email invitations, there's no need to wait for postal delivery or worry about delays.
You can send invitations instantly to your guests' email addresses, ensuring that they receive the information promptly.
Your wedding to-do list seems never-ending, even up to the day of your wedding. Email online wedding invitations can help you save time with design selection, wording, compiling of contacts, and tracking responses.
Traditional RSVPs often require guests to mail back response cards or make phone calls. Email invitations streamline the RSVP process by including an RSVP link or button directly in the email.
Guests can quickly and conveniently RSVP with just a few clicks, saving them time and effort.
* Easy Tracking, Organized & Follow-up Friendly
With traditional paper wedding invitations, you not only have to mail the wedding invites, but you also have to keep track of misplaced postages, send them again, RSVPs, and follow-ups.
It can get unorganized pretty quickly, especially with so many moving parts.
Online wedding invitations (digital) save you from this possible "organizational challenge" and enable you to track opens and resend them much more efficiently than the physical wedding invitation mailing process.
Managing guest lists, RSVPs, and updates can be time-consuming. Email invitations simplify the process by allowing you to track responses digitally.
You can easily keep track of who has received and opened the invitations, who have RSVPed, and send reminders or updates as needed.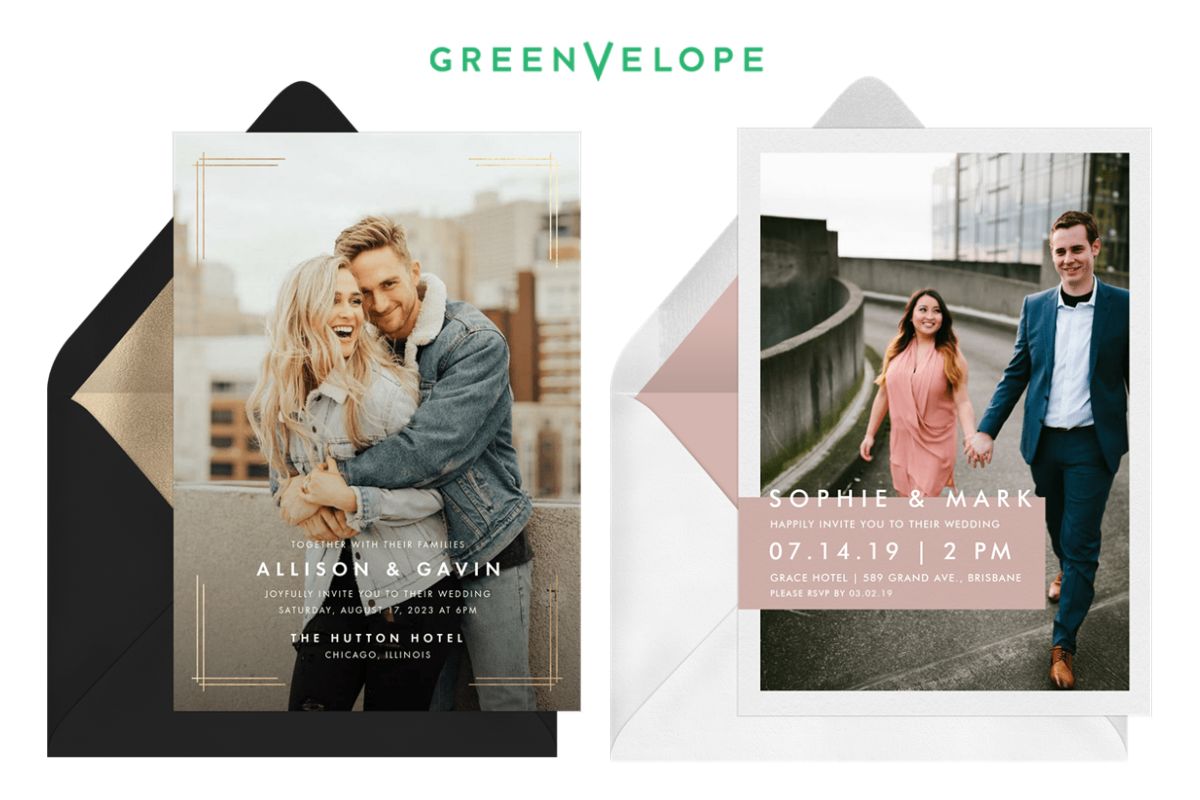 * Easy Access for Guests
Simplified communication. Email invitations provide a direct and efficient way to communicate with your guests. You can easily send out pre-wedding updates, reminders, or changes in plans to everyone at once.
It eliminates the need for separate mailings or individual phone calls, saving you time and ensuring that everyone stays informed.
Your guests can easily access your invitation since most smartphones now have email access. There is now no "forgetting" the physical wedding card and the time and location.
They can pull up their phone and click on the address, and it will link to their Google Maps.
Your guests can also click on the calendar link on your online wedding invitation, so your wedding date will be added to their calendar right away!
Email invitations allow you to provide additional information effortlessly.
You can include links to your wedding website, maps and directions to the venue, accommodation details, and even links to gift registries. Guests can access all the necessary information with a simple click, making it convenient for them to plan their attendance.
Just all these things are extra accessible and easy for your guests! Yep. Definitely, something online wedding invitations give to your guests.
* Eco-friendly
Suppose you're getting any chance to contribute to the better of your environment.
Please do it! Skipping traditional wedding invites means saving some trees and helping make the environment better in your own little way! Also, there would be no waste added to the earth.
CONS
* No Keepsakes
Ain't we all love to keep a memory of the most special events of our life? It is your wedding, and you or your mother would like to save your wedding card for years to come.
Online wedding invitations can't give you that feeling. Even though you can save the graphic file on your laptop for as long as you wish, it can't compete with physical invites.
PRO TIP: You can have separate physical invitations to those you think would love to keep them, like family and closest friends. Elders, for the most part, would appreciate having something to hold.
The rest of your guests might actually be more appreciative of an online invitation instead of a mailed one.
PRO TIP #2: If you are looking to mail something (don't we all?), you can mail out save-the-date and include your email invitation note to follow on it. This will set their expectations and look out for the invitations in their email.
As well, since you are not tracking responses from save-the-date, it can serve as a keepsake, especially if your save-the-date has a photo of you and your partner!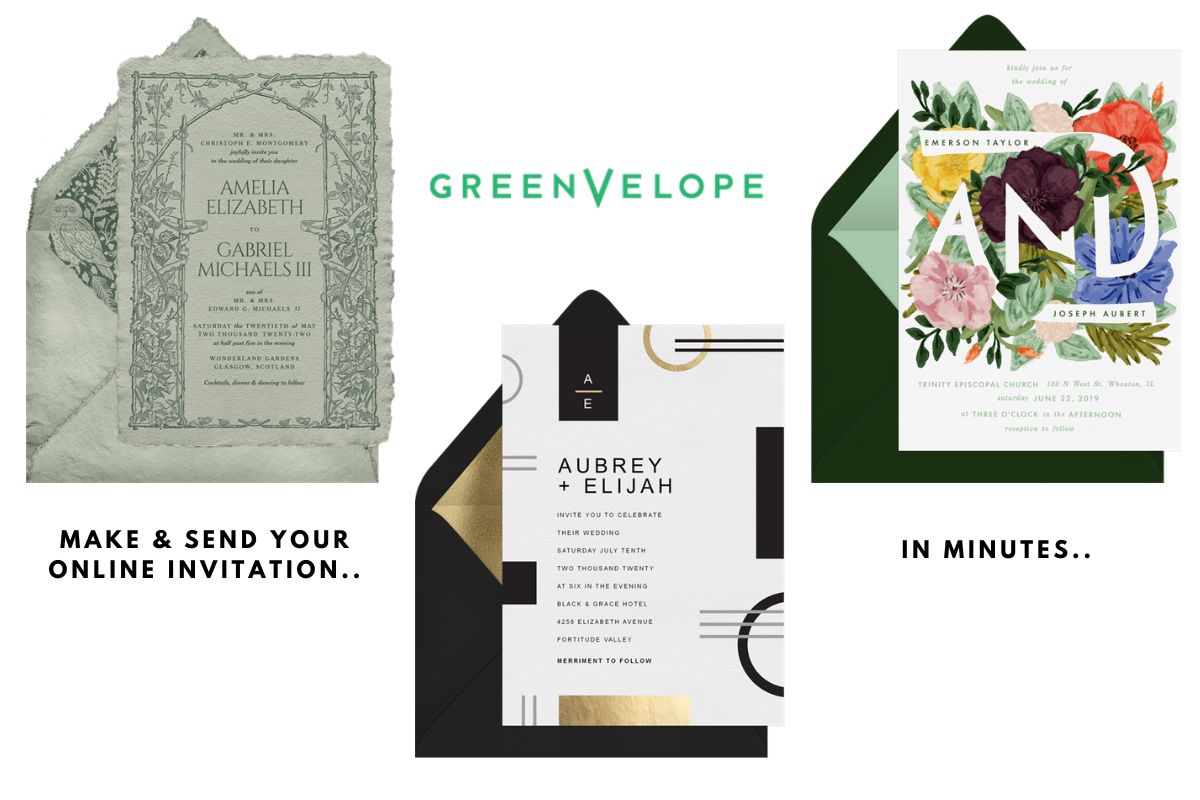 * Informal
While some people think of online wedding invitations to save time and money (which is true!), they also seem very informal, which might not please the older generation. Traditional wedding cards are thought to show more respect toward guests, and they feel honored.
Per the above pro tip, you can send physical cards to those you feel will be somewhat offended or truly do not have access or is as tech-savvy as the rest.
* Spammy
Although this is less likely, depending on the email host that your guest has, there is still a possibility that it might end up in spam. Greenvelope has guides on steps you can take, so your invitations will be less likely to end up as spam.
* Everyone isn't online (how to send email wedding invitations!)
Like your grandparents and the older generation, some of your guests might not be familiar enough with the use of the internet. Furthermore, they might not have an email address where you could send the online wedding invitation.
Email Online Wedding Invitations: Yay or Nay?
What do you think? Online wedding invitations; Yay or Nay? We'll say they are Yay for sure!
There are pros and cons to anything we choose. But we can also creatively navigate around it! This is why we added pro tips and creative approaches to the above to help you balance the pros and cons!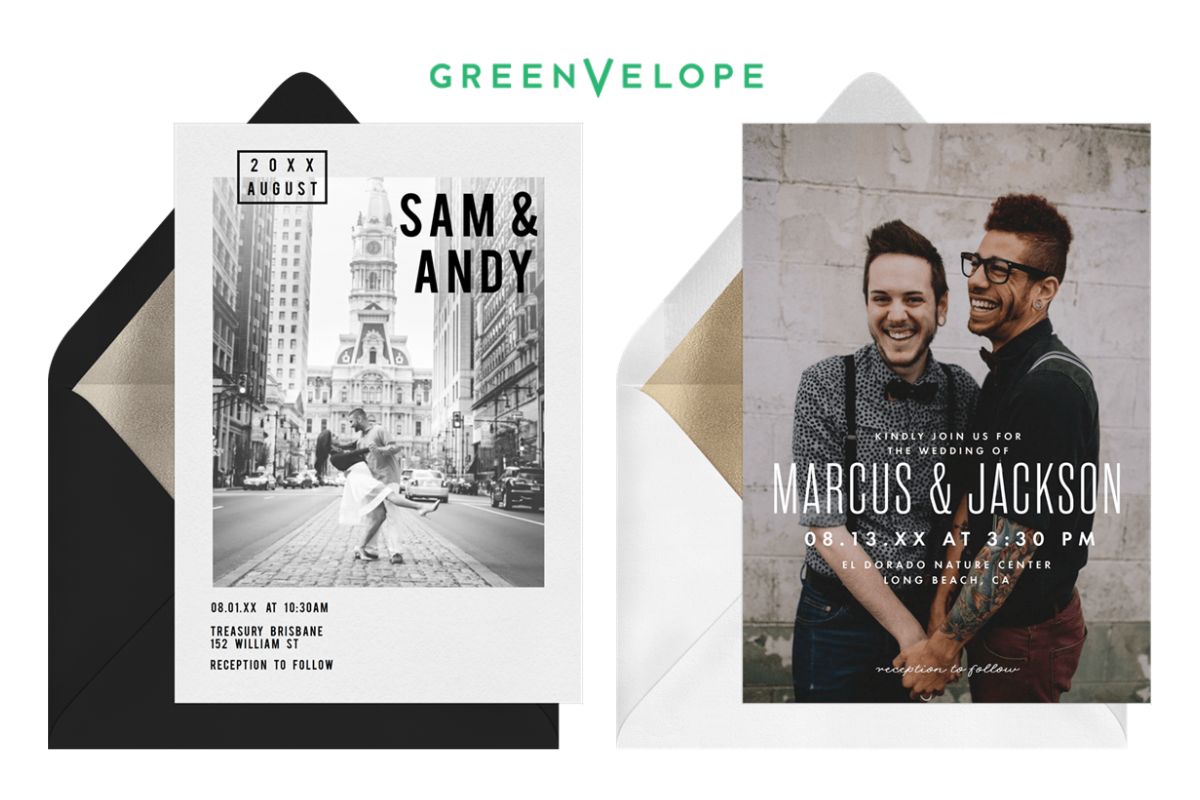 How To Send Email Wedding Invitations?
Deliver elegant online invitations directly to all of your friends and family with Greenvelope.
Whether you want to upload your own custom design or tailor one of our exclusive designer suites, every invitation is delivered, complete with a personalized digital envelope, liner, stamp, and RSVP tracking.
You can also include and add things like:
Play Music
Google Maps
Calendar Links
Hotel Information
Add links (i.e., gift registries, hotel booking, taxi booking, venue info, parking, menu selections, etc.)
Upload files
Integrate photos
and more…
As per usual, every wedding is different, and we hope this guide will help you navigate around selecting the best option for your wedding invitation; physical or email/online!
PRO TIP: Always do a test email before sending the mass email. You can also include a link to your wedding website and wedding registry if you'd like to. This way everything is in one place and your guests will find these references much easier and can work on them much faster.
There you are! Our insight on: "How To Send Email Wedding Invitations? Pros and Cons."