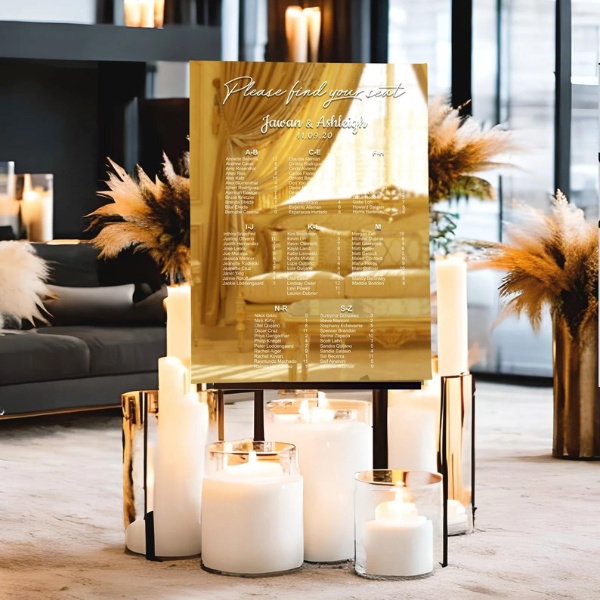 Do I Need A Wedding Seating Chart? Is this a wedding expense? Or a wedding investment? Did you want to just skip this step altogether? Why do you even need a wedding seating chart anyways?
This site contains affiliate links. For more info, please see our full disclosure.
Wedding seating charts are an essential aspect of planning any wedding reception.
While they may seem like a daunting task, a well-planned seating chart can make your reception run more smoothly, help your guests feel comfortable and organized, and even add a decorative touch to your wedding reception.
Having a wedding seating chart can be a helpful tool to ensure that your guests are seated in an organized and efficient manner.
This is also a great way to avoid any confusion or potential conflicts if guests are left to choose their own seats.
Here are a few reasons why a wedding seating chart can be a great wedding investment:
〰️ KEEPING THINGS ORGANIZED. Picture this: your guests walk into the wedding reception room and just randomly sit where they want.
So now you're left with empty seats in between and then there are other wedding guests that are now without spots and walking around looking for a place to sit.
Not a good way to start the night right? RIGHT.
A seating chart can help ensure that your guests are seated in a logical (less drama!) and efficient manner, making it easier for the catering staff to serve the correct meals and for guests to find their seats quickly.
〰️ NO DRAMA. At least not so much. A seating chart can help you avoid potential conflicts.
Yes. This can help that cousin that you have not seen in a long time, who also happens to not get along with your friends to be seated comfortably with an appropriate "distance" between them.
〰️ DECOR DETAIL. If you are incorporating your decor style and theme into the seating chart, this can be a great decor piece.
Remember that seating charts are usually in front of the doors of the reception venue. Which means it can be a great decor welcome piece.
〰️ TIME SAVER. You won't have people coming up to you or your bridal party asking where to sit. Your wedding guests can help themselves and efficiently find their table. (how amazing is this?)
Overall, a wedding seating chart can help your wedding move along more efficiently and get to the fun much quicker.
There are ways that you can save money if you do not want to do large printing. Printing individual pages and purchasing decent frames from your local craft store is a great way to execute this without breaking the bank. (we got a free template that you can download here!)
But if you are looking into doing a large print (so much easier and faster!), we curated this list to help you choose the best design for your wedding!

There you are lovelies! Our insight on your question "Do I Need A Wedding Seating Chart?"