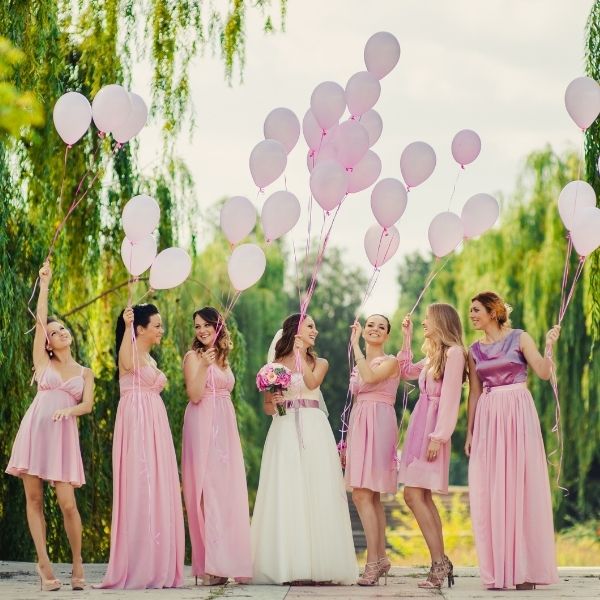 Bridesmaid Dresses: Sexy Style. Bringing sexy back! Looking for a great bridesmaid dress style that your bridesmaids and bridal party will love?
What better way to celebrate your girls than making them feel dang gorgeous and sexy on your wedding day?
This site contains affiliate links. For more info, please see our full disclosure.
It gets tricky to match all your bridesmaids, especially because they probably have different styles and personalities. It might take a lot of shopping around to narrow things down. But why not mismatch and have them complement each other?
We got our fave picks from Cocomelody that you and the girls will love to mix and match!
Bridesmaid Dresses: Sexy Style: 8 stylish, flattering, and sexy bridesmaid dresses
1. Sleek and Sexy Lace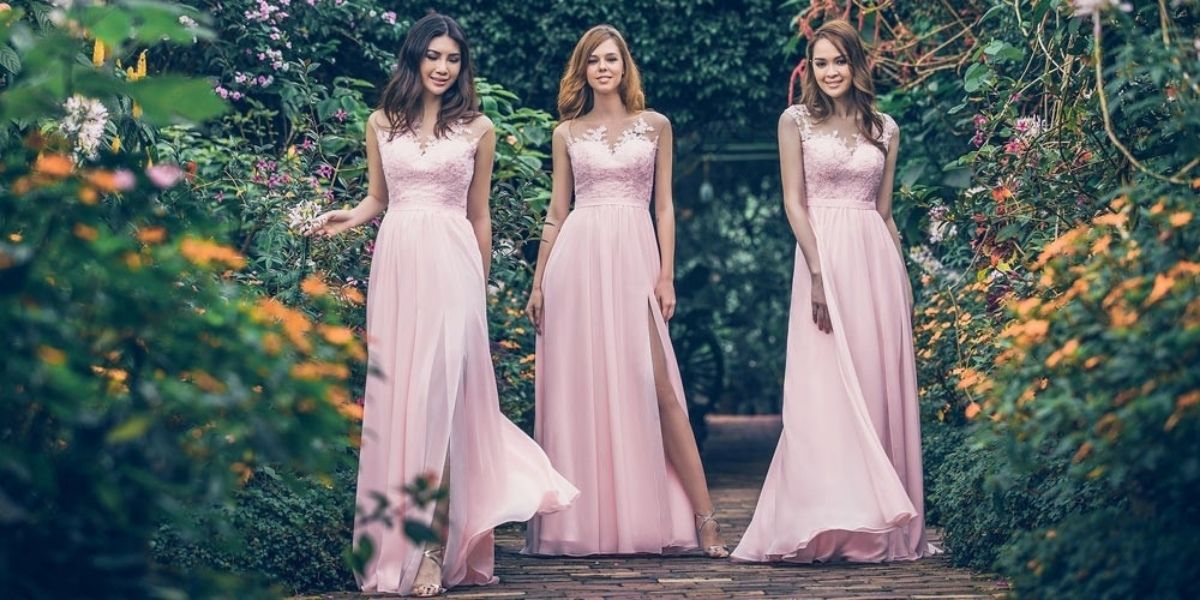 The floral lace pattern of the dresses over the nude lining from the neckline to the fitting line makes them lovely and fairly flattering. The modern cuts of the fabric enhance the beauty of the dress. It would be best if you went with the pastel shades as they really give that romantic and alluring touch to your dress. A-line maxis with thigh-high slit usually suit everyone and will definitely steal the show when pairing them with a lace bodice.
This is like a great combo of formal on top and party at the bottom. You can dance with these babies no problem! Look at how flowy these are!
2. Tulle and Precious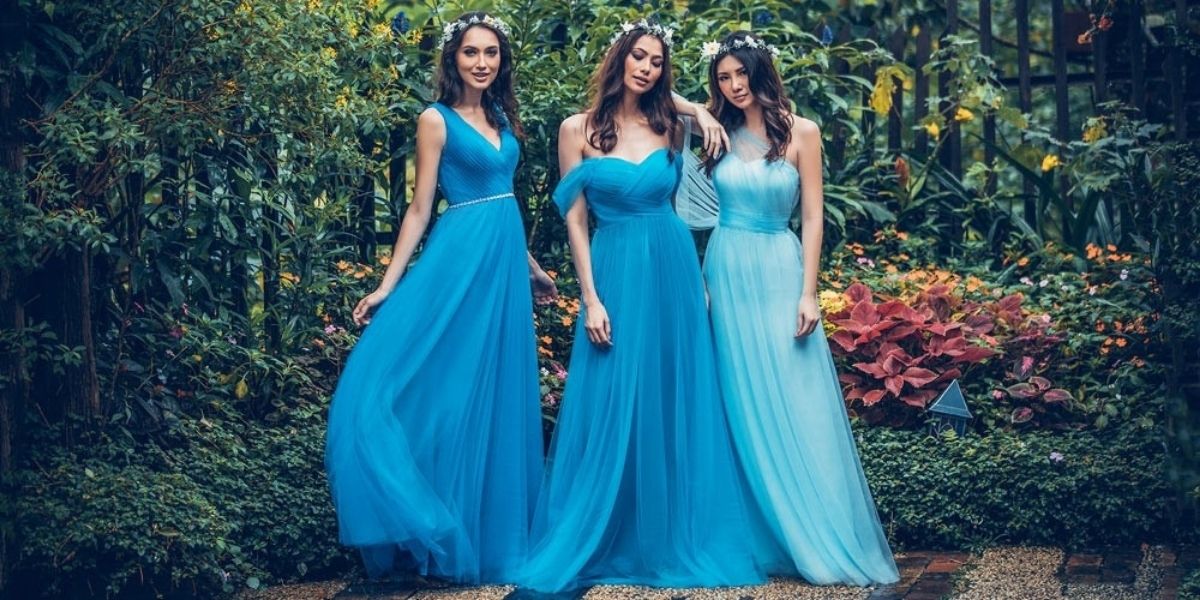 Tulle is a really lightweight, contemporary, festive fabric attracting the most attention over the runways. It is best for summer weddings as it's very airy and gives off a sleek, flattering fall. If you don't want to wear the same dresses, you can choose the different shades of the same color and even go with different cuts. As tulle fabric is a special fabric, it gives its own unmatchable vibes to your gal pals. They will look similar but not the same.
This is like a more demure version of a princess. It's a modern princess feel. You can twirl on these dresses all night!
3. Up to the knee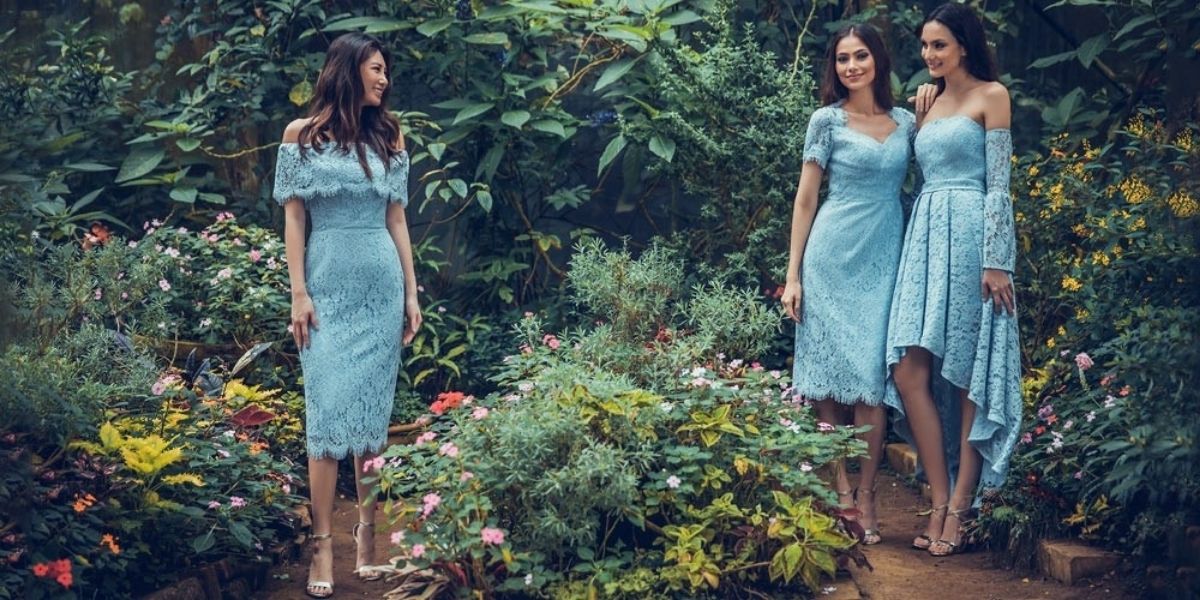 Let's talk about these tea-length dresses! Not everyone is for long gowns, and these gowns will not let you sacrifice stylishness to length! You can also use the same fabric in the same shades with different cuts. They look exquisite and make their own place in everyone's heart. You can easily roam around without hesitation at this length and keep an eye on everything around to ensure the smooth flow of the event.
If you decide to we a full lace tea-length dress, mix it up with the lace tip and chiffon bottom for the other girls that like to wear a long gown!
4. Show 'em those shoulders!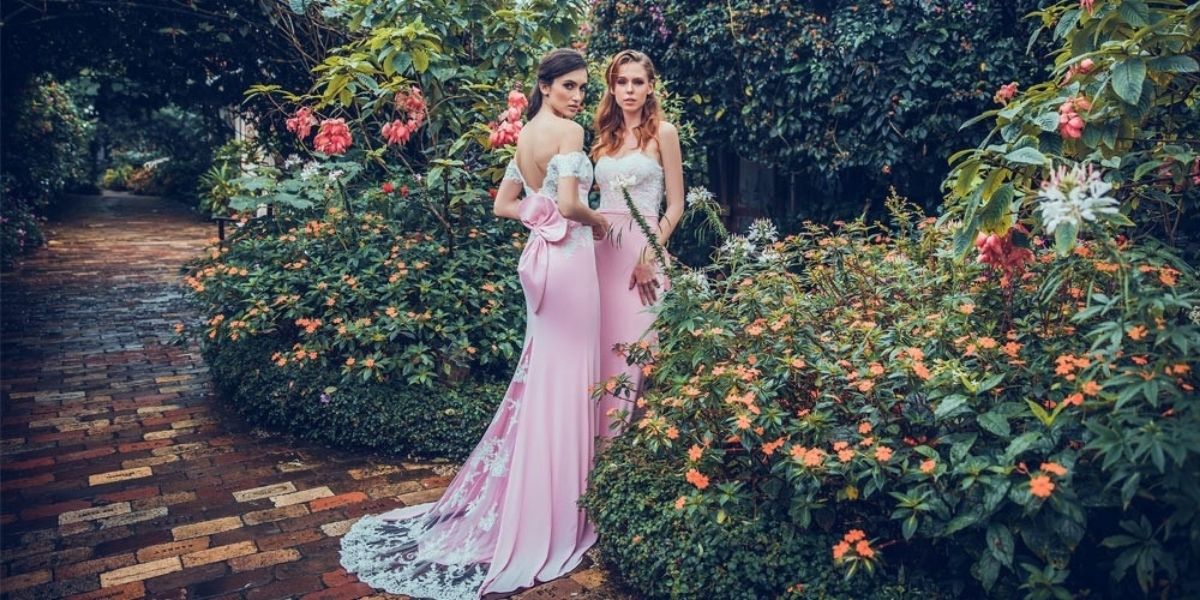 Talking about sexy style bridesmaid dresses, these off-shoulders, cold shoulders, one shoulder, or even no shoulders at all are in trend since forever! They always look trendy and catch everyone's eye. You can plan to wear long gowns with one shoulder and thigh-high slit or off shoulders with an embroidered fabric and an A-line cut.
Showing a little bit of skin as long as it is tasteful should be ok. Throw on a shawl if you are doing a more formal ceremony, and let those shoulders show themselves off at the reception!
5. Play around with the necklines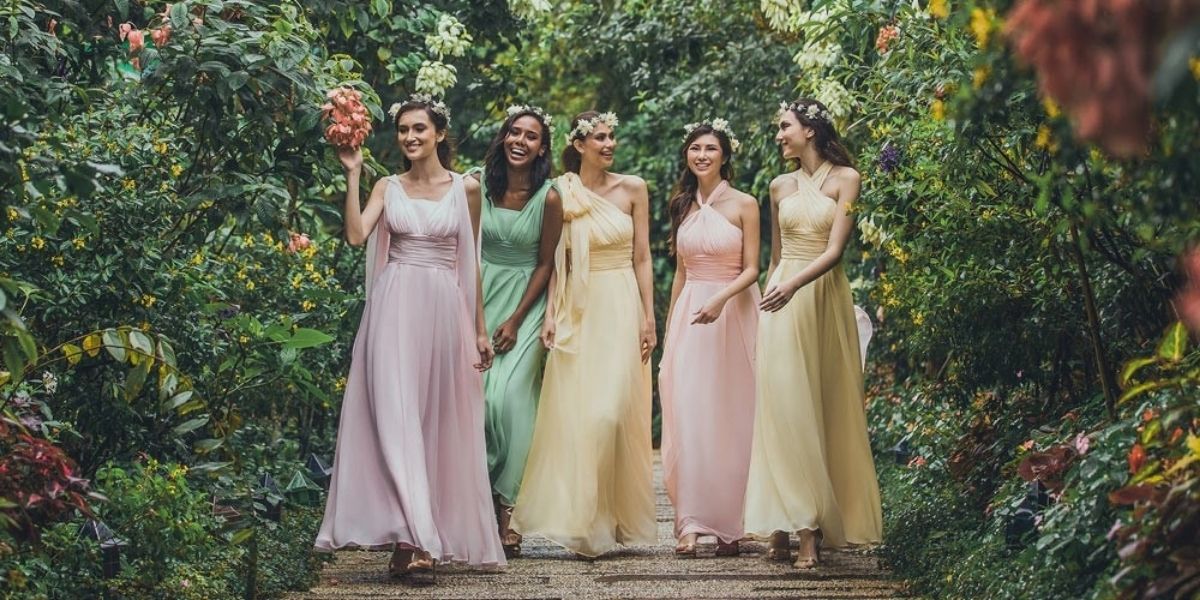 Convertible necklines are the all-rounders; they look remarkably thrilling and dramatic. They usually have two wide pieces of fabric tailored over the empire waist to cover the chest area. You can tie them up differently and style yourself differently; that is why they are known as infinity dresses. The convertible necklines work best with long flowy chiffon gowns.
6. Mismatched (our fave Bridesmaid Dresses: Sexy Style)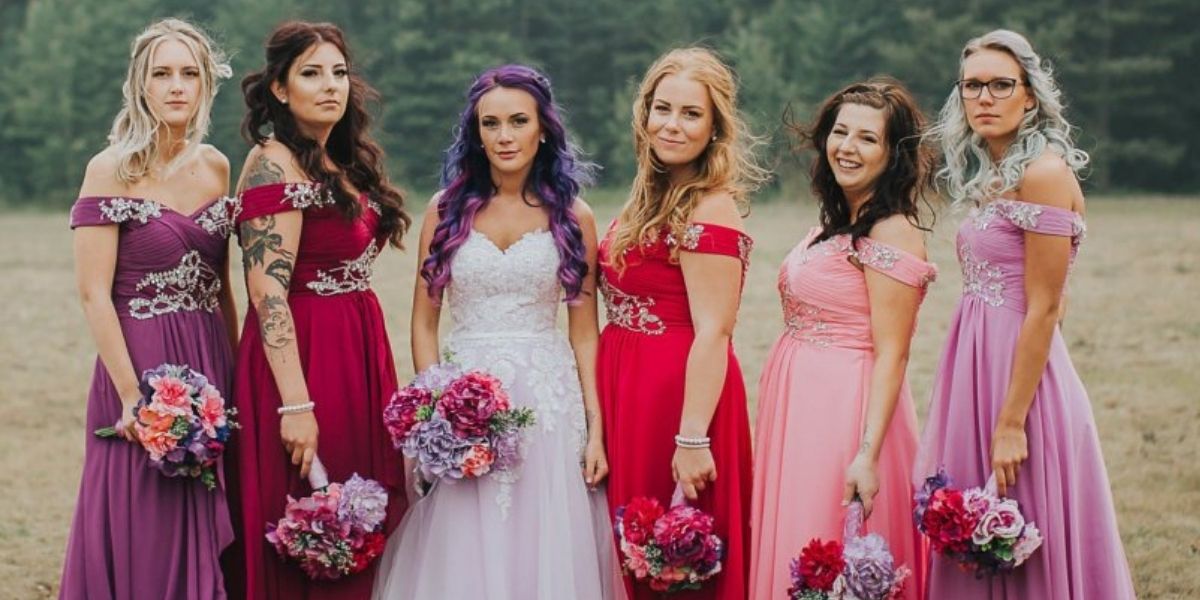 Mismatch dresses for bridesmaids are such a great and bold idea! You can wear unique assembles featuring elegantly beautiful dresses that suit you the most. You can let them wear anything they are comfortable with or, better, what they already have or want to have!
Pro-tip is to get something that will still tie them together, like embellishing on the dress, hairpiece, or necklace. When they are not holding that bouquet, you'd still want them to look like bridesmaids!
7. Plains and prints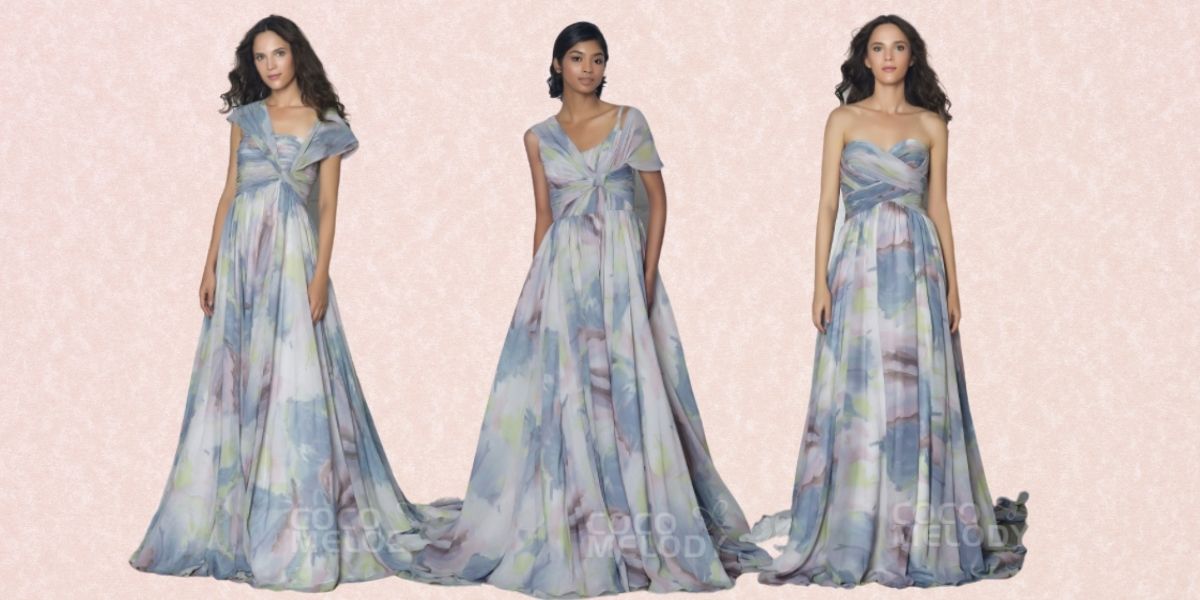 If you are mixing and matching, take it to another level by adding prints! Other dresses can pick up colors from the prints, and they will look like artwork! It's like turning sexy-style bridesmaid dresses into a red carpet-night!
8. Be you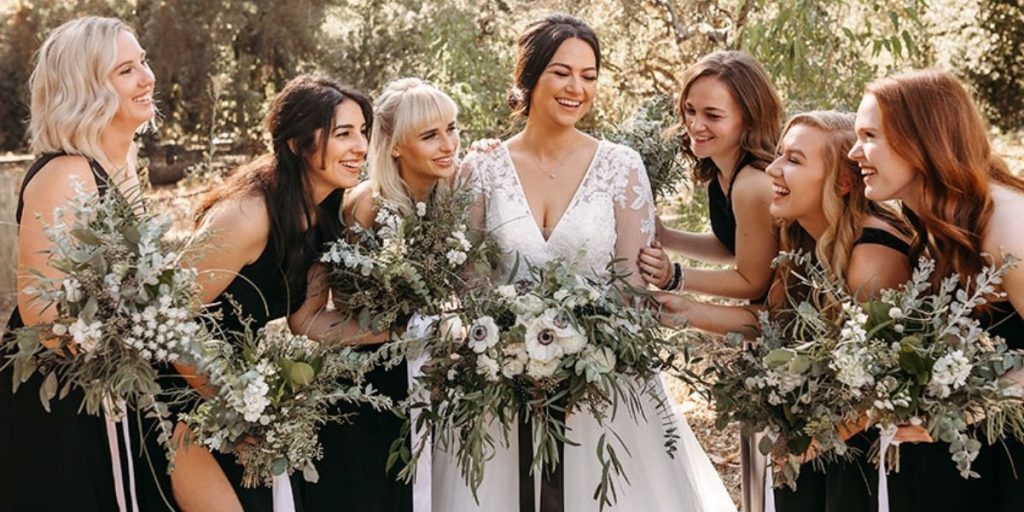 Let you and your girls' personalities shine through. Whether it be a mismatch of a top and skirt or even ballerina tutus, you can dress it up however you would like it to be! It's your big day! You can style and get creative!
There you are! Our top 8 stylish, flattering, and sexy bridesmaid dresses! You can find all the dresses in the photos over at Cocomelody! Bridesmaid Dresses: Sexy Style!